Facebook Video Ads Getting Started (above)
Facebook video ads are the most intuitive and effective way to advertise right now.

It's not only a great way to show the brand's personality and emotional connection to the audience, it's also a great way to get Facebook users' attention.
Usually the average cost of the viewer in the videoTime.than static imagesIt's 5 times longer。
These audiences are more likely to be effective customers, expanding their reach, increasing engagement and increasing conversion rates than any other form of promotion.
In.Facebook fightsVideo ads3reasons
It's easier to reach your brand with Facebook and Instagram ads. Depending on any number of different data pointsBuild a target audienceto narrow down to find people who are interested in content. Of course Facebook launchedVideo authoring kitincluding our competitors.
Making video ads not only attracts potential customers, but also builds emotional connections. Well done, and stillIncrease audience engagement and drive more valuable transformations。
Here are three reasons why Facebook ads develop video advertising strategies.
1. FacebookUsers love videos
Facebook Monthly.Yes.2.38 billion active users。 That's more than thatThe world's populationfourOne-tenth!
Facebook users watch nearly 3 billion hours of video a day, including more than a month, according to data16 minutesvideo ads. Agorapulse foundFacebook's live video engagement ratethan similar content on YouTube86% higher。
Facebook video ads not only help us connect with our audience on their favorite channels, but also use the type of media they like to use to connect and get content to the right people at the right time.
2. FacebookVideo ads promote engagement
Video ads attract the attention of your audience more than any other type of ad.
A study by HubSpot found that54%people want to see more video content from the brands or businesses they support. After watching the product video, these people buy itPossibility.It's also improved85%。 Besides, most people usually only read20% to 28% of the words on our websiteAnd there isfour times as many consumersI'd rather watch a video about our products than read about it.
Take Red Bull, for example: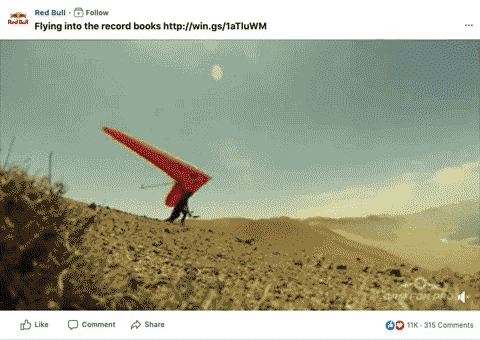 While energy drink companies may be known for their "Red Bull Give Us Wings" campaign, they are also huge sponsors of extreme sports such as racing and skydiving. At the Flugtag event, this is an air show that participates in the creation and competes with its own aircraft.
To promote participation in the event, Red Bull has produced a number of eye-catching video content.
For example, "Hanging on" (the Facebook video we shared earlier) showsHanging gliderBroke chile's record. Another followed Felix Baumgartner, who he did in 2012Jump out of spaceIt's gone. Another video shows it from an angle that looks like a member of a crowdCliff diving。
Red Bull re-used the content for advertising their annual Flugtag event and its products. Fascinating high-intensity content forces people to like or share their videos, which increases Red Bull's overall impact.
3. FacebookVideo ads lead to more conversions
When a group shares online video content, it forms word-of-mouth marketing. In these cases, the video is higher than text and still images1200%natural traffic, which increased by 135% in 2017.
The significant increase in natural arrival rates is another reason why video is part of the campaign. Showing the different aspects of our products being used by real people or highlighting the brand's personality helps us build emotional connections with our customers.
Natural arrival rate andReputation.Also.Two of the most authentic ways to promote our brand on social media。 According to HubSpot, the video ads were obtainedNumber of clicksthan the picture20% more。 People are drawn to the video because it makes them feel. Without this emotional connection with customers via video, it is impossible to drive this impact organically.
FacebookHow video ads choose the right audience
To make an impact on video ads on Facebook, you need toTarget the right people with the right ads at the right time。
Doing so ensures that our video ads are shown to people who are interested in our content. It's easier to provide them with relevant and useful information when you know exactly who's watching the video. Our message resonates with the audience to increase engagement.
Build a Custom Audience
Pass.Custom audiencesWe can find the right people to create content for them through advertising. Instead of showing everyone our video ads, you want to get their attention, set up a select group of people to create this audience by uploading datasets orManually via APIDone, which automatically updates your target audience based on specific criteria, such as past engagement or channel movement.
This feature can tailor your audience to your personal information:
We can target geographic locations.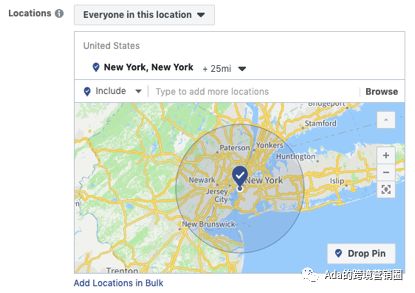 FacebookLocation targeting options in your ad management system.
This is useful for small businesses that offer products only in specific locations, such as the New York metropolitan area.
We can base it onDemographics are locatedsuch as gender, age range, relationship status and education.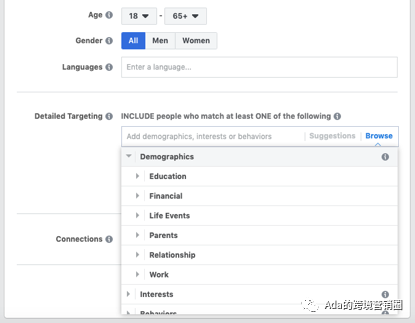 FacebookThere are many different demographic targeting options in your ad management system.
This helps us show ads to people who fit the buyer's role.
We can also be based on FacebookPreferences and interest positioningThese.Likes and interestsUse the data listed in the user profile and the pages and groups that the user regularly participates in.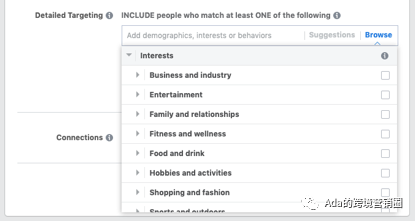 Targeting customers through their interests is a great way to find people who are on a further buying trip.
This is a good targeting strategy when we know how much time potential customers spend on Facebook. If our customers tend to like community groups or related hobbies, build our audience based on this information.
It's also great to create an audience based on your Facebook purchase history, such as device usage and overall browsing activity.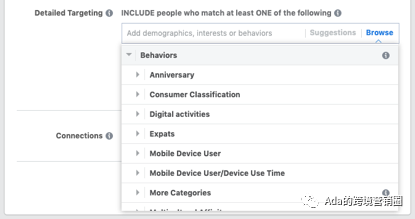 Through behavioral positioning, we can find people who are actively looking for products similar to our own.
Combine these characteristics and start positioning with usBuyer roleThe most matching individual. This helps you create video content that fits your needs, resulting in better audience engagement.
You can also customize your target audience by triggering ads when certain lead events occur. For example, a family hair color start-upMadison ReedAfter completing the online style quiz, targeted video ads are sent to people.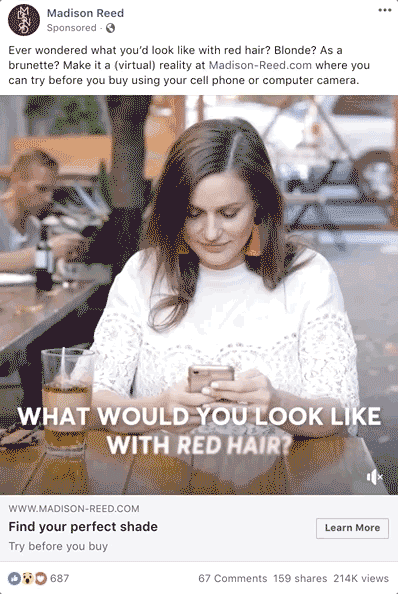 Madison ReedExample of an online style quiz.
This is a very targeted approach because Madison Reed knows these people are interested in their products. In addition, using the information in the quiz, they can display ads that match the personal preferences of potential customers.
All this joint effort helps us find the greatest opportunity. But Facebook has also helped us reposition people who have interacted with our videos in the past.
Sign in to Facebook Ad Manager to see who has viewed our video and who has completed it. To count as Viewed, an individual needs to watch at least three seconds of video. Counting as "done," they need to watch at least 95%.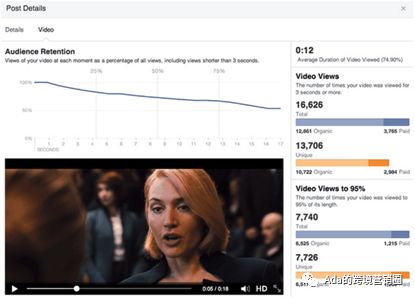 Pass.FacebookWatch the video to watch the stats.
Compiling a list of people who have viewed or completed videos helps build people who were previously "attracted" to our content. They have expressed interest and are willing to watch similar videos. We call these people our intended customers.
Because ads play automatically on Facebook News Feed, people who watch for more than three seconds may be considered at least interested in our content. The user who completed the Facebook videoVery interested。
There are many reasons why users stop watching, but we know they are ready to learn more about our products or brands.
Creating custom audiences with these engagement metrics helps us target these hits more effectively We can promote more brand awareness and conversion funnel content to people who've already watched our videos, and show more middle channel or funnel content to people who've already done videos.
Not only does this reduce advertising costs, but target users are more likely to end up with a purchase, while providing a better overall experience for potential customers. This builds consumer trust in the brand and makes it easier to generate loyalty after purchase.
When we think of campaigns as a sequence, it's easier to build an ad experience that effectively moves potential customers to the channel.
Take Target, for example, which shows a young girl in a princess costume dancing around the house, excited about Halloween. It's the first video Facebook users see as part of a Target ad campaign.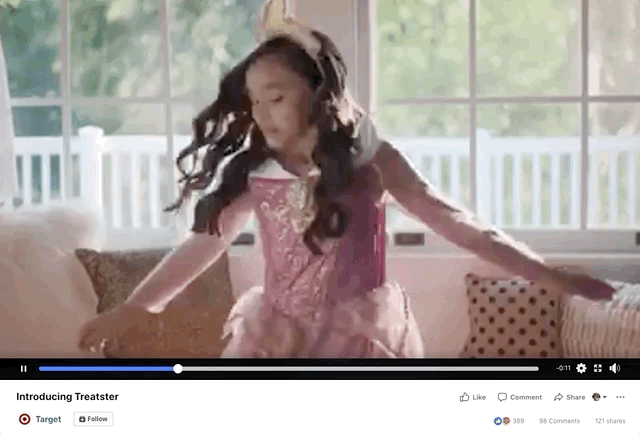 What does Target know about the people who watch this video?
They are very excited about Halloween.

There are children.
Consider buying clothing.
Put them together and we can infer that they will be interested in the children's Halloween activities. That's why Target will follow up on the ad to those who have watched the dance princess video.
Redirect Halloween ads based on previously watched videos.
"Spooktacular Kids Event" highlights the interest that targets gather from people watching their first video. They use Facebook users' previous activities, their available family status, their location and vacations to build ads that directly describe their needs.
As a result, Target provides more relevant content to these top prospects and may therefore reduce advertising spending. They're building relationships with potential customers, slowly rolling out more targeted content as they approach a purchase to turn into focused content.
Create content based on specific customer needs
People at different stages of the marketing channel have different needs. If we're targeting potential customers, create branded ads and watch them in brand awareness or videoGoal.campaign. Show these people more conversion-driven ads as they move from the awareness phase to consideration.
Not only do we need to understand how people move around the channel, but we also need to understand how each ad progresses sequentially to create an overall brand image. Over time, we are slowly providing and building our value proposition.
That's when we're using Custom Audiences again in our campaigns. Let's say we're repositioning people who have watched more than 50% of brand awareness videos.

If they watch 50% of the videos, we know they've at least seen enough information to understand our brand. If our video length is only one minute, and we know that the most valuable content occurs in about 25 seconds, then watching only 25% (15 seconds) of users will not work, and watching 75% (45 seconds) of users may have gone further along the funnel.
That's why it's important to understand how different types of content appeal to different subsets of your audience. The more we know about video content, the better it will be, and ultimatelyCustomer acquisition costs alsoThe lower.
We can also set up specific ads based on what Facebook users do on our site.
For example, a startup in the lingerie industryThirdLoveUse targeted Facebook video ads. After someone completes an online adjustment questionnaire, Facebook ads reinforce the valuable information provided by the questionnaire and allow potential customers to move further along the channel.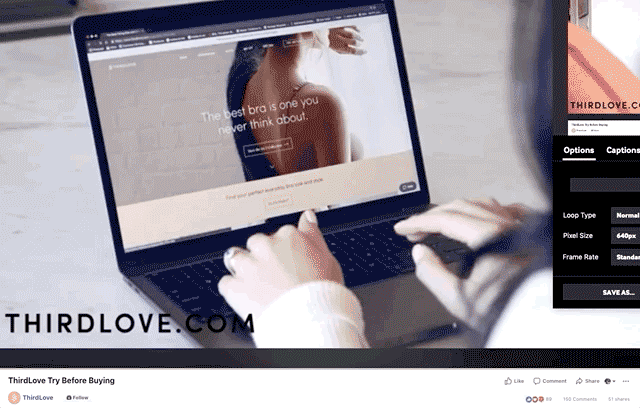 They can also use the information provided in the questionnaire to describe specific products of interest to potential customers.
‍‍

Sort your ads to guide your customers through channels
Sorting ads slowly introduces our brand to customers and is one of the best strategies to optimize sales and marketing channel advertising. Use them to guide customers into the sales funnel.
From.FacebookThis oneStudy.It shows how successful Refinery29's advertising campaigns are when they slowly introduce customers to their brands through sequencing. The first ad looks like this: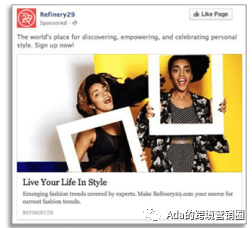 Customers saw it on day 1 to day 4 of the event and learned about the personality of the Refinery29 brand.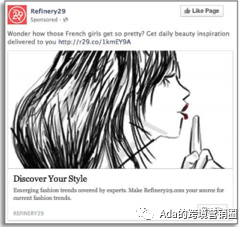 The ads are shown to customers on the 5th to 8th days of the campaign. It builds on the connection established in the first ad and suggests how viewers can interact with Refinery29 through the Daily Beauty Tips email series.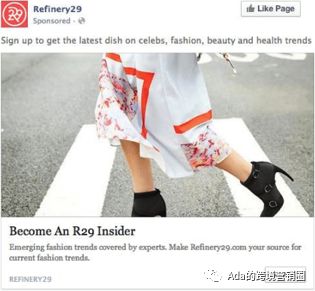 ‍
The campaign's final ad will appear between day 9 and day 12. It doubled its call-to-action language and told potential customers how they became part of R29 Insider's Refinery29 community.
Here's what Facebook found through the study:
Sorting ads results in more clicks than one-time ads. See these ordered adsthe user of the userThere is87%Visited the relevant target page in call-to-action terms.

There is a clear relationship between ordered advertising and subscriptions. In response to this campaign,56% increase in subscriptions。

Most conversions are made by people who have been exposed to all three parts of a sequence campaign.
Facebook's research concludes that sequencing is effective because it tells a story - it lets customersBefore asking for any relevant informationFeel the emotional connection to our brand.
Understand that it may take a lot of advertising to create the connection, especially if we don't have a lot of brand awareness. But once we do, our potential customers will be more likely to convert.
SuccessfulFacebookFive tips for video advertising
#1Let's make our video ads simple and clear
Facebook users are inundated with all types of content in their news feeds. From friendly posts to recommendations, competitor ads to funny videos, we usually only capture about60 seconds of audience attention。
That's why video ads are simple and easy to understand. If they don't get their attention as soon as possible, the user's finger slips over!
Use these tips to make our video as concise and clear as possible.
Start by playing a pre-broadcast video ad that contains the most important information.If we don't get there quickly, users probably won't watch the video until they understand the value our products offer. Show this value as soon as possible.

Specify each ad.If you include too much information in a video, it's easy to lose focus, which can make the video unattractive. Focus on a single topic in each video; Don't try to communicate more than necessary.

Make it personalized.When we appeal to the emotions of Facebook users, it's easy to make sustained connections.
To shoemakersAllbirds, for example: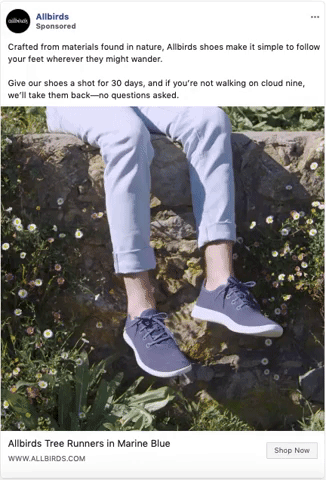 In just six seconds, they showed off a model's product, simply called "Allbirds, the perfect shoe for a long trip." "It's a very straightforward value statement, without any extra information.
Allbirds does a great job with their video ads, which typically take less than 15 seconds to focus on the single attribute of their sustainable footwear.
#2Tell fascinating stories
Fascinating story videos often require a clever idea or narrative technique. Make every video memorable when we think like storytellers. We're not just trying to sell products or introduce ideas. Designed to strengthen the relationship between potential customers and brands.
Storytelling makes our brand look more trustworthy, human and memorable.
Video to beGet their attention as soon as possible。 It is important to communicate with the user in the first frame.

Real ground gas. In showing off our brand and team personality. Video can help us connect with potential customers better than still images or turntable ads.
Chatbooks, a photo book and printing company, provides a good example of the narrative used in the following video ads.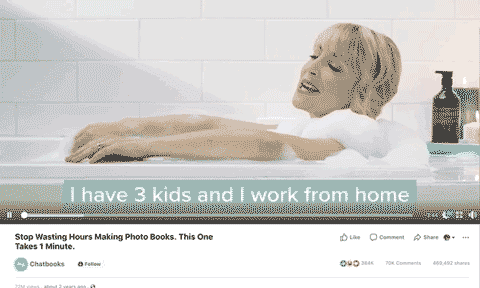 Although bathrooms and photo albums have little to do with them, the ads appeal to us, making us laugh and even surprising, rather than trying to sell us products directly. The video has been shared by about half a million people, which is a good case for interesting and engaging video storytelling on the direct impact of user engagement.
Through music, color, and dynamic expression, we can capture the emotions of what we're saying, making it easy to turn fast marketing copies into fascinating narratives.
#3The importance of silent playback of video ads
When a user slides into a video, Facebook video ads start playing immediately, but usually the video is muted, which means that our video won't be able to catch the attention of others with sound.
According to Digiday, even if the user stops scrolling to watch,Eighty-five percent of Facebook video ads don't sound。 Consider.Closed captionsIt can boost ratings, according to Instagram. To.Cubcoats, for example。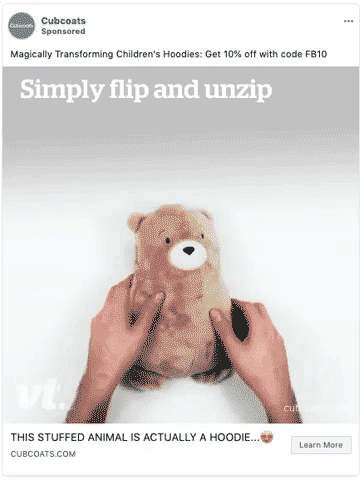 Use text cues and captions as much as possible. Cubcoats does this to show how their products work and to describe the issues they solve. Since Cubcoats sells dual-use products, their video ads show not only products as plush animals, but also hoodies.
#4Use intersted ads to boost impressions
Facebookan intersted or intersted advertisementLet's increase the number of views and impressions by placing ads on existing Facebook videos at any time, because we've established a certain connection with our users.
It's worth noting thatThere are pictures in these pictures70% is done through sound viewing!
Use.Auto-positionThis means that ads will always run according to our creatives and objective requirements. Intersting ads is one of the best tools to get Facebook users' attention.
Keep in mind that these ads do disrupt the experience of other videos, so it's important to keep your message clear and concise.
#5Always include text slogans
Make sure that the end screen in the video has a strong banner. "Visit our website for more information" or "Buy now!" "It can help guide our audience to the next step in your campaign, whether it's visiting a target page, subscribing to a newsletter, or buying."
The visual effects of our slogan - even if it features in our description - can have an impact on the actual number of viewers converted.
If we use these video ads to show our personality, ending text can also be used to reinforce our brand value proposition.
Get it from clothing retailer ChubbiesThese three ads。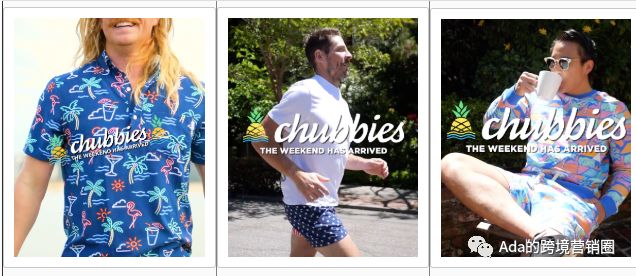 Chubbies' ads all carry the same slogan, "The weekend has arrived." "
Their ads show different models of the different products they sell, but they use the last frame of the video to retell their brand's slogans.
It is this repetition that strengthens their relationship with the customer.
(Unfinished to be continued...) )

---