How long can Ali keep Youku?
The following article comes from Burning Finance The author of Burning Finance Studio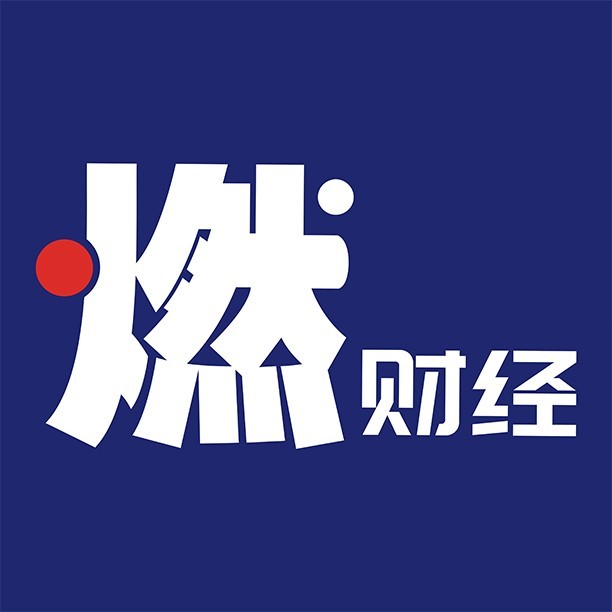 Burning finance
A daily in-depth report redefining the innovation economy.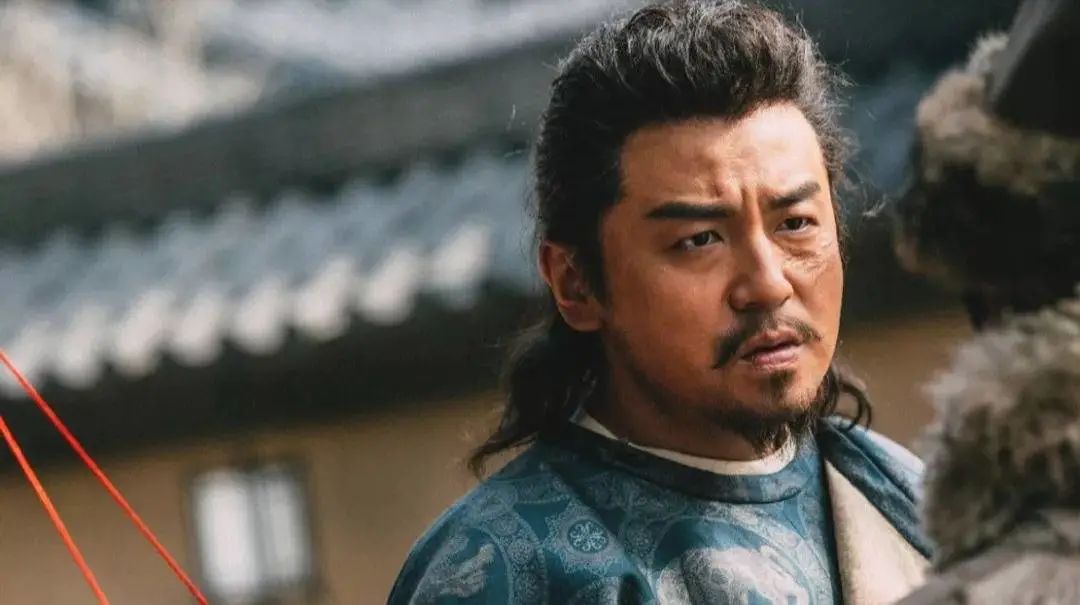 This article can be retweed from "Burning Finance (ID: rancaijing)By Tang Yahua, Editor: Dawn, Original Title:Youku dropped out, how long can Ali keep?, caption: Youku's "Chang'an Twelve Hours" drama
Not long ago, Wang Xing said on the meal: "Ali gave up the big entertainment has been a matter that can start the countdown." Ali Da Entertainment Public Relations Department head in the circle of friends responded, "The United States group does not open a teahouse is a pity a first-hand single-mouthed performance habits."
Behind the 怼, it is the trend of Ali's great entertainment, represented by Youku, in recent years. Youku as the main force of Ali's entertainment, once the video industry boss, has quietly dropped out. Whether it's membership, length of user stay, or the number of pop shows and variety shows, Youku lags far behind Ai Qiyi and Tencent Video.
During the sloppy development of video sites, Youku was China's first video platform to go public with UGC(User production content)Content-based, benchmark YouTube, has defeated 56, six rooms, cool 6 and other video platforms in the same period, the acquisition of the largest rival Tudou, sitting on the video site's top chair.
And when the copyright code broke the original PUGC balance circle, the industry began to seek to buy copyright and home-made program-based model, Youku began to go downhill, joined the white-edged battle of burning money losses, failed to keep their position, but became the industry's third.
Missed UGC, copyright and home-made content and greatly behind the up-and-comer Achiyi and Tencent videos, behind the fall of Youku, is ali's big entertainment strategy is weak.
Under Ali's arm, Youku four years three times change handsome, the pursuit of integration of Yu Yongfu, the radical participation in the war Yang Weidong, a determined stability of the road far away, Ali will take the turn to take up the post, Youku like a well-equipped machine gun, when to keep sharp, when to focus on firepower attack, depending on will be handsome. It's also a performance of Youku's time-to-fire silence.
Today's Youku, pick up UGC, again force short video, but the video industry is not the past, long video can not save Youku, short video is more difficult.
"Lost"
It's not a matter of a day or two for Youku to "fall out."
In terms of subscribers, at the end of 2019, Aichi's subscription membership reached 107 million, up 22% year-on-year. At the same time, Tencent's video paid membership also announced an increase to 106 million. However, Youku has stopped publishing the number of users in recent years.
In fact, in the number of users, Youku has already shown signs of decline. In 2015, Ai Qiyi and Tencent Video ranked first and second in the industry with 273 million and 203 million monthly active users, respectively, while Youku ranked first and second, respectively, while Youku had only 144 million. At the end of 2018, Youku had 75 million daily users, while Ai Qiyi and Tencent each had more than 100 million daily users.
In terms of average daily usage time, data for September 2019 show that Ai Qiyi ranks first with an average daily usage time of 29.749 million hours, Tencent video is more than 30 million hours less than Ai Qiyi, while Youku Video is only about 38% of Ai Qiyi.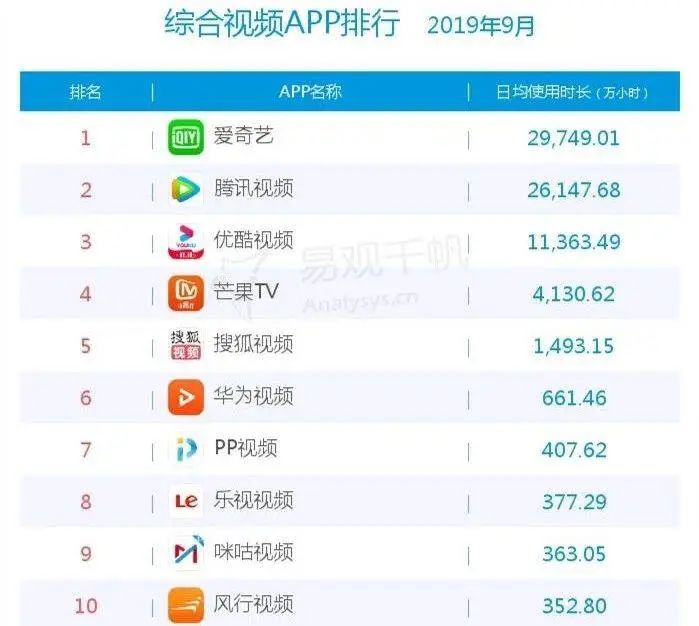 In addition to revenue, for the full fiscal year 2019, Alida Entertainment's revenue increased 23.06 percent year-on-year to RMB24,077 million, resulting in an adjusted loss of RMB15.796 billion. Youku's revenue status was not disclosed separately. In addition, a look at the revenue situation of Alida Entertainment in recent years reveals that its revenue growth rate in 2018 can still be maintained at more than 20%, and will begin to decline sharply in 2019.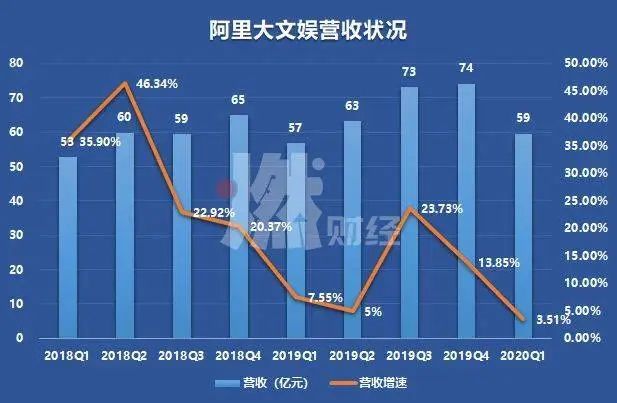 Drawing / Burning Finance
In 2019, Ache's revenue was 28.994 billion yuan, with a corresponding loss of 10.323 billion yuan.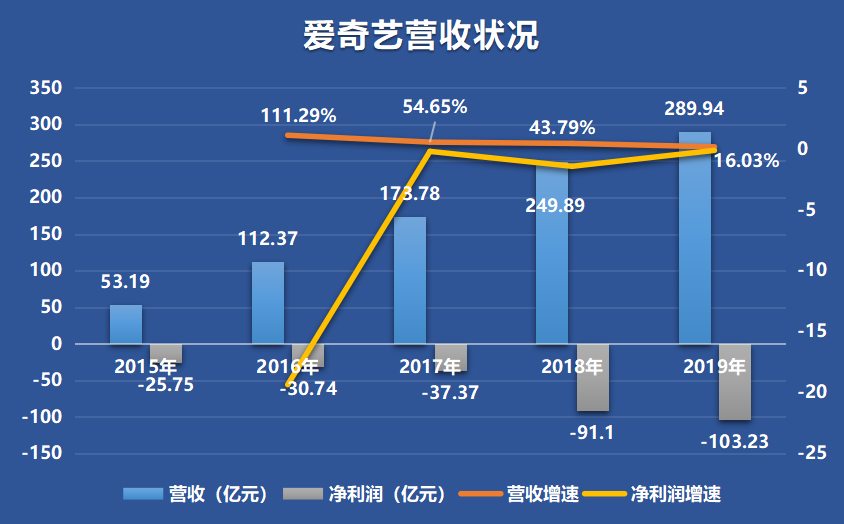 Drawing / Burning Finance
In terms of content, Youku in recent years can be remembered by the audience is the 2017 "White Night Pursuit" "Army Division Of the Army Division Alliance" hot, but Ai Qiyi's "Tomb Stealing Notes" series, "Residual Crime" "Mindless Mage" and Tencent video "Ghost Blowing Lights" series of TV series more attention.
In the 2019 hit TV series "Dear, Love" "Chang'an 12 hours" "Chen Love Order" "Celebrating the Year" "Knowing No" "IceBreaking Action" and so on, Youku only hit "Chang'an twelve hours", from the opponent's burst money far better than Youku.
Variety, 2018 Youku launched the original network "This is" series "This! It's hip-hop, this is the basket, especially this! It was hip-hop that became the big deal, but Ai Qiyi's "Idol Practice Student" and Tencent's "Creating 101" caught fire, causing the concept of "Idol New Year".
Data show that in 2019, Tencent, Ai Qiyi, Youku launched a total of 131 variety shows, including Ai Qiyi 54, Tencent video 40, Youku 37. 综艺爆款《中国有嘻哈》《奇葩说》《明日之子》《吐槽大会》等,都是由优酷的对手推出。
In terms of content alone, Youku also has a certain amount of high-quality output, the core problem is that there is no continuous launch of bursts. Users may use Youku or buy members for several of these shows, but due to the lack of gearing, the burst-pulled traffic follow-up has not been undertaken, the user has no continued attraction.
Today's Youku can only rank third on the video platform. Although it is the main plate of Ali's great entertainment, there is gold master holding, but compared to the glory of that year, Youku dropped out.
Opponents are anti-super, cross-border strikes
As one of the "Big Three", once the video site boss, Youku's history of development is brilliant enough.
In April 2005, Tudou was established as one of the world's first online video sites. A year later, Gu Yongxuan came out with Youku. In 2006, Youku became the first video site in China to broadcast more than 100 million videos a day.
In 2009, Tudou lost the first share of the video site because of a share freeze caused by founder Wang Wei's divorce. In December 2010, Youku became the world's first U.S.-listed video site, with a 160 percent jump on its opening day and a market capitalization of more than $3 billion.
After Wang Wei ended his divorce lawsuit in 2011, the potato went on the market, but the market was not good, and the potato fell 12 per cent on its first day of trading, with a market capitalisation of just $710m. Then, in 2012, Tudou was acquired by Youku.
"At that time Youku had a market share of 25 per cent, Tudou 24 per cent and a combined market share of nearly 50 per cent." Zhang Hao, a former Youku employee, mentioned. He said the main cost and loss source of the early video platform was bandwidth, when there was no copyright, and video sites were full of pirated content, including American dramas, and Youku's overall strategy at the time was the same as Tudou's to PUGC(PGC and UGC combined content production model, i.e. platform production content and user production content combined)Mainly.
In March 2012, Youku launched the first Internet full interactive talk show, "Xiao said", in October 2013, "2013 network first drama" "Millions of unexpected" cumulative playback volume successfully exceeded 200 million, Youku platform also has "called animal easy star" and other talent. By 2014, Youku's monthly usage was the third longer of all mobile apps, behind WeChat and QQ.
However, 2014 was the pinnacle of Youku and the beginning of the fall.
The early Internet had no copyright awareness, and UGC-mode video was mainstream. By 2014, the state began to crack down on copyright issues, LeEter purchased the exclusive copyright of "Censorship" as a landmark event for copyrighted content, and a large number of films and TV series were subsequently taken off the video site.
"I remember Youku making a profit in the fourth quarter of 2013, and we were thinking about it for so many years, hoping to give investors an account in the earnings report, so we reduced our investment a little, and it was just this quarter that Achiyi turned it over." Wang Hao said.
The reason behind this is still the burst pull. At the end of 2013, Ai Qiyi purchased the big hot Korean drama "You From the Stars", the first week of the launch, Ai Qiyi and PPS broadcast volume exceeded 10 million. Tencent Video has also introduced a large number of phenomenon-based American dramas such as Game of Thrones.
Wang Hao mentioned thatThen Youku put all the cash on the copyright, the industry you chased me to start the copyright fight "bayonet war." After a few rounds of burning money, Youku began to be unsyswered.
"At that time to find Tencent, Ali, and finally determined Ali's investment, You Ayten three stand in the BAT three camps, continue to increase investment results in the environment is getting worse, copyright price growth is faster than expected."
"There is no bottom line to increase prices, the most exaggerated time, the investment committee there is no scientific, logical judgment, see the director, starring name must cast a billion, and then see the script, preaching traffic star and small fresh meat, such as a small fresh meat plus a famous IP will certainly become. In fact, you Ai Teng three are not the beneficiaries of the copyright war, the money went to the star studio. Wang Hao said.
In June 2015, Ai Qiyi set a peak in membership payments with Tomb Stealing Notes, becoming the industry's benchmark event. Prior to the broadcast of Tomb Raider, which had about 5 million paid users, the show's membership growth grew 100 percent month-on-month, to 20 million between 2015 and 2016. And Youku doesn't have much to do at the moment.
In 2016, Ai Qiyi, Tencent video to catch up with Youku, the domestic long video industry officially entered the "three-legged" era.
Strategic swings, personnel changes
Youku from the peak to the fall, every step and its strategic positioning is closely related.
Youku, which merged potatoes, has been focusing on UGC. While the industry's winds have shifted to PGC's parallel payment model with member payments, Mr. Gu is still emphasizing UGC and ad revenue, following YouTube's lead in promoting user-generated content.
Youku's transformation is not a mistake. At the time, the UGC platform struggled to find a profit model, and episodes and variety brought in traffic and pry brand advertising. When Youku turned to copyright and home-made content, it was getting further and further away from the boss.
"China's long video industry is more deformed, good script good actors good production only someone to buy, and the platform to pay the sky-high price of copyright and can not earn back, but do not buy copyright and no traffic, like Sohu video do not buy copyright will gradually decline." Video industry expert Lu Yao mentioned.
In the serious burning of money but can not find a way out, Youku chose to invest in Alibaba's arms. In 2016, Ali bought Youku Tudou for $4.6 billion.
Jack Ma has repeatedly mentioned Ali's dual H strategy in public, entertainment(Happy)and health(Health)Ali's big entertainment corresponds to the first H. AliDa Entertainment in the financial results as digital media and entertainment, several split and merged, the 2019 financial results show that the sector includes Youku, UC Browser, Ali Film, Barley, Ali Music, Alibaba Literature.
Founded in June 2016, Ali Da Entertainment was first in charge of Yu Yongfu, after which, at the end of 2017, Yang Weidong became rotating president, and by November 2018, Yan Luyuan had succeeded Yang Weidong. Four years, three leaders, Youku in their hands experienced integration, radicalization, stability three stages.
The first airborne Ali Great Entertainment is Yu Yongfu, he took on the responsibility of integrating Ali Da Entertainment, the establishment of the "2 plus X" product matrix, that is, Big Youku, Big UC, as well as ticketing and other vertical business groups.
In Wang Hao's view, the biggest difference after Youku was acquired is the leadership of the definition of content and attention, "originally Youku also has music, game channels, early game live has not been fire, Youku is all the game-type heavy video back to see the gathering place, Youku itself is a small ecology." But after the acquisition, Youku as part of Ali's entertainment began to heavy, and gradually abandoned UGC content, and finally became a broadcast platform and series, variety-based platform, and Ai Qiyi, Tencent video exactly the same. This is equivalent to Youku in aichi launched the track to compete and catch up. "
After Yu Yongfu, Yang Weidong, who was in charge of Youku at the time, became the first rotating president. Yang Weidong's focus after taking office is still on Youku, to Youku's positioning is "episode type and variety series, deep-ploughed circle audience." "
Subsequently the popular series "White Night Pursuit" "Army Division Sima Yu's Army Division Alliance", burst the variety of "This!" It's hip-hop, "This is the basket" and so on. Youku's market performance this year was no less than that of its rivals, but it also faced the same problem in the video industry : the greater the investment, the greater the loss.
Alibaba reported a loss of 4.805 billion yuan in the third quarter of 2018 due to investments in the production of original content and the purchase of copyrights.
At least in sound volume, Youku caught up. But soon after, Yang Weidong himself left office on suspicion of co-operation with the investigation into economic issues.
After Yu Luyuan took office, Youku's style changed again.
Li Rui, a current Youku employee, told Yanjing that last year and the year before, Youku was in turmoil, Yang Weidong's working environment was more relaxed when he was in office, and now the details are more strictly managed. Youku's strategy now is to seek stability, lulu far proposed goals are very pragmatic, such as long video to maintain a high level, short video breakthrough, to reduce losses.
"Yu Lu is far from like Yang Weidong will spend a lot of money to buy a big play in exchange for a big traffic, he even suggested that Youku may take two years to settle the whole, he believes that the entire industrial chain competition is still glued state, may be five years before a real decision."
Will the great entertainment be abandoned by Ali?
The latest development is that Youku is going to pick up the UGC again and work on the short video.
Youku's goal this year is to be younger, shorter, and less losing money. In June, Youku announced that it will make major changes, short video and other PUGC content will appear in the form of a double waterfall stream under Youku's home page hot recommendations, the original "discovery" module has been changed to "dynamic", in which you can see the content of the creators of concern. In addition, the new version also opens up a topic page, discussion area.
"This year we're going to do a Youku, take most of the budget to Youku's got people, including some MCN agencies, Youku in order to support these accounts, and even with some high-quality early residents signed a guaranteed bottom plus sharing agreement, the company is already pulling some of the list of the people, will be targeted to dig." Li Rui told Burning Finance.
On the face of it, Youku's decline stems mainly from faults in platform content.
"18 World Cup, Youku spent nearly 1 billion to buy the exclusive broadcast rights to the World Cup, the number of users rose sharply, but the overall content to undertake not good enough, the later retention decreased. "This! Is the hip-hop" and "Chang'an twelve hours" is last year's summer fire, other times are very flat, Youku overall content of diversity is not as good as Ai Qiyi, a bit off-file. Li Rui said.
Deep down, it's actually a strategic issue.
Li Rui mentioned that although the video industry burns money, but each family is not short of money, Youku's strategy is too wobbly. Youku is no less money burning in 2018 than the other two, but by 2019 it will have shrunk, with three top leaders replaced in four years, and a variety may have passed a year from filming to airing, and a lot of strategic thinking can't be consistent.
In addition, although it is said that the back of Ali great entertainment, Youku and Ali system of ecology is not fully open. Li Rui, for example, "This! Is the hip-hop and other head programs or big dramas can get through, but the general ordinary program is not through, more is the project system through, rather than institutional through.
Youku backward, Ali big entertainment other plates are not in contention, then Ali big entertainment will be like Wang Xing said to open the countdown to give up?
Ma Yun once said in a speech at Lakeside University: It doesn't matter, we give the time to entertain the big entertainment is 11 years. In the video industry expert Zhang Yuan's view, Ali's positioning of Youku is not to create revenue, but hope to live, in essence, their operating model is not the same, Ali's acquisition of Youku is a station thing, the core areas of large companies should have products, Youku added Ali a vacancy.
View New Media analyst Ma Shi-chung also believes: "Ali won't give up on entertainment, users spend a lot of time on entertainment content, especially now that the traffic dividend is fading, the stock of users can not give way to opponents."
However, Youku's erries today are not necessarily the end.
"The video industry is an infinite game. Up to now, it doesn't make much sense to say who is more successful, because all three are not profitable and are still in trouble. Li Rui said.
At the request of the interviewee, Wang Hao, Li Rui and Zhang Yuan were the names.

This content is the author's independent point of view, does not represent the tiger sniffing position. If you have any objections or complaints about this manuscript, please contact tougao@huxiu.com
End




---