How does hotel marketing stand out on social media?
For Canadians, what they have always prided them on is Marshall McLuhan's bold, refined, world-famous 1964 phrase", "The medium is the message". But now, this view is wrong, and while some of these elements are still real, they are fading rapidly.
The context of the time gave birth to the idea that "the medium is the message". In that era, the number of media was much smaller than it is now. Broadly speaking, there are only radios, movies, television sets, magazines, newspapers, catalogues, mailing ads and billboards. Of the few media, each dominates a particular field of communication. The dissemination of information is limited by the manner in which it is predetermined in the field. For example, if your product advertises on TV, it's expensive because of the limited airtime. This media platform limits the amount of information you have, so you can only choose the most important parts to promote.
The emergence of numerous media forms makes this view no longer suitable for today's media market. You want to watch TV? Well, there are quite a few options, so you have to hover between wireless TV, cable TV, satellite TV and online pay-per-view sites like Netflix. How's the radio? Despite the rapid development of satellite and network channels, radio FM still exists. Print media may be slowly exiting the market, but many smart companies in this area have transformed websites, corporate blogs and social media.
At present, we live in an age of no boundaries. In the 1860s, televisions monopolized the market because there were few other channels. Now, people have too many choices, and the goods that appear in a media are not as powerful as they used to be. Of course, the media still optimize and classify product information to some extent. On the other hand, however, information determines that the medium may be more authentic. If you have an important product message that can be expressed in 120 words, put it on Twitter and Facebook. Want to use 800 words to specificize your product information? Then send it to a corporate blog post or write it like a press release and link to your social network.
It is good to have more theoretical basis, but marketing is the practical application of these laws. Understanding the idea that "media is no longer information" means that in order for users to successfully obtain information, the product information itself must have a new focus. For example, suppose you're going to have a newspaper advertising campaign. The only way to have a strong enough impact on the event is to make sure that your advertising message and design are compelling.
When it comes to social media, you may understand why the quality of information has become the new standard. Over the past year, marketers around the world have talked about the need for hotel managers to attract guests with a new look and use social media to expose their hotels, such as Instagram, Pinterest and Snapchat. In my opinion, you should take it out when you have information worth sharing, pay attention to ensure the quality of information.
If you look back at recent hotel stories that have been successful with new social networks, you're bound to find the fact that no matter what medium you choose, try to attract as many people as possible. My advice is to think about your product, the content of your hotel information, and see if it's memorable and can trigger interaction. Frankly, if your menu isn't eye-catching enough, you don't get attention on food websites. Without beautiful pictures and breathtaking beauty, your design interface is nothing but extraordinary. Only by pondering this concept can you consider communication strategies.
Mr. McLuhan, your contribution to philosophy and communication theory should not be underestimated. I greatly admire all the efforts you have made in these areas. But, just as Einstein rewrote Newton's physics, your famous words need to be changed in the 21st century.
Background: Marshall McCluhan, 20th century original media theorist.
Founded in 1997, Netflix is a U.S. company that offers Internet streaming on-the-go streaming in the U.S. and Canada, as well as online rental of fixed-rate DVDs and Blu-ray discs.
QiTron SelectEd WeChat Review
Reply."140904"The misunderstanding and business idea of the theme cultural hotel
Reply."140820"The new realm of hotel management: selling the atmosphere to guests
Reply."140913"Inn site selection is best in the inn culture concentrated place
---------------------------------
Introduction to the Travel Planning Advisory Body of Qitron

Qitron Tourism Planning Advisory Group is affiliated with Jingyuan International Tourism Operations Group (China Tourism Group Top 20, which includes Donkey Mother Travel Network, Jingyuan Tourism Development Co., Ltd., Jingyuan Tourism Marketing Services Co., Ltd., Tent Guest Style Resort, Donkey Road Wireless, etc.), is China's most effective and authoritative tourism planning and planning advisory service agencies, with national tourism planning A-level qualifications, headquartered in Shanghai, and set up branches in Beijing.
It has four professional centers, including the Tourism Industry Development Advisory Center, the Tourism Integrated Development Advisory Center, the Tourism Planning and Design Center, the Architecture and Landscape Design Center, and the Qitron Tourism Research Institute, which is responsible for advanced technology research and development.
QiTron currently provides more than ten professional services, including regional industry master plan, tourism area master plan, tourism area conceptual planning, tourism area master plan, tourism concept detailed planning, tourism construction detailed planning, tourism special planning, tourism architectural design, tourism landscape design, full-course consultants and so on.
Ten years of development process, has accumulated more than a thousand tourism planning projects practical experience. Strategic partnerships with a wide range of government departments and strength investors. Aspiring to become China's beautiful tourism experience creator.

Official website:www.kchance.com
Project consulting:400-110-1800 / 13901848087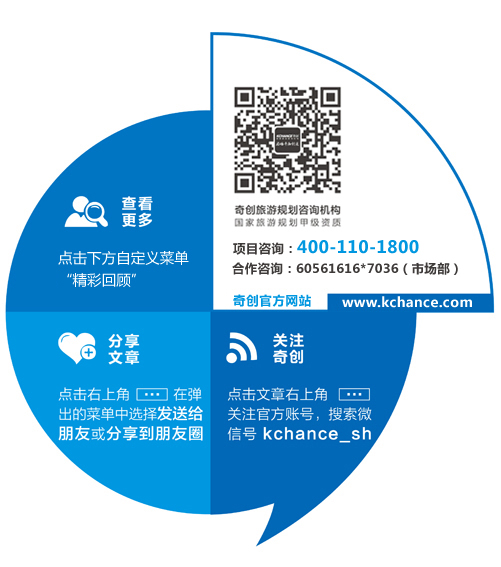 ---