How do I play a new marketing game on mobile social media? (With detailed case resolution)
The following article comes from Note Man , by Li Wei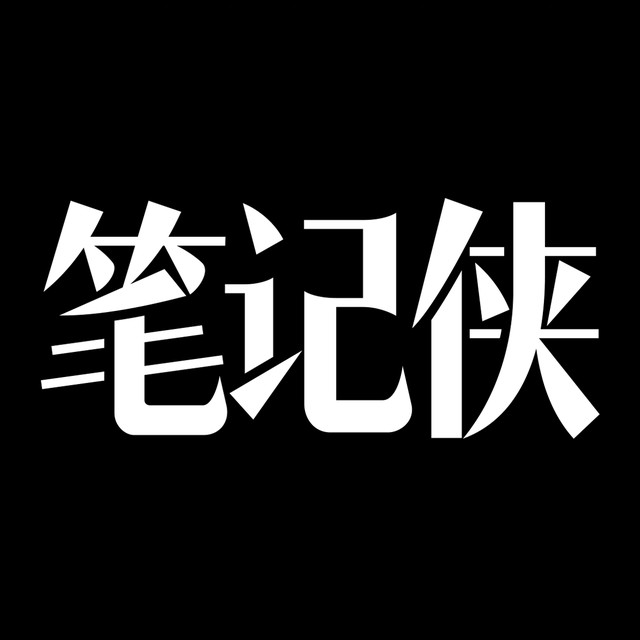 Note man
China's new business knowledge sharing community, more than 3000 dry goods notes, organizational management, business model and other 28 topics can be accurately searched.
↖ Click" 

Garage coffee subscription number

"Follow us
This article is from WeChat Public No.Note man
Wechat.ID:Notesman
This article's event party information, speaker's name, note-taker's name please indicate.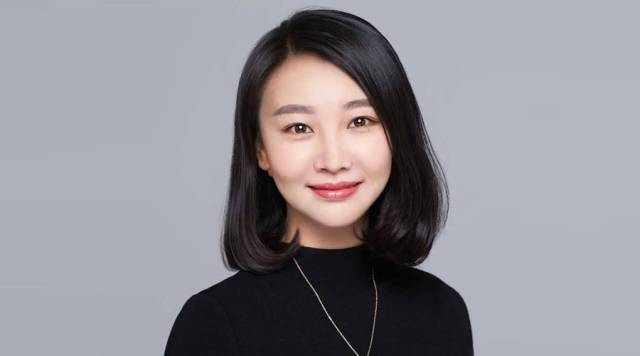 ---
Huang Qi . . MicroMonye Media co-founder and general manager of mobile integrated marketing business, has worked in Sina and Sohu, responsible for advertising product commercialization, resource pricing and marketing strategy. After joining micro-dream, form and be responsible for the core team of the company's marketing strategy, has a wealth of marketing communication experience and team management experience.

Today's Note Man:Pen.Remember Li Wei

Depth: 5164 words - 7 minutes to read
Before you take notes, think:

---
How to integrate marketing solutions with mobile social media?

How do I make live content feel better?

How to catch different hotspots and let the user on the live stream itselfnon-stop productionInterest?

What is the reason for choosing multiple different marketing channels?

How to use diversified means to do content dissemination and planning?
Complete notes and communication innovations
Today I'm going to share with you the case we've done.
2016 live broadcast is very hot, since 2016 live broadcast is so hot, we micro-dream media in particular want to use the live broadcast platform, mobile integrated marketing new play to a new level. So let's share a simple story about today's case.
Live streaming was very hot in the first half of 2016, but by the second half the market as a whole had stabilized.
Many customers asked, "Everybody's live, so what's our highlight?" "
Someone will also ask me, "How do I make my live content feel better?" "
It's not just about finding a beautiful woman or an industry opinion leader, and then giving us some exposure, live exposure. Some friends say that because of the limited time of the live broadcast, how can the follow-up influence of the live broadcast spread, and can spread their platform ideas in a diversified way?
These are also some of the pain points our customers experience.
First, brand upgrade solution ideas

Today's case is Bishengyuan.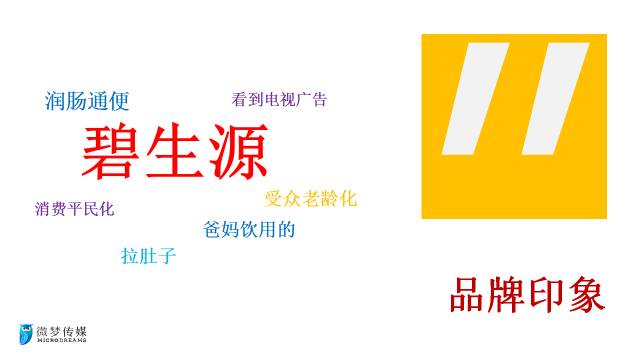 A lot of people say, "Bishengyuan?" We know! "But the average age of our company is 89, 90 years old, they often say: This is my parents grandparents, uncles, aunts drink, very old feeling.
The second is that there are concerns about whether there are negative effects, tummy tucks, and so on, including the fact that we rarely see it in Internet advertising or in the contact media of emerging young groups.
So its brand impression led to a lot of new young products on the market in the last two years, but no one knows, no one pay attention to, and sales are flat. Through our analysis of its products, we can see that its products are very diverse and very young.
Based on everyone's brand image, and then after reading its product matrix, we feel that customers should upgrade their brand. The idea it needs to build for this upgrade is "healthy weight management."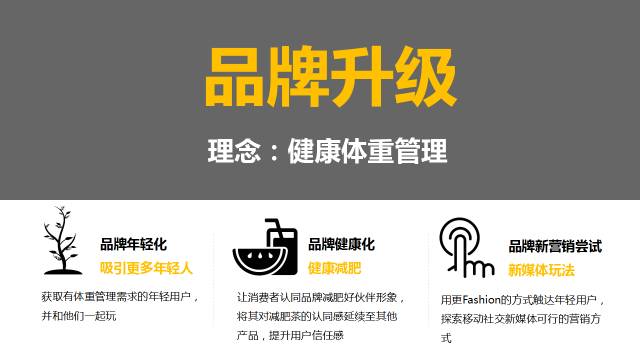 We are divided into three steps:
First, how to make your brand younger?
How to enable yourself to talk to a younger audience and draw on more effective young user groups.
Second, how can it make its brand healthier?
Because a lot of people say it's not laxatives, is it a tummy tuck? Not really, all of its recipes are very herbal and gentle.
Third, it has been doing very traditional television advertising, in the Internet and even the mobile Internet has no touch.We wanted to use the new media game to help it explore a marketing solution that could work in mobile social integration.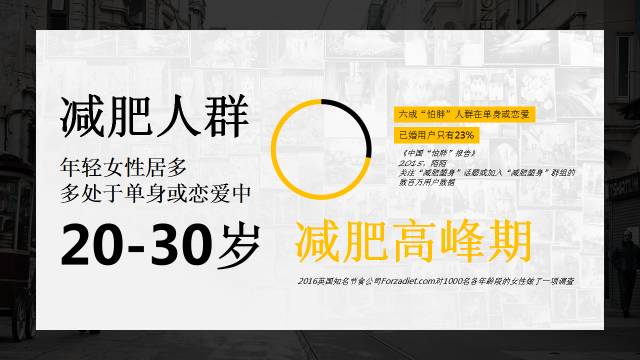 Let's start by analyzing the weight-loss population, a data study by a leading British company: 60-70% of people who lose weight in the market are now women. And single majority, aged 20-30 years old, in fact, this group of people are also their products want to reach the target users.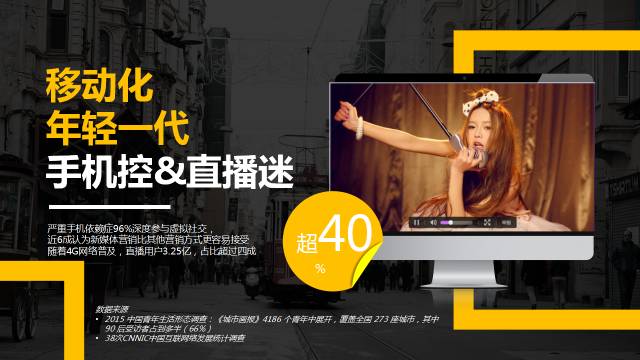 Let's look at this group of young people, this is our 2015 data survey, the young people are now a mobile generation, I believe that every student here, everyone will spend a lot of time on mobile phones every day, whether it is work, communication or access to information. In 2016, due to the rise of live platforms, more than 40% of people are live control, live fans.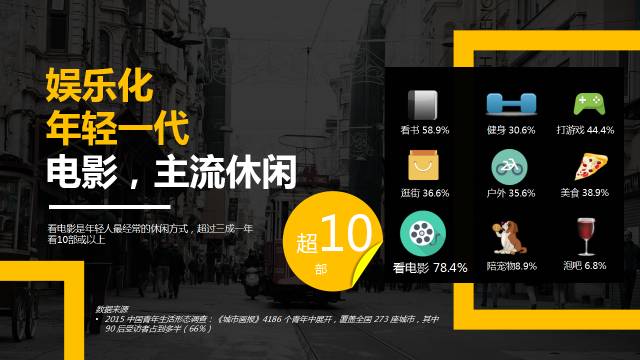 The second set of data is that today's young people are a very entertaining generation, we all know wang Baoqiang event, overnight the whole topic is entertainment, young people are very concerned about the point of view of entertainment. So how can we now such a marketing tide, our entertainment to build out, so that more consumers pay attention to it, like it?
Based on the analysis of the entire market, customer brands and products just now, including the user's out-of-home habits, our solution is:
First, we are all very concerned about inspirational things, like hunting, especially when browsing information on the Internet. We just want to create an inspiring weight loss event that 18th from fat to thin, from ugly to beautiful.
Second, now is mobile, time is very, very fragmented, how can we occupy this mobile debris time on the mobile side, to catch everyone's eye?
Third, how to convey the concept of healthy weight management through content marketing?
Fourth, we want to create a weight loss reality show for Bishengyuan, which is also a domestic live reality show. At the same time, we use Ali, Taobao, Tmall to help achieve online marketing and sales of the closed loop, and finally with some of our precision delivery to reach our precise users.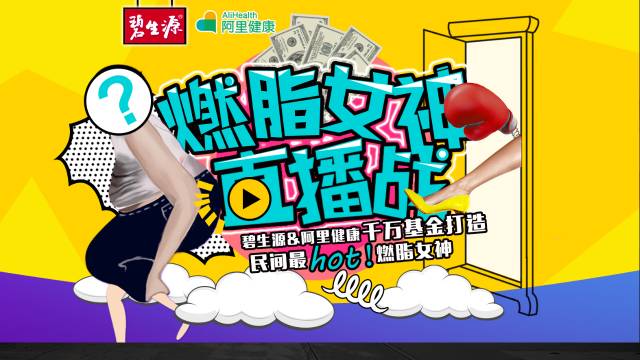 This is the event we created, "Fat Goddess Live Station." 
Second, how to market live programs?

Everyone is in contact with marketing, also understand marketing, also know that we have to have the first three steps:
The first step: We know the sea selection, finalists;
Step two: How do we turn a fat woman into a thin, beautiful woman through seventy-four days;
Step three: How do we promote IP, so that this wave not only in these months continue, but in the follow-up will have an extension.
I'll focus on how this live cycle is done. In this live game, we are in the sea election to find 5 fat beautiful women, mainly with the help of Taiwan's star coach, he will bring their own fans to help everyone to promote.
At the same time we rented a villa in the suburbs, the five beautiful women closed in the villa for seven or seventy-nine days, we all know (seven seventy-nine days) is a rotation, I hope we can all have a metamorphosis in the process.
These beauties broadcast their own personal broadcasts from Monday to Friday.
The goal is not to let people know how beautiful I am to let everyone see me, the purpose is to use their own personal influence, so that more fans pay attention to our weekend multi-camera big broadcast.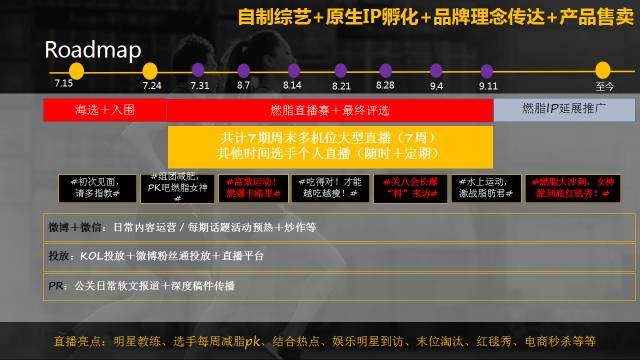 For a total of seven weeks, every Sunday night we will have a show that turns it into an entertainment variety, everyone has to go to PK on the scales, so that more netizens can see our overall weight loss results this week. In these seven contests, we all plan some topics ourselves, or do some events.
Why? As you all know, if you're just a simple live show, it's hard to tell the truth about the seven weeks of attention. How do we catch different hotspots every week and keep people interested in the live stream itself?
In addition to hunting, inspirational, we see the above picture black box is the focus of each of our planning events, the first "efficient sports", this time is just in time for the Olympic Games, during which we are actually planning a theme for the Olympic Games;
See the picture above the penultimate "care eight association", his little wife are all young audience, female groups, we want to use the influence of entertainment star visit, once again help us set off a small climax;
Finally, we also have a red carpet show to let everyone see the transformation of beautiful women.
Throughout the live stream, we chose a number of approaches:
First, Weibo, WeChat;
Social media marketing main crowd and matrix is still on Weibo and WeChat, so in Micro-blog, WeChat to carry out a good daily content operation, at the same time to each issue of the topic of an effective planning and coverage, so that more people can pay attention to our real live broadcast.
Second, with some precision delivery;
Since the emergence of Weibo and WeChat, there have been many red people and opinion leaders. This is what we call KOL, first of all to find the people concerned about KOL, let them help us spread vertical influence. The second is to use the social media platform's precise delivery, to help us reach more, find more people can focus on weight loss, pay attention to live streaming users.
Third, PR。
"PR" is actually we need to continue to voice in the industry, so that more people pay attention to us, we have been doing in the daily soft text reporting and in-depth writing.
Therefore, you can see this activity:
First, is the first homemade variety;
Second, it is to help incubate a native IP;
Third, how do we use star coaches, entertainment stars and event planning, help him to carry out a good communication of this brand concept;
Fourth, we use Tmall live, of course, there is a fish live, to help it achieve online closed-loop sales.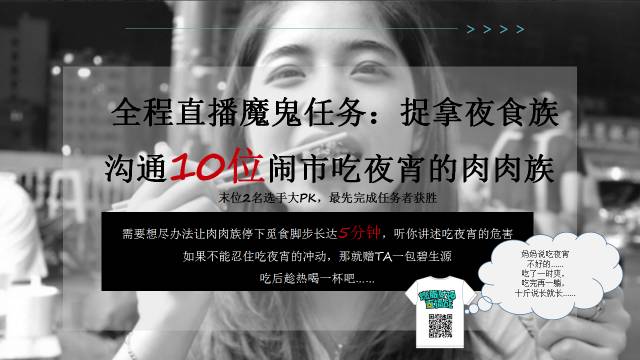 Here's another example:
In our process, this is the "catch the night food" small event we planned from Monday to Friday before President Guan's visit. Every player is in PK, and every week they go through devilish training to make themselves stand out from the crowd in this week's live broadcast, and of course there's always the last two.
Our plan in this issue is the last two players to play PK, PK this devil task is what?
The two contestants will intercept passers-by live, intercept consumers looking for food, tell them about the dangers to their bodies of eating greasy late-night snacks at night, and give each interviewee a packet of Bishengyuan diet tea to tell them how to drink properly, let them drink a cup of products after a late-night snack, so that everyone has a new understanding of the product itself.

In the process, this is the poster H5 that we have to co-operate with the publicity. I think their text is still very eye-catching, especially when we were pushing this activity, micro-blogging weChat on the small partner has been hyped the topic:
Don't go to Yan Street on Friday. In fact, it is to pass this special titled things, so that people have curiosity to let everyone pay attention.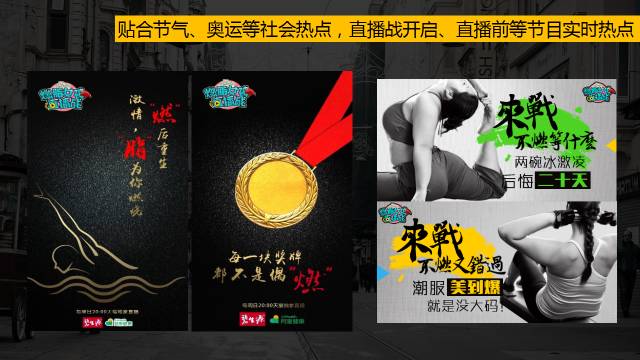 At the same time, with the help of the Olympic Games, with the help of some hot social events, with the help of gas savings, once again spread our fat-burning IP, as well as live broadcast of our one program. You can see we're taking (Olympic.) the down payment, (A poster celebrating the first gold"Burning" after re-birth, passion "fat" for you to burn, "every medal is not even "burning", and so on a series, or in order to let more people pay attention to us.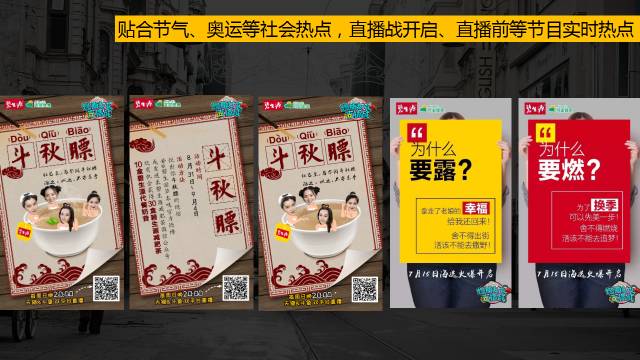 Our small fat-burning class also has fat-burning tabloids and so on, are on Monday to tell everyone, let's this week's contestants exercise, weight loss, diet, plan. In this process we should master some weight loss skills, including some of our event planning topics, so that we can all through our micro-blog, WeChat content operation, real-time attention, real-time understanding, and the content of the effective precipitation down.
Third, choose different marketing channels reasons

In the three activity stages, we also have to choose four different marketing channels. So why do we choose them, and what is the purpose of choosing them?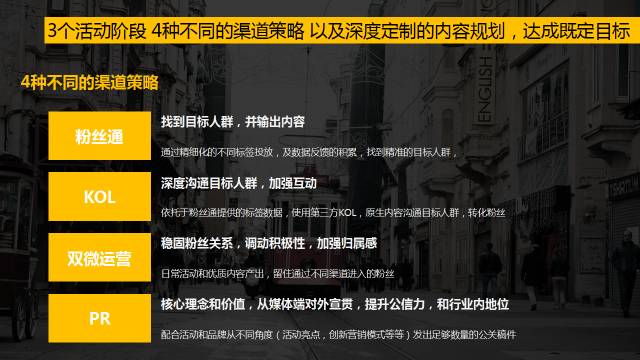 First of all, we find our target user through accurate delivery, he has a custom tag, this group of weight loss people focus on travel, focus on entertainment, hot spots, gossip and so on a series of data feedback. We use this precise label to find opinion leaders under these labels, so that they can help us to do more deep dissemination, more depth to influence our consumers.
Second, in addition to the topic of this hot planning, we must precipitate our content, we must be effective fans live, and even improve his activity and enthusiasm. In fact, the operation of Double Micro (WeChat, Weibo) is very, very critical for us, how can we let these fans continue to follow us, continue to understand the source of Bisheng? 
Finally, PR, let oneself in the industry's position, credibility to enhance.
Four, good marketing . . 
Good content and good communication channels
To sum up, we think that good communication, good marketing, not only content for the king, should be good content and good communication channels, this piece we have done some generalization.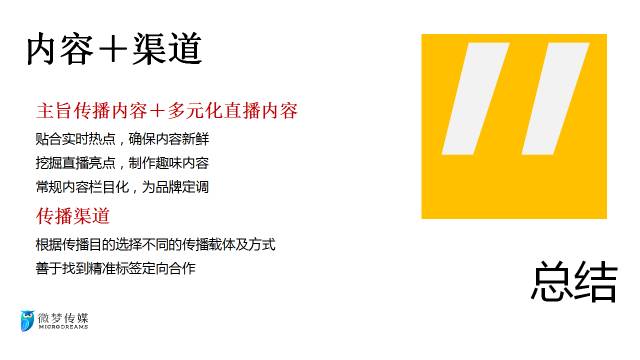 First, we must be in the whole event, planning, must have their own main content, do not forget the first heart.
Second, how to use diversified means to do content dissemination and planning?
First of all, we have to fit the real-time hot spot, must be fit not to run with the hot spot, and to run. Secondly, we have to dig the highlights of the content, and then continue to ferment, constantly planning, can not let a simple topic spread ten days, can not let ten topics are spread every day, so this is a rhythmic problem.
Third, we in the entire marketing communication process, we must let our content precipitate, we must make our content more column, for our overall brand to set the tone.
In terms of channels, we must choose precise crowd coverage.
I am also an entrepreneur, I very much understand the pain point in the whole entrepreneurial process, but also very well understand when we are still on the marketing road to spend more money, do more things must be the pursuit of cost-effective things, so with accurate communication, accurate coverage is very effective.
Therefore, we must choose different transmission carriers and methods, good at finding their own precise people and labels.
Thank you!
 Interactive answer//
---
Question 1:"Content and channels are elements of fermentation, so what techniques can reduce costs for start-ups?"
Huang Qi:
I have also been to some start-up space with everyone to communicate and share, in fact, we do not need to spend money to do marketing in the early stage, they can also through micro-blog, WeChat know what the hot spot is. In fact, you just need to find one or two people to do operations on Weibo, WeChat, their fans really glued to your own new media, let them help you spread.
Because I've been talking about social media, a lot of businesses are not seizing the opportunity to spread it for free. I think social media is actually a fission relationship matrix. In this matrix in fact, we in addition to affecting the first wave of people, the most important thing is to let this wave of people help us to carry out the second, third, four dissemination, so I think it should be in such a let others help you to do the dissemination of the platform to do content.
The second in the channel, now there will not be a lot of business owners say I completely invest in the platform, completely buy by the day and so on. In fact, there are a lot of such social media program purchase is paid for by effect, this way can also save a lot of coverage of accurate users of the way.
Question 2:How does your show make it more grounded and more interactive with users?   
Huang Qi:
First, with the help of other platforms to allow users to help spread and forward, while calling for more people to participate;
The second interaction on the day of the live broadcast, how do you interact with these players online? In fact, the simplest - (users) are profit-seeking.
Bishengyuan the first three issues of the live broadcast platform every half an hour I will do seconds to kill, that is, each issue will reach tens of thousands of orders. Although in terms of sales, a single period will not be too much, but from its own consumer precipitation has brought a lot, so the interest-driven is the same topic, we all know that there are prize forwarding, coupons and so on. In fact, we now take a more creative point to attract them, but the essence of the matter is to profit.
Second, with some extra influence. For example, Taiwan's star coach Mark, he is very famous in the fitness circle, but also very handsome. Because we have a live user message live information collection, he will watch in real time, we will ask him to pay attention to from time to time, randomly see the user's communication, with you in real time to interact. This is in the planning of activities to control the time and point.
Question 3: In fact, the risk of repositioning a brand is very large, what measures and means have you taken in the process of repositioning them?
Huang Qi:
Sorry, this shouldn't be called brand repositioning, it's a brand upgrade process. It has been committed to losing weight in the overall environment, the so-called upgrade is what it considers to be a herbal formula that is very healthy. Now we all know that many markets are full of young weight loss products, that is, left-handed meat loss including foreign weight loss products, in fact, we feel that foreign effects better side effects are lower. So its competitive market is very tough and brutal.
What we want to convey to you is that it is actually a manager of your healthy weight, not that I drink bisheng source I will definitely be thin, but we want to convey is first of all if you want to maintain a healthy body, and then slim body shape, and has continued, must have their own reasonable diet, must have proper exercise, and then with bisheng source to help you control the absorption of their own fat, you can achieve a better state, in order to metamorphosis.
Therefore, we are not actually playing "weight loss experts are to help you lose weight" (idea), but playing health management. So they used to be the earliest positioning of everyone in a row of intestines or something, but also to do health. This is in fact in the original positioning once again to do an obvious upgrade, so that more people on its healthy weight loss road to do a brand upgrade.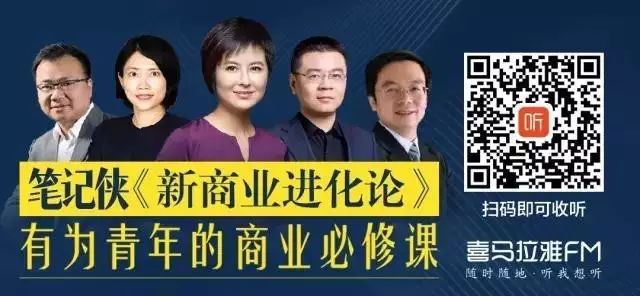 ---