How do you reduce Facebook's advertising costs without impacting sales? Teach you 8 tricks
Three-point operation, seven-point product,
At present, Facebook is already a marketing channel for many sellers.
But if Facebook ads are not optimized correctly,
Advertising budgets can be consumed faster than they are recorded.
Share 8 ways to reduce Facebook's advertising costs.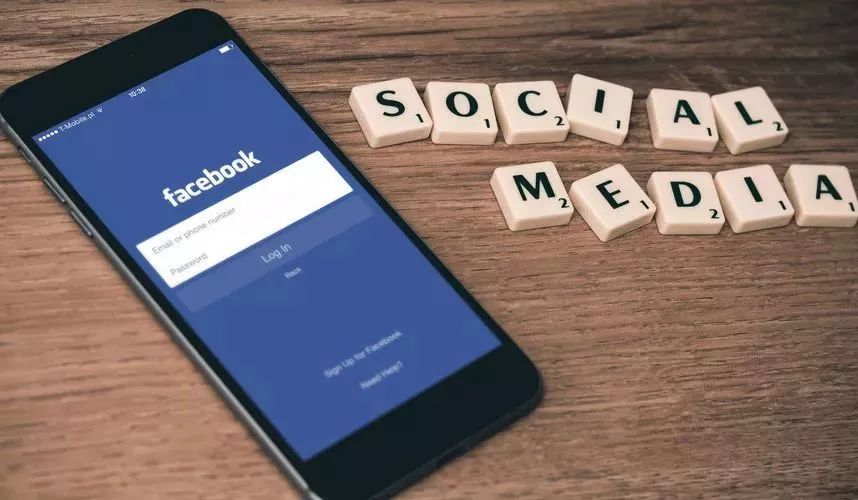 1. Use Facebook video coverage
The first step in cutting Facebook's advertising costs is to use video in ads. Facebook prioritizes video content, so videos have a wider reach than other forms of content ads because they may rank higher. With more exposure, the return on investment can be increased even if the cost of advertising remains the same.
But that doesn't mean sellers have to spend a lot of money making videos to get amazing results, and mobile videos are now mature and can be viewed in millions. But at the same time, that doesn't mean sellers are abandoning image ads al completely, but if your ads are expensive and want to reduce costs, just without product video, you can use video.
2. Improve the relevance score of your ads
If your advertising costs are getting higher and higher, you should first check the relevance score. Facebook's relevance score is similar to Google's AdWords quality score, which is one of Facebook's measures of ad quality. In short, Facebook measures the overall relevance of ads based on their quality and engagement, resulting in an ad's Relevance Score. This score is important for cost because it determines how often Facebook will display your ads and CPC fees.
Relevance scores are from 1 to 10 points, of which 1 is the worst and 10 is the best. If you want to increase ad coverage and reduce CPC costs, keep the correlation at 8-10. Sellers can view relevance scores by following these steps: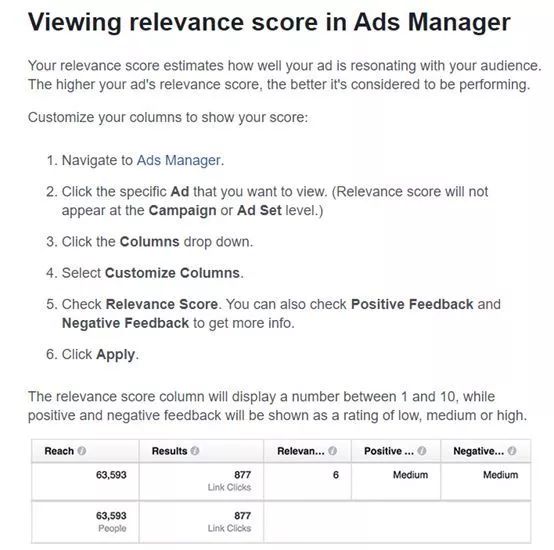 (1) Open "Ads Manager";
(2) Click on the specific ad you want to see;
(3) Click on the "Columns" pull-down;
(4) Select "Customize Columns";
(5) Check "Ritten Score". You can also check "Positive Feedback" and "Negative Feedback" for feedback;
(6) Click on "Apply" to view.
If your ad relevance score is lower than expected, there are three ways to improve your score:
Make sure your ad content is not misleading. Using "deceptive" text or images to get clicks in a misleading way can significantly hurt relevance scores.
Make sure your audience is targeted accurately. In other words, narrowing your targeting to a specific audience ensures that more people are targeted and find more relevant content.
Make sure your ads don't last. If you use the same ad for a long time and target the same market, the ad will become obsolete. Over time, your relevance score will decrease because consumers get bored.
3. Set up Facebook pixels
If you haven't set up a Facebook Pixel yet, set it up because it can help you reduce the cost of Facebook ads. Not only does it give you access to more data, but it can further help segment your audience and improve click-through and relevance scores. In addition, Facebook pixels allow sellers to see what Facebook ads bring sales, allowing sellers to optimize their ads for a higher return on investment.
Using facebook pixels, you can:
Run effective redirect ads;
Use data to optimize your ads;
Track sales.
4. Limit your Facebook ad bids
Limiting Facebook ad bids can help sellers reduce costs if your Facebook ad relevance score is right, your ad reach is higher than expected, but your costs increase. And when your ad gets more valuable audience clicks, Facebook continues to send ads to people who click on it.
By using bid limits and create rules, you can ensure that your ads work within your budget. Therefore, the seller wants to make sure that the "automatic" bid is converted to "manual".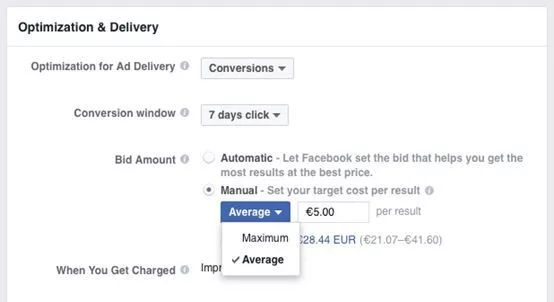 Tip: If you choose to bid manually, you should set it to "Average," as shown in the image above.
5. Adjust Your Facebook Audience Overlapping Ads
If your Facebook ads are too expensive, how many audience overlaps should you consider? Audience overlap not only means that you're targeting very similar goals, but according to Facebook, audience overlap can lead to poor ad serving because your ads are essentially competing with others.
Fortunately, Facebook has Audience Overlap tools that let sellers know if and where audiences overlap, ensuring better ad delivery and lower costs. Sellers can view the following steps:

(1) View "Audiences";
(2) check the audience you want to compare (up to 5);
(3) Click "Action" and "Show Audience Overlap" to view it.
This tool will tell you which parts of your audience overlap and how much they overlap: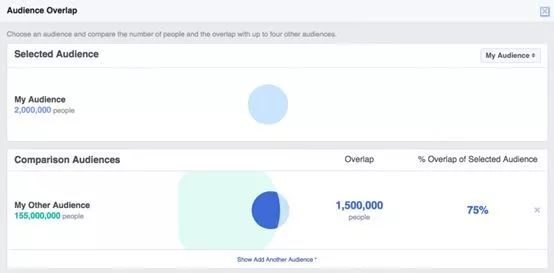 If, as in the Facebook example above, your audience overlaps high, and you can then combine or improve or change targeting by further segmenting, using Facebook pixel data, and so on.
6. Increase the click-through rate of Facebook ads
To reduce Facebook's advertising costs, you need to increase the CTR (click-through rate) of your ads. Because the higher the click-through rate, the higher the relevance score.
So how do sellers improve click-through rates? Here are two tips:
(1) Get a higher click-through rate by adjusting your ad's location
Facebook now offers a variety of feeds and platform ad locations. But sellers should remember not to choose an "auto" ad location, but to manually test the location to find the ad location that gets the highest click-through rate.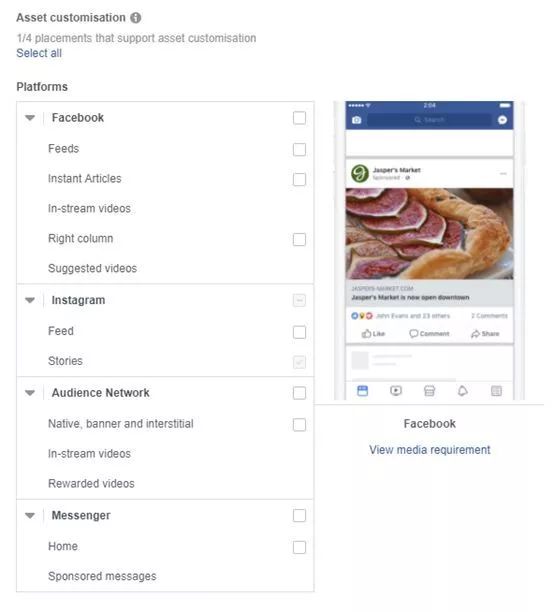 In addition, your ad location selection matches your overall goals and ad content. For example, if you're using high-quality images, a multi-figure presentation on Instagram will ensure you get a higher click-through rate and relevance score. Or, if you provide more granular promotional information, you can use Facebook messenger ads, which may yield a return on investment.
Sellers who want to increase the value of performance and cost need to set a special delivery location for each ad.
(2) Get a higher click-through rate by preventing ad fatigue
Ad fatigue is when an audience sees more of your ad and finds that the content is old, which in turn affects ad reach (when the audience starts to hide the ad) or click-through rate (consumers may no longer click on the ad).

Sellers can prevent this by setting automatic rules to keep the frequency of occurrence low. Sellers can set it up through Facebook's ad manager, then select Create Rule, and then you can change the display frequency as follows: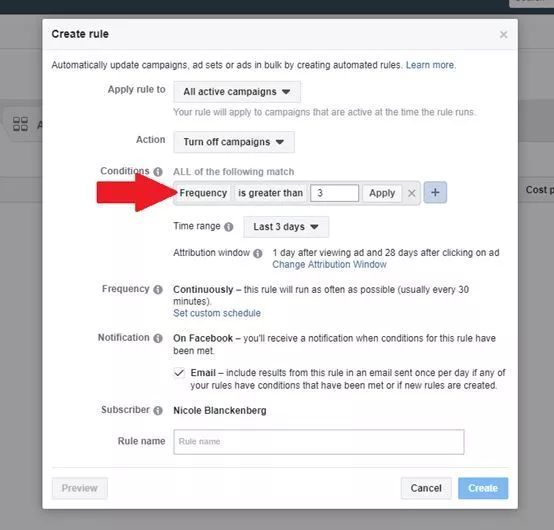 7. Find the right time to show your ads
Not all audiences are active for the same amount of time, and in order to reduce the cost of invalid ads, sellers test when ads will be released. After you've made simple statistics about your ad data, you'll know when your audience is following your posts the most, so you can set your ads to run only during those peak hours.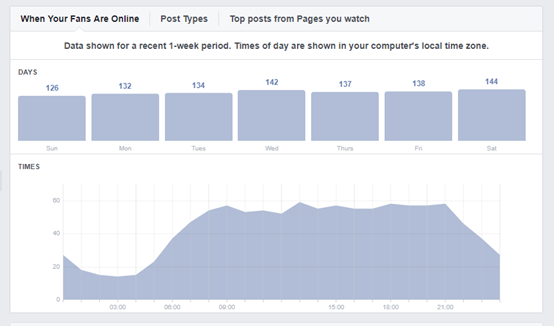 As the figures above show, more audiences are engaged on Saturdays, with the fewest on Sundays, with target audiences highly active between 9 a.m. and 21 p.m. This allows the seller to set the ad to run only for those periods.
8. Target your audience more precisely
The more accurate your audience targeting, the more likely your ad traffic is, not only by clicking on your ad, but also by sharing it with other audiences who are interested in content.
Click-through and conversion rates are not directly related to reach if audience targeting is too broad. In addition, your audience is set to be inaccurate, and your ads will compete and bid better than targeting the exact audience. For example, if your target audience is "female consumers aged 18-55 who like to work out," the ad competition will be higher than if the audience were targeted at "women aged 18-23 who like yoga and live in Sydney." Precise targeting ensures that your ads get a higher quality score.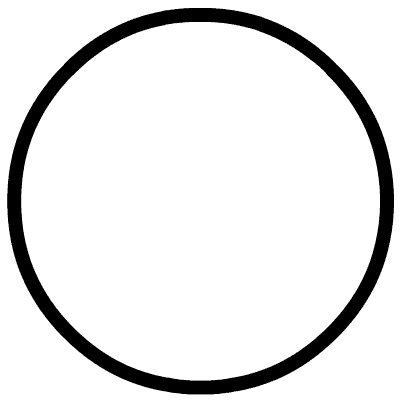 To promote cooperation, please clickRead the original textContact us!
---