Golden Wing Morning Post . . Apple's market capitalisation soared by $860 billion; S.P. moved Tesla's rating from B-plus/stable to BB-/stable; guojin united and failed, or was it due to insider trading?
Golden Wing Morning Post
2020.10.13
U.S. stocks closed higher on Monday, led by technology stocks. The Dow rose 0.88 per cent to 28,837.52, the Nasdaq rose 2.56 per cent to 11,876.26 and the Standard and Poor's 500 index rose 1.64 per cent to 3,534.22. The index recorded its biggest one-day gain since Sept. 9; Apple(AAPL.US)It rose more than 6 percent, its biggest one-day gain in nearly two-and-a-half months; Facebook(FB.US)Up 4.27%; Amazon(AMZN.US)Up 4.75%; Google(GOOG.US)it closed up 3.56 percent. Market.The latest earnings report is expected to show an improvement in corporate performance. The two parties in the United States continue to negotiate fiscal stimulus. Democratic presidential candidate Joe Biden has more than 10 percent support for Trump in the polls.
White House doctor: Trump's new coronavirus test was negative for days
White House Doctor Sean Conley said Trump's new coronavirus tests for several days were negative, CNN reported. Trump confirmed early Tuesday that he and his wife, Melania, were infected with the new coronavirus and were taken to Walter Reed National Military Medical Center for treatment that evening. He was discharged from the hospital on the evening of the 5th and returned to the White House. White House doctor Sean Conley said in a statement on the 8th, Trump has completed the treatment of new coronary pneumonia on the 8th. "Since his return to the White House, his physical examination results have remained stable and there is no indication of any progress," Conley said Saturday, the 10th day after Trump's diagnosis, "and Trump is expected to return safely to public events on the 10th."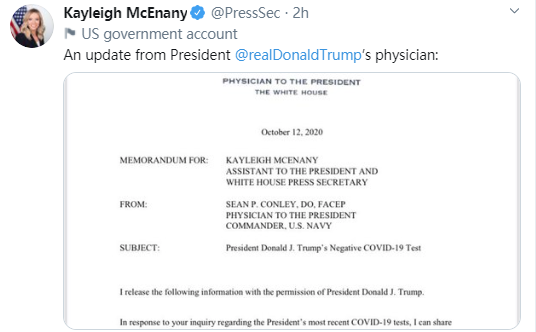 WHO: Globally, 10 vaccines have entered Phase III clinical trials
At WHO's regular launch of New Coronary Pneumonia on October 12, WHO Chief Scientist Sumia Swaminathan said progress in clinical trials of new crown vaccines around the world was encouraging, with about 40 vaccines currently in clinical trials, 10 of which are in Phase III clinical trials, with vaccine data expected as early as December to early next year, and multiple vaccine trials expected in the next six to 12 months.
HKEx: The securities and derivatives markets were delayed due to typhoon signal No. 8
The Hong Kong Stock Exchange announced that the morning trading sessions of the stock market (including the Shanghai-Shenzhen-Hong Kong-Hong Kong-Hong Kong-Hong Kong-Hong Kong-Hong Kong-Hong Kong-Hong Kong-Hong Kong-Hong Kong-Hong Kong-Hong Kong-Hong Kong-Hong Kong-Hong Kong-Hong Kong-Hong Kong-Hong Kong-Hong Kong-Hong Kong-Hong Kong-Hong Kong-Hong Kong-Hong Kong-Hong Kong-Hong Kong-Hong Kong-Hong Kong-Hong
stock movements
STOCK TRENDS
Apple's market capitalisation soared by $860 billion as the new iPhone was added
In anticipaty of the new product launch, Apple(AAPL.US)Shares surged more than 7 per cent to close at $124.40, up 6.35 per cent, their biggest one-day gain since July 31, with a market capitalisation of $2.13 trillion, up $127.1bn ($860bn). Several analysts have expressed high hopes for the iPhone 12.
Twitter, Facebook and Alphabet were up
Deutsche Bank raised Twitter on Monday(TWTR.US)rating, and raised Facebook(FB.US)and Alphabet, Google's parent company(GOOG.US)Target price, bullish on these companies' digital advertising revenue growth. Twitter, Facebook and Alphabet all rose more than 5 percent in midday trading Monday, with Twitter trading at $48.25, a five-year high.
Standard and Poor's: Adjust Tesla's rating from B-plus/stable to BB-/stable
S.P. said that because of Tesla(TSLA.US)Increasing competitiveness, with its rating downgraded from B-plus/stable to BB-/stable. The company said Tesla's share issue significantly improved solvency and improved its assessment of the company's financial risks. It also raised its rating on unsecured bonds from B-plus to BB-. The "stable outlook" reflects the view that Tesla's competitive position is strong and that its credit rating metrics will be in keeping with expectations.
Musk: Tesla is 75% automated in almost all parts production
Tesla.(TSLA.US)CEO Musk tweeted that almost all parts production at Tesla is 75 percent automated. Only harnesses and assembly are mainly hand-operated, which is less than 10% of the production cost.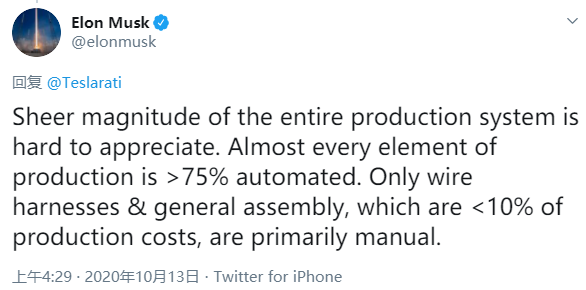 Ideal cars rose more than 8%, with a total of 18,722 new cars at risk in the first nine months of this year
Ideal car(LI.US)It closed up 8.86 percent. According to the latest retail data of the FAW data terminal released on October 12th, the ideal ONE had 3830 insurance units in September and 18,722 in January-September. According to insurance data, Ideal ONE surpassed the Es6, BYD Don DM, Tesla Model X and other models in September to become the first new energy SUV to sell in all sizes, power forms and price ranges.
Disney throws out heavy restructuring plan,At one point after the market, it was up nearly 6%.
Disney.(DIS.US)Streaming has become the company's most important business as it restructures its media and entertainment divisions. To further accelerate its direct-to-consumer strategy, the company will centralize its media business into a single organization responsible for content distribution, advertising sales, and Disney Plus. Disney's shares rose nearly 6 percent after the news.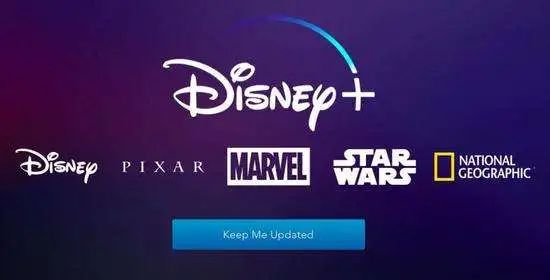 Doodle Tiger Tooth has formally signed a merger agreement and the new company is controlled by Tencent
On the evening of October 12th, Tiger Tooth(HUYA.US)and fighting fish(DOYU.US)Under the formal merger agreement, Tiger Tooth will acquire all outstanding shares of Tiger Tooth, which will become a wholly owned subsidiary of Tiger Tooth and will be de-listed from NASDAQ. Doodle and Tiger Teeth merged 1-1 according to market value, and the combined company is Tencent(0700.HK)controlled. At one point, the fish dish was up more than 16%. The merger process is currently under way and is expected to be completed in the first half of 2021. When the deal is possible, a domestic broadcast platform worth more than $10 billion will be available and will further strengthen the live-streaming ecosystem of the game, and the merger ambitions are not limited to live broadcasts. (First Finance)
National gold countries united and failed, or because of insider trading?
October 12, Allianz Securities(01456.HK)with Guojin Securities(600109.SH)The termination of the reorganization was announced. The reason for the termination was the failure of the parties to the transaction to agree on the transfer and some of the core terms of the merger, the statement said. Only 10 trading days have passed since the official declaration of "marriage". However, brokers said the reason for the termination could be suspected of insider trading.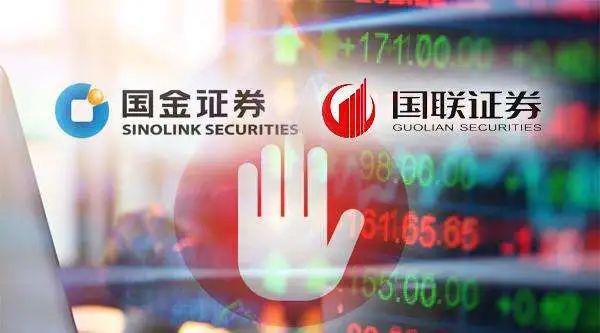 BYD: Net profit for the first three quarters is expected to be RMB3.4 billion to RMB3.6 billion
BYD Ag (01211.HK) issued a revised forecast for the first three quarters of the results, said it expected net profit for the first three quarters to be RMB3.4 billion to RMB3.4 billion, up 115.97% to 128.67 percent year-on-year, after an advance of 77.86%-90.56 percent.
People familiar with the situation: China National Pharmaceutical Group's new crown vaccine in Beijing, Wuhan, two places open to make an appointment for vaccination
China National Pharmaceutical Holdings (01099.HK) has opened its new crown vaccine in Beijing and Wuhan, according to people familiar with the matter. Although all groups of people can make an appointment, the company will give priority to overseas students, especially those who need to go abroad from November this year to January next year to be vaccinated.
Buffett's endorsement of Snowflake caused controversy on Wall Street
Snowflake, the biggest software company in history, was endorsementd by Buffett(SNOW.US)Less than a month after the listing, Wall Street analysts have been highly controversial about the company. The company is now valued at more than $67 billion. The company more than doubled in first-day trading, but has been flat since then.
According to data collected by CNBC, at least 19 analysts began covering the company for the first time after a quiet period of IPOs. Of the nine buy ratings, the most optimistic forecast came from Truist, which set a target price of $350 for snowflakes, 47 per cent higher than Friday's closing price. Nine other analysts initially gave a "hold" rating. Only Atlantic Securities has a "sell" rating with a target price of $214.
Cutting-edge technology
FRONTIER TECH
2020 Nobel Prize in Economics announced!
At 5:45 p.m. Beijing time on October 12th, the Royal Swedish Academy of Sciences announced that it would award the 2020 Nobel Prize in Economics to Paul Milgrom and Robert Wilson for their "invention of the theory of auction" and that the two winners would share the prize of 10 million Swedish kronor (about 7.6 million yuan).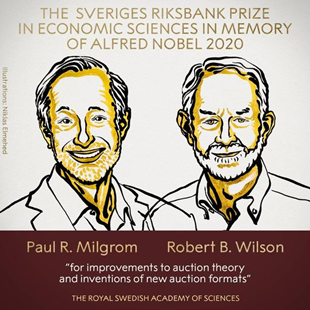 Musk's star chain has angered astronomers by interfering with the largest telescope organization and going to the United Nations
Analysis from SKA looked at the impact of the Star Chain and other constellation programs on the square kilometer array radio telescope, Science reported. The study found that they interfered with a radio frequency band used by the SKA program, as well as the search for organic molecules in space and water molecules that are key symbols of cosmology. The matter will be discussed in a series of United Nations subcommittees next year before being submitted to the United Nations Office for Outer Space Affairs for final approval by the United Nations General Assembly. (Ting)
Xiaomi releases UWB technology
On October 12th Xiaomi released a new technology: "One Finger Connect" Xiaomi UWB technology. It is a new generation of connectivity technology with spatial positioning, which is the first to realize the revolutionary way of pointing interaction. As long as the mobile phone is aimed at the smart device, it can be operated by UWB technology, which has also been used in the field of radar.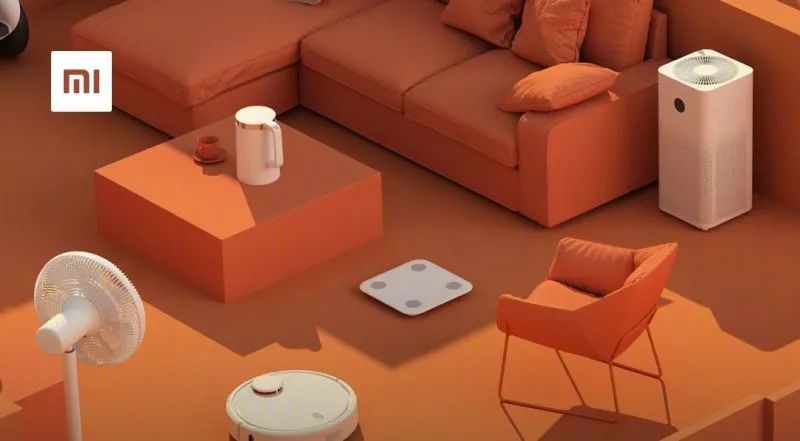 event speech

EVENTS & VIEWS
EUROPEAN Central Bank President Christine Lagarde: The government should not stop crisis aid too soon during the outbreak
European Central Bank President Christine Lagarde stressed during talks with Alfred Kamer, the European director of the International Monetary Fund, that government aid or short-term support should not be "suddenly suspended" during the crisis. She said that even if the economy is on a good trend, it is hoped that politicians will understand and continue to take these measures for some time, because a smooth transition period is necessary to achieve full recovery.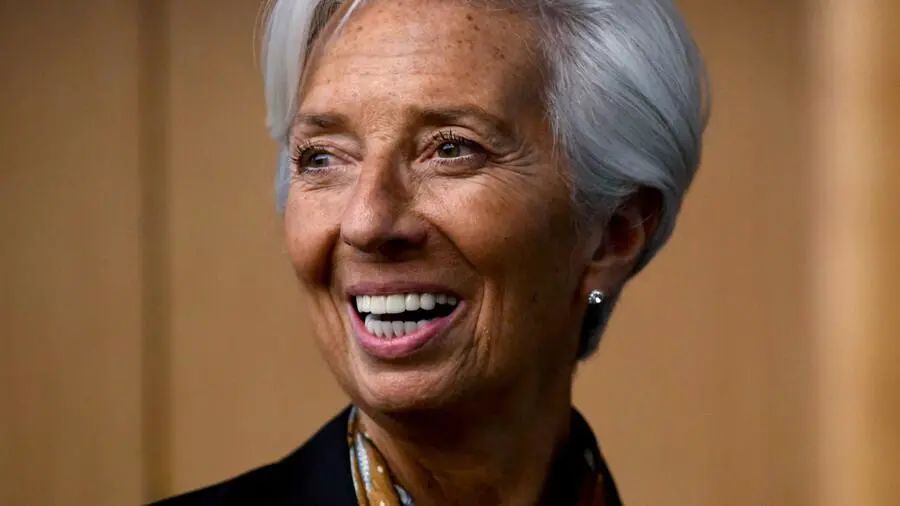 Folch: Trump's campaign rallies have raised concerns about the spread of the virus
Anthony Folch, America's chief infectious disease expert, warned that President Trump's planned campaign rallies this week risked boosting the spread of the coronavirus. "It's purely from a public health point of view," Folch said. We know that doing so is self-helping. We've seen that a lot of people don't wear masks at rallies, and the numbers speak for themselves. At Trump's campaign rallies, supporters usually don't wear masks and stand close.
The past is wonderful

PAST CONTENT
Golden Wing Morning Post . . The stimulus package is deadlocked again; Trump: I'm immune to the new coronavirus; and U.S. companies are expecting better earnings

A warm welcome to the Golden Wing team of distinguished guests from the Credit Road Business School

Golden Wing Fund . . Jinyi Investment Existing pure U.S. stock long-term strategy products, welcome to contact xiaoyi at any time

service@geglobalfund.com, we will send you a detailed description of the product.
Part of the newsReprinted from network media, if you do not want to reproduce, please contact Xiaoyi delete. 
The company upholds"Bow the right way, sincere, far away"Service concept
Accompanying the family heritage helps the wealth grow
Committed to becoming the best global investment expert in the Chinese world
For more wealth information, stay close to Jinyi Investments, the global financial investment experts around you
#Global Financial Investment Expert#  
Contact us:service@geglobalfund.com
Golden Wing Fund ∣ Jinyi Investment
Disclaimer:
This article was prepared by Jinyi Investment Management Co., Ltd., affiliated with Golden Wing Fund Management Co., Ltd. ("Golden Wing Fund") and is for private general reading only. No copying, excerpts, or any reference, reprint or transmission of any of the contents of this report may be made without written approval.The contents, materials, data, tools and materials contained in this document are provided to you for your information only and are not intended or deemed to be an invitation or offer to sell or subscribe to securities or other financial instruments or constitute investment advice to any person. You should not rely on any of the content in this article to make any investment decisions.The content of this article does not take into account the investment orientation, financial situation or any special needs of individual investors. You should make your own investment decisions based on factors such as your investment objectives, risk assessment, financial and tax status.
The information contained in this document is obtained from sources considered reliable by the Golden Wing Fund, but the Golden Wing Fund cannot guarantee its accuracy, correctness or completeness, and the Golden Wing Fund or its affiliates will not be held responsible for any loss a result of the use/reference of any content or information in this report。The Golden Wing Fund or its affiliates may issue other reports or comments or investment decisions that are inconsistent with or have different conclusions from this report in response to different assumptions or factors. If there are any changes to the contents of this article, the Golden Wing Fund will not give notice. The Golden Wing Fund or its associates may hold securities or investments referred to in this document or provide securities services to provide such securities or investments.
Distribution, distribution or use of this document may contravene local laws, regulations or other registration/licensing regulations in a number of countries or jurisdictions. This document is not intended to be distributed or used by any person or unit in such country or jurisdiction.
Copyright 2020 Golden Wing Fund Management Co., Ltd. All rights reserved.
---