6 CMO's workplace advance strategy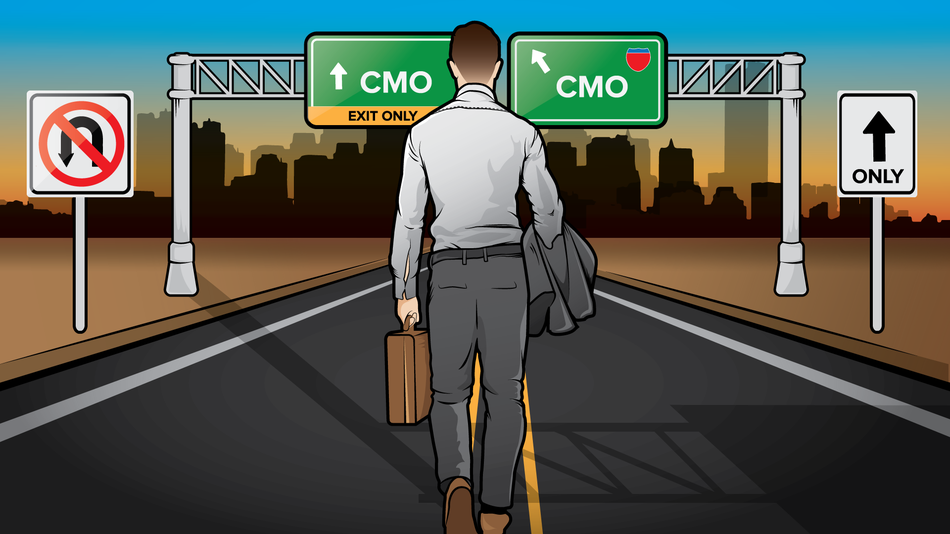 Right.For millions of marketers, the top of the career pyramid tower is CMO, the chief marketing officer.

CMO is responsible for every aspect of corporate marketing strategy, from data-driven analytics to rebranding to social media campaigns. It's a challenging job, but it also pays off. The following 6 CMOs have successfully reached the top of the market in different industry types of enterprises. Take notes and see what you can learn.
1. Naomi Hirabayashi, DoSomething CMO
(DoSomething is a global non-profit organization)
Hirabayashi began his career in New York as acting coordinator of Weather Channel, a U.S. pay-TV channel that broadcasts weather forecasts and weather-related news and analysis, as well as weather-related documentaries and entertainment programs. Twitter and Facebook, etcThe rise of social media sitesShe quickly realized that the traditional advertising industry was changing dramatically. "I started my career in one of the most innovative cities in the world, but my role doesn't include digitalization," she says. I want to change that. "
After working for The Weather Channel for a while, Hirabayashi got a job at Attention, a small social media advertising agency. "I'm new to the concept of 'social media', I have little experience in digital, but I'm eager to learn," she says. It's completely different from my training in the traditional communications context of college, it's a new world and I feel like I'm on the front lines. " 
She worked at Attention for four years and gradually learnedSocial media plays a role in the public goodand use his spare time to organize non-profit digital marketing training sessions for local organizations that lack resources.
In 2007, volunteering at DoSomething.org made Hirabayashi understand and fall in love with the company. When the position of marketing director was vacant, she resigned to join them. A year and a half later, she was promoted to Chief Marketing Officer.
Keep up with the latest technology trends
"We have a team event called '10 at 10' that discusses key cultural trends, technology trends, current events, etc. that affect our goals," says Hirabayashi. " 
"I've been exercising myself," CMO said
Listening.
ability.
Everyone should work for it.
" 
Hirabayashi's personal beliefs greatly influenced her work attitude: "Life is short. I'm full of desire; I want to be as busy as possible, I love life, I love the people I work with, and I love DoSomething.org. I do this every day, and it's a catalyst for opportunity. "
2. Jeff Rubenstein, WTRMLN WTR
(WTRMLN WTR is a company that does cold-pressed watermelon juice)
"I started my career in brand management at Coca-Cola, which is the best training ground for any ambitious but inexperienced young marketer," Rubenstein said. The next step in his career planning is to move to a consulting firm, but the ultimate goal is to build his own brand, not to counsel others.
Rubenstein took over as vice president of marketing at Vita Coco, a leader in coconut water, in 2009, when the start-up earned less than $10 million and employed fewer than 20 people. In less than five years, Vita Coco's brand revenues reached nearly $300 million, distributed in more than 25 countries, gained more than 60 percent of the market share, and beat Coca-Cola and PepsiCo. In 2014, he left the company to become chief marketing officer of WTRMLN WTR, a pioneer of cold-pressed watermelon juice.
"The brand has only been on the market for a year, but it has developed an important social media profile and a true cultural following, including stars and athletes," Rubenstein said. "
"There is a real difference between architects (responsible for envisioning) and carpenters (responsible for construction)," Rubenstein said. I want to be able to do both, both to develop a blueprint and to immerse myself in the execution with the team. "
Part of having a vision is to beAcknowledge when you need to use someone else's insights。 "As I get older, I learn less about mobile devices, the development of wearables, and hyperlinked social platforms, and I'm surrounded by the smartest young marketers who can help me navigate everything that's technology-related."
For future marketers and students, Rubenstein suggestsHone specific skills from the start。 "Focus on three big things, you have to do well and have them. Spend less time in the office, spend more time with consumers, and have fun with them.Marketing is about connecting, building emotional relationships, telling stories。 All of this, if done right, will make you and the consumer happy. "
3. Alison Worthington, Method CMO
(Method is a brand that does home cleaning and care)
The CMO Road in Worthington
She said:My personal experience is tortuous, not straight up。 Starting with Gao Lujie's pipe pearson, she says it gave her a comprehensive understanding of all aspects of the business. She later joined Coca-Cola, where she learned about marketing.
During his time at Gaulute and Coca-Cola, Worthington had the opportunity to live and travel abroad, mainly in Australia, Singapore, Europe and Latin America. She said:Living abroad has given me a new perspective and a spirit of seeking innovative experiences。"
Location isn't the only fluctuation in Worthington's career path, and she's worked in a variety of industries, from fast-track to technology. "Changing cultures and industries challenge your current situation and way of thinking, so you can look at things from a new perspective."
At Method, Worthington says she has the opportunity to take her brand skills to the next level, constantly researching new marketing theories such as media, data analytics, digital advertising and content. "It's my jobFocus on the most effective channels。"
Worthington says Method is an attractive company because of its beautiful design, clear creative ideas and clear goals. "Working with great people means a lot to me," she says. The whole team is equally passionate and wants every bottle of soap to make the world a better country. "
About balancing work and life
Worthington said:I think one of the hardest times in a woman's career is having children.I have two twins. Being a parent gives you concentration and helps set boundaries. It's important for me to leave the office so I can have dinner with my kids and use my flexible working hours to be there at a critical time. "
For mothers who balance professional and family life, Says Worthington,Seeking support is key。 "I think we need to have a more flexible way of working and give parents more freedom. I am very grateful to my past managers for their support in pursuing career development while being a good mother. For this reason, she says, the favorite part of the job right now is guiding other working parents to find the same balance.
4. Carly Rosenberg, Bluefly CMO
(Bluefly is a fashion e-commerce company dominated by discounted luxury brands)
Rosenberg has 15 years of experience in digital marketing. After starting her career at a small start-up in Seattle, Rosenberg went to Sur La Table, a kitchen supplies retailer. Sur La Table gave her the first opportunity to operate a large budget. Within three years, she had turned her original 5,000 email subscribers into 500,000Start all of your company's digital marketing channels from scratch。
After returning to the East Coast and getting an MBA at Dartmouth Business School, RosenbergI met several people who were very helpful to her career development。 One of them is Sucharita Mulpuru, the current chief analyst at Forrester, a luxury goods chain that hired Rosenberg as marketing manager for luxury retailers. The other, rosenberg's former luxury retail CEO, introduced her to J.Crew CEO Mickey Drexler. An informal meeting laid the groundwork for the relationship, and a few years later Rosenberg began working at J.Crew for four years. In her final year at J.Crew, she was promoted to senior director.
Since then, Rosenberg has been at Ann Inc. (Women's clothing retail chain) worked as vice president of e-commerce marketing for the Ann Taylor and LOFT brands, where she spent another four years. She later decided to focus on e-commerce and became Bluefly's CMO. "I'm happy to be a CMO and take control of every aspect of marketing," she says. "
About performance appraisal
Rosenberg:"Without a career turnaround, you can't be a successful leaderBecause that period is the time to learn the most. She recalls a time in her career when she received harsh feedback from her boss. "He wanted to promote me, but I didn't think my relationship with my peers was strong enough," she says. While feedback is hard to accept, Rosenberg says it's a necessary learning experience:"This has made me a better boss, partner and employee. "
Rosenberg suggests working in marketingHave controlis crucial. "I should go by myself."Strive for positions where you will succeed, get out of useless positions, and keep looking for opportunities for growth and progress。 It is important to take the initiative to run your own career. "
5. Alan Cohen, OtterBox/Life Proof CMO
(OtterBox and LifeProof, electronics accessories companies, were acquired by OtterBox in 2013)
"I started my financial career as an accountant and then as a banking professional, " Cohen says. "Is this the right career for me??'"
In the end, the answer to this question is No. "Marketing and advertising are better career paths based on my interests and personality," adds Cohen, who started his marketing career at DDB Hengmei Advertising and serves food company General Mills. After the agency's experience, he moved to Party A, where he led Jim Beam (American Whisky Brand), Napster (Online Music Services) and more. When the opportunity ad between OtterBox and LifeProof emerged, Cohen was immediately attracted to the opportunity. "It's a great opportunity to work in a fast-paced atmosphere at the intersection of consumer goods and technology," he said. "
In addition to the 180-degree shift from banking to marketing, Cohen says he has undergone several other major career shifts that have changed his current path, such as from Jim Beam Brands to e-commerce.
"The transition from the spirits industry to the rapidly changing e-commerce industry is a big wake-up call for me," Cohen said. Every time the CEO asks me, 'How did we do yesterday?' 'When I realizedYour life and work are no longer measured and planned on a quarterly rate, but on a daily schedule。 This is an important moment in my career and a great service to every brand I work with. "
Cohen summed up his thoughts:
1. Follow your heart to find your own more suitable industry.
2. Know how to work in a team. If you can't be seen as a key team member who will contribute and support, you won't be able to fit into the company's culture for long.
3. Push the limits. As marketers, we should have a vision in our work and not be afraid to jump out of the box.
6. Tamara Odinec, Flywheel Sports CMO
(Flywheel is a company that offers indoor cycling courses)
"I started my career as a magazine editor at Time Inc. Time Inc. There, she found herself more interested in the business aspects of the magazine. "It's a change for me, I always thought I was going to be a journalist." To further his roots in business, Odinec left his position at Time Inc. to pursue an MBA at Columbia University's business school. The next step in her career was to become business development manager at American Express, where she worked for 10 years, trying various positions and leaving her previous position as vice president of consumer marketing.
"My sister introduced me to the founder of Flywheel, and I was interested in the opportunity to use all my experience and knowledge and apply it to startups that need guidance and support," Odinec said. What really makes a real impact on the business as a whole is that I'm very interested and I've always loved fitness. "
About esquarricity and big data
"I like data and have been trying to make marketing decisions based on objective data metrics," Odinec said. What does the customer want? What attracts the most engagement? How do we deliver information? With new technologies and tools, it's easier and more exciting to use data effectively. Odinec also stresses the importance of the same mind as a marketer and as a manager:It is important to place yourself in the perspective and position of your customers and employees。 What questions do they ask? What do they want? This way of thinking can improve interaction with everyone. "
With 6 CMO growth stories, do you want to be the next chief marketing expert?The latest launch of MarTechApeMobile APP Growth Marketing Enterprise Internship Program, for you to prepare the best senior mentor and marketing leader, let you and excellent team together, towards the best starting point on the road to CMO! We are withAudio unicornHimalayan FMThe U.S. San Francisco office of Himalaya Media official cooperation will be inRecruit 20 APP Growth Marketing Officers Worldwide to Join the Mobile APP Growth Marketing Enterprise Internship Program,Develop and execute an effective growth marketing strategy for Himalaya Podcast with 8 weeks of growth marketing skills training and practice! Help the Himalayas expand their overseas markets.
Mobile APP Growth Marketing Enterprise Internship Program
The Mobile Growth Marketing Enterprise Internship Program was developed by MarTechApeEnterprise training and practice programs。 Is an 8-week growth marketing talent training program. Each project enters into an official partnership with a company to provide students with mobile APP growth marketing opportunities in the U.S. market.
Pass.Industry Growth Specialist Course TrainingAnd.Hands-on combat on the enterprise platformThese two parts of the project content, to achieve the students in the field of mobile APP growth all-round capabilities breakthrough and resume refresh. Accumulate important work experience for your career and becomeFacebook, Google and other major U.S. technology companiesAnd.Domestic mobile APP sea boomGrowth marketing officer in hot recruitment!
The project has two main highlights:
Industry Growth Specialist Course Training

This project, we have invited a very heavyweight industry growth experts -Former Google Growth Director and Slack Global Digital Marketing DirectorHolly Chen. She has been a well-known industry leader in growth marketing in the United States for 15 years. Holly will lead 20 growth officers to develop all aspects of mobile growth marketing capabilities through course teaching and practical training over an 8-week period, explore the most cutting-edge growth cases, advertising channels, mobile APP growth hacking tools in the United States, and lead students to plan and execute growth strategies for the U.S. market for Himalaya APP.
Get started on the cooperative enterprise platform to carry out the actual battle

Participants will directly manage the Himalaya App's corporate advertising account, manage part of the corporate advertising budget, and directly perform advertising campaigns for the Himalaya App across channelsanalyze the ad delivery structure and optimize the advertising campaign. Gain real-world experience in growth marketing in the U.S. market with the most intuitive hands-on hands-on practice.

In addition, participants in each issue of the Mobile Growth Marketing Enterprise Internship Program work closely with the business for 8 weeks.Those who perform well will have the opportunity to obtain an offer from the project company (the co-ed in this issue is Himalaya).
If you want to understandDetailed project arrangements and syllabus, just click
"Read the original text"
Let's go!

---