Get on the bus and reveal the 2020 overseas social media marketing strategy together

In 2020, severely affected by the outbreak, for advertisers,
Social marketing is starting to take a critical place.
Activate enterprise private domain traffic and user assets through social platforms for sales conversion.
To become the common choice of all brands, but also the enterprise "self-help" the core way.
And on hundreds of social media platforms,
Only a few occupy the entire social media marketing landscape,
Pick up some of the top social media platforms overseas today.
Facebook is the world's largest social media platform.
With a user base of more than 2.5 billion, it continues to grow.

Especially the release of Facebook's business functions,
to transform it from a social network into a mature marketing platform,
Any company with internet influence has a Facebook business page.
In addition to its own website streaming, Facebook has many ways to market.
Create a Facebook business page and optimize it

Choose the business category that is most relevant to your business

Create a custom URL that can be closely integrated with the brand and memorable

Add a CTA button at the top right of the page

Provide all relevant business information, including contact details and links to websites, on the business web page

Survey your audience with insights from your Facebook page

Target current audiences with Facebook ads
Short video posts (videos tend to be more engaging)

Image combined post (pure text is too rigid)

Proper use of emoji expressions to drive the atmosphere of the article, to add color to the article

Try live videos and stories (popular on Facebook)
Instagram is one of the most popular social media platforms abroad.
More than 1 billion active users per month.
Instagram
As one of the most versatile social media marketing platforms,
It is the first choice for a variety of marketing groups, offering a variety of content formats and sales options.
Create an Instagram account,and optimize
Create avatars with corporate pictures, preferably LOGO

Describe the business story and plant contact details and website links

Select a user name that is easy to identify and search for

Try posting different types of content, such as posts, stories, and more

Use stories and shopping posts to increase marketing conversions

Create an Instagram store

Use popular industry tags in titles to reach a wider audience

Learn about your audience's interests with Instagram's built-in analytics tools

Master the best time to release, make the corresponding release plan



Operational content:
Teaching videos, hacking techniques and DIY tips are popular on Instagram

Instagram is a visual platform, so high-quality, beautiful images are more likely to attract the attention of users

Memos, GIFs, and other humorous posts are also available selectively on Instagram
YouTube is the world's largest video search engine and video sharing platform.
As a video platform, it also has the attributes of social media marketing platform.
Videos are also very diverse as the most engaging form of content.
The test of marketing is also very big.
Dig deeper into keywords to target the keywords that are most attractive

Optimize YouTube lists, video titles, and video descriptions with relevant keywords

The video title and video description should catch the user's eye

Always add CTA buttons to videos, descriptions, and sections about YouTube channels

Add video descriptions and profiles to link to your site to visit your site directly

Integrate with other social media platforms by using social media icons and links

Its YouTube videos can be cross-promoted through other platforms


Optimize videos, titles and descriptions, and mobile devices
YouTube videos are unlimited and can be published in any medium-to-long format

Tutorials, unboxing, product reviews, and more are more likely to appeal to your audience

YouTube can be used to properly promote corporate and brand stories
Twitter is different from several other social media marketing platforms.
It started out as a text platform.
Unlike other visual-based platforms,
Twitter is about tweeting briefly, simply, and frequently,
If you want to use it for marketing purposes, you need to increase the frequency of your releases.
TwitterEffective rules of marketing: Frequent tweets (boosting user attention)

Post tweets regularly, preferably at the best time on Twitter

Proper use of images in tweets can attract more attention

Use Hashtags to find and use relevant hash labels for more attention

Optimize your Twitter profile by selecting the appropriate profile, cover image, and user name

Post a lively and interesting description of brand representation, with links to websites and links to other social media accounts

Participate in hot topic discussions and discussionsLaunch the userForward.
Short, frequently updated developments or brand-related matters

Humor Twitter messages, emoji packs, jokes and more

Dry goods, such as industry-related information

Suspense ads or links to content on other platforms, such as their own websites
(Some of the materials and images come from the Internet and are deleted immediately if there is infringement)
As a social media, the scope of its marketing is undoubtedly broad,
There are a lot of people asking,
Will cross-border social marketing continue at a time when the conversion rate of purchases has fallen dramatically?
What I want to say here is that the cross-border social marketing market still has challenges and opportunities.
But there is still a long way to go before we can get to know its strategic mysteries.
Cloud Drain System - Facebook Drain
Cloud draining team is also committed to overseas social app traffic technology services development, cloud streaming system in the original domestic WeChat, qq streaming system on the basis of the new Facebook streaming system and traffic promotion services. According to the needs of users, accurate screening of designated fans of the country, gender, age, occupation and other information, channeled to the designated Facebook, whatsapp, line and other social accounts, to help enterprises quickly and large-scale access to accurate user clues, open a new era of cross-border e-commerce marketing.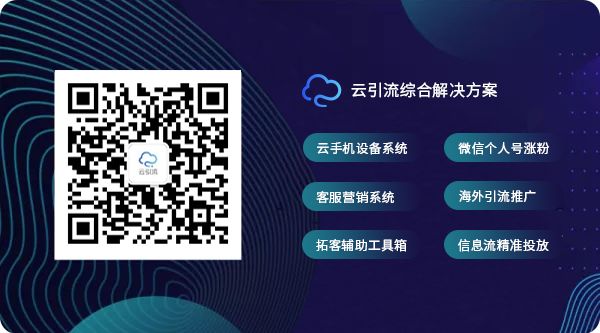 ---