Marketing basic skills . . Top 5 Overseas Social Media Marketing Trends in 2020
Instagram hides the number of likes, Twitter bans political ads, and Facebook pays more attention to the community - all small parts of the many developments in social media overseas in 2019. The new year has arrived, let's take a look at some of the new marketing trends on social media overseas!

Trend one:Social media shopping will become mainstream
In March 2019, Instagram launched a beta version of Instagram Checkout in the United States.
Users can directly select and buy clothing jewelry seen in the post within the platform without jumping to the APP.
The convergence of social media and shopping advertising reduces the gap between brushing posts and placeing orders.The social business model provides users with a more seamless shopping journey。
Figure:
Instagram platform's "shopping trip"
In addition to Instagram, other overseas social media are also integrating this commercial feature into the platform.
Facebook introduced the store feature, pinterest launched "Shop the Look Pins," Snapchat's "Shop and Cop."
Marketing inspiration:
Choosing the right social media KOL can have more influence than ever before

In social business mode,Brands should re-strategy for KOL selection and delivery。
On social media platforms, these

KOL is the display counter for branded goods

。
KOL that fits the brand can win the trust of consumers

and even have the right to influence consumers' tastes and preferences.
Trend 2:Time-limited dynamics become the main force of content
Time-limited dynamics (Ephemeral content)

Appearing on Snapchat, Instagram and Facebook Massenger, these brief media content can only be seen within 24 hours.
It took advantage of the classic Measures of Panic (Fear of Missing Out),

More reach and engagement in social media marketing

。
The popularity of time-limited dynamics can be attributed to several reasons:
1. Optimized for mobile devices, vertical video is ideal for viewing on your phone.

2. Less planning on the content, more real.Short-term content also gives creators more freedom and is more effective than artificially sponsored advertising.
3. Rich content scenes.Motion pictures, stickers, polls, questions and answers - this new content format has unlimited marketing possibilities for interaction.
Marketing inspiration:
Re-evaluate the marketing content architecture

As time-limited dynamic content formats continue to develop,Brands also need to reposition the allocation of resources across channels in content marketing。
Most importantly,

Brands need to build a framework to measure the dynamic performance of different formats at the lower end of the time

。
With Meltwater Media Intelligence, you can track and evaluate your content performance even after 24 hours of exposure.
Trend 3:AR filters are more popular
AR props provide consumers with a unique immersive digital experience, and intelligently generated environments deliver a more realistic and intuitive experience.
In 2019, Instagram and Facebook Stories will open up users to build their own AR filter effects, creating more creative space.
At the same time,

Instagram has teamed up with Spark AR Studio to introduce a new library of effects that makes it easier to filter and discover popular creative AR filters

。
With effect library filtering and pushing, AR filter creators get millions of followers in a short time!
In addition to user-created,

Instagram is also working with brands to test the AR effects of its products

。
Consumers can experience their new products anytime, anywhere on the branded product page:
Including but not limited to clothes, shoes, lipstick, etc.
This feature is currently in beta.
Users can now experiment with a variety of lip colors on Instagram using Kylie Jenner's lip makeup filter.
Pictured: Beauty blogger Alison Turka experiments with Alison Turka's lip makeup filter
Marketing inspiration:
Provide consumers with a unique brand experience

In addition to helping consumers try products more easily, AR filters can also be used to create a unique experience between brands and consumers.
This experience opportunity helps brands resonate with consumers and win over consumers.
The use of AR filters in the social media side still has a lot of room for development, despise this brand will miss a huge business opportunity.
Trend 4:The community and UCG explore the real needs of their users
The social media's marketing content has made consumers very cautious.
If an ad article has been clamoring for "buy, buy", users will be disgusted and ignored.
But users still have real needs and are interested in personalized content - which is why community and user-generated content (UCG) is needed.
In 2019,

Facebook announced that the platform experience will be transformed around Groups and Events

。
The platform now has a "group" portal on both the home page and in the middle, and content from the "group" is prioritized in the feed.
Marketing inspiration:
Build a community for your target audience

If the brand chooses to operate overseas on the Facebook platform, the company should immediately start building a Facebook groupto foster a highly interactive fan base.
How can we attract more people to this community?
An easy way to do this is to find commonality among consumers (e.g.:
Women who love to go free, entrepreneurial people, new students looking for work), and build a group around the people's most important points of concern.
People who join the community can benefit from the community and share experiences and skills with more people with the same needs, which also increases community stickiness.
When your company's products and services are packaged in a way that adds value to your community, your target audience will be more willing to believe what you say
。
Pictured: Travel company Klook has created a community of travel plans, experiences and discounts for travel enthusiasts
User Original Content (UGC)
By 2020, User Original Content (UGC) will become an important part of brand content marketing.
Companies such as Airbnb and Adobe rely heavily on UGC to promote their brands.
Picture: Airbnb's Instagram page
Using original content from fans to promote your brand can help users perceive brand value in a more subtle way.
Marketing inspiration:
Invest in the social media side UGC management tools

However, collecting, organizing, and publishing user-original content isn't as simple as you think.
Large-scale and strategic UGC utilization requires automation from the method origin, through UCG management tools to win the media reasonable conversion to its own media output.
Contact Meltwater to learn more about the UGC strategy and workflow.
Trend five:Data-driven marketing -
The use of social listening will continue to grow
In the context of the continuous development of media intelligence, data-driven marketing is on the list every year.
Since social media platforms are the best medium for brand word-of-mouth communication, there are countless data gold mines waiting to be mined.
As social listening and analytics technology deepens and becomes more systematic, the return on investment of brands in social media listening increases year by year.
In fact

Today's social listening analytics tools have taken a qualitative leap forward

。
In addition to the most basic sound measurements, mood analysis, and hot word maps, you can provide deeper consumer insights.
Meltwater blends help brands use social listening data to analyze their target audience and break them down into different parts based on audience relevance, providing deeper insights into brands through their commonality.
Consumer Insights helps brands understand their audience's buying mindset, what ultimately drives consumers to buy products, and helps brands better engage consumers.
These are parts of Meltwater's Consumer Insights report
Marketing inspiration:
Try social listening tools
When you're preparing an overseas marketing plan for the new year, it's appropriate to consider introducing itSocial listening toolsThat's it!
How we are at the momentAnalyze the connection between your target audience and your brand?
What changes will be made by the introduction of social listening tools?
Take a little time to compare the differences between the two,Develop better social media analysis solutions for the new year!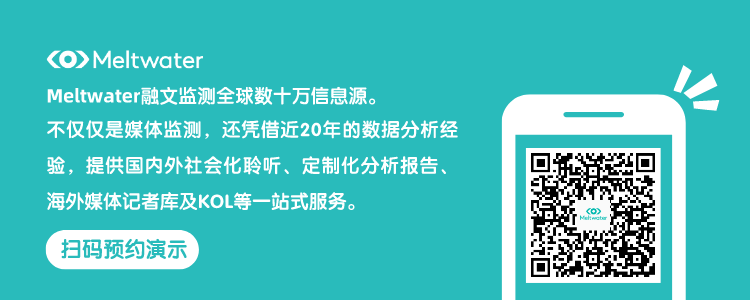 ---