Foreign trade dry goods , social media combined with mail, so that the marketing effect significantly improved
With the rapid development of social media platform and mail marketing, it has become very difficult to maintain a leading position in off-site marketing.
Foreign trade people need to effectively cope with changing trends in order to maintain a successful marketing strategy.
Here are some to shareSocial Media Marketing and Mail MarketingThe skills, hoping to help you better harvest the flow
Combine email and social media marketing channels to build a stronger brand
Brand integrity
It's a point of consumption that potential customers value, which means that businesses should show the most trustworthy side of the consumer and focus on the details of their products.
What is brand incompleteness?

For example:

The marketing emails you send are both interesting and popular, but social media platform content

But

It's a very serious business message that affects your brand consistency.

This phenomenon often occurs because the two marketing teams do not communicate with each other.

This phenomenon can affect your brand's ability to infect to some extent, and ultimately lead to the loss of potential customers.
Combine email and social media marketing channels to enhance communication between teams.
Form a consistent brand image
to help you build more effective branding.
Use email marketing to test your social media advertising ideas
Social media advertising is a powerful way to transform potential customers
, but advertising on social media platforms is not cheap. So first understand
Which.
CTA (Call to Action) information enables more transformation
Can't you convert orders more accurately?
So, before running social media ads,
You can use email marketing to test your advertising ideas
。 For example, write a few messages and use the creation techniques of a valid message title to select a high-click-through title with a message click-through rate, and then apply the converted title to social media ads.
Depending on the customer group you want to target, you can also conduct more in-depth tests, using A/B tests for various titles and images.
On social media flat
Post on the platform to inform consumers of their email registration address
If you want to
Have a specific lead register your message
Social media platforms may help.
On the social media platform
Post a post with a mail registration landing page
and detail in the post what users will gain from clicking to register and what the benefits of signing up for mail are. This is a good way to shift potential users on social media platforms to precise mail marketing.
In addition, you can put
Ideal customer information
Added to
LinkedIn的Sales Navigator
Among them. The tool immediately generates a list of hundreds of users who are suitable to be your customers. After that, you can use the resources to get in touch with them and get them to register.
Or, in yours
Add a link to your Instagram profile
You can also useStories to promote your email registration. In this way, users can click on the link very directly to access your landing page.
Add a link to the social media page in the email update
In.
Add a link to the relevant social media page in the email update
This will make focusing on your social media account a one-click decision.
Suppose a consumer subscribes to your mailing list and, if satisfied, may be interested in your social media page. But if you don't provide these links, most people won't look for them them them themself.
Create some holiday themed content accordingly
Fascinating holidays are an important node of mail marketing and social media marketing
Meets the holiday theme
。
Marketers can be at
There's something that inspires fans during the holiday season
instead of just selling the tone of the promotion.
Because when it's a holiday, fans get a lot of holiday offers between their social feeds and emails, and they're tired of these promotions. and create
Some messages that are subject to promotional messages but are not too promotional are more likely to appeal to users.
Recycling of e-mail content and social media content
It's easy to reuse content between email marketing and social media marketing channels, and of course, it all comes down to communication between teams.
For example: You can use
Twitter's tweet string feature, thread (or Facebook posts), explains something to users
。 And when you need to write another message, you can link directly to the content page of the explanation instead of rewriting a new message. Similarly, it will prompt your mailing list subscribers to follow you on social media.
The recycling of content plays a role on the other hand,
You can tell an in-depth story in an email update and reuse it on Twitter or Facebook.
Content recycling helps marketers keep marketing channels open and improve brand consistency.
Live video is becoming an important branch of social media marketing
Recently
Video marketing is becoming an important branch of SMM (social media marketing).
, focusing on short video and live video. Live video is becoming the next hot topic.
Although the concept has been in use for a long time, video technology is finally making this feature available to the average person, and this is definitely a trend that will continue to grow in the future.
In.
Add videos such as Youtube to your message
Studies have shown that
Adding videos to marketing emails is good for business-customer interaction and can effectively improve email click-through rates.
Videos can cover different topics, such as showcasing new series, sharing how to use products, and more. Of course, before inserting Youtube videos into e-mail, you need to be aware of some technical issues, the video player in e-mail can not work as well as on a normal website, you can use yes
GIF animation to mimic the video player,
Once the visitor clicks Play, they will be redirected to a Youtube video or other page, where they will watch.
Although in the off-season this time, sellers may be due to poor sales and low interest in the operation of some slack, but this is not an excuse for your inaction, the rational use of social media marketing and mail marketing, may bring you some unexpected gains in the off-season. Follow the text tips and start arranging your marketing campaign
Foreign trade website construction(Customized design, multi-language selection, marketing-based, for the purpose of harvesting inquiries)
Acting for foreign social media promotion(Involved: facebook, linkedin, YouTube, pinterest, twitter, and Yellow Pages blog, etc.)
Search engine optimization(Internal and external optimization, improve website search ranking, achieve lasting exposure)
Google Ads(Keywords paid promotion, accurate promotion, immediate results)
Learn more about weChat by scanning the code below and making a small weChat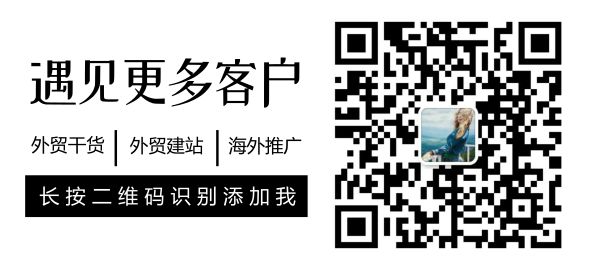 ---