Facebook's ad delivery strategy and tips for optimizing Facebook's ad performance.
Marketing planning and deployment is essential if cross-border e-commerce sellers are to occupy their own consumer market overseas. In this age of social-oriented messaging, the effective use of Facebook advertising is essential to the need to do a good job of cross-border e-commerce overseas marketing, whether it is for products or brands to promote.

With its large user base and increasingly sophisticated advertising background, Facebook has become one of the most important ways for many companies to open up overseas markets. Facebook's ad library provides a deep understanding of the targeted ads that competitors are running, providing digital marketers with powerful new resources to gain a competitive advantage. The transition from the tab of information ads to the ad library has largely made Facebook ads more transparent and accessible to users.
Facebook's advertising is an important part of Facebook's operations. With reasonable advertising, we can accurately reach a wider population, traffic to websites/stores, and increase your business page fan base and activity. On Facebook, the target audience selection is accurate, the production of material attractive and so on will make our ads more efficient, lower cost.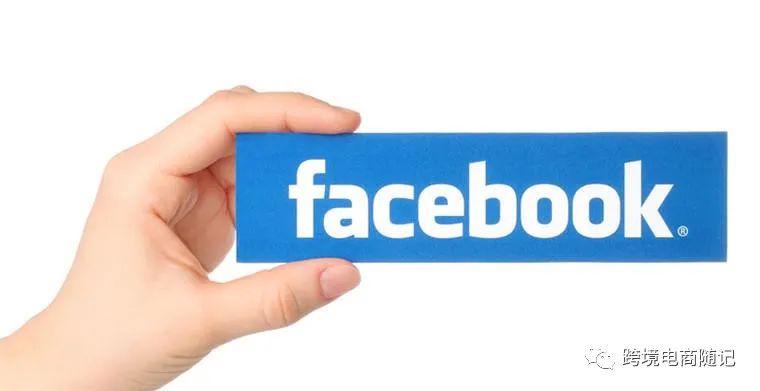 A brief summary of Facebook's ad specification:
Image ads: Size: 1,200 X 628 pixels. Ratio: 1.91:1. Text: 90 characters. Title: 25 characters. Link description: 30 characters.
Video ads: format: .mov or .mp4. Ratio: 16:9. Resolution: at least 720p. File size: Up to 2.3 GB thumbnail size: 1,200 x 675 pixels. Text: 90 characters. Title: 25 characters. Link description: 30 characters.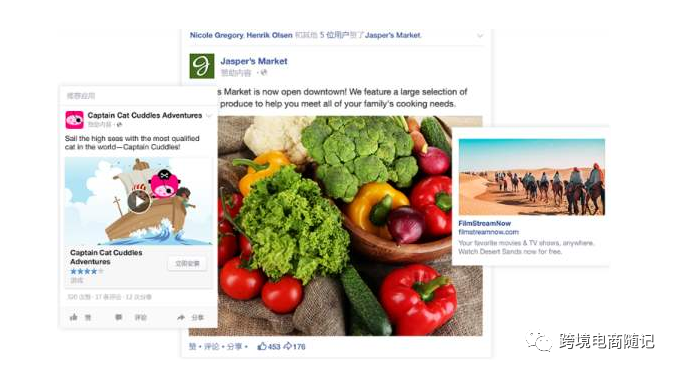 Carousel ads: Image size: 1,080 x 1,080 pixels. Image/video ratio: 1:1. Text: 90 characters. Title: 40 characters. Link description: 20 characters.
Slide show ads: Size: 1,289 x 720 pixels. Scale: 16:9, 1:1, or 2:3. Text: 90 characters. Title: 25 characters. Link description: 30 characters.
If knowing the above size specifications can ensure that your ads are displayed correctly, then being familiar with the Facebook Ad Minefield is about whether your ads can be audited and run smoothly.
Different advertising targeting strategies.
FB offers ads to many different advertising goals, and you can set your own goals based on them.
1. Brand awareness Awareness Awareness, to enhance visibility, to say that is mixed face familiar.
Brand awareness, promote to people who are more likely to spend more time browsing your ads.
Reach to reach as many users as possible.
2. Buy IntentionS, Marketing Funnel Middle Tier, increase engagement.
Traffic, promoted to users who are more likely to visit the destination (website, etc.).
Engage in interactive Engagement to promote to people who are more likely to interact, including likes, comments, shares, event responses, and more.
App install app installs, promoted to users who are more likely to install the app.
Video views, promoted to users who are more likely to watch the video.
Message interactions messages to get more people to contact you through Messenger.
3. Action conversion Conversion, marketing funnel bottom, increase conversion volume.
Conversionconversions, which are more likely to be promoted to users, including actions added to shopping carts, etc.
Catalog promotes Catalog sales, automatically displaying catalog items based on your target audience.
Store visits Store visits to promote stores to nearby users.
Domestic advertisers often use advertising targets for two of them, app install app installs, the former for promotion and gaming, the latter for promoting e-commerce.
Once you've chosen a different ad target, there are different ad delivery optimization options for you to choose from, and they're the ones.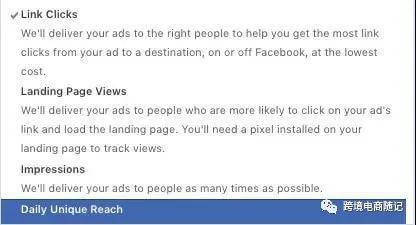 Pricing strategy.
Fast-selling on this product is priced at $12 U.S. charter. When we price it, we can order the product to $24.99 or $29.99 for the package.
At the beginning of the test, I'll set it at $24.99, and when the conversion cost stabilizes, I'll consider raising it to $29.99.
For this kind of products to enhance the comfort of travel, as long as the right marketing, it is easy to do 30 dollars per person price.
Sales strategy.
This kind of product must do a quantity discount, because the family will also use, one is often not enough, so in the preferential settings, buy 2 pieces can enjoy a 10% discount, buy 3 pieces to enjoy a 15% discount. Shopify's app center has a lot of such quantity discounts, and it's good to install one.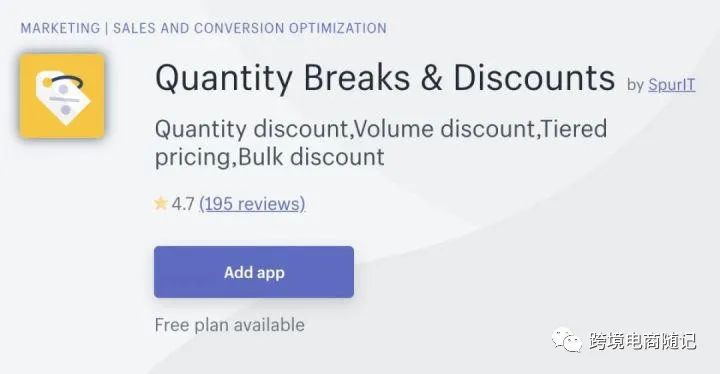 Boost page fans (Promote You Page)
As the name implies, the ad is used to increase the number of fans on the page. For a newly opened home page, it is important to establish a certain base of fans. Therefore, this kind of ad is applicable to the page at the beginning of the opening, you can quickly increase the number of page fans.
Post Interactive (Boost You Post)
This kind of ad, used to increase the reach of content, more content to non-fans. At the same time, Facebook Page coverage has been declining (coverage - actual views of content / page followers). To some extent, the page also needs to target ads to existing fans. Post interaction is an efficient form of advertising, can achieve the effect of business content actually accepted by the user group. Ads for posting sit-ins are very effective for the bangs, events, and specific discounts we want to push.
Tracking traffic conversions
This type of ad, which is available on stand-alone websites, requires the installation of a tracking code to serve ads to people who have visited the site and who have special actions on the site (such as watching certain pages, clicking on a shopping cart, selecting checkout, paying, etc.). This is complex and requires a certain degree of technical and data analysis. But it's very effective, and ultimately increaseconversion by tracking user behavior, increasing traffic conversion rates.
There are many sellers, care about how to evaluate the effectiveness of advertising, there is no simple and intuitive way to understand the effectiveness of advertising? Ad relevance score Facebook answer: Yes, (Relevance Score)
Facebook) will be more accurate. Cost per Acquisition (CPA ad relevance score is just a data metric, and it doesn't fully summarize the effectiveness of your ads, which are often defined by ad's Facebook score.) In general, ad performance is superimposed by ad unit price and ad results. If your ad relevance score is low, indicating poor ad performance, we need to adjust your ad settings. Advertising relevance score, provides a relevant recommendation of the viewing and evaluation criteria, and in our experience, 0-10 impressions of the user's degree of interaction with the ad, with 500 ad relevance score is a simple and intuitive evaluation of ad effectiveness parameters. The ad relevance score is based on advertising.
Facebook ad relevance rating.
Relevance ratings are Facebook's measure of ad quality and engagement. Relevance ratings are important because they determine how much you rate each time you click on Facebook and how often Facebook displays ads. Correlation rating is 1-10, '1' stands for a bad ad, and '10' means it's a great ad. The lower your relevance score, the less your audience, and you'll have to pay to keep it going.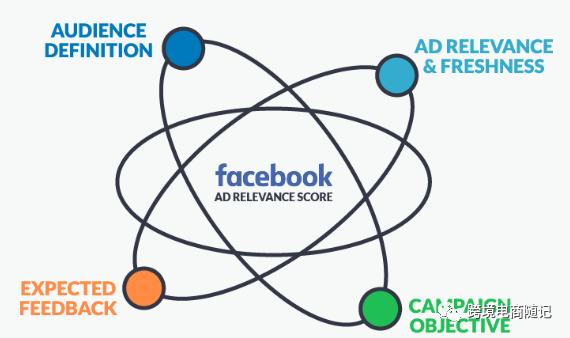 Facebook rates your ads more than 500 times. Still, the metric is not measured based on actual engagement -- it's based on Facebook's forecast ad engagement, based on campaign goals and audience granularity.
The ad relevance score is used to measure how relevant your ad is to your target audience. If you need to improve your ad relevance score, you should do the following:
Precise crowd positioning.
Use ad testing to show different ads to the same audience, or the same ads to different audiences, i.e. ad A/B testing. To get the most accurate results, it is recommended to test one variable at a time. Carefully study the current advertising performance analysis report, to explore the merits.
Choose your ad images, videos, and copy carefully.
Ad images and videos are more compelling than words, so the first step is to improve the quality of your images/videos. To ensure that the copy concisely wash, fit the promotion of the content. Do not use offensive or misleading content. Such content may catch the eye of users, but ultimately result in an unsatisfactory user experience. Try to find something different and try to stand out. Here, we recommend that sellers use more of their ads as videos, carousels, or Slide Show ads.
Update your ad ideas.
Over time, audiences that have responded positively to advertising may experience aesthetic fatigue. When your ad's relevance score drops, try creating a new ad with new content for that audience.
About the A/B test of advertising, the use of Facebook advertising and operation, need to do on audience selection, advertising ideas, ad copy and other aspects of the test, especially in the audience selection, we need to accurately understand the user's region, age group, gender, occupation, interests, etc., through a single factor of variables, to accurately understand the user's choice and preference for advertising material.
For men and women. Keep the other criteria set the same, and finally get the best gender for your ads from the three sets of ad performance. In the same way, we test the characteristics of age, region, occupation, interest, family, etc. to find the best user base. C for men, advertising group B for women, advertising group A for example: We have a clothing product, need to test whether gender will have an impact on the product. We set up a campaign and set up three ad groups under the campaign: the ad group.
Focus on your competitors.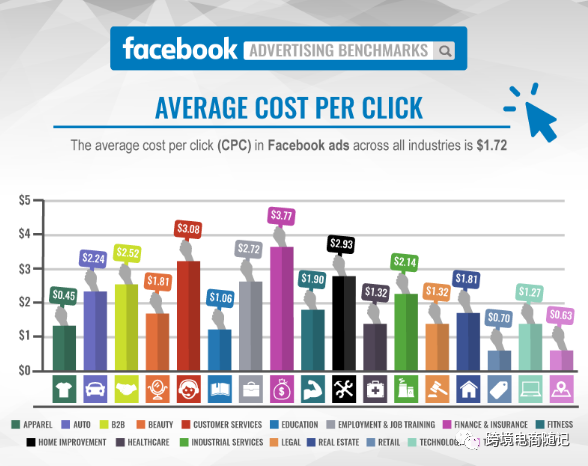 The chart above looks at a wide range of advertiser data, including 256 accounts from 18 different industries (Facebook totals about $553,000), and the following four metrics provide references:
Average click-through rate (CTR) for Facebook ads by industry
Average cost per click of a Facebook ad by industry (CPC)
Average Conversion Rate of Faceboo Ads by Industry (CVR)
Average cost per operation of Facebook ads by industry (CPA)
No matter what your industry is, clothing, education, healthcare or real estate, you can use the data compiled from your Facebook ad benchmark to see how well your Facebook ads are performing and how far they are compared to your competitors.
The audience for your ad campaign.
Before you build an ad, it's important to think about who your audience is and what their interests are.
You can use demographics (country, age, gender, etc.), past online behavior (users who have visited your website, users who have subscribed to email, customers who have purchased your products in the past, etc.)
Even their interests (what they like, what they hate, what habits you have, etc.) to distinguish between the audience you're thinking about.
The time period for which the ad is served.
There are always certain special time periods of the year where advertising costs are unusually high compared to weekdays because of the intense bidding, such as the Super Bowl, Black Friday, Labor Day, etc., where competition is fierce in the U.S. in the days of crowds or during the shopping season, especially near the end of the year. Small firms with insufficient cash flow or insufficient capital simply cannot compete with big ones.
It's never easy to have a Facebook ad that saves money and has a good conversion, and it's easy to do and learn!
The image is from the network, if there is an infringement please contact the author to delete. Author: LLYY3607.
This article is originally written by the author of cross-border e-commerce, reproduced please indicate the source.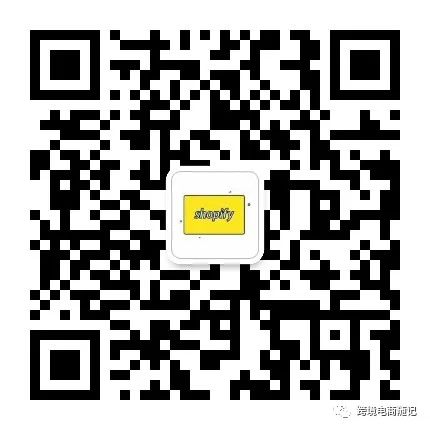 ---