Facebook Messenger marketing is 8.5 times more effective than EDM! Don't hurry in and learn?
The following articles are from Messenger's overseas marketing services Author BotHub.AI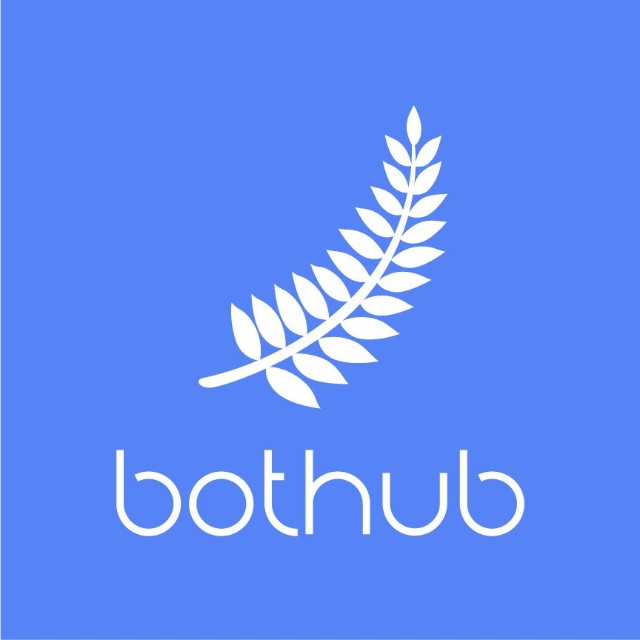 Messenger overseas marketing services
messenger.bothub.ai information, services and product platforms for overseas social media chat applications
Click on the top

"Cross-border e-commerce headlines"

You can subscribe!

Chain-to-create cost value
FacebookFrom.2011Years.8It's starting to roll outMessengerfeatures, and as of2017Years.4MonthFacebook Messengerthe user has reached12Billion. This means that your primary target audience is likely to be hidden among these users. Although in the past EDM was considered one of the most effective overseas marketing pipelines because it was able to take into account the needs of users individually. For example, according to the user's past purchase behavior, send the relevant preferential products or discount information. However, with the development of communication software, in addition to work and private correspondence is always endlessemail, so that the effect of EDM marketing including open rate and point reading rate have hit the ceiling,Facebook Messenger has been fast in recent yearsSustained growth can more effectively capture consumers' attention.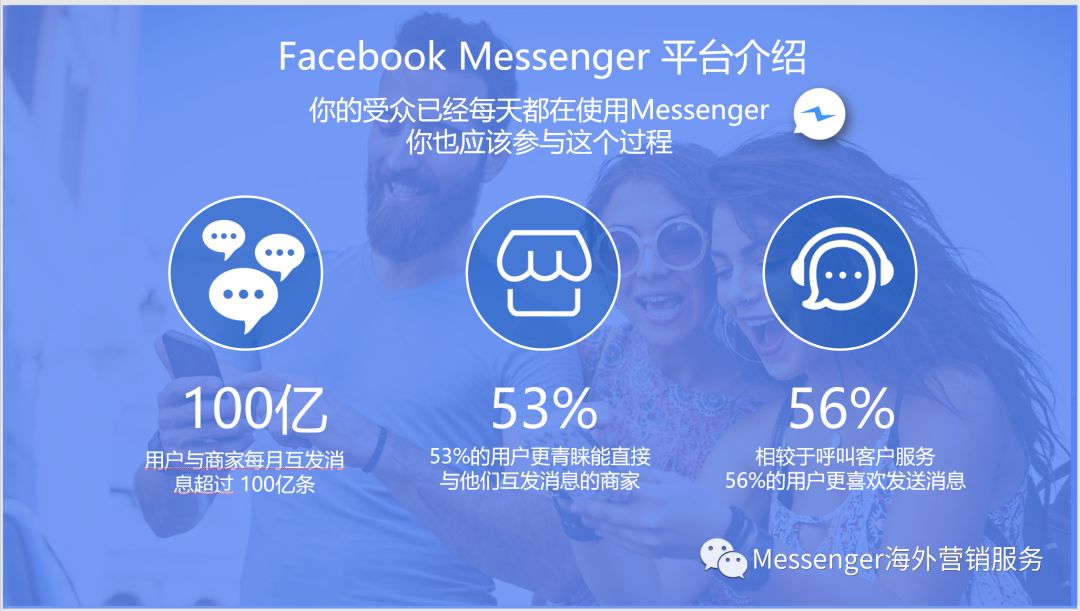 Facebook MessengerIt's starting to have ads! In the digital marketing industry, you may think: "Oh, there is a new advertising trick!" But in fact, you can do more than you think!

Here's a picture, you can clearly see,Messengerthe opening rate and click-through rate ratioEmailmuch higher. When you transmit oneFacebookMessages, compared to e-mail, people open up a high rate8Above, the click-through rate is also close3cheng, respectivelyEmailof the3.6times and8.5Times.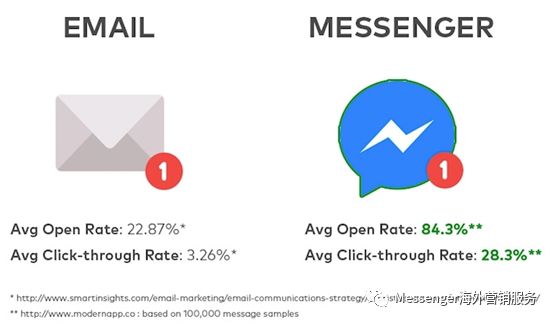 In the past, people might have used it because of their workemailfrequency is higher. However, as communication habits change, people spend more time using fast and short messages than e-newspapers.MessengerThe message is harder to ignore! You can also see from the results of the survey in this image below that people use messagesappmore and more time, even more than social mediaappUsage.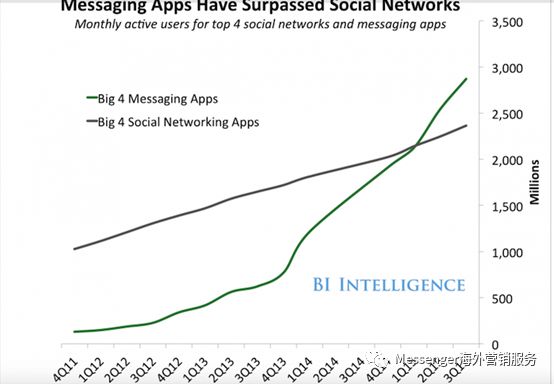 Think about whether you spend most of your free time on communication software

Whatsapp,Facebook messenger和InstagramWhat's up there? Basically, people are now24Hours of mobile phones do not leave, and people touch mobile phones a day as many times2000Times.as many as enough. Well, how can you miss it?FacebookMessengerWith chatbots this helps you and boost salesSuper helperWhat about it?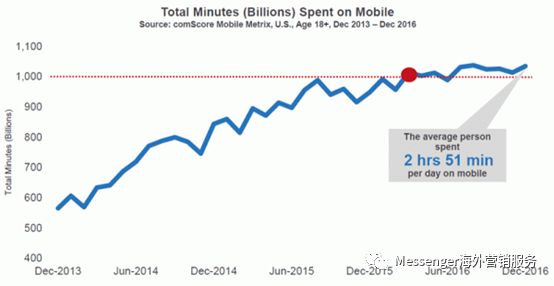 It's called "win first," and we're probably rightBannerAdvertising or selling e-mails is tired of advertising, howeverFacebookChatbots don't know much about it yet. If you can get throughFacebookMessengerPairing a robot as another e-newspaper marketing technique is bound to bring another wave of growth to your performance.
FacebookMessenger

What can chatbots do for you?
·       Send messages to communicate with users
·       Create sales directly in the message
·       Free download resources are available
·       Let the user talk to the chatbot
·       . . . .
Don't think it's hard, the only thing you have to do is get people interested in your message. You can change the way you used to send e-mails to use themFacebookMessengerthe message is tweeted. For example, when a new product is launched,OnSaleShopping season, limited-time discount coupons, events and so on can be passed throughFacebookMessengerPromote it for you.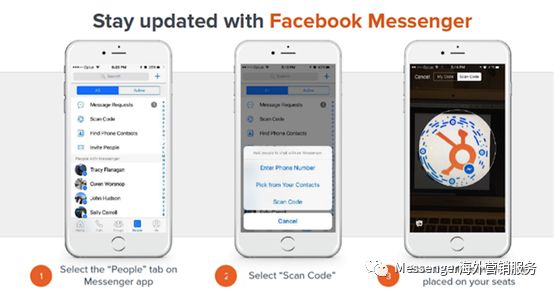 Overseas media have teamed up with chatbot platforms to produce similar tweets. The main purpose is to hope that users who have had conversations with fan pages in the past can interact with our chatbots and follow through the promotional events as well.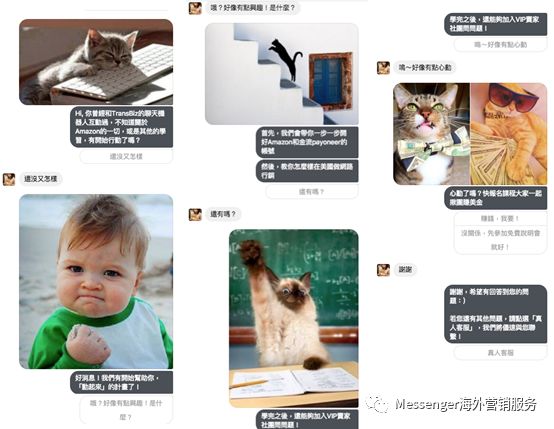 It's important to note that don't design the entire chatbot conversation too lengthy, keep the conversation as short as you're talking to a friend, but on the one hand, make the user feel interesting, and the whole process is best done1~2minutes (don't exceed.)7a conversation group) to allow users to interact with your chatbot.
Alternatively, you can take advantage of itFacebook MessengerString the othersappTo increase interaction with your users, such as inviting them to fill out a trial form to get a gift back, or the most common in e-commerce's Golden Stream logistics chain, ticket purchase, shopping, reservations, etc.
BOOM

the actual case
Every brand wants to be able to build good relationships with its usersMessengerIt's a way to help you provide a better user experience and have more communication and interaction with potential consumers.
According to digital marketing expertsSmartMarketer one of the foundersEzraFirestoneIf you want to transform the products or services you offer, you'll have to try to expose your product information on a variety of different platforms. To.Boomby Cindy JosephFor example, he divided the user into three different types, namely, watching the movie content50%、75%And.95%users, when these users reach different stages of sales, give different advertising content to doRemarketing(Retargeting)。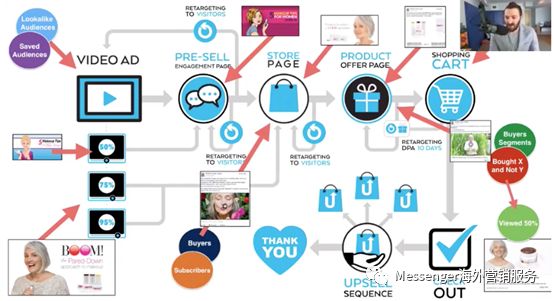 For example, after watching a movie50%, add goods to the shopping cart, but there are no actual purchases of consumers throughFacebookMessengerGive a reminder. Or when consumers shop, separate3Day to do flash promotions, tell users are now there is a discount code, limited time24hours, so that consumers can't resist the discounts they offer.

In addition, he also invites consumers to give back through chatbots. When consumers buy a product16Day, chatbots will contact consumers again. In the event, the chatbot invites the user to record a short video, and the information about using the product can be obtained as long as it is uploaded to the specified platform$10Gift vouchers in U.S. dollars.

In his observation of consumer behavior, he found that while users showed interest in advertising on mobile devices, they were close to it7users, they will return to the larger device to complete the purchase action. In other words, the user may be on the phone ori-padWatch your ads on your mobile device, but still prefer to go back to your desk or finish shopping on a larger screen.

That's why he believes that the industry must expose your advertising content in multiple channels and platforms, and how much contact with consumers, in order to enable users to produce a real transformation, become a real consumer. Because when a user sees your ad for the first time, it's highly likely that he'll only impress your product or service and not necessarily take action until you're constantly appearing on the websites or pages he frequently visits, and he might want to say, "Okay! Let me find out what this is…Think again about whether to buy it or not! 」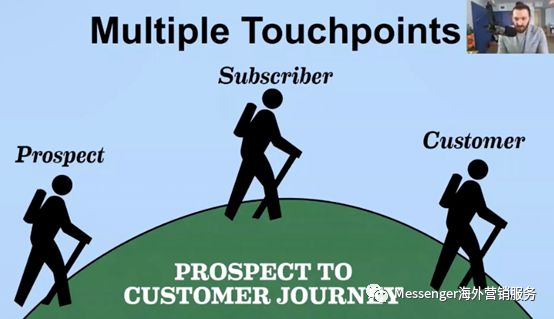 In particular, it is important to give priority to providing users with "content value" when advertising content, rather than just selling it with a little ambiguous power. Because you have good products and services, hope to be seen by more people, more people to promote and share, so you have repeatedly appeared in the user's place, remind them, "You have not yet acted, please take action quickly!" 」

FacebookMesseger

Ad settings
Facebookof theMessengerPaid ads can be found in Traffic and Conversions in your ad campaign.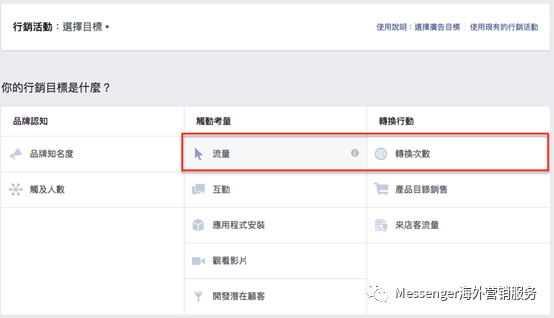 Take "Traffic" as an example, and then select "Website or" when you select the content of an advertising campaignMessenger」

Before the audience's choiceFacebookThe process of advertising is much the same, you can choose your own advertising audience released to build their own ad audience list.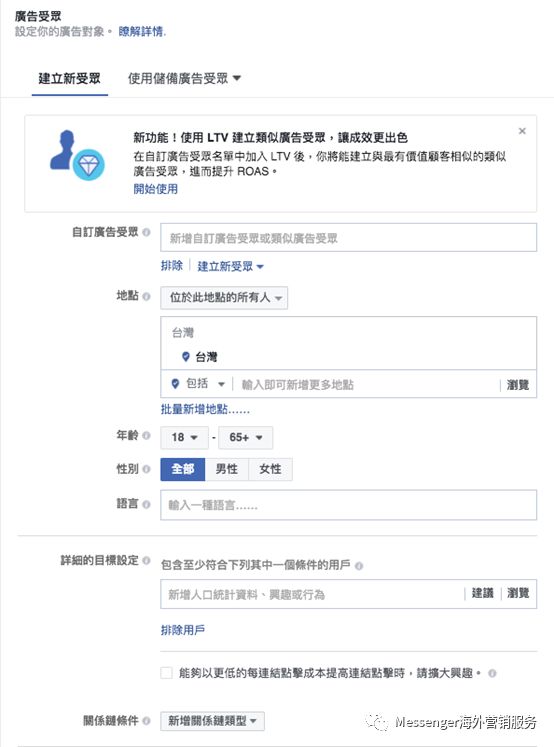 And turn off a few ad places (so you can use them).MessengerAdsfeatures)
In the format, you can choose from several different ways of presenting ads, such as rotation, single image, single movie, light movie, collection.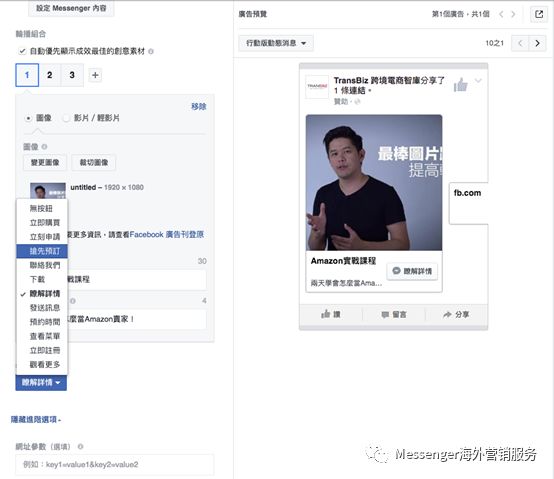 After formatting, you can goDestinationFound in the "Messenger」。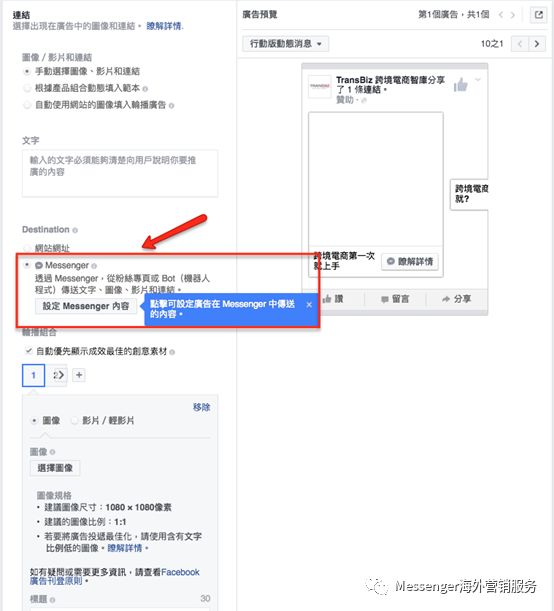 Then further set, when the user taps your ad (LearnMorelater, intoMessengerpicture.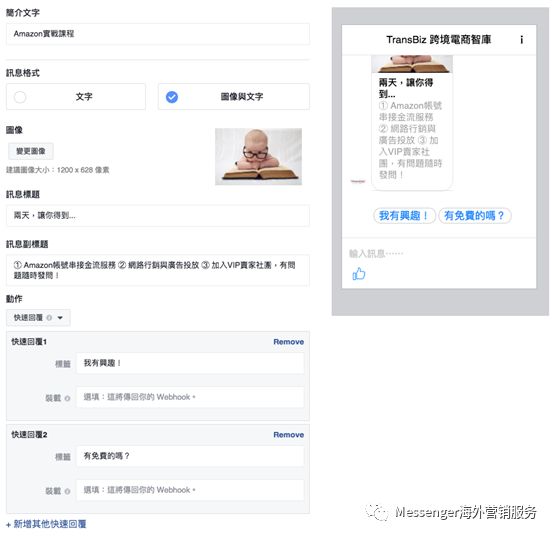 Take the example above, when the user selects "I am interested" and the keyword square corresponding to "I am interested" in the chatbot jumps out of the corresponding content.

Want to try it now?Let's experience it
Conclusions
I believe you saw it in this articleFacebook MessengerAs the potential of marketing, and the future application and development of chatbots is quite predictable, as another new form of digital marketing outside of EDM marketing, you can use chatbots to build closer relationships with users and learn more about users' consumer behavior or the information they desire.
Want to own it on your own web pageFBChatbots and user policies? Welcome to the experiencemessenger.bothub.ai, we will create chatbot content marketing strategy and customer service optimization for you.
Heavy recommendation #
The 2nd 616 global cross-border e-commerce festival and the 4th Shenzhen International Cross-border e-commerce trade fair, just wait for you to come!
WeChat promotion, cooperation, welcome to:
Miss Hu 185 8821 2823 (with WeChat)
Miss Gong 185 6625 8405 (with WeChat)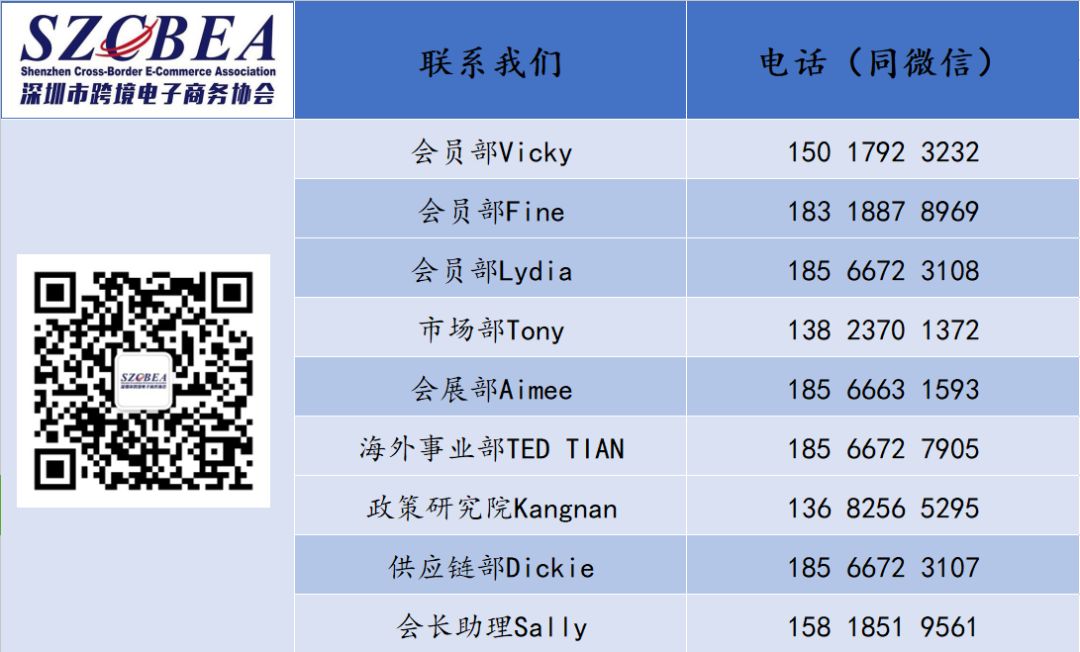 ---