Dry goods . . A must-know Google Shopping Guide for the high season
It is believed that the sellers who attended the Shoplazza storemaker DTC success story sharing are no strangers to the following image, which is the Google advertising advice given to the sellers by Linda, CEO of Ivy Advertising. We can seeShopping ads play an important role in all three periods of the account, especially for the new account phase, when the stand-alone station is turned into a target。
So today's form of advertising that makes a big contribution to conversion -- Google Shopping Ads.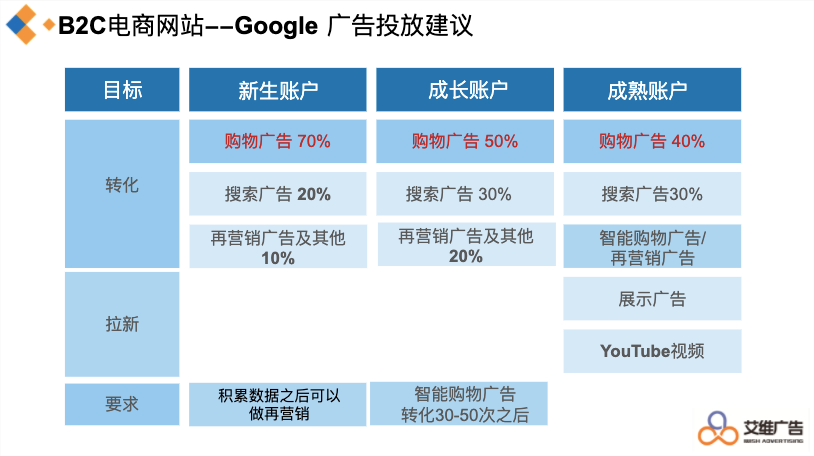 Where do Google Shopping ads appear?
Google Shopping ads are built into Google Search pages, so merchants can quickly promote products, attract website visits, and get better potential consumers.
Shopping ads appear in 3 places
, which are the top ad display on the Google search results page, the ad display in the upper right corner, and the Google Shopping site. In some cases, shopping ads can also appear on YouTube and Google Image search results pages.
At the top of the Google search page
The right side of the Google search page
What are the key benefits of Google Shopping Ads?
1. More interactive
: In shopping campaigns, consumers can view and interact with attractive ads
2. Better potential customers
: Get better potential customers by showing product information directly in your ads. In a shopping campaign, consumers can learn about the product before deciding whether to turn on the ad. As a result, they are more likely to complete purchases on your website.
3. Easy campaign management
: There's no need to create ads and keywords manually, and when consumers search, shopping ads automatically select the items that are most relevant to display, where Google automatically selects based on the product attributes that the merchant specifies in the Merchant Center data feed.
4. The scope of the presentation is greater
: For a search, shopping and text search ads can appear at the same time, double the brand exposure.
5. Powerful reporting capabilities and data about competitors
:
You can monitor the ad performance of your products at multiple levels of granularity. Instead of creating a new product group, you can see how many clicks a specific item gets by simply filtering your product view. Use benchmarked analytics data to gain insight into the competition. Discover growth opportunities with impression share data and bid simulator tools.
How do I turn on my shopping ads?
1. You first need to sign up for a Google Merchant Center account;
2. Sync product information to Google Merchant Center backstage through Shoplazza shop assistants to make it easy to run Google ads;
Find the Google Feed Product Sync tool in the app market
Authorize and use Google Feed Product Sync
The binding is a registered Merchant Center ID
Next, after editing the product properties,By clicking On Sync, Shoplazza's shop assistant will automatically help you sync items to Google Merchant Center,Next you just have to wait for Google to review, which typically takes 1-5 days, and you need to be patient.
3. Sign up for a Google Ads account and associate with a Google Merchant Center account, while confirming the association in the google Ads background. While Google Merchant Center defines your product information, you can activate your shopping ads on Google Ads and show them to your audience at any time. The tool manages costs and revenue, tracks ad performance, and more.
4. Set up a shopping campaign
Click create a new campaign → select
"Sales"
As a campaign target→ select
"Shopping"
As a campaign type→ select your Mechant Center → select the country in which the → sold
Smart shopping
Or.
Standard shopping
As a campaign subsection.
5. Bid for a shopping campaign
In.
"Google Shopping Settings"
you'll be asked to bid for your campaign and set a conversion budget. The higher you pay, the more exposure you get. It's about finding the right match for budget and conversions that can help you attract the most visitors to your site.
6. Target and optimize your shopping campaigns
Pass.
"Positioning"
Settings, such as the network, device, location, and target audience that your ads should show, optimize the performance of your shopping campaigns.
When you set a goal, you'll be prompted to create an ad group for your campaign. These determine the type of ads you want to serve and how you bid on them. Ad groups include product shopping ads and display ad shopping ads. With product shopping ads, you can display ads for each product individually, and with display shopping ads, you can display a series of product or lifestyle ads that represent your brand.
Once you're done, click the "Save" button to submit, view and activate your campaign.
Smart Shopping Ads VS Standard Shopping Ads
Smart Shopping campaigns combine the benefits of standard shopping campaigns with display networks for re-marketing campaigns to automatically determine bids and ad impressions.
Here's a summary of the pros and cons of smart shopping ads and standard shopping ads:
Google Smart Shopping Ads

Fast and highly automated

x

Limited device and location positioning

There are several types of ads

Exposure in many ad networks

x

Negative keywords cannot be used

x

There is no detailed data analysis

Google's standard shopping ads

Full control of the activity

Complete device and location control

x required

Empirical knowledge

You can choose an ad network for exposure

You can use negative keywords

Fine-grained data analysis
The reason why the GMC was blocked
Shop assistants remind sellers to be aware that they need to make sure that their business type, products, promotions, and websites meet Google Shopping requirements before they can start running ads. Violations of Google's shopping policies can result in your Google Merchant Center account being blocked.
According to Avi Advertising CEO Linda's summary,
There are nine main reasons for the GMC to be blocked
:
1. False address
: The address on the website contact us page is false, or a false address added for the approval of the payment channel, or the address is a picture format, an overseas warehouse address, or a Hong Kong registered company address, not an entity address.
2. Freight policy
:
Delivery policies need to be clear and comprehensive and postage needs to be detailed, including shipping times (indicating business days or natural days), different estimated mailing times and corresponding postage for different regions and markets.
3. Return and exchange policy
: Return and exchange policy needs to be detailed, to explain the return and exchange of eligible, return and exchange method, cost bearer, processing time.
4. Payment method
: The payment methods supported by the website should be consistent throughout the site.
5. Privacy Policy
: User security issues, tell consumers what use the personal information filled in on the website, how to use this information, specifically can refer to the privacy policy of large websites.
6. About us
: Introduce the company's business attributes, such as business model, strength background, product advantages, vision, product stories, etc., do not fabricate or copy other people's brand stories.
7. Pictures
: Control picture quality at source, for example by encouraging platform sellers or manufacturers to provide at least one clean, high-quality picture. Common error: The image has any watermark, promotional language, or brand trademark element.
8. Fake plug-ins
: Fake comment plug-ins, fake countdown plug-ins, fake real-time buy plug-ins, fake real-time browsing plug-ins, fake social media content plug-ins.
9. Promotions
: Promotional information please be clear and rigorous, do not appear ambiguity, do not stop full of promotions, do not full screen is the sale of the label.
Want to learn more about independent site operations, conversion of exciting content, continue to pay attention to the public number.
Shoplazza Shopmaker Technology is a focusOverseas B2C stand-alone site brand marketing enterprise-class SaaS technology company.International foundational technology and engineering capabilities combined with the North American localized DTC brand operations team, technology and data-oriented enterprises to provide enterprises from SaaS station construction, brand planning, communication to marketing multi-dimensional professional services, and ultimately achieve customer sales growth.
International teams of professionals create a number of cross-border DTC brands, providing a complete range of solutions, from technical data, brand marketing to operations.Shoplazza shop assistants empower independent station brands to globally. We are your Global DTC Brand Partner.
You can also choose to add shop assistants,
Let's discuss it with you
Stand-alone station conversion
policies and methods.
👇 added
Shopmaker,
Reply.

"Into the group"

,
Explore the road and start now!
Stamp the original text and apply for a free trial
The article has been publishedModify.
---