Collection: The holiday season is coming, five steps to deploy Facebook advertising campaigns

With the holiday season just around the corner, do you plan to use Facebook ads to promote your products and services during the upcoming holiday season? In today's article, you'll learn five key steps to warm up your ad campaign to top your competitors.
Photo from socialmediaexaminer.com
1. Optimize your website,to boost Facebook ad traffic
Installing Facebook pixels on your site, a small piece of code that lets you track user activity on your site, is a key part of Facebook ads because you can use pixels to determine how well your ad strategy works, reposition products that people are most interested in, and find buyers who are equally likely to shop.
To get the most out of Facebook pixels, you should also add event codes to record when specific events occur, such as when a user adds a product to a shopping cart or makes a purchase.
Focus on consumer optimization sites on the mobile side
According to the Sprout Social platform, 94% of Facebook's advertising revenue comes from mobile devices, so it's important to optimize your site for mobile users. Your site should look as good on mobile devices as it does on the desktop side.
Given that your visitors use mobile devices and come from social media, keep in mind that they may not stay too long and they don't intend to buy on social media, so all you need to do is get them to change their mind. Making sure your site loads quickly is critical because they can access what you're showing in Your Facebook ads faster, and the less likely you are to leave before you complete your purchase.
Google's PageSpeed Insights is a handy, free tool for checking your site's loading speed and mobile performance. Simply enter your URL in the search box and click Analytics to run the test.
Photo from socialmediaexaminer.com
Special tipsFacebook is committed to creating a great user experience, including the experience that people have experienced on your site since they created your ad. Therefore, it's a good idea to remove all pop-ups from the target page. Facebook has found that pop-ups can have a negative impact on the user experience, which can reduce your coverage and increase your costs.
Pop-ups can also be unnecessarily disruptive, which can cause users to go straight back to the initial portal instead of further purchases of your product.
2. Create or update your Facebook catalog
The Facebook Shops platform lets you sell products through the store on your Facebook page. To build a store, you'll need to create commerce_manager Manager account on facebook.com/twitter. Follow the prompts to set up the type of store that's right for your business.
Photo from socialmediaexaminer.com
Once you've set up your account, the next step is to add your product to your Facebook catalog, including images and prices for individual products.
Photo from socialmediaexaminer.com
With the Business Manager link, you can use catalogs with Facebook ads, including dynamic product ads, in a variety of ways. Dynamic product ads allow you to re-target people who have visited your site and show them customized ads based on how they view your site. That's why the necklace you clicked on and didn't place an order will re-emerge on Facebook.
The main benefit of using dynamic product ads is to make sure that your audience has an understanding of the products they are already interested in or the related items they might be buying.
3. Plan seasonal Facebook ad campaigns
When running Facebook ads during the holidays, sometimes you can offer different quotes at different stages, rather than offering the same service to everyone else, so you can get better results.
For example, if someone visits your site and adds a product to their shopping cart, but doesn't complete the order, you can show them the free shipping ad interface. If this time they go back again to buy, but finally did not order, then you can further, throw a 10% discount to try.
Photo from socialmediaexaminer.com
When you offer a quote in a Facebook ad, make sure you've set up filters to display the right quote at the right time node. Also, when repositioning your target customers, be sure to exclude users who have already purchased them so that they don't get discouraged by the price cuts.
Note that there are many ways to promote, not necessarily a price reduction. If you want consumers to order products before a specific date, you can attract them by offering free gift wrapping or guaranteed shipping during the holiday season. You may already know which approach is best for your audience, but if you're not sure, it's time to figure it out. You can also start testing now to see what's attracting their attention. (Step 4 discusses testing in detail.) )
Plan key dates for seasonal Facebook ad campaigns
In the fourth quarter, countries will have a lot of holidays, all of which are great opportunities for extra promotions through Facebook ads. Keep in mind that the closer you get to a critical promotion date, the higher your advertising costs may be. Therefore, you need to take advantage of the knowledge gained in the initial test to get started.
Seasonal advertising is likely to increase before these key 2020 dates, and therefore costs may increase:
October.
31: Halloween
November.
14: Luminaire Day
26: Thanksgiving Day (USA)
27: Black Friday
28: Small Business Saturday (USA)
30: Cyber Monday
December.
5: Small Business Saturday (UK)
10: Hanukkah
19: Super Saturday (last Saturday before Christmas)
24: Christmas Eve
25: Christmas
26: Boxing Day (UK)
31:Chinese New Year's Eve
Other business-critical dates
Your own key business dates and promotions may also affect your Facebook ads. Plan them in advance so that they can be included when planning Facebook campaigns. Key dates may include new product launches, restocking, and final order dates to ensure smooth delivery or personalized operations.
Don't put off until the end to make these decisions. If there is no inventory or has been discontinued, you may need to include some of this information in your ad file or make changes to the catalog. You know, what consumers can't stand most is seeing ads but not buying products.
4. Test your Facebook audience and ad ideas
If you start testing now, you'll have a good understanding of what's best for your business and be able to scale better during peak periods. You can use this time to test your audience to learn how best to appeal to your buyers on Facebook.
Photo from socialmediaexaminer.com
Testing your creatives and building copies of your ads at this stage can seem tricky because you want to avoid using seasonal ads too early. However, you can start a broader test to find out how your audience is reacting to get a better idea of the types of seasonal ads that might work well. For example, you can test a specific color, theme, or ad type. You may find that video gets better results than still images.
Also investigate what kind of ad copies your audience is happy with. For some businesses, a short, lively one will work well, while others may find it longer and more effective, especially if consumers are required to consider longer-term items.
As you test, you'll begin to understand how long and how much it takes to turn someone into a customer, and how many touch points they need to achieve it. Keep in mind that starting a test is always too early to catch up.
If you're confident you can optimize your ads to produce the results you want, start deploying your Facebook advertising strategy.
5. Know how to create valuable Facebook content instead of relying entirely on paid advertising
Don't rely solely on Facebook ads this holiday season; After you have identified a critical date and planned a quote, allow some time to edit the valuable content.
This content should help your business stay in touch with existing audiences and provide assurance that new audiences will visit your page through your Facebook ads. When a consumer decides whether to make a purchase, it can be helpful to show comments or recommendations to new visitors or products you use, and user-original content can solve the problem well.
Photo from socialmediaexaminer.com
The holiday season is stressful, and you may not even be sure what content should be posted on Facebook every day, so plan ahead for the valuable content. This will ensure that you always have quality output, and that these things will not take up more private time.
Conclusion:
Doing business during the holidays can be challenging, but with adequate preparation, your Facebook ads will make it easier for you to achieve your goals.
Start by optimizing your site, test and plan all your key date events and offers, and once your Facebook campaign starts running and running well, it'll give you an edge among your competitors and further optimize and expand your campaign.
What do you think? After reading this article, when do you plan to start planning your holiday Facebook ad campaign? Do you have any preparation tips to add? Welcome to the editor-in-chief through the public number.
Original address: https://www.socialmediaexaminer.com/how-to-plan-facebook-ad-campaign-for-the-holidays/, translated by Titanium Dynamics.
UniAgency is a one-stop integrated marketing and agency services brand under Titanium Dynamics.
Focus on overseas performance advertising services and overseas brand marketing services.
Official authorized agency media

Agent media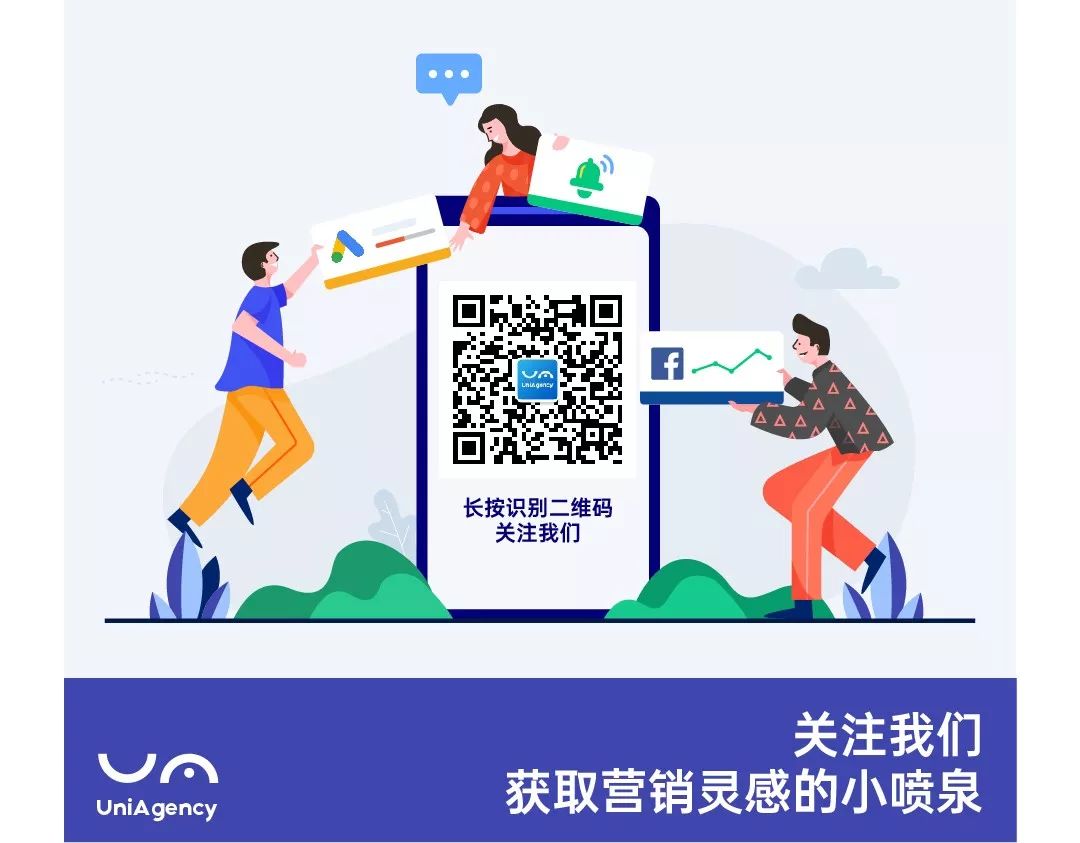 ---