Car companies to fight the cost of a big fight, Tesla announced the dissolution of the public relations team!
For any automobile enterprise, marketing and public relations are an indispensable part of the level of marketing promotion, the reasonable degree of public relations handling of events, will affect an enterprise and brand's neat image. However, one car company is different and has disbanded its public relations department.
Tesla has disbanded its public relations division and the PR core global team working in the U.S. has been canceled, foreign media Electrek reported.
Most of the official responses the media can get from Tesla today are tweets from CEO Elon Musk on Twitter. Musk will also share content about Tesla's new features or future technologies on Twitter, which will soon be widely shared and retweeted by other users.
Tesla's top brass have confirmed the move to the media, the report said. Tesla's head of global communications, Keely Sulprizio, the last known Tesla executive in charge of public relations and communications, left in December. After she left, almost all other members of Tesla's public relations department left or between.
However, the report notes that Tesla also has some public relations managers in Europe and Asia, and that the media relations team is still functioning. In china, some of Tesla's official responses were also sent via the official tweet of "Tesla's vice president of external affairs, Dow Lin."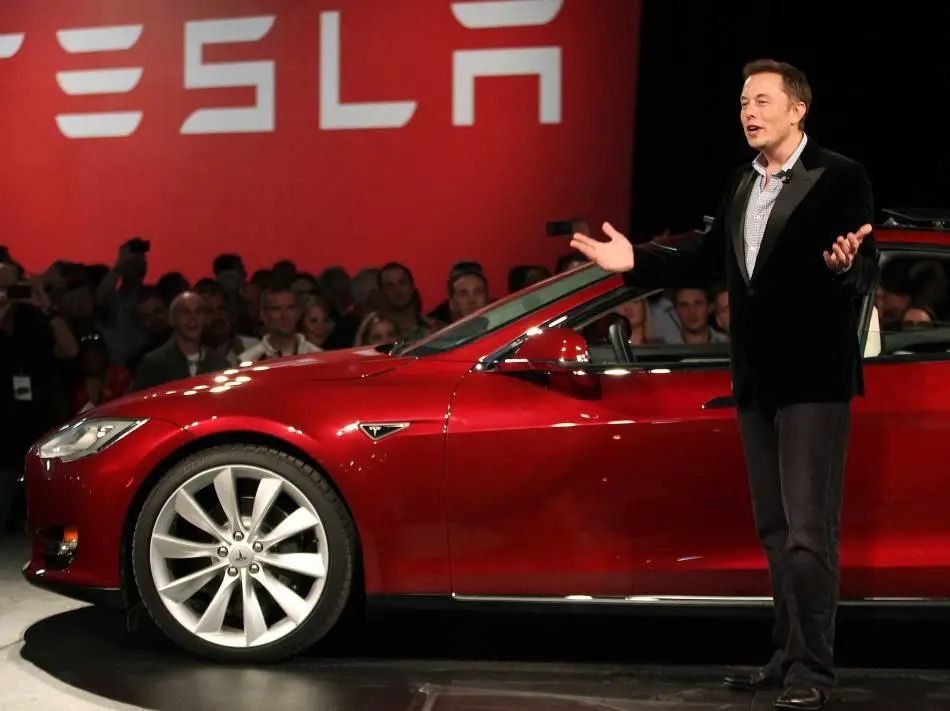 As you can see, as a car manufacturing and technology company, Tesla operates very differently from traditional car companies, and it doesn't spend much on advertising and marketing. Tesla's marketing spending in 2019 will be just Rmb186m, according to a list of marketing spending by Morketing, a marketing industry media outlet.
In response, Yang Xueliang, who served as Geely's director of public relations and was promoted to vice president of Geely Automobile Group, retweeted the message on Weibo, saying, "Okay, it's cool in the back of my head." "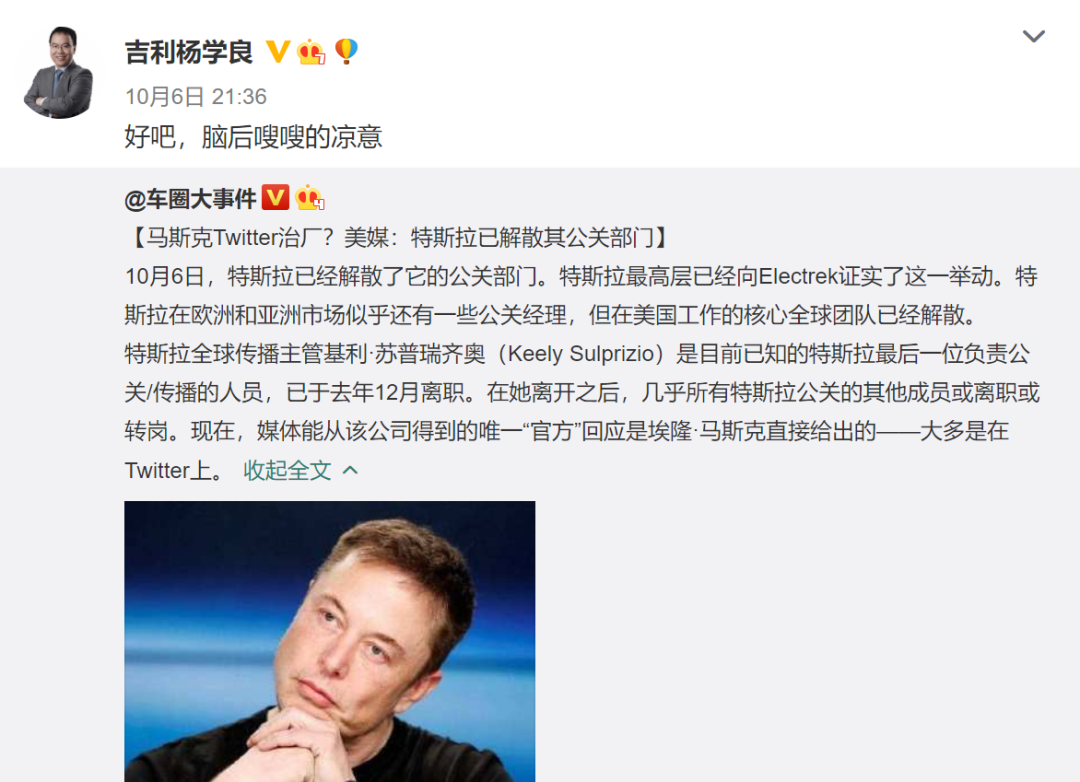 Geely Automobile Group Vice President voiced, seems to want to explain something!
According to Morketing's list of marketing spending in the automotive industry, Geely's marketing spending in 2019 was Rmb4,332m, ranking it 18th out of all car companies. The top three are Volkswagen Group (excluding Audi/Lamborghini), Honda and Daimler, with 2019 marketing costs corresponding to 162.045 billion yuan, 106.585 billion yuan and 98.881 billion yuan.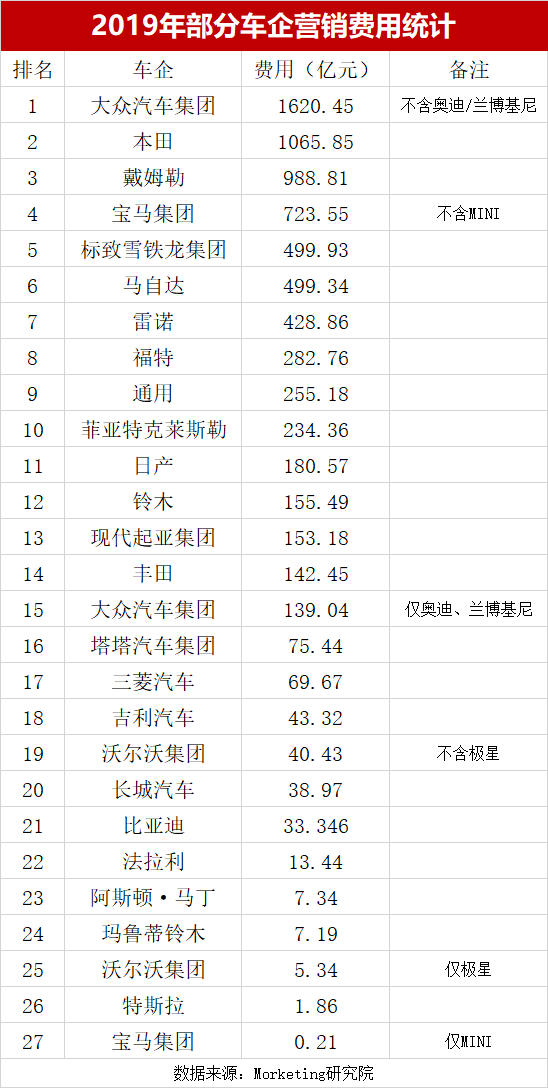 Tesla's "open and transparent" corporate culture has freed it from problems such as its direct-to-market model, price transparency and high technical transparency. At the same time, consumers' pursuit of Tesla is the basis for its simplified public relations communications. Of course, for most car companies, this is not possible.
Compared to marketing costs, how will the car companies invest in research and development in 2019?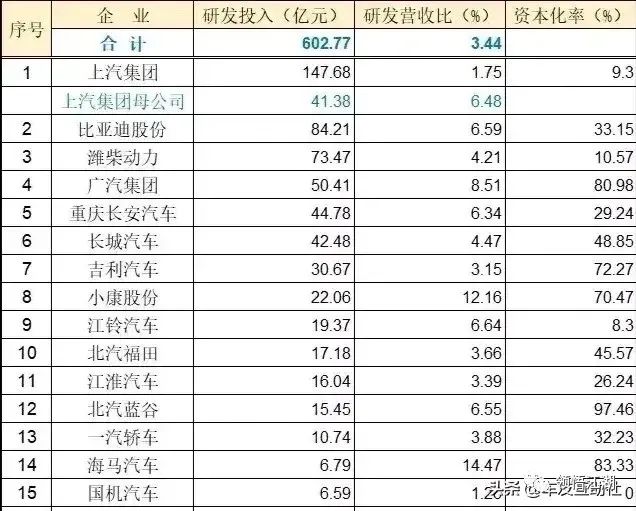 Just say your own brand!
The first is BYD, research and development investment of 5.6 billion yuan, in the field of new energy, the world's independent car companies, only BYD.
The second is Geely, research and development investment of 5.4 billion yuan, the world's top ten car companies, the domestic look at Geely
The third is the Great Wall, invested 4.2 billion yuan, and only the Great Wall of this car company put all their money into research and development
The fourth is Chang'an, research and development investment of 3.8 billion yuan, dry down a number of joint venture cars, Chang'an himself stood up, and Chang'an's blue whale engine, has reached the world's top level.
If all public relations expenses are completely those available for research and development, will Chinese brands take it to the next level? After all, China's research and development costs are still low compared with companies around the world.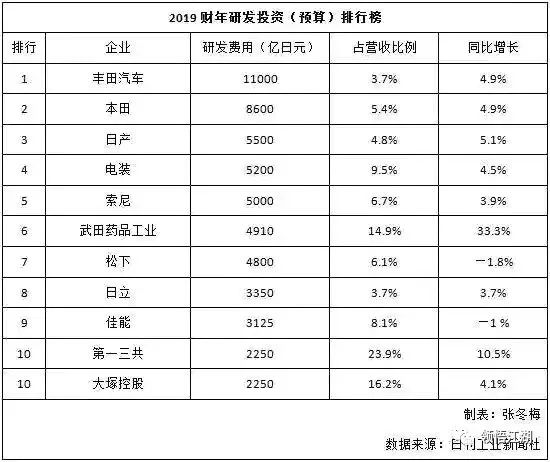 Judging from the FY19 research and development budget rankings, the largest companies are still Toyota Motor Corp. Its research and development budget for fiscal 2019 was 1.1 trillion yen (73.2 billion yuan), up 4.9 percent from 1048.8 billion yen in fiscal 2018, the 18th consecutive year at the top of the list.

---