Can live e-commerce also eat overseas?
In this difficult time, innovation is particularly important when the crisis is accompanied by a turnaround.
And for foreign trade, the same is true.
As the global epidemic continues, traditional offline foreign trade channels have suffered, but traffic data from major cross-border e-commerce platforms are skyrocketing, with AOL sales growing 48% in March 2020, according to one statistic.
And this innovation is "live". For the live shipping model in the domestic e-commerce field has developed relatively mature, household names with cargo anchors Li Jiaxuan, Vijay, etc. to bring again and again the benefits of the big breakthrough let us continue to be shocked, and during the outbreak, they have a higher commercial value than the stars.
Live broadcast and e-commerce, the combination of the two chemical products are glowing heat, which can bring more benefits than traditional e-commerce, has been the highest conversion rate at this stage of the purchase.
Jiyin, fast hands, watermelon video and other short video platforms quickly broke into the public's view, Taobao Live launched the "main broadcast ranking" mechanism gave birth to a number of online red sellers such as Via, "a live tens of thousands of sets of product seconds light" scene, to promote the multi-platform entry ... For live sales, the Chinese platform side has basically completed the education of users.
According to the data, Taobao's live-streaming platform generated more than 100 billion yuan in revenue in 2018, and the total turnover of fast-track and shake-up live streams reached 100 billion yuan, while Taobao's live page traffic doubled in September 2018 compared with the same period last year.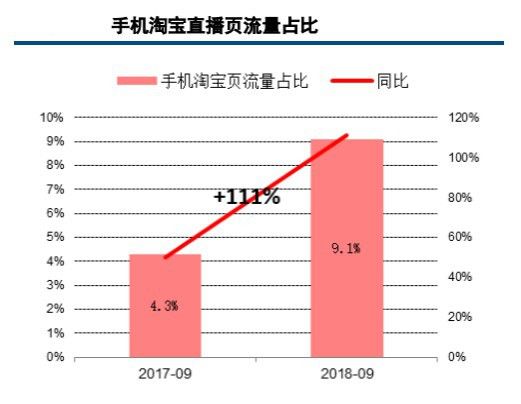 Source: Huasheng Securities

Overseas, news of live shipping has also been frequent, with Chinese-backed e-commerce platforms such as Shopee and Lazada partially opening up live streaming; Amazon announced at the end of December that it would launch Amazon Live across the site; and Facebook recently acquired Packagd, a start-up that specializes in live shopping, to help Facebook improve its live-streaming capabilities.
High user stickiness, high conversion rate of live shipping,
Yes, but the scoring area. Live e-commerce this new type of online shopping situation in Southeast Asia and Greater China and Japan and South Korea education costs and laying degree relative to Europe and the United States and the Middle East region is much lower and much easier, one is because we are now all belong to the East Asian cultural circle, due to geographical and historical sources, mostly developing countries, cultural exchanges and economic exchanges between each other, especially e-commerce development and model is more similar, people's online shopping habits are also similar.
But for Europe and the United States across the sea in the Middle East, the implementation of live e-commerce is much more difficult, especially the assembly of a large number of Chinese sellers in Europe and the United States. The main reasons are:
Overseas e-commerce penetration rate is low, short video overseas basically China is doing, but still in the intensive stage, cash has just started, MCN industry is not mature, merchants are completely different from the domestic, do not know how to live "the way". In addition, in the consumption characteristics of live shopping, overseas countries and China's biggest difference is that product sales are not mainly based on online red sellers, but by brand effect, product cost-effective and other relatively objective factors to promote. It also means that some unknown brands or small sellers are more likely to sell high sales, and even if they do, profit margins are lower.
But even with so many challenges, Europe and the United States are still a treasure trove worth digging for:
Amazon officially launched its live shopping feature, Amazon Live, to Chinese sellers in April 2019, and announced in late December that it would launch live streaming across the site. But Amazon Live's page and feature settings aren't mature enough, but even so, a further look back at Amazon Live's performance over the past eight months shows that the growth effect of live streaming on merchant sales is clear, even beyond discount days.
Ad Age, the advertising authority, points out that consumer electronics brands are selling 95 percent more units through Amazon Live and 131 percent more home products than Prime Day's hourly sales.
Plus one of the most direct reasons - that is, europe and the United States users pay high capacity ah! !

How to carry out overseas e-commerce live?
So where should Chinese sellers, who want to promote their products on social platforms overseas, start?
First, foreign live and video platforms are mainly developed in several communication platforms.
Compared to the popularity of short videos and live broadcasts at home, the wild growth of domestic live broadcasts is not so crazy, they are basically under the control of several giants - Facebook, Twitter, Youtube, Instagram and so on.
Second, overseas live broadcasts pay more attention to entertainment, there are not too many direct profit channels.
Overseas live video in the profit model also has a big difference with the current domestic live broadcast, there are some live apps, but basically traffic is not high, which also led to few live gifts abroad, live subsidies, unless very high-quality original authors or celebrity stars. Compared with domestic online red marketing, foreign live broadcasts are more biased and entertaining.
Third, the core of overseas video communication is on the dissemination of enterprise content.
In fact, for video and live marketing in overseas large and medium-sized enterprises are very common, but in the video production content point is different from the domestic, overseas video communication core is mainly placed on the enterprise's communication content, the use of corporate culture and corporate brand shaping and dissemination to achieve the conversion rate.
This is obviously a very long-term and very strategic marketing direction, is correct. But in today's era of fast-spending, how to capture the customer's heart in a matter of seconds to buy products, this needs to be further explored.
Fourth, it is suggested to carry out live cooperation with NetHong

For cross-border e-commerce, whether it is ordinary social media marketing or live e-commerce, we are more encouraged to businesses and online red cooperation, because
Domestic merchants understand the live broadcast and online red marketing play, but the local network red more understand consumers
。
For SMEs, choosing to develop a anchor from scratch is an option, but if you find a relatively suitable network and cooperate, you can get the benefits faster and more accurately.
How do I choose the right net red?
First, select net red pool
If you're a little white in the field, you can start by looking for your own happy anchor on The SocialBook. At present, SocialBook has created the world's first real-time update of the network red cooperation platform (transmission door), covering the world's 3 million net red resources, as long as you want to find the net red, we all have, come to the platform can directly with thousands of overseas network red face-to-face contact
Second, judge the value of online fans and fan positioning.
This is the core of any net red belt, because the value of any net red is her fan base. Only a sufficient number of fans can create more commercial value. You can search for the country, language, number of fans, the platform can immediately run out hundreds of suitable net red, not only can see some of the basic data of net red, you can also click in, see each net red detailed data, including their cooperation quotes, their promotional effect, which brands they have worked with, and even their fan portraits, quickly find the most suitable net red, make the most effective decisions
Third, the establishment and application of live application scenarios
Any net red live broadcast will have his live background and application scenario, because small and medium-sized enterprises live with goods is different from the ordinary entertainment live, the background and settings of the net red live broadcast should be in line with your products,
Because the background of the live broadcast and the product preached by the host can actually play a mapping role, a suitable live background can promote the introduction of the product and stimulate the buyer's desire.
Fourth, refer to the previous net red case and the case of competitors
Another measure in the selection of conditions is to conduct a data survey of past shipping and live-streaming cases on Net-a-Go that you want to work with. This is the most sure to see how much commercial value this net red can bring.
Secondly, you can also look at other competitors at the same level of online red belt sales data, do more market research and finally let their own enterprise's online red live broadcast to produce real sales benefits.
The editor-in-chief has something to say
Live on the high-efficiency conversion ability of merchandise sales makes it become e-commerce competition, at present, a lot of advertising investment is more strong traffic exposure and weak sales conversion effect, some marketing ads CTR can reach 1% has been a good performance, and some media said that fast hand conversion and shipping effect is 30 times to 50 times the general input.
At present, many network red people live is basically to adopt CPS (billing by sales effect) model, relatively friendly to partners. Network Red Man's cross-border live delivery can quickly increase the brand exposure and product conversion rate, accelerate the speed of capital cycle, and directly promote the globalization and socialization of cross-border supply chain development, and quickly realize brand incubation.
---