2016 Marketing Exploration: From QQ ads to see the butterfly of social advertising become new
Under the social explosion in 2016, QQ advertising in product form innovation, advertising strategy, user experience balance and advertising conversion efficiency and other aspects of what innovation and breakthrough? Listen to Zhao Yanxuan, Tencent's senior commercial product director for social advertising.  
"Advertising is content, content is advertising. Only when content value and commercial value are driven in both directions can the effect of more metas be highlighted. "

At the end of 2011, Tencent Wide Point was officially launched. In 2015, Guang point to meet WeChat advertising, combined into a more viable Tencent social advertising.
From the adversity of 2012, 2013 trial and error growth, to 2014 mobile development, 2015 social year, to 2016 social outburst growth, Tencent social advertising has been actively exploring different marketing play, with "learning endless" mentality to achieve self-break.
At the beginning of the new year, we started from QQ advertising, QQ space advertising and QQ browser advertising, the thought and understanding of social advertising, hoping to give marketers some inspiration.
The breakthrough path for social advertising
Each product will go through the six natural stages of development: the beginning, the birth, the development, the bottleneck, the breakthrough and the future. Four years ago, with the rapid development of open platforms, we needed a more open, transparent and efficient platform to promote applications for developers. At the same time, this self-service bidding platform has become the predecessor of Tencent's social advertising.

At that time, social advertising mainly in QQ space PC web scene, quickly extended to QQ client. Immediately after, in order to seize the mobile opportunity, mobile space Feed, mobile QQ, QQ browser, application treasure and other scenes have launched social advertising.
As the user scene changes, we consider more innovations in the form of new advertising products, the balance between ad playback strategies and user experience, and bottlenecks and breakthroughs in ad conversion efficiency.
Take QQ advertising, QQ space advertising, QQ browser advertising and app treasure advertising as an example, we combine the characteristics of the platform, continue to explore, enrich, optimize the new advertising product form. QQ space Feed advertising launched multi-figure car park, micro-motion, brand page card, Canvas and other new product forms, has begun to take shape and get a good reputation;
Product strategy and conversion efficiency are the lifeblood of advertising product development. We improve payment closed-loop and floor-to-ceiling page optimization by improving the combination of user experience analysis and playback strategies, and improve conversion efficiency by building data platforms and brand-customized services. 
Expand the brand, practice marketing new play

For Tencent's social advertising, "breakthrough" and "innovation" are the key words for 2016. This is evident from our annual marketing case with Coca-Cola and Wrigley Gum Joint QQ Space last year.
In 2016, Coca-Cola joined hands with QQ Space, combined with the theme of "This moment is gold", to customize the private social review report for every QQ space user, so that users in QQ space over the years of social sharing, recall those years, those people brought moving moments, thereby stimulating users to produce UGC.
At that time is the 11th anniversary of QQ space, QQ space wants to express the concept of "cherish every moving moment in life", and Coca-Cola in the Olympic year want to highlight the "who do you fight for" of the concept of the "gold" at the moment, just in tune with it, the two express the theme, the transmission of emotion perfect fit.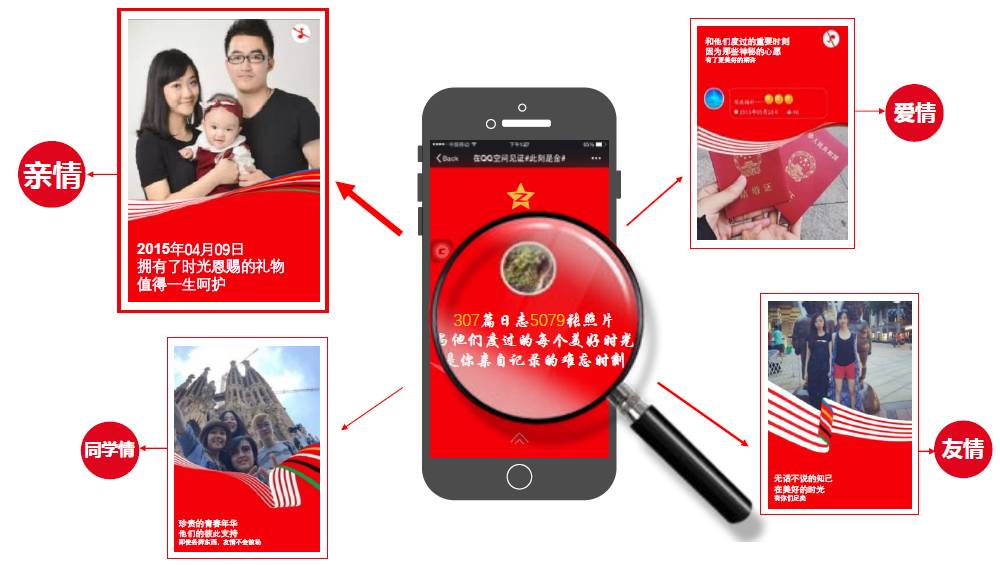 Coca-Cola is now a gold case

What's behind this love marketing success? It is based on the emotional resonance of big data, but also thanks to Tencent social advertising on QQ space 11 years of user precipitation content in-depth exploration.
In addition, in the form of marketing we also try to play a new trick.
In November 2016, Wrigley "5" sugar-free chewing gum jointly with Li Zhiting, in QQ space for an exclusive live broadcast cooperation. What changes have we made?
Based on the orientation of brand audience and target group, Tencent's social advertising team suggested a new model of brand live streaming of "star IP-resource booster and e-commerce guide". Customize your crowd pack with big data mining, lock appointments for core fan seeding during the warm-up phase, and engage with active users on the viewing page during the live streaming phase.
30 minutes of live broadcast, the number of onlookers more than 650,000, QQ space "5" sugar-free chewing gum custom gifts more than 520,000 times, e-commerce guide click-through rate of up to 7%.
There are many new marketing play cases like this, all of which we worked with Coca-Cola, OPPO, SK-II, YHOUSE, etc. in 2016. We want to activate a new generation of brands with a new marketing strategy.
From the content, pry the commercial value

Commercialization is based on platform users, and platform users remain in the platform content. In 2016, QQ space in the product has a great transformation, we in the log this kind of focus on friend content, based on the introduction of more self-media form of video content. The focus of this form also brings a new scene to commercialization.
We also continue to polish The Feed video advertising products, has launched a 15-second short video, video talk and other forms, and in different exposure scenes to optimize a more appropriate style. The video says that the second half of 2016 is one of the most important products with strong social attributes, we first put the interactive heat of advertising into the QQ space of the overall content recommendation algorithm, so that ads with high-quality creative content in the target users at the same time, harvest a certain amount of free recommendation traffic.
In the just-concluded "Tencent public welfare "Recharge for Love Season 3: Ear Hill" project promotion, the ad click-through rate as high as 5.75 percent, video creative, beautifully produced, outstanding style, led more than 5000 people to participate in the event donations.
On QQ browser, at the end of 2016, we launched a "good text advertisement" specifically for content marketing, using technology to help advertisers complete a "mind-set" content marketing, get 5%-20% of the ultra-high click-through rate. 
Based on data, build user communication bridge
The power of data is not to be underestimated. At the data level, we help brands better understand and understand their audiences through deep demand communication and relevance analysis. Take the recent Beast pie QQ browser "good text advertising" as an example, in the early stage of delivery, we through QQ browser TBI data capabilities, to help beast pie combed the consumer's "content consumption personality."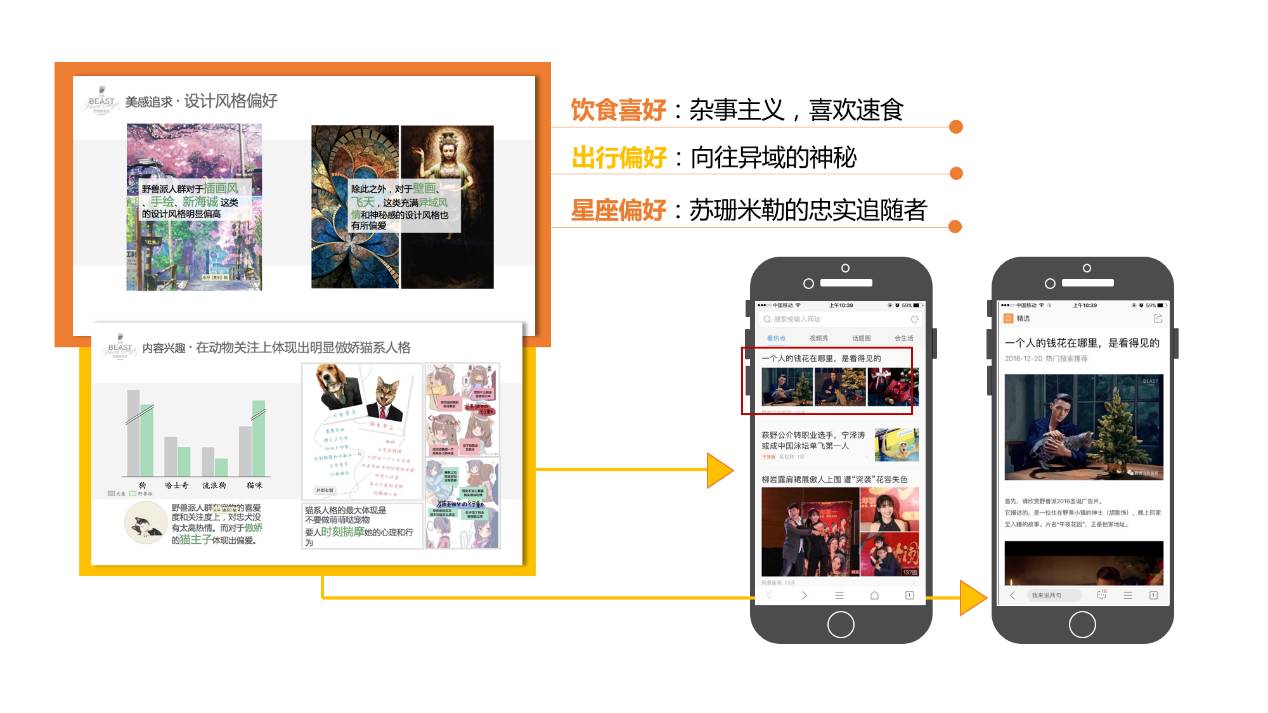 The Beast case
Beasts are a high-end niche brand, their users have a certain sense of mystery, in order to really understand this group of people, we use multi-dimensional data modeling deconstructed audience. We believe that a person's browsing tendencies when alone, to a large extent constitute a person's spiritual core and value orientation, so we launched a new insight project TBI, trying to from the user's long-term browsing behavior, in-depth analysis of the audience's underlying personality.
After multi-dimensional user judgment and mass analysis of user behavior regression, we find that the Beasts show different traits in some dimensions. This group of people is obvious cat personality, relatively cold and proud, know how to love themselves, the budding pet (especially cats) have a clear preference;
The Beasts were pleasantly surprised to adopt our insights. In terms of material, in the warm pastoral cottage this shooting scene, Hu Ge this cat-loving small town owner, aromatherapy feathers and other textured good things presented for the first time, fully demonstrated the hero's pursuit of elegant life. In terms of text, the Beast chose "Cats ignore you" and "where the money is spent is visible", in response to the user's "high cold and proud love of the self" values, in the emotional inspiration of the user's recognition of the brand proposition.
After the ads are online, the delivery system calculates the user's browsing preferences in real time based on big data, and recommends the ads to users who are more willing to read the Beast ads. In the end, the ad received 2.69 million online ad exposures, 9.28 percent high click-through and 531 first-order shares. 
Based on a wealth of advertising scenes and strong "technique" and "number" capabilities, social advertising can understand users more, understand the real desires, interests and aspirations of users, so as to build a bridge between the brand and users.
What's the next point of opportunity in the future?
No matter what the environment, our vision must continue to move forward, constantly thinking about what our future is and where. After the mobile Internet, we are always ready for the next self-disruption.
We're already trying to better connect with devices like mobile VR and AR enhancement, and use machine learning and artificial intelligence to make marketing more available, providing users and brands with better connectivity and interaction.
For more exciting content, follow Tencent Social Advertising's official WeChat: 

---