100 questions on the operational development of educational and training institutions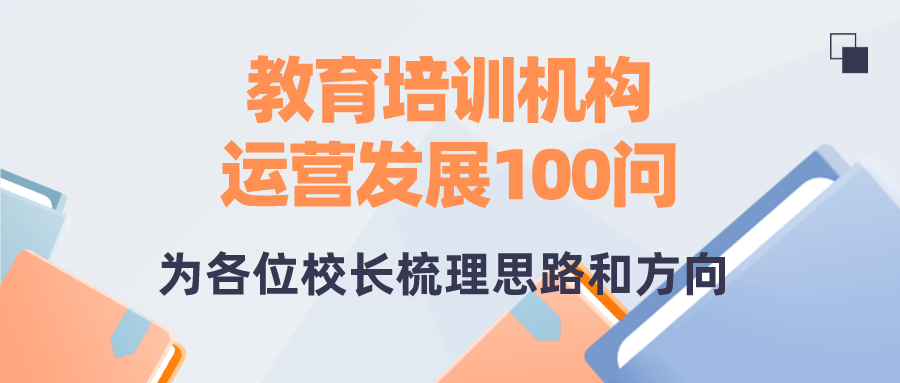 The impact of online education, so that the survival of offline institutions more full of opportunities and challenges, the industry's real survival of the fittest moment quietly into each institution, recruitment difficulties, class instability, serious staff turnover, lack of competitive advantage and other issues more troubled most institutions principals.

This article from the offline organization operation of more than 100 questions, these questions have no standard answers, just want to use these questions for the principals can comb the next ideas and directions, for your reference, hoping to help the training institutions.
First, see clearly our environment, according to the environmental situation system more appropriate industry positioning
1. Where is your school open? County? City? Do you have the actual location of the school? Did you imagine or did you come to the conclusion after investigation?
2. Are you far from other training schools? Do you have specific data? How many kilometers do you have a training school around? How many public schools are there? Do you know their general situation or the specific situation? Do you know the principal of a public school? Don't the awareness teachers know their names? Do you know the name of the principal teacher in the public school?
3. Do you know anything about the students around you? How many students are there in primary school, how many students are there in junior high school, and how many students are there in senior high school? Do you have a general idea of the term grades of these students? How many failed in English?
4. Can you estimate the basic income of parents of students around your school? How much of their family income is your tuition? Are parents fully accepting or reluctantly accepting? Can I raise my tuition a little next term? Do parents around you usually send their children to training? Is this common?
5. What is the traditional strength of the most important school in your place? Are there any weaker subjects? Why do other non-key schools have strong subjects? 
6. Where did you choose to start your school in the city center or within an hour's drive of your students?
7, your teacher is not all aware of the above content? Is it time to lead our teacher to actually understand, such information to make a table for everyone to know?
8. Do you know what kind of training schools are run in your place? How did he recruit? Who's in charge? How many students are there? Who's teaching? How many teachers are there? Do you know his school history? What material do you use? What is his main admissions program? Do you think he has weaknesses? Could you be better than him? Will your education and training program cause an immediate conflict with him? Or is there already a conflict and you're in a weak position? 
9. Can you immediately start an educational service program that is not available in the surrounding training schools? What are your main concerns? Can I move away from his influence? 
10. Now are you sure what you're going to do? Can you face the competition directly from your peers? Is it okay to do something he can't do?
11. How many students do you have now? How much do you want to scale to after the method has been improved? Do you need to prepare teachers and school buildings in advance to increase or decrease subjects? Is there a problem with the funding, is there a big problem?
Principals, the answers to these questions are actually what you probably already know! Or you know it right away with a little bit of actual research. I hope you find a place, such questions are listed one by one clearly mark the answer, then I think you run the direction of the error should not have!
Second, the initial beautification of our school
School should be a place full of culture, in fact, even enrollment is part of the school culture. Training school is not required you to spend a lot of money on hardware investment, you can actually spend very little money to make your school on a few grades, we are mentioning small problems some you spend a few yuan can solve.
1. Do you know what a logo is? Is there a sign in your school? Is there a place where you can make signs or signs? There are many kinds of signs, how many are you going to do? Do you think it is necessary to make your school logo a little more beautiful and more visible? Do you know the price of local marks and other items?
2. Where are you going to put up your own school logo somewhere in your school? Would it hurt you to make a bigger and more eye-catching school sign at the door, in the classroom, in the hallway, in the office?
3. Do you have a clear school philosophy? Does your school have anything different from other schools? What do you think is the most powerful part of your school? Are the teachers in your school clear about these concepts, and are the students who come clear? If it's not very clear, should you find a place to write a few more large letters to hang ah?
4. You may have just started a school or you may have been running a school for several years, but do you have a history of your school's growth and development? Do you have any special events to show off? Think about it, there should be! Are your teachers clear about all this history? Wouldn't it be difficult if you had to sort it out?
5. How many teachers do you have? Do you have photos, your teachers are what kind of education, what kind of special features, take some time to organize it, society and parents need to know whether to teach their children is not junior high school graduates!
6. Does your school have warning signs and language to remind students? Do you write a few more words where it's easier to get out of a security problem? Do you have any reminders about stairs, toilets, faucets, traffic, etc.?
7, the school should be a rich cultural atmosphere, you look at your school, classrooms, walls, corridors, school gates, offices are bare? Can you find some maxims and adverses that are good for the students? Make some modifications to your school so that it is no longer barren!
8. Do you have a place to show your students' grades? Through what channels do parents know that their children have grown up? Principal, be simple and don't spend money!
9, do you know that opening a school should actually meet the parents' right to know first? What kind of school parents do you know no, what kind of students are you going to teach, what kind of teaching materials you are prepared or already using, how is the general situation of the teaching materials, your teacher is strictly trained? Are there any certificates and other supporting materials?
10, your school must also have enrollment leaflets, flyers are written for you or written for parents to see? Have you written down the parents' concerns? Have you ever tried to find a parent to experiment with, more than half of the school's brochures don't even make clear what students you're recruiting, and where are the detailed rules for admissions available to parents in your school? Are the basics clear?
These are particularly simple and particularly easy to implement you as long as the next point of work, 2 days can be done can not spend hundreds of dollars!
Principals and teachers
1, open school must have teachers, teachers as the main body of education is the most important part of the training school, is the cornerstone of school development, you should agree?
2, the combination of principal and teacher is strictly the meaning of the school you agree? Is the teacher your partner in the development of cooperation or the servant you asked for? Teachers should have their own dignity and honor, do you think teachers come to your school to make your money? Teachers should have the natural right to earn their own wages according to their professional conduct! You're not going to say you're the one who feed the teacher, are you?
3. Do you have a full-time teacher in your school? Mainly full-time teachers? Do you agree to hire part-time teachers?
4. Do you agree that teachers in your school have the right to training and continuing education? Are you willing to pay for the teacher training in your school? Have you organized teacher training? Did you say that the money for training was paid for by the teacher himself? Is the only reason you don't train teachers for fear of them running away?
5. Have you ever compared it to the industries around you? Is your school teacher paid a high salary as a babysitter? Are there any construction workers who are well paid?
6. Do you think we can recruit teachers who can complete our teaching tasks immediately?
7. The teachers you choose are all above college culture, right? Do you know why they came to your school? Where was he going? Have you spent time understanding the basics of your teacher?
8, you recruit teachers you are prepared to use for 3 months or long-term use? Have you ever planned for this? Did you seriously talk to the teacher about it? Do you have the teaching task of retaining this teacher? 
9. Does your school have a basic wage system? Transparent or closed? Do your teachers know each other's wages? Are you free to correct the teacher's salary? The principle that you pay teachers is based on whether you are happy or not. Will you take leave for teachers according to the national statutory leave? Do you withhold your salary when the teacher is on leave?
10. Is your school ready for the teacher's dormitory? How do you solve the teacher's food and living? Do you understand the relationship between teachers' basic life stability and work efficiency?
11. Does your school have a teacher management system and a performance appraisal system? Have you organized any discussion about these systems? Did you do it? Do you usually supervise? Do you only use the system as your standard for withholding wages? Does your salary system take into account the development of teachers? Do you think of adjusting his salary only when you encounter a teacher's uprising?
12. Do you have teachers in your school for more than 3 years? Why? What is the cause of your teacher loss? Do you think the platform you provide them is big? If you were them, what would you choose, would you like to stay in your school for a long time?
13. Do you know what management and ownership are? What's the difference between the two? How does the relationship work? You don't think the principal is the emperor of the school, do you? What kind of person would you choose to be a manager? 
14. Do you know what you should do and what you shouldn't do? What is your natural responsibility?
15. Do you have a good understanding of all the management systems of your school? Did you make it yourself according to the school situation or copy the "advanced" school?
16. Have you been carefully implementing the management system you have developed? Does your system restrict your rights? Did you naturally avoid such a system?
17. Do you have meetings every day? A meeting is a waste of time, you never have a meeting?
18, is it often very casual to make a wish to the teacher and then completely forget?
19, when faced with parental problems on the scolding of their own teachers, forget the dignity of teachers and their own cultivation.
20, you calculate, what time will you be in school, time situation you will participate in management? Can you adjust the time?
21. Do you know what the overall interest of the school is? Does your management system and performance system take into account the "overall interests"?
22. Did you visit a school and scold your teacher and review yourself immediately?
Fourth, teaching management and classroom control
1, the school teaching needs to be managed? Do you know anything about teaching? Do you know anything about teaching management? Where did you learn teaching management? Do you have time to manage your teaching?
2. Is teaching management important to a school that insists on the quality of teaching as the goal? Are you aware of the importance of teaching management? 
3, the principal can not understand teaching management? Since teaching management is so important, what method do you use to solve this problem?
4. What is the name of the best school you know about teaching management, and can his experience be implemented in your school? Have you ever seen the teaching management of public schools? Have you analyzed his strengths and weaknesses?
5. Is there a difference between the concepts of teaching and teaching management? Is it 2 000 for schools to appear without teaching administrators?
6. How should we choose the teaching administrator of the training school? Is there a standard?
7. Do you know what the director of teaching in public schools does? Can it be combined with the teaching management of our training school? Are their management more rigorous and detailed than our training schools? 
8. Have you ever thought of asking a public school administrator to come to our training school to perform teaching management?
9. Is your school teacher prepared for the lesson? Has the church case been reviewed? Did the new teacher give a try? Who checks? Who supervises? What if something goes wrong? Is there a system? Stick to the system? 
10. Is the teaching plan and schedule in place? To everyone, to every week, every semester?
11. Are there any ways to train and help improve new teachers and later teachers? Did you implement it to people?
12. Do teaching managers have the right to punish? Are you going to be short?
13. Will good teachers be rewarded?
14, in the management of teaching classes, what system do you have? Has it been published to students and parents, and has the student and parent's opinion been consulted in the development of the system? 
15. Do you have a pre-test? Are homework and grades recorded after class? Has it been announced?
16. Does your school have process control over the 45 minutes of class? Did you segment it? Is there a test? 
17, on the unified teaching materials you asked the teacher to make "teaching aids"?
18. Did your teacher make a home visit or an electric visit to the student with the class question?
19, consider when to hand in homework, the management of problem students, absentee students to make up lessons, student seats, teacher pressure and absence and other detailed questions?
20, teacher's professional training you have held? Every month or every week? Have you ever had a weekly meeting?
V. Admissions
1. Where are the students of the training school? What students should come to our school for training? What students are most in need of training schools?
2. Do our school's training programs meet the service requirements of the students around us? Do we have only some training courses in primary schools or only one course in English?
3, you estimated that no, is the primary school training market large or junior high school training market is large, your training services in all accounted for a few percent of it?
4. Are you carrying out interest-based training services or teaching results-based training services? Do you know the difference and connection between the two? What is the difference between synchronized training and final exam-based training?
5, are you ready to carry out junior high school training? What else isn't ready? Why don't you drive it?
6. What is the main problem that you can't recruit students? Are there no students or no students dare to come?
7, when the whole society's public schools are only grasping the examination competition, the training school principals should revise their own school thinking?
8, the principal of your current enrollment model is still stuck in the traditional word-of-mouth introduction, flyers, advertising marketing and other levels ah, your marketing has no new features and advantages?
8, what is the school's reputation? What is the nature of word-of-mouth enrollment? Where does the huge enrollment rate come from? What can guarantee the enrollment rate renewal rate consolidation rate... What is the root cause of the development and growth of training schools----- is the quality of teaching? Does your school have a service section?
9, primary and secondary training schools the simplest method of enrollment? What is the most effective and economical method of admission?
10. Do you understand the needs of parents? Have you analyzed the rigid needs of parents in those training sections and what are the hidden needs of parents?
Public schools open classes and compete with the industry
1. Do you see the situation of public teachers doing classes very common?   
2. Do you do it in the main city or in the suburbs? Do rural schools run more? 
3, you see the size of the public teacher class size 20 people 30 people 100 people?
4. How many competitors are there in your area? What are their respective strengths? What are your strengths?
5, where are the characteristics of the competitor's school? Does your school model have no competitive advantage? 
6, are you sure you figured out the specifics of the public teacher class? How many students, what classes, what content, how much an hour, how many students of several age, what time are they in class, are there auxiliary teachers?
7. Where do you think you are better than a public teacher? What are your weaknesses? 
8, public teacher remedial classes are not your area 50% of students 40% 30% 20% 10% 5% 1% to you to take away, so you can not receive students?
9. How many students do all the public teachers add up to? How many students are there in your place?
10. Do you have a goal of starting a training school now? Do parents know?
11. Do you guarantee that students will not come out to attend our training classes except for among public teachers?
12. Have you ever investigated the market and made an enforceable approach to such a situation?
13, according to your market according to the public teachers to open classes such a situation to make their own school should occupy the market position?
14. As a competitor, how many programs do you have in place to face this situation?
15. What is your core competitiveness? Are you on the positive side or on the passive side? No matter what side you're in, this fight can be fought, you can win! The real market will never have a complete monopoly of public teachers!
16, this market is a win-win, win-win or win-win situation, such a strategy and concept do you have? 
17, do your own, find a good school positioning, do a good job of teaching seminars, grasp the quality of teaching, find their own core market propaganda model, you will be distressed?
No one can read a good book to become superman, no school can read this management textbook will develop into a million schools. Principals need to maintain their own characteristics, work fast, careful, be more large, train more of their own teachers, your school should be steadily moving forward, break through the education industry transformation of the dark period, waiting for you is the warm sunshine.

---