How do you survive competing with giants? I summed up six methods
Click on the blue font above to follow me
Hello everyone, I am Zhang Jiso, founder of trendy media group. Welcome to pay attention to the "old Zhang said new trend", I will share the entrepreneurial process on the enterprise development experience and insights, I hope you have something to gain.
Find differentiated directions and base
There are three types of business models:
1, three kilometers business model.Just take care of your customers within three kilometers and you'll survive, just like a restaurant.The barriers to entry are low, but the competition is high.
2, the same city business model.If you can make money in a city, you can survive, like hospitals and schools.
3, the national business model.In the country to build a large network to make money, this business model investment threshold is high, but after the success of the competition is relatively small.
In the past, Focus Media has done a national business model, mainly to do large-brand advertising nationwide distribution.However, we found that there are many small and medium-sized customers in each city who still need them online and offline.Serve these customers and do the local service information.After this model worked, we began to develop across the country.
In addition, also to find a different scene from the focus of the media, the other side's strengths as its weaknesses.
When The media does frame advertising, we do smart screen advertising.They're manual ads, and we do smart ads.When they do office buildings, we do communities.They do high gross margin, gross profit 78%, we do low gross margin, gross margin does not exceed 30%.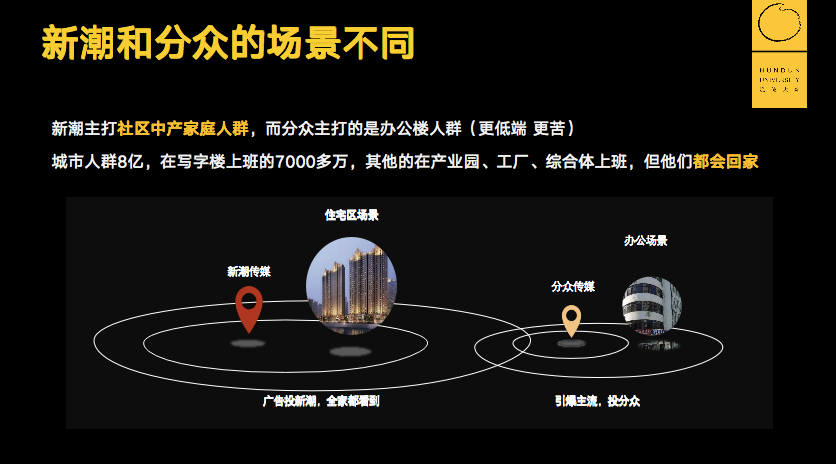 Keep a low profile when expanding to avoid attracting the attention of the giants. Because as a result of the giant's shot, your life may be gone.
In 2016, we went north to Guangshu and received only 380 million yuan.Originally dare not compete with the giants, but to Beijing, Shanghai to do market research, found that the rent of an elevator as long as more than a thousand yuan, and in Chengdu, Chongqing prices the same.So we decided to invest 380 million of them in the north and deep.
In order not to alarm the giant, we used a few friends unknown company quietly rent the building.After paying the rent dare not install, that year's rent loss of nearly 20 million.A lot of property companies are wondering if this company is laundering money.Why didn't you pay to install it?In fact, we are waiting for the window, and so on each city's point over 10,000, to confirm that competitors can not beat us, and finally, overnight installation, this time to confirm their standing.
Seek financing and stockpile ammunition
Entrepreneurs you will be very afraid of the opponent's funds and you are not symmetrical, to carry out a low-dimensional attack. At the same time, I am afraid that this wind has attracted numerous competitors.
In 2017, we had five rounds of financing.We agreed with investors to keep a low profile in the financing process.In 2018, three more rounds, a total of about 6 billion, saved the body of the fight.
Organizational construction
There are three stages of enterprise development:
1, survival scale:No one else can kill you;
2, the scale of competition:To become an industry giant, to have the size of a giant;

3, the scale of development: in this market absolutely leading, and even strive for cross-industry development.
In what kind of scale on what kind of things, all over-speed development of enterprises are either dead, or bring a bunch of problems, enterprises in the process of development need to pay attention to organizational construction.
In the organization construction, the trendy media uses rice sheng philosophy to shape the common values of enterprises:Use digital tools and processes to cure day-to-day management.In this way, not only to ensure the development of the organization, but also to ensure that the company's operations can be inherited.
Repair the roof on a sunny day and fill the short board
The pace of development must be fluctuating, in the time of more money, safe time to stop, make up a variety of short boards, to prevent the arrival of winter.
Look at ten years, think three years, do a year
Use the industry's end results to counter the entrepreneurial process: if you want to be a double giant in a decade's time, what kind of ability must grow in three years to prepare for the goal in a decade's time. Well, to live in a year, to live to the third year.
There must be both final thinking and process thinking.
The final thinking is to allocation resources according to the end of the industry.Process thinking is a short board theory, how much money in the pocket to do how many things, who do things.The combination of the two is reliable, the strategy is played out, but also planned out.
This issue of "Old Zhang said trendy" is here, the next issue I will continue to share more content, thank you!
Review of previous periods
Welcome to leave me a message in the comments below, remember

Like it

Share.

Circle of friends

Oh!
---