Why is Station B worth $10 billion? Ten thousand words to explore the eyes of investors after 90 B station

Bongo recommends:In mid-2019, Station B Chairman Chen Rui announced an internal target: "Station B will have a market value of $10 billion within three years".Less than a year earlier, on April 17, 2020, Beep's shares closed at $29.00, with a market capitalization of $10.02 billion.Was founded.11 years later, Station BIt's not the little broken station of the year anymore.
Source . . Shun capital (ID:shunweicapital)
Author . . Shun for the capital, Yu Yuyu, pay attention to large consumption and enterprise services
Beep Mile, born in 2009, is affectionately known by users as Station B or "Little Break."

On April 17, 2020, Beep's shares closed at $29.00, with a market capitalization of $10.02 billion. Station B finally achieved a market value of $10 billion in its 11th year of service, and is no longer the "small break".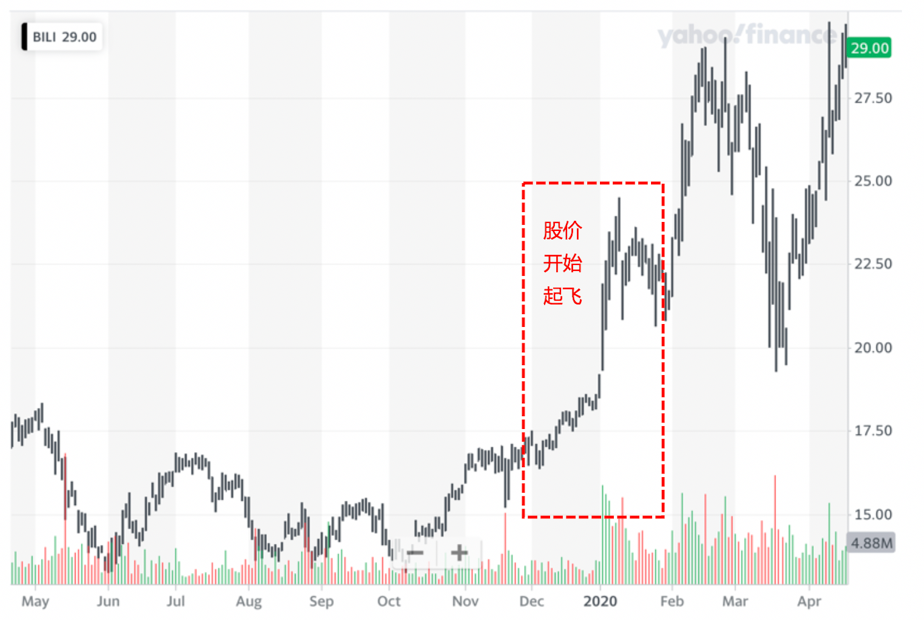 The stock movements of the past year
Interestingly, Station B Chairman Chen Rui announced an internal target in mid-2019: "Station B will have a market capitalization of $10 billion within three years". I didn't expect the time to pass less than a year, the total small goal has been achieved.
We compared similar companies on the U.S. stock, with Station B contributing $52 per MAU, roughly the same as its peers, and each MAU contributing a market value of $518, significantly more than its peers. The share price reflects the future value of the company, and the market value of Station B's 10 billion reflects the strong outlook of the majority of investors on the future of Station B.

So why is Station B worth $10 billion? This article will attempt to explore the following:
Why has B-Station's share price continued to climb recently?

B station or secondary niche platform?

Where is the ceiling of station B user size?

B What do you rely on to make money? How much growth potential is there in the future?

Will Station B be China's YouTube?

Why has Station B's share price continued to climb recently?

In fact, Station B's share price has fluctuated between $10 and $20 since it went public in 2018, and many investors see it as a niche in the era of video entertainment, with share prices starting to hit new highs in the last six months.
From the DAU point of view of the day,The B station represented by the medium video is actually only 1/4 Ai Qiyi (long video representative) and 1/9 jitter (short video representative).The rise in share prices is due to station B's recent high number of events, from 800 million to win the League of Heroes 3 years of solo broadcast rights, to the success of the New Year's Eve party, investors see B station uneasy about the ambition of the niche.
1. The New Year's Eve 2020 was called the "Most Young People's Party" and the share price jumped nearly 25% in the next three days.
Station B's most famous recent event is the New Year's Eve party, but also the New Year's Eve party will B station's share price to a new level. In recent years, the Big TV evening more and more popular, the way is more than "standard skit song and dance when the red flow star platform", and B station this year's New Year's eve party has become a clear stream. Each show cleverly blends the hottest terriers on Station B, poking at the high point of the young man.
For example, B station well-known virtual song Jilo Tianyi and the national music master Fang Jinlong cooperation "Jasmine", this break the sub-wall collision, by young people love, creating the whole party's peak viewing volume. In addition, Wu Yifan was invited to sing "Big Bowl Wide Noodles".
(Note: Wu Yifan's rap about the wide noodles of the big bowl in variety has been made into a ghost animal video by the B-stop UP master, which beed popular on the B-stop, and then Wu Yifan's self-black single "The Big Bowl Wide Noodles" was well received)
And some well-known UP owners of Station B also performed on stage.
National Music Master Fang Jinlong and Virtual GogiLo Tianyi Cooperation "Jasmine" 
In the end, the B-station New Year's Eve live-streaming audience reached 80 million, the total broadcast volume of the entire network can also be compared to Major Television. After the big success, Station B's share price also rose nearly 25% in the next three days.
2. Nail incident, "Dara Collapse Bar" accelerates the road to B station breaking the circle
Excluding the New Year's Eve party, station B's recent performance rate is still very high, for example, some time ago, nail because the outbreak became the official learning platform, and students group hit a star, the App Store score once dropped to 1.3 stars. Subsequently, nail in a self-black posture in the B station released a video "nail this nail, online beg for mercy", the video fusion of ghost animal elements, teasing the students mentioned earlier "five-star praise divided into five installments."
The wave of self-blacking has washed away students' antipathy to nails, with 24.09 million videos (note: as of April 17, 2019), and App Store ratings are rebounding rapidly. Later, Ali followed up with the release of "nail father-son line" and other video echoes, the event attention is very high. Tencent then released a video, "Tencent forced to open: B-station shareholders sell art to the home page."It can be seen that Station B is becoming more and more an important marketing position for enterprises, enterprises are also working Station B to learn how to communicate with young users the right posture.
Nails, online begging for mercy

It is highly recommended that friends who haven't seen it open it.
Find out the right posture to communicate with young users
In addition, there is a B station god song called "Dala collapse bar" (Note: because of its strange and interesting style and virtual song Jilo Tianyi's singing in station B popular) recently in the variety show "Singer: When the Year of Play" was turned over after the fire, once on the microblog hot search, know hot search, and become the NetEase Cloud Music 2020 Q1 hot song list first.
From a series of recent events, we can see that Station B is accelerating the lap break, and showed good results.
3. Sony's investment has pushed Station B's market capitalisation to more than $10 billion
On April 9, 2020, Station B announced a $400 million strategic investment from Sony, which has a number of well-known IP in the gaming, animation and music sectors, and will work with Station B in the future. This good news, and ultimately pushed Station B's market value to more than 10 billion U.S. dollars, the total three-year goal achieved in one go.
Potential space for sony to work with Station B

B station or secondary niche platform?
1. Station B covers the interests of young people, with secondary elements accounting for only 15-20%
Although B station recently show a high rate, but the author often found that some people around B station is still stuck in the "secondary", "bullet site" such stereotypes, then, first show you, as a 90-week-old living user, will be on station B to see which videos.
As a non-secondary user, the author opens the typical scenario of B station as follows:
Recently watched a play, on station B to see the surrounding tidbits and big curry review video

Go skiing on weekends and learn in advance how to change the edge of a single board

Recently study station B to see the B station UP master's professional reviews of each video site
VisibleB station has long been more than just a secondary niche platform, video variety, almost all the hobbies of young people, and even business, learning and other hard core content.For example, the official account of a judicial examination institution such as the "HodaFa Examination" has hundreds of thousands of fans, becoming a must-see video for many French students preparing for the examination.
We intercepted the video score of the first heat of each partition of Station B (Note: the rating is the official score given by the B station comprehensive playback volume, the number of bullet screens and other indicators, used to measure the video heat), and we can see that the non-secondary partition has been very prosperous. The author and B station work friends learned that at present, B station secondary related content only about 15-20%.
2. PUGC video accounts for 90% thanks to station B's good community creation ecology
The video type of Station B is PUGC (i.e., Propessional User Powered Content), which is between the PGC and the UGC and is uploaded by users with a certain level of video clips, which is called the UP Master at Station B.In Q4 2019, Station B is active for 1 million UP mains per month, 0.8% of MAU, and this number continues to rise. The average UP master releases 2.8 videos per month.
Currently, 90% of the content on Station B is PUGC content, which is cheaper to purchase than PGC video platforms such as Achey, and longer videos and richer content than UGC platforms such as Jiyin.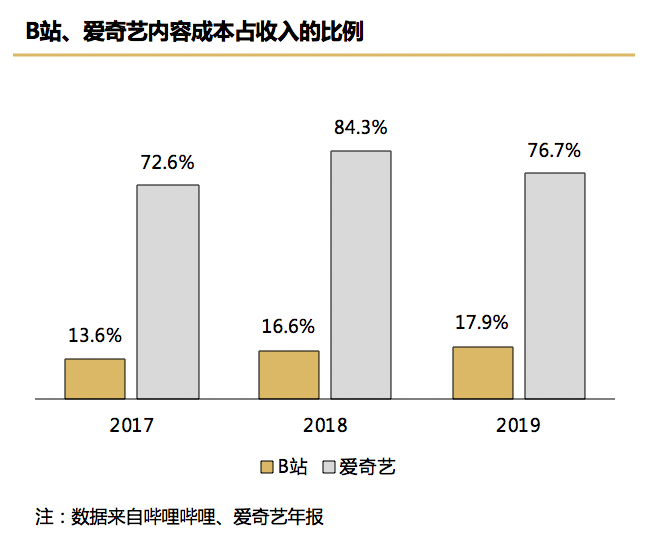 3. Station B is rated as the most popular APP for young people, and its high activity and retention make Station B MAU more gold-rich
In its prospectuse, Site B explicitly positioned its core user base as Gen Z (born 1990-2009), with Generation Z accounting for 82% of Station B users in 2019.
According to QuestMobile, Station B is by far the most concentrated APP in Gen Z. At the moment, young people are the emerging consumers that brands most want to capture, so the advertising value of Station B for these brands is self-evident.This also allows B to continue to grow advertising revenue by 76% and buck the trend, even as the Internet advertising market falls by 10% in 2019.
In addition to the concentration of young people, Station B is best known for its high retention and long daily usage per capita.
Since 2017, Station B's full membership has remained above 80% in December, and there is a growing trend
(Note: Full membership is a registered member who has passed the B-Station Answer Test, accounting for 52% of Station B MAU)
。Its per capita daily usage time is the highest APP except for the game.All of this makes the MAU value of Station B higher than that of other platforms.


Where is the ceiling of station B user size?
At the start, we mentioned that The size of Station B's users is still small, with 130 million Q4, 130 million MAU and 37.9 million DAU in 2019.So is it possible for Station B to grow to the scale of Jiyin and Ai Qiyi in the future?
First, let's look at what the current user portrait of Station B looks like. According to MobTech's July 2019 statistics, there are four characteristics for users of Station B:
68% of young, under-25 users

More students, 52% of students

High education, university and above accounted for 60% of the proportion

More developed regions, 52% of first- and second-tier cities
Based on the above characteristics,We define the core user base of Station B as "Generation Z who lives in urban areas and has a certain level of education."This is in view of Station B's unique community culture, without certain economic conditions and education level is difficult to integrate into the interest-oriented community culture. Estimates of this population are estimated to be about 178 million. Station B Q4 will have 130 million MUS in 2019, assuming that 20% of users do not belong to this group.Station B's penetration of its core user base has reached 58%.
In 2019, Chen Rui set a user growth target for the next two years: 180 million MAU by the end of 2020 and 220 million MAU by the end of 2021.
We believe that to achieve this goal, Station B needs to make further efforts in the following two areas.
1. Further penetration of the core Gen Z population (178 million).
First of all, Station B has moved well from the secondary population to the broader Generation Z, with 3 of the top 5 categories of video (entertainment, life, games, animation, technology) being non-secondary content.
Next, Station B is to expand the Z-generation population of the sinking city.
Thanks to the sound and the popularity of Ai Qiyi, to a certain extent, to level the interests of young people in different cities. Big hot TV dramas, popular music, beauty dress is a common hobby of young people in different levels of the city. B station to seize these popular hobbies to achieve sinking, has now begun to bear fruit. In 2016, 56% of station B's new users came from first-tier cities, while 54% of Q1's new users in 2019 came from non-first- and second-tier cities and towns.
2. Attract potential users at a higher age group
Further penetration of Gen Z will only allow Station B to meet its 2020 target.To achieve the 220 million MAU target by 2021, Station B will also need to penetrate users at a higher age.
At this point, Station B has a natural disadvantage.
Because the nature of video content determines the age of the audience, and the UP on Station B is dominated by students, this makes the content they produce more attractive to students of the same age group and less attractive to high-age users. This boils down to the fact that Station B is currently in the early stages of commercialization and has limited incentives for up owners, so only students create on Station B and are known as "Power generation for love". The fundamental to breaking this dilemma is to improve the level of cashing, including improving the level of realization of the platform itself, giving more incentives to up owners, and creating better ecology for UP owners to cash in on their own, such as video "with goods" cashing out. In 2019, station B accepted Ali's strategic investment, and the two sides have also worked together in depth on this point.
In addition, B station is also through the procurement of some PGC content to meet the tastes of high-age users, such as the last two years focused on the field of documentaries, "Life String", "I repair cultural relics in the Forbidden City" have made a good reputation and broadcast volume.
If these two are done well, we believe that the small target of 220 million MAU by the end of 2021 is expected to be achieved, and where the ceiling of the future will depend on the evolution of the B-station platform pattern.

B What do you rely on to make money? How much growth potential is there in the future?
Now turn on Jitter, brushing 1-2 ads for almost every 10 videos, with an ad load rate of 15%-20%. On the B-station, ads are rarely swiped. Even the most common patch ads on video sites (Note: Ads that non-member users see at the beginning of a video) are not on Station B, so what does Station B make money on?

B station early years mainly rely on the game agent this single form of cash, in the last two years, B station is committed to income diversification and achieved good results.In 2019, 43% of Q4,B-station revenue was from mobile games, 28% from live and value-added services, 14% from advertising, and 14% from e-commerce and others. For the full year 2019, Station B achieved total revenue of RMB6.77 billion, up 64% YoY.
1. Game business: agent-oriented, if there is no breakthrough in self-study, the future will maintain low-speed steady growth
B station's game revenue is mainly contributed by the agent secondary game, including exclusive agent and channel agent two categories, the most important of which is B station exclusive agent FGO (Fate's Crown designation), is a Japanese Sony-owned secondary game, in 2018 accounted for 74% of B-station game revenue, a slight decline in 2019, but is still expected to be more than 65%. The game is also the second-highest-ranked game in China's 2018 secondary yuan game revenue list (the first is the famous Yin and Yang Division).
Over-reliance on FGO to generate revenue has long been a bit of a problem for Station B, so Station B is also trying to change. On the one hand, Station B tried to conduct self-study games, in August 2017 released self-researched "Shen Dynasty Dream Huatan", but the response is flat, and so far this self-study game,So at present, it seems that station B in a short period of time will not have any breakthrough in self-study.
On the other hand, B stands actively representing other potential games, notably The Princess Link Re: Dive, which was just released on April 17 this year. The game is on par with FGO in the Japanese game charts in 2019, and while it still has a gap with the FGO of its heyday, it is likely to be the second-highest-generating game in Station B.
Although B station unique secondary culture for the agent secondary game has advantages, but put into the entire mobile game market, B station still can not compete with Tencent, NetEase and other gaming giants.
In mobile gaming, Station B has a market share of only 1.78%.
Focusing on secondary games, Station B's market share increased to 12.5%. As can be seen from this year's April 3-April 9 secondary game bestseller list,Even in the secondary field, Station B still has many competitors, can not be a single big.
However, considering B's unique position in the secondary field, we believe that it will still have a place in the secondary game, but if it does not form a breakthrough in self-study, then the big probability of the game business will only follow the market market steady growth. The overall market size of secondary yuan mobile games in 2018 was RMB19.1 billion, up 19% YoY.
2. Live streaming and value-added services: The cash-out focus developed by Station B, where opportunities and challenges coexist
Revenue from live streaming and value-added services grew rapidly from 11% of Q1 in 2018 to 28% of Q4 in 2019. Among them, the live broadcast mainly refers to the B station in the live broadcast plate of the reward share revenue, value-added services mainly refers to similar to Ai Qiyi and other video sites membership services. In addition, Station B has a comic book APP beep and a secondary version of the "Himalayan" cat ear, both of which also contribute some revenue from the realization of content.
About Station B's live streaming business, the recent is also a big move.
First, $800 million won the exclusive three-year rights to the League of Heroes S-class event, well above the $500 million bid previously expected. Then another 50 million signed fishhead anchor Von Timo, enough to see Station B's ambition to enter the live broadcast.
The League of Heroes game itself is over 100 million MAU, has a large audience, and the S-level event is the most watched e-race in the world. S-Game's pull on live games is reflected in the fast hands of 2019, when the Clippers only shot non-exclusive rights, with 51 million DAUs streamed that month, up 16 million from six months ago.
After years of killing, in 2019 with the closure of Panda Live, the formation of a two-legged pattern of fighting fish and tiger teeth, and then by the fast hand to break.What Station B wants is to replicate the fast-paced success path and get a piece of the game's live stream through League of Heroes S-Game Solo and Heavy Gold Digging Head Host.But at present, B station, whether it is the size of users or the size of revenue, there is no small gap with the other three players. Interestingly, the management behind these companies all have Tencent's presence, then Tencent's strategic tendencies will also affect the direction of the industry pattern to a certain extent.
Four players who live stream the game 
In the live streaming space, we believe that the opportunities and challenges of Station B are mixed and there is still uncertainty as to whether it will grow as fast as the company expects.
At present, the ARPPU of B-station live broadcast is low, which is mainly due to the lack of early operation, the future through a richer operational activities, there is still a lot of room for improvement;

3 of the top 10 anchors in Station B are virtual anchors, which is unique to Station B, and the continued increase in the heat of virtual idols in the future will be good for Station B;

B station has a large number of high-quality game UP master, if the operation is right, they are expected to be like the fast hand "old iron" as a high-quality anchor;

Fish and tiger tooth revenues both grew at a high rate of more than 70% last year, indicating that users' overall willingness to pay is growing rapidly.
From the fish fighting, tiger teeth nearly three years of MAU growth rate, the game live market user growth is close to saturation, it is difficult to have new hard-core game users caught by B station, B station is more gladiator fish, tiger teeth users, as well as the development of some mild (pay willingness may also be low) game users;

Even on the game-streaming platform, live entertainment is an important source of cash, and live entertainment is different from the B-station atmosphere, forcing the introduction of possible water and soil (you can imagine how out of place the girl singing and the fun-hunting community atmosphere of Station B);

Fighting fish, tiger teeth in the hard core game for many years, fast hand although the number of live game users grew faster, but the realization is still weak, B station may encounter the same problem.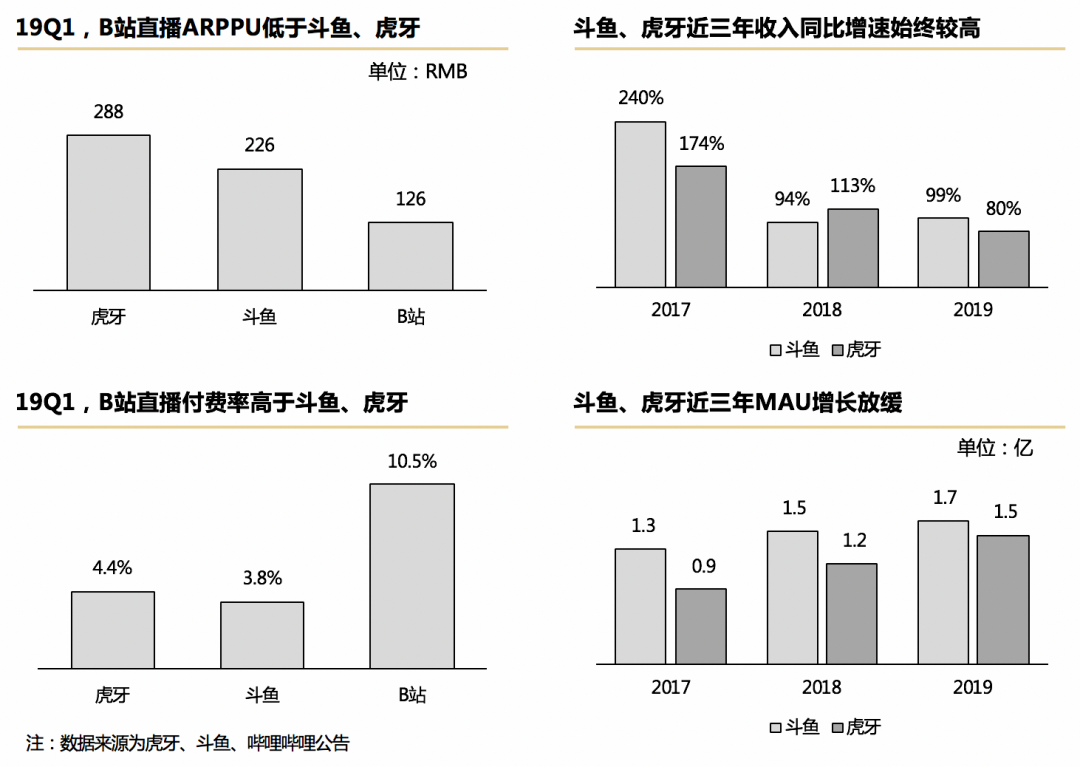 Then look at the value-added services business, that is, B station "big members", about 20 yuan per month. This part of the revenue growth mainly depends on how much content B station is not seen by non-members, or non-members want to see advertising. Video sites such as Ache Yi and Youku have grown rapidly in the past two years, thanks to a large number of exclusive content that non-members cannot watch.B station is currently puGC video-based, this part of the video for users to upload, it is difficult to fall into the category of paid viewing.In the short term, Station B will still focus on PUGC content, although there are a small number of purchases of copyright content, but will not be the focus.
We compared membership rates on other platforms, with B-station rates similar to those in music areas with lower willingness to pay, and there is still a gap between Aichi. Considering that the platform nature of Station B itself is different from that of Ai Qiyi, the payment rate of Station B will be difficult to reach the level of Ai Qiyi in the future. But in the last two years, domestic users' willingness to pay for Virtual Services on the Internet has increased rapidly, and we believe thatIn the next year or two, the value-added services of Station B will continue to grow rapidly, but in the long run, there will not be much room for growth.
3. Advertising: Still in the early stages of commercialization, it continues to grow at a high rate under restraint
Chen Rui said before the listing of Station B: "Station B may fail, but it will never go bad."Therefore, in the most easily disturbed users of the advertising, B station attitude is always very restrained.
There are two types of ads on Station B: performance ads and display ads. The share of performance advertising revenue continues to grow and currently accounts for about 40% of advertising revenue. In the performance ads, B station load rate of less than 10%, about half of the peer, in the display advertising, B station in 2014 promised "genuine new never paste ads" and implementation so far, and patch ads as the most important way of video realization accounted for nearly 70% of Ai Qiyi advertising revenue. It can be seen that Station B is restrained from advertising.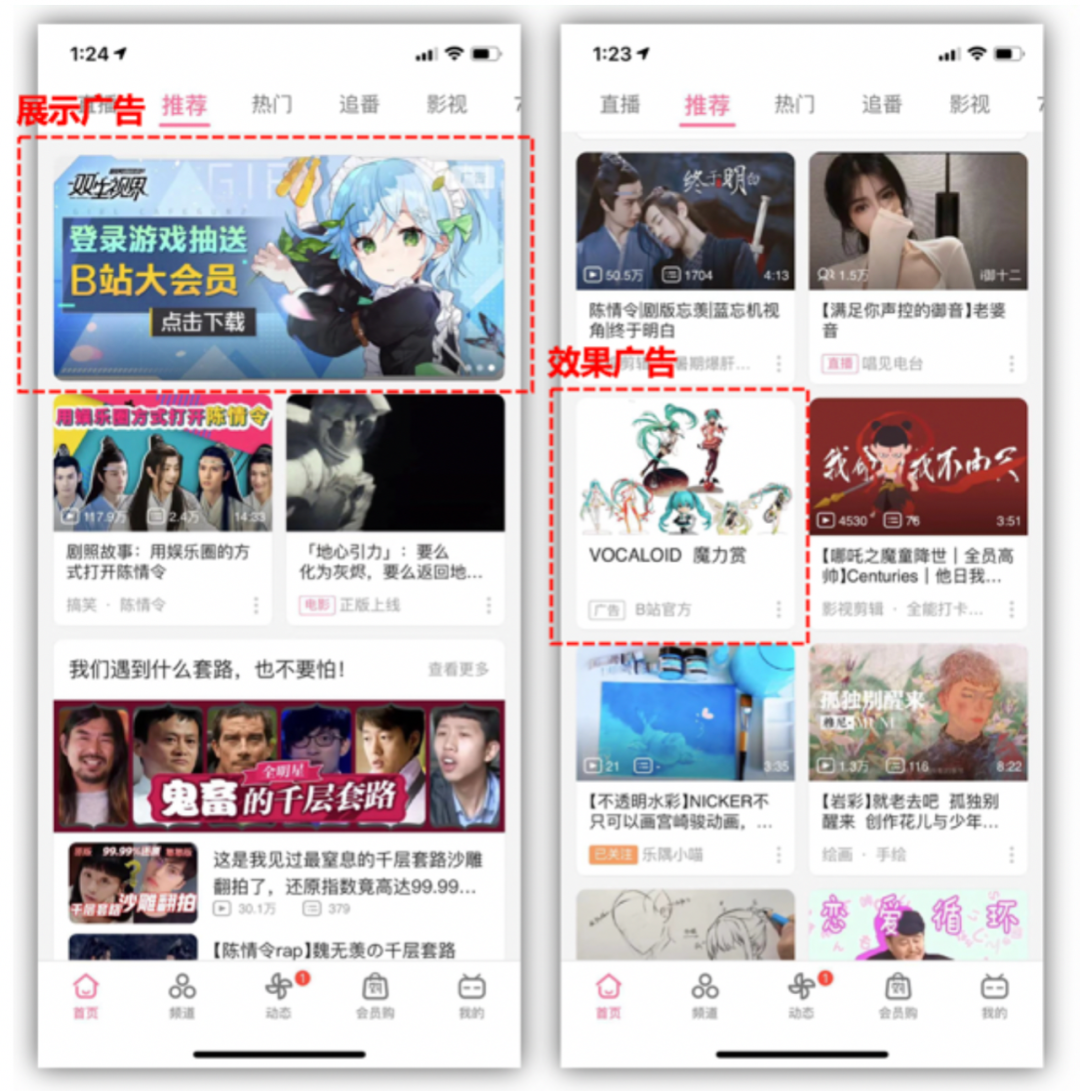 Although Station B's attitude toward advertising is restrained, advertising revenue continues to grow at a high rate.This is due in part to the fact that the advertising before Station B is too shallow to expand the space, and partly because Station B is the most concentrated APP for young people, coupled with its excellent user stickiness, which is favored by advertisers.As a result, the Internet advertising market is still growing against the trend in 2019 when the Internet advertising market is cold.
For the display advertising business, we compare weibo, Ai Qiyi, B station cash level is not low. Considering the high-quality community atmosphere of Station B, the ability to display advertising realization may be higher than that of Weibo and Ai Qiyi, but overall there is little room for further growth in the future, mainly following the overall market growth.
For performance advertising, we think there is still a lot of room for growth. Compared with weibo, funny headlines and jitters, Station B is still in its early stages of realization. Even considering that the infinite decline in the operation of Jiyin makes its performance ads more efficient to cash out, we compare the platform atmosphere of weibo, B station still has 5 times the growth space.
4. E-commerce and other businesses: tide play hand-run market is relatively blank, B station is expected to become a track head player
E-commerce and other business mainly include tidal play hand-held e-commerce and ticketing. E-commerce business to secondary peripheral mainly, categories include hand-made, models, tide play and so on. Ticketing is mainly for sale of tickets for secondary offline events such as exhibitions and game shows. This part of the business has also grown at a high rate over the past two years.
Among them, e-commerce business is our more optimistic plate.
The market for tidal play, hand-held, modeling and other commodities involved will be approximately RMB15 billion in 2019 and will continue to grow at a high rate each year. Tide play, hand-held, models are based on a certain IP development of toys for grown-ups, with the Z generation grow up, and china's cultural market mature, the future growth potential is greater. In the last two years, the Tidal track has also been a hot area for VCs, with typical success tracts such as Bubble Marte.
Founded in 2010, Bubble Mart has grown flat in its early years and has benefited from the rapid growth of the Tidal market for the past two years, and was de-marketed from the new three boards in April 2019. According to market sources, Bubble Mart has completed a round of Pre-IPO rounds with a valuation of RMB7.5 billion after its de-listing and is currently planning an overseas listing.

A short conclusion about the way Station B makes money
Game business:Agent game will still be the main component of the game business in the future, B station's community atmosphere makes it a unique advantage in the secondary game agent, but in the big game track is still difficult to compete with Tencent, NetEase. It is expected that the future will grow steadily by 15-20% per year with the secondary game market.




Live and value-added services:Live streaming business is the focus of B station bet on the sector, opportunities and challenges coexist, if successful, live broadcast will have a larger room for growth, value-added services business considering that most of the content of B station is difficult to be divided into member paid to watch the partition, so the future growth space will not be too large, but China's users in the last two years for Internet virtual services to pay faster, we believe that in the next year or two, this sector will still maintain a high growth rate.




Advertising:B station performance advertising is still in the early stages, the future at least 3-5 times the growth space, brand advertising has been relatively mature, but young people gathered B station will be the preferred advertising position for many brands wishing to develop younger, so the next year or two will still have a good growth rate.




E-commerce business:Tide play hand-held market is relatively blank, the market growth rate is relatively fast, at present B station this business is still in the early stages, is expected to have good growth in the next three to five years.

Will Station B be China's YouTube?
As Station B accelerates, many people start comparing Station B to YouTube, arguing that Station B will be China's YouTube and that there is currently no rival in puGC. So will Station B really become China's YouTube? We think it's hard.

1. Station B is a challenge for YouTube
As we all know, YouTube is the world's largest video site, and in its 2019 annual report, Google first disclosed YouTube's revenue, with $15.2 billion in advertising revenue in 2019 and about 90 percent of the platform's total revenue. YouTube has more than 2 billion COMPANIES worldwide, which means youTube contributes about RMB58 per MAU, while Station B is RMB52.This shows that from the overall level of realization, there is no significant difference between the two, the real gap between the two is the size of the user.
About 170 million of YouTube's 2 billion MAus come from local users, with the rest coming from other countries around the world. First of all, from the penetration rate of domestic netizens, B station is currently only 16%, YouTube is 68%. Although station B still has a lot of room for growth. But YouTube isn't just a PUGC platform, it also buys a lot of PGC videos.
And in China, PGC video has been divided by Uber and the competition is still fierce.So it's hard for Station B to achieve YouTube penetration at home.That's just the case in the domestic market, and when you look at globalization, 90% of YouTube's huge user base comes from overseas markets. After YouTube has captured the vast majority of the world's markets,Station B is difficult to globalized in the same mode.
In addition to the size of its users, Station B has lost out on cashing in compared to YouTube.
Advertising is almost the only way YouTube can cash in, and the biggest benefit of advertising is its high gross margin, so YouTube can give content creators a higher incentive share. According to YouTube's ad-sharing mechanism, about 50% of YouTube's revenue is shared with content creators on the platform, while Station B is assotroled to content creators by no more than 25% of revenue (Note: based on annual reporting data) because Station B also has to pay for other cash-out methods such as games and live streaming, with limited room for further incentives.
So why can't Station B be cashed in on advertising revenue alone?
First, YouTube is the world's largest video site, a must-see for advertisers, and Station B is just one of many video platforms in China. In the field of advertising, head players are dominant, while mid-waist players can rely on advertising cash, but can not rely on advertising cash alone.
Second, YouTube has a monopoly in the video field, and after years of training, users have become accustomed to many ads on the platform, and Google Dad, a senior advertising player, youTube groped out a lot of fancy refurbished advertising forms, the user's advertising value to dig in the most vivid.
And these, still in the development of station B to worry about the community atmosphere, and dare not rush to adopt. This can also be seen from Station B's commitment to maintaining non-patch advertising to this day.
Is there any other way out for Station B, which loses out to YouTube in terms of user size and way of cashing in?
B station is currently finding the answer is the Chinese characteristics of the KOL "bring goods" model, since my platform provides limited incentives, then let the UP owner make his own money. The author as an investor to see the consumer track, in the past year contact with the entrepreneurial brands are frequently mentioned B station, B station as a different than shaking sound, small red book is also very important delivery channels, this delivery is more direct and UP master cooperation.
At the same time, station B itself is also trying to guide this trend, from the author recently exchanged feedback from some MCN institutions, B station before the management of the UP master is relatively extensive, and in recent years in the active introduction of MCN, professional MCN intervention will bring more opportunities for UP master commercialization.
2. Station B becomes YouTube's most direct competitor
Apart from the challenges caused by the differences between Station B and YouTube itself, Station B is not without competitors at home. The byte beat, known as the "APP Factory," looks at this market.In 2019, Byte's Watermelon Video is officially positioned as a PUGC platform, competing head-on with Station B.
The increase in competition is first manifested in the watermelon video's digging foot against the B-station UP master. Some UP owners are poached directly into watermelon videos to become exclusive creators, such as in 2019, watermelon video through the investment of a group of "catch the sea" UP master brokerage company and then exclusively signed station B "catch the sea sky group" (Note: several in station B to catch the sea video popular UP master).
In addition, Watermelon Video is attracting some UP owners to dual-platform operations with more lucrative revenues. For example, B station head UP factory director recently began to launch some exclusive content in watermelon video, although the director of watermelon video playback is far less stable than B station, but for watermelon video, has been a successful start.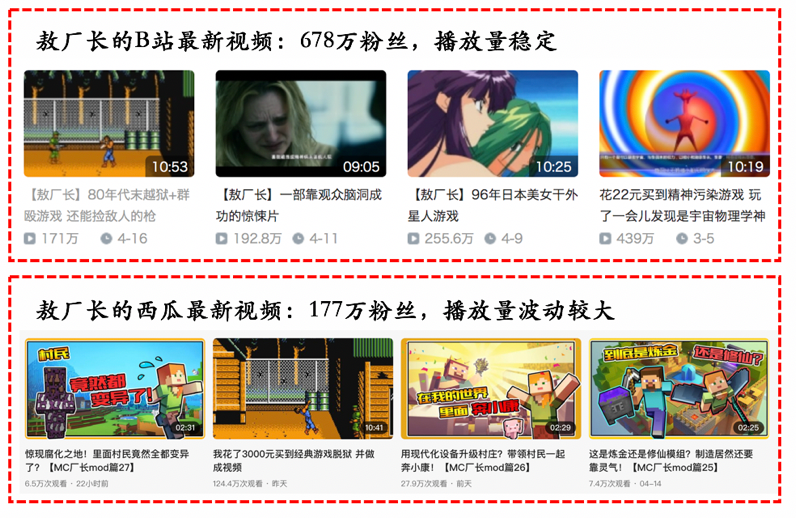 At present, with the rise of domestic content creation platform, many content creators will be in jitters, fast hands, B station, fish fighting, small red book and other content platform multi-line operation, collecting the entire network traffic. But eventually the creator gathers traffic to the most appropriate platform for final realization. The Cannon brothers, for example, have been on fire at Station B, but have repeatedly directed users to their watermelon video accounts in the video.Here, Station B becomes the front window of the guide, and watermelon video becomes the ultimate benefit. This is what B needs to balance and avoid in development.
Of course, this problem, not only B station exists, watermelon video also exists, the two are still in a difficult state of competition, each has advantages.
We think the advantages of watermelon video are:
Content audience is wide, the potential user group is large;

Middle-aged and elderly users have high tolerance for advertising, and the waterfall stream of video in this page directly play, no need to jump to the new page, so that the advertising realization efficiency is higher, the corresponding creator's incentive is also higher;

Content distribution is centered and more friendly to new people.
The advantages of Station B are:
The user is young, the future growth potential is great;

Community atmosphere is good, unique and new video is more fire-prone, easy to attract high-quality content creators;

The algorithm is relatively centric, and the head UP master gets a stable exposure, which may make it easier for the head UP master to collect traffic.
Overall, the two have their own swings, the future is likely to form a shaking fast hand, fish and tiger teeth such a two-legged market pattern.
As a 90 post-B station weekly living users, the author's personal "small broken station" is full of love, but also saw the B station facing many challenges, today's market value of 10 billion U.S. dollars is still standing trembling. How to grab a share in the live market of the Red Sea, how to diversify and better motivate creators, are difficult and inexplicable problems. 11-year-old Station B has a long way to go.
Companies entering the secondary market is the end of the stage of VC investment, research the secondary market of outstanding companies on the first market investment and entrepreneurship is also quite enlightening, look forward to the same interest in Station B partners exchange discussions.

MORE . . More great articles
● 10 billion subsidies to make friends, "burn money Bo traffic" is still enough? Everybody's perspective
● With a market capitalisation of nearly $60 billion, what is Pick Gome's ambition?
● Taobao Tmall President Jiang Fan apologized for the rumors and implored the company to investigate
"I am Yu Huanshui" grand finale, bean petals up to 8.5 points! 12 episodes can also tell a good story
●2020 entertainment industry, I'm too hard! What should I rely on to hold on? Know the food pie
---