Watching these heart-thratic children's videos, I'm glad I've grown up
In 2018, the authorities and the police have disposed of a large number of children's cult videos,
Now Chinese internet, it's hard to find.
You would not have needed to publish this article.
But when it comes to the Internet,
There may also be more obscure, softer, more suggestive children's cults,
I think it's still necessary to send this article,
I hope parents understand thatSome things, we can't let our guard down!


The following can be thought-provoking!!!
But if you're a parent like me, it's important to understand.
Every family's children watch cartoon videos.
No one will feel bad about this move.
But what we don't know is that in this ordinary act, the child may have inadvertently received a lot of terrible information.
This is what once caused an uproar in foreign public opinion"Children's Cult Video"。
These.
The camouflage of the video is very good.
At first glance, you'd think it's not surprising that the video is just cartoon characters playing around.
So the parents swered by.
It's only when you watch the plot carefully that you're shocked and dismayed.
In these videos soothing background music and "canned laughter," cartoon characters are...
There are also a variety of things related to sex:
Overseas, the incident is known as Elsa Gate.
"Aisha" is the heroine of "Snow and Ice", "The Door" in the West has a meaning for "widespread scandal."
In 2017, a flood of child cartoons of pornography, bloody violence, terror and abuse pops up on YouTube's children's channels.
There are even real people with children.
As we all know, YouTube automatically recommends videos to users using algorithms.
This means that children are thereWhen watching normal morning videos, it's easy to jump to them.
These unhealthy videos tend to use "early education," "word recognition," "knowing shapes and colors" and so on as "search keywords," and the voiceover is very light.
Parents who aren't always staring at the video their child is watching, even if they're close by, think that the child is watching a normal children's video.
Even more frightening is that vision is the main intake of the senses, but the background music and sound effects have changed
the role of the atmosphere.
Children between the ages of 3 and 10 watch one video after another in a soothing and relaxing atmosphere.The brain absorbs and processes the crazy movements and absurdity of the characters in the play, and continues to reinforce this dangerous perception.
This leads many children to think that
The behavior in the video, all of which are nudity, alcohol, violence, pornography, abuse, etc., is a fun and try-to-try game.
Imagine if between children, or even an increase in what an old man does to a childTooth pulling, pregnancy, injection of unknown fluids, throat cutting, eating, urine, bundling and so onChildren also take it for granted, is a kind of "game", how shuddering.
Children know nothing about the world.
They will absorb information without distinguishing right from wrong.
And the children's cult video hints, even naked instigation, will be in the cheerful music, into the child's subconscious, affecting character development.
It's scary to think about child molism, child abuse, and scary clowns in the West abroad.
"Aishamen" first entered the U.S. public eye in 2016.
But it didn't resonate enough.
WeChat's PingWest play said the New York Times reported the situation again in July 2017.
Since then, the "Aishamen" incident has attracted social attention.
Experts believe that these videos will undoubtedly lead to violent tendencies of young children, mental instability and so on.
It is accompanied by the emergence of some such terrorist figures in the real society of the West
(Real-life horror clowns have been appearing in Western societies from time to time since 2016, with the same unknown purpose))
Children have a harder time sergining virtuality from reality.
By the fourth quarter of 2017, YouTube was finally starting to take off-line videos and block accounts on a massive scale.
According to BuzzFeed,The video was taken offline before it was relatedChannel owned
More than $500,000 in advertising revenue can be recorded each month.
In November 2017, YouTube announced a "phased victory" in the latest battle against child pornography violence videos, removing more than 150,000 videos.
But the author's search found that YouTube, although it has taken some measures, but far from eliminating such videos.

has spread to the country on a large scale
Netizens called for whistleblowing, corporate self-regulation and government regulation
Terrifyingly, in early 2018, something similar
Video too
spread to the country.
Sina Weibo bloggerThe King of meat Note this phenomenon.
On January 16, 2018, he posted an article titled"A bunch of perverted lock-up kids watching YouTube, I used to work for them"blog post.
The blog post attracted widespread attention. It has been retweeted more than 12,000 times and commented more than 1,400 times.
In the blog post,One netizen who claimed to have worked for the company said his company was weird.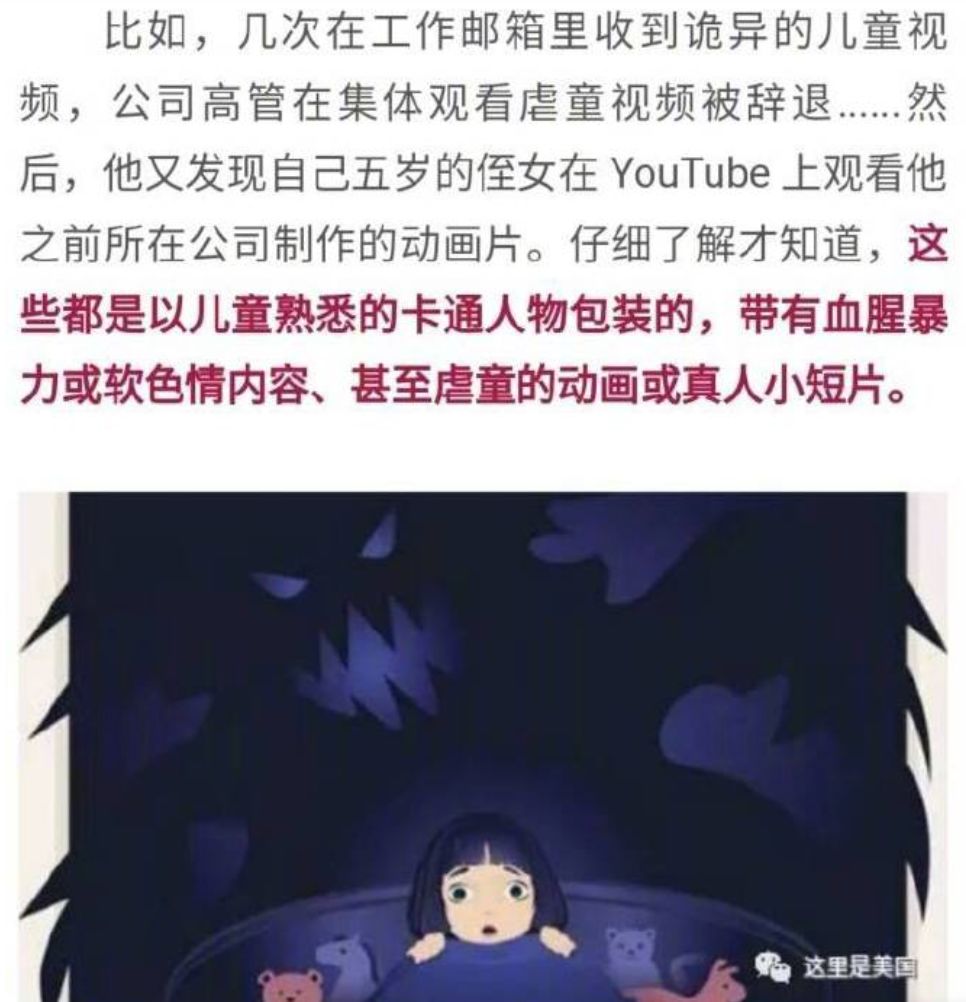 Some of the articles are as follows:
But he found that things were far less simple: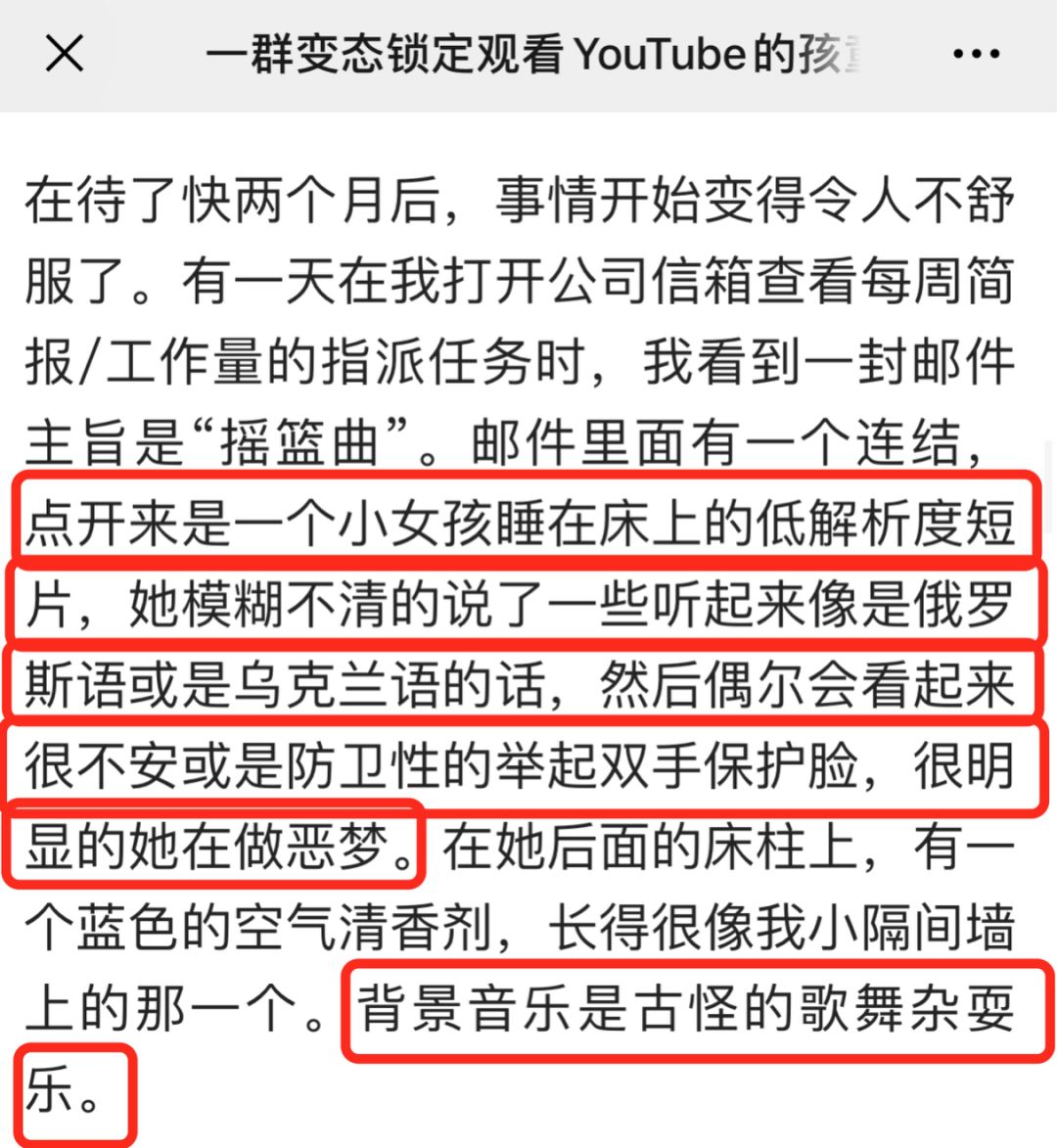 He asked his boss what was going on. The boss said it was a joke.
But is that really the case?
After the blog post was posted, weibo boiled over.
Parents are acting to provide clues to search and report related accounts:
The efforts of netizens have also been arousedVideo site attention.
Tencent's official microblog issued a statement:
Ai Qiyi, Youku, Sohu video, 56 video and other sites have started to act.
The Central Committee of the Communist Youth League also issued a special message on this matter:
Now the major video sites have deleted similar videos, off the shelves, banned.
Search with "Princess Aisha"-related keywords and no results have been found:
However, change the search keywords, you can still find some fish that leak the net.
One of the videos, Spider-Man's Beach Bath, still has adult images.
When searching for "Spider-Man Baby", there will be a prompt "Spider-Man Baby Has a Baby". Click on this search and see a video like this:
There is one in the videoTake the little girl out of the trunk and avoid her parentsetc. screen.
So this is what you want to teach a child!!!!!!!

The bloody meaning of this video below is even stronger.
Anyone who knows English can also listen
What's this background music singing?
ButBaidu seems to offer only search results. Most of its videos come from other video platforms.
Click on the search results, the video has been deleted by the major platforms.
But the search prompt, uh... It's also hard to say: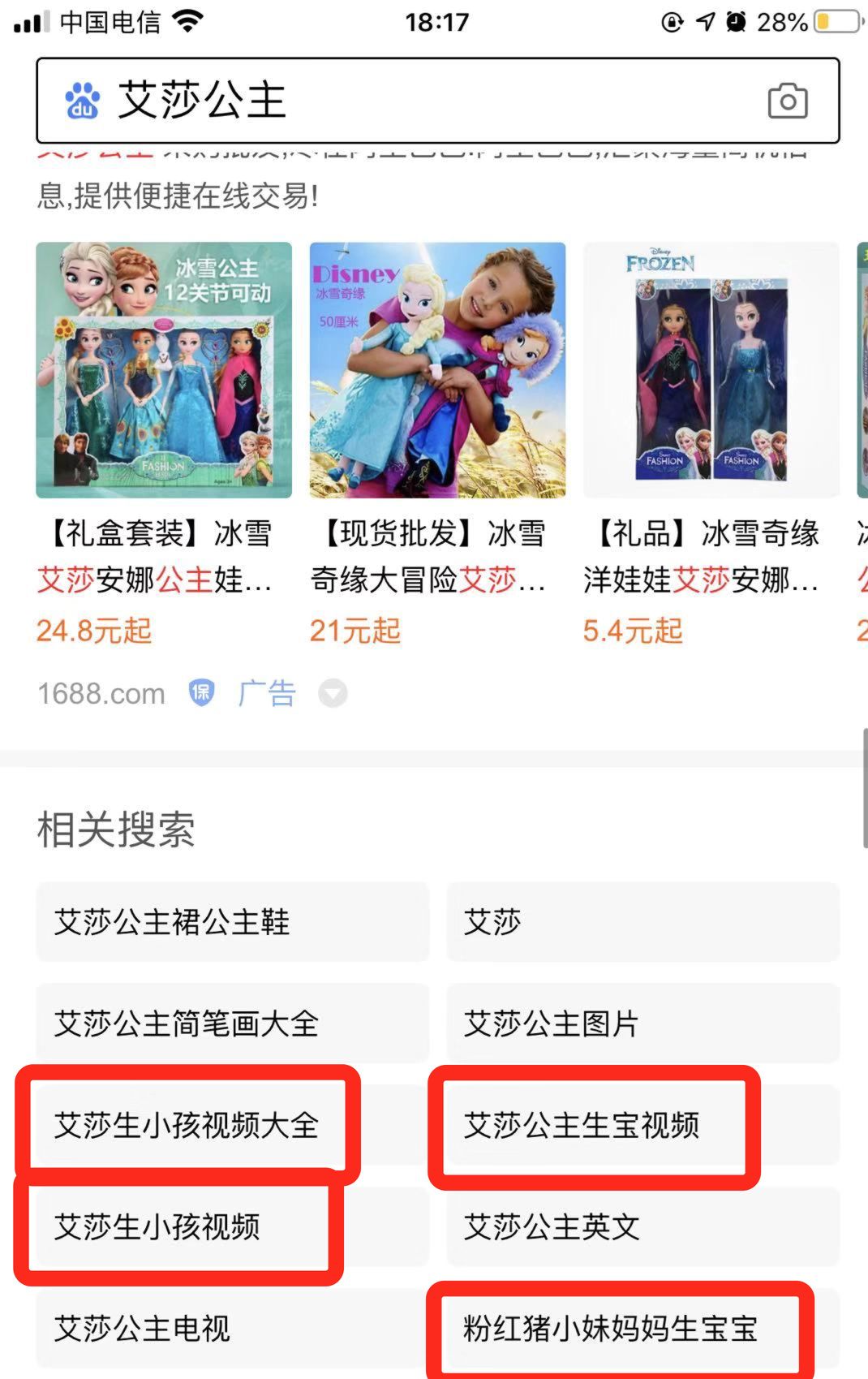 The headache is that while major video sites are trying to crack down, lawbreakers are using other methods to circumvent regulation.
If we want to be 100% cleared, maybe we have to work hard.

Where's the source? From abroad to home
Another problem a arises.
Who the hell is doing this?
What do you want?
What's the motive?
China's first exposed person has been threatened after a video of a child cult was released.
Where exactly does the source of these videos come from?
Some say they come from the so-called "dark web".
It is said that comes from some transnational underground child pornography industry.
However, the more superficial sources may be the following:
According to WeChat's official PingWest pint,More.South Live Drama is definitely one of the important sources of this kind of video.
These videos are surprisingly large in scale, with soft and soft violence.
Even without the unspeakable bad elements, these poorly produced videos have an unspeakable sense of weirdness and discomfort.
Most of these videos are remakes from the Disney Happy Spider-Man series on YouTube.
Usually with Princess Aisha, Spider-Man, clowns and other children familiar with the Disney characters as the main characters, real-life, absurd plot, including violence, pornography and low-level jokes. There's nothing to dare to do.
The biggest episode to see is Spider-Man peeking at Princess Anna and Princess Aisha taking a bath.
The two princesses not only have kissing scenes in the plot, but also suggestive bed scenes.
Domestic uploaders of such videos, will also be remake on the basis of secondary creation, through voiceovers and subtitles to add some strange ads, such as online shopping, e-commerce and so on.
2, foreign website handling
It is known that the netizen, Liu Yan, said,There are countless YouTube porters on domestic video sites.
Many are moving the kid plate directly over, as early education, mother and child, children,
Parent-child and other content, tagged, the title is mostly YouTube title machine translation.
Most of the games being explained came from foreign websites GirlGame.com.

Mainly focused on pregnancy and surgery-related content.
Although the content is disgusting, from the copyright information of the website, GirlGames is affiliated with CoolGames Games, a regular legal HTML5 game site.
Its more than 100 game categories include a surgical area that includes games that make adults uncomfortable, such as needles, having children, electric shocks, and removing foreign objects from the body.
The content was translated and reprinted on domestic video sites.
3, the gradual emergence of domestic
To know the netizens, Liu Yan also mentioned that the more serious is:
Not only are the content YouTube porters, but there is also a corresponding Chinese version.
It's different from what's on YouTube.These videos show Chinese children performing.
What is more obvious is that a lot of Chinese a lot of commentary.
What doesn't change is that the vietnamese-made video has the same "bad, vulgar" style.
4, part of the regular manufacturers to wipe the edge ball

According to WeChat's official PingWest pint,The Happy Disney account uploaded a large number of videos of and peeing.
This account has now been processed.
Before it was processed, its style of painting was like this:
From the twitter link to this account, there's an official named "Happy Disney Channel."
Happy Disney Channel has deleted the tweet
"Happy Disney Channel" certified "Guangzhou Trade Co., Ltd."
The legal person of this company is Lai Huixuan.
Continue to search for relevant information and find that this is a wholly foreign-owned enterprise.
January 22
"Happy Disney" changed its name to "50,000 meters deep" and issued an apology.
It's just that this changed name seems to mean a lot.
50,000 meters deep? Dark and deep, is that just one of them? Don't dare to think about it.
On January 22, 2018, a reporter from the Southern Metropolis Daily went to interview the company and found that a seal had been put on the door of the company's office.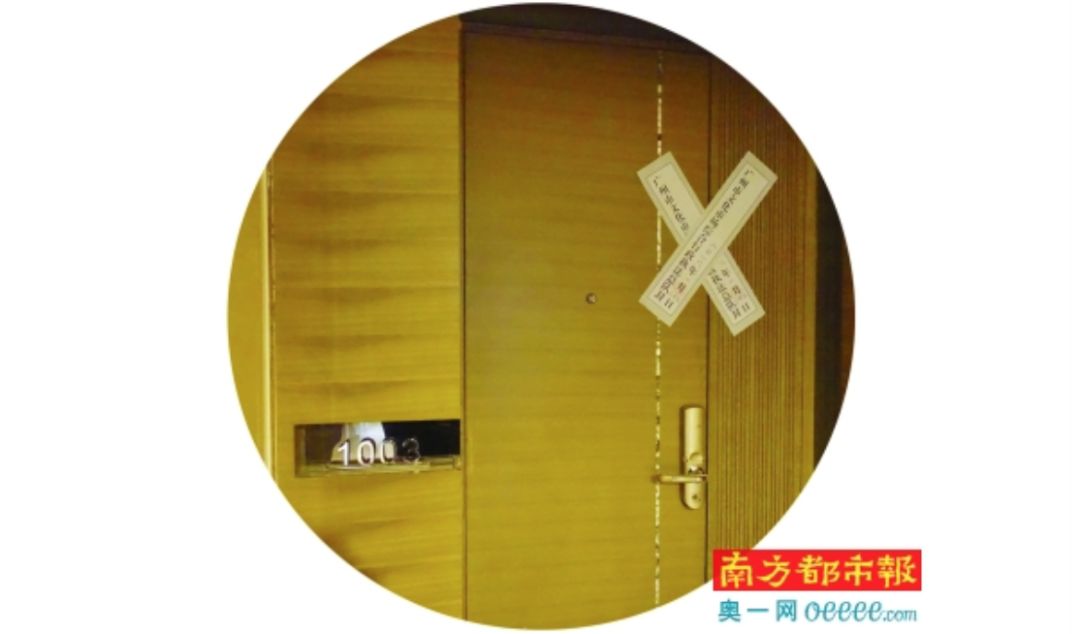 But the strange points are:
1, the company doesn't have anyIdentification or card

Plaque.
2. Employees have never met their boss.
3, shoot what, are uploaded by the boss from QQ script over, employees shoot, finished shooting to the boss passed over.
"The head of our company is not here, the boss asked to shoot anything, we shoot what."
The picture is from the Southern Metropolis Daily
And the company's overseas resources seem particularly large.
In addition to the Happy Disney Channel, it also operates three official accounts in China, Rainbow Park, Car Kingdom and PomPom Toys.
Rainbow Paradise is an early education brand from Sweden;


"Car Kingdom" from the United Kingdom;

PomPom Toys is a well-known toy channel in Korea.
These three video accounts, toohave uncomfortable content to varying degrees.
In 2018, Guangdong's "Sweeping Yellow" department investigated Guangzhou Yan Company.
February 6th,
The Administrative Administration for Industry and Commerce of Tianhe District of Guangzhou has revoked the company's business license in accordance with the law.
Now, it is rare to find video directly on the Internet.
But it does not rule out that there are some toChange keywords, soft, soft violence, hintsand other ways to escape the video audit mechanism of the video.
So at the end of the report, the Southern Metropolis Daily quoted industry insiders as saying
,
"Parents should do a good job of checking, it is best to see it in advance."
"Similar to death, injury, parting, etc., it is not that it cannot exist, but that it needs to be guided correctly and cannot be over-rendered.
Only in this way can we achieve the effect of warning, guidance and education. "
To protect our children, every one of our parents should be vigilant and vigilant.
Because there is some evil, really invincible.
Some abysses, really can not step into, also can not stare.
Please forward this article and tell more parents about it! It is the responsibility of all of us to reject the evils of children.
---