Trump's big fightback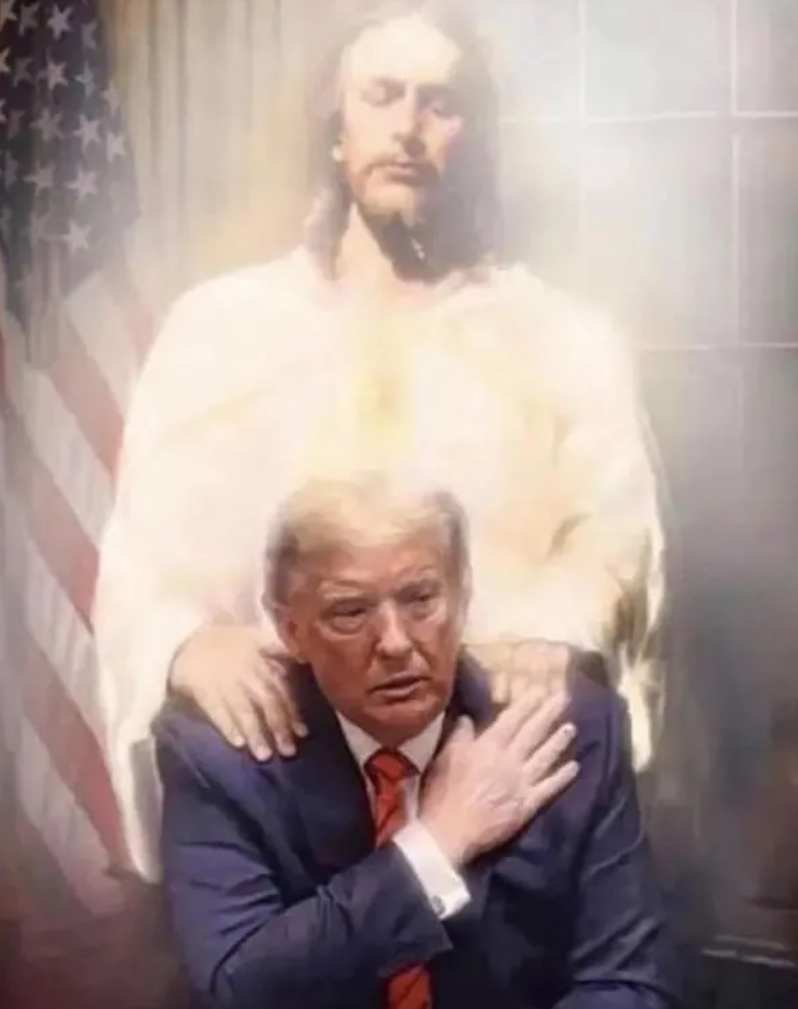 My Father in heaven may your country come. May your will be on the earth as if it were in the sky.




- Antholysic poems of Canaan
In fact, just now, when a lot of people haven't respondedDischarge.Mr. Trump has launched his counterattack with a thunderbolt.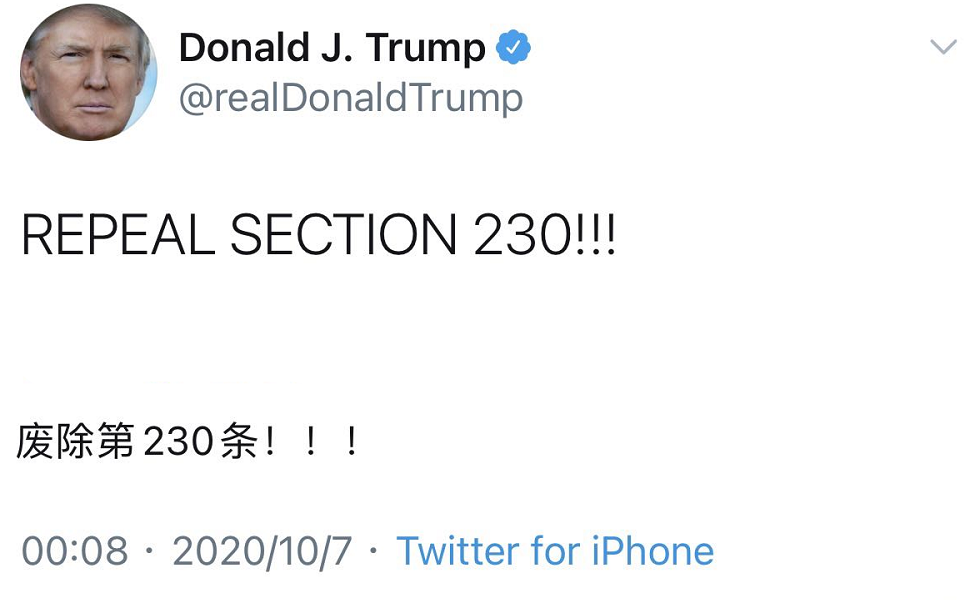 What is "what is"230 bills"What kind of blow would this take on competitors?"
Today, let's go into more detail.
What is Bill 230?
What is Clause 230?
In 1996, article 230 of the Communications Regulation Act of the United States provides that:
"Any provider or user of an interactive computer service shall not be deemed to be the publisher or spokesperson of any information provided by another information content provider."
The original English text is:
"No provider or user of an interactive computer service shall be treated as the publisher or speaker of any information provided by another information content provider."
What does that mean?
"Article 230" consists of two layers of meaning:
Internet companies are not responsible for third-party information on the Platform, and Internet companies are not responsible for their goodwill deletion of platform content。
In other words, Internet companies and users don't have to take responsibility for what they want to say when they go online.
Some people might say, "Say what you want to say" how good, how free it is.
In fact, this is a hugely flawed legal provision.
We certainly encourage freedom, and we encourage one to "say whatever you want", provided that "freedom does not come at the expense of others".
If there is no punishment for killing and burning, then people will be unbridled when they do evil.
If the Internet doesn't need to take responsibility, then the whole Internet will be full of lies, deceptions, and no responsibility anyway.
The law must be clear and clear, to engage in "hulu monk broken gourd case", to engage in "sparse confusion", will certainly bring society into a mess.
We can clearly see that because there is no need to take responsibility, because of the huge loopholes in this Bill, the Internet lies so far are full of angry, angry, conflicting and abusive, quarrelling with each other.
For a time Trump was "afraid", for a time Trump "couldn't sit still", for a time Trump "panicked", for a time When Trump "finally admitted", and even, some media said, Trump was blind, health problems, even "one-handed drinking water" is a problem ...
Trump had to perform "Drink With One Hand":

So how could the US have such a mess of laws?
The past can't be mentioned any more
It turned out that when the bill was first enacted in 1995, the U.S. Internet industry was just getting started.
At that time, the Communications Regulation Act, which regulated Internet enterprises as traditional media such as television and radio, was very reasonable.
If pornography, violence and other content appears on the platform, we must bear the corresponding responsibility.
But there are also disadvantages, the emerging Internet industry, the development will be greatly constrained.
In 1995, a case emerged.

An anonymous user at the Prodigy forum in the UNITED States accused Stratton Oakmont, a Wall Street broker, of fraud. Because it was anonymous, no source could be found, but the news had a huge impact on its reputation. In a fit of rage, Wall Street brokerages took Prodigy to court for defamation.
In sentencing, the judge at the time treated the Internet platform as a publisher, finding that the Prodigy forum was responsible for the user's comments.
The results were dramatic, and it turned out that the brokerage company was indeed a fraudster.
Is it fair that Internet companies, a user's anonymous statements, should be held accountable by the platform?
This industry has just emerged soon, in this way, how the Internet industry is still developing, how the economy is still prosperous, and how to create "GDP"?
Internet companies are angry!

As a result, many Internet companies have lobbied, called bitter, opposition wave after wave.
Finally, lawmakers at the time added a "good Samaritan" clause to the bill that gave Internet companies the power to manage the content of their own web platforms under their own audit rules.
That's where "Article 230" comes in.
The purpose of this clause is to encourage the nasan Internet industry, to give these industries a certain degree of freedom, so that Internet companies self-monitoring, to avoid the initial stage of litigation, deep in the mud.
Time flies, the years change, in a blink of an eye, these small Internet companies have grown into capital giants, the United States Internet industry has become one of the most powerful industries, Google, Facebook, Twitter and so on have become a monopoly with great influence.
Thanks to the protection of "Article 230", Internet companies can delete content and accounts according to their own rules, making it an "independent kingdom".
Even the U.S. presidential race is running ads on social media, such as Facebook and Twitter, where the social media's enormous influence has taken over the U.S. government.
People are seven temperaments, human nature is weak, whether it is Chinese or foreigners, whether eastern or western. Facts have long proved that power will lead to corruption, absolute power, will lead to absolute corruption!
An unbridled man is bound to become a butcher of the life of the grass Kan;
An unbridled religion is bound to become a group of crown beasts;
An unbridled political tilt is bound to become a group that disregards the lives of the people;
An unbridled industry is bound to breed corruption and become a breeding ground for violence, lies and crime!
Because Internet companies do not need to take responsibility, because users do not need to take responsibility, no restraint, no punishment, the Internet has become a hotbed of lies, abuse, violence and crime!
That's what's going on right now, and that's why it's necessary to break the monopoly of internet giants and repeal this unreasonable "Article 230".
This is exactly what:
The little fish and shrimp of the past,




Today it's a giant alligator.




The tail is really hard to get rid of,




Cross-section always laugh proud!
This world, I'm coming!
Throughout human history, all social systems, laws and regulations, dog rules, should keep pace with the times, and constantly adapt to the changes in society.

The protection of American Internet enterprises has become a negative factor, has led to the end of the industry, and today, the abolition of this unreasonable regulation, is also justified, but also in line with the trend of the times.
It is necessary to integrate Internet enterprises into traditional enterprises and social media into traditional television, radio and publishing industries.
We all know that it is very difficult to get rid of the old disadvantages in order to promote social progress, because it will touch the interests of many people and eliminate many people's jobs.
Today's Trump faces the same dilemma:


"Revoke 230!" (Translation: Repealing Act 230)
On May 29, U.S. President Donald Trump wrote on Twitter.
However, four months have passed and this reform is still a long way from over.
"噫 call 嚱, the difficulty of the road, difficult to go to the green sky" ...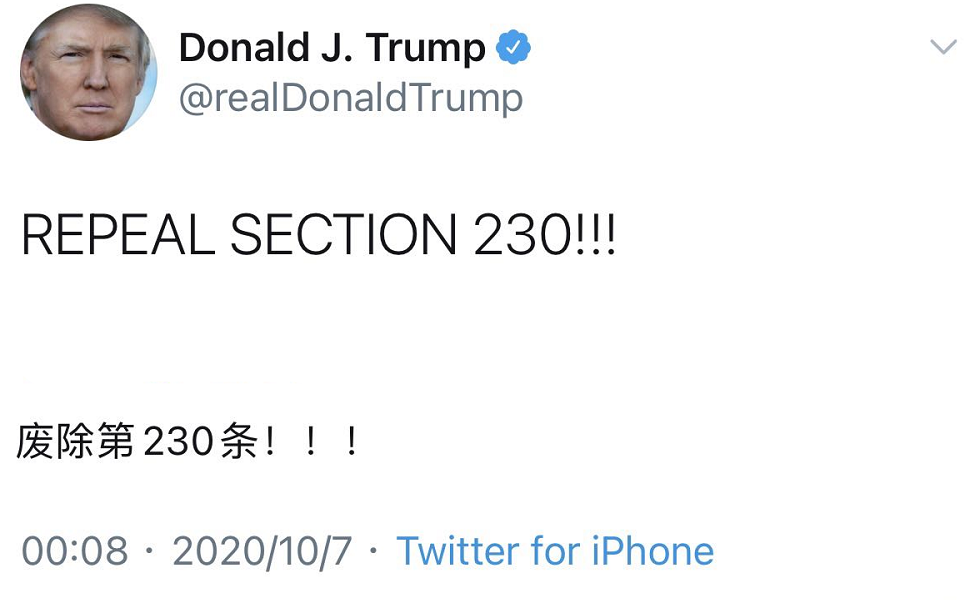 "Repeal Section 230!"(Repeal Act 230)
October 7, 2020, justDischarge.Trump began his big fightback.
In fact, in addition to The 230 Clause, there are many more difficulties in the future.
U.S. President Donald Trump tweeted Tuesday (October 6) that he has authorized the full declassified of all relevant documents related to the Russiagate affair and the investigation into former Secretary of State Hillary Clinton's email door.

Trump's Jedi fightback has begun, and America's showdown has reached a critical juncture.
So, can he succeed in the future?
Yes!

Because behind him are countless people eager to advance this country.
Yes!

Because, behind him is God!
"The people have a cry, God has a response", the voice of the people is God's will!
Westerners often say when they pray:

My Father in heaven,




May your country come.




May your will be on the ground,




It's like a line in the sky.
To practice God's will and promote social progress is the backbone of society, the brave, the great.
Although the road ahead is difficult, but do not give up, just discharged from the hospital, Trump, has started in various areas of the Jedi counterattack!
Although it is very difficult to get rid of the old ills, but I believe that with the gradual awakening of the American people, with the joint efforts of the people, we will be able to reform many of the ills!
The United States is a country with a mission, more than 200 years ago, God chose a piece of land in the Americas as a demonstration area for mankind, giving many mechanisms for self-healing, so that this country has become the world's scientific, technological, economic and military power, shouldering the responsibility of maintaining world peace.
I believe that the future of the United States, will be able to assume this great mission, the removal of authoritarianism, so that everyone gets their due rights.
Finally, let's know more:
The world is one, although it is very difficult to eliminate the old ills, I believe that with the gradual awakening of the Chinese people, with the joint efforts of the Chinese people, indomitable Chinese will certainly be able to reform many ills!
China and the West, internal and external combination, so that mankind to restore their due happiness, happiness and glory!

(Complete)
What exactly does the United States want to do by banning party members from immigrating?

Chief of Staff of the Indian Air Force: Ready for air strikes against China

Treatment drug announced, one dose can reduce virus 99%

What impact does the Trump infection have on the world situation?
Personal microsyscopy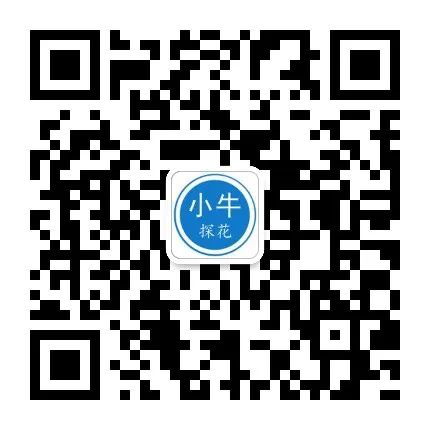 Press and hold to identify the QR code added
---