The Chinese game is an expedition out to sea, starting with Twitter
In recent years, China's overseas market for games to expand a new trend, the single-buying era is more unable to meet the game enterprises "product efficiency in one" demand. And the situation overseas is complex, Chinese game enterprises "going out to sea" face a completely different challenge environment. On the basis of already occupying a large share of the market, how to obtain sustainable long-term development of large game enterprises, how to optimize advertising performance, balance long-term and short-term development, and obtain recognition from overseas local markets, is an urgent problem facing Chinese gaming enterprises. In this regard, the author is willing to give his own views.
The game sea market shows a new shape
The sudden outbreak, the global economic downturn, while the gaming industry as a whole is in a positive situation, whether it is out to sea or ready to set sail for the game manufacturers, is undoubtedly a rare opportunity. With the saturation of the domestic gaming market, more and more enterprises are also looking overseas.
However, the increasing cost of buying and the increasingly complex marketing environment, so that brand owners gradually realize that a single buy strategy is difficult to achieve the full funnel marketing objectives. Today, we see both brand volume and user growth goals.
Product efficiency in one
"It is the key for Chinese gaming enterprises to achieve long-term development and win overseas.
The game "going out to sea" wants to be successful
Platforms and high-value users are key
Therefore, the importance of a mature and reliable social platform is self-evident as a new "foreign game" that wants to integrate into the local market and achieve "product integration". Reference game in the domestic dissemination of sales model is not difficult to find,
Social platforms play a vital role in a game from its generation to its acceptance by an audience
。
And the key to social platforms is that
High-value users
。 A proven and reliable platform brings together high-quality, active users while providing tools that enable companies to effectively support market research, product launches, and community operations. Overseas users like to gather on Twitter to talk about emergencies, entertainment messages, sports news, political news, daily news, and more. On Twitter, more than that happens every day
500 million
Tweets, where users talk about new things, these timely and massive amounts of content become a "treasure trove" of insight into real-time changes. And, Twitter users
The acceptance of new things and products is very fast and very high
。 If Chinese brands can tell good stories on this platform, users' memory and preference for the brand will increase significantly.
Gamers are a much more active part of high-value users, with more Twitter platforms in the Asia Pacific region (Japan, Singapore, Indonesia, Thailand, Malaysia, Philippines, India) in April 2020 alone
240 million
Tweets related to game topics. Players discuss games and brands through Twitter, thus building a bridge of dialogue, communication and emotional connection between the game brand and its core audience, thus helping the brand to break into the target market and achieve efficient communication and communication.
The game "going out to sea" wants to be successful
The three keys cannot be less
In addition to high-value users, Twitter has managed to hold on to three key keys that are at the heart of the game's desire to achieve "one-in-one" performance:
Real-time, interactive and creative
。
As we all know, the propagation efficiency is time, the higher the efficiency, the more significant the effect of the same time propagation.
Twitter has always been one of the most important sources of hot events around the world, and brands can use global hot events to achieve topic implantation and marketing, gaining high attention and high-quality user resources.
For example, the "Awakening of All Nations" game took advantage of Christmas to successfully detonate the Japanese market.
Prioritize building conversations and presentations in advance of release, paving the way for later release phases.
Twitter's ad content sponsorship package, XmasBox, offers existing and potential players the chance to win Christmas gifts by simply following @ROK_Japan and retweeting XmasBox's promotional tweets.
The move quickly raised the brand's profile, sparked a lot of conversation and eded a solid fan base for the new game.
XmasBox is a common tool used by Japanese game publishers to create game heat and initiate user conversations during the highly competitive holiday season.
一方面,Twitter 社交平台的属性使然,这些High-value users都非常活跃,喜欢发推互动,Share.评论,参与感强。核心游戏玩家更是如此,对他们而言,价值观和爱好相似,能对游戏产生共鸣的"同道中人"更能激发彼此的热情。因此,游戏厂商便可通过Game community,将这些"同道中人"聚拢起来,借此建立与目标用户的亲密互动关系,培养稳定的玩家社群基础。通过有节奏的活动运营和营销事件,激发用户的关注度与创造力,以优质UGC引爆社区内的话题声量。Twitter数据表明,对比35岁以上用户,34岁以下用户同时表现出更加强烈的
Social needs
。 In terms of game types, they love multiplayer online social games, with 41% and 34% of users under the age of 18 and 18-34 playing in the past 30 days, respectively, while those aged 35 and over prefer leisure. In the Asia-Pacific market, nearly 30% of young people in the Asia-Pacific market say being able to interact and socialize with family and friends is the main motivation for them to play games.
Twitter, on the other hand, can provide real-time and interactive advertising solutions to help Chinese game companies tell good brand stories, more effectively launch new strategies, new products, to attract the attention of core audiences.
Twitter is also offering online marketing services for Chinese brands. According to the survey, Twitter users spend 24 percent more time with online original advertisers than brands directly advertise, while purchase intentions increase by 41 percent.
Twitter's established ArtHouse division, which assembles Twitter's global content strategy, digital content production and online marketing experts, and focuses on market changes and advertiser appeal, can help advertisers create a one-stop content marketing platform that ranges from online red resource integration, creative customization, content editing to live streaming services. Meanwhile, Twitter ArtHouse has launched Live Brand Studio to help brands market through live streaming.
For example, in the propaganda strategy of Awakening of Nations, it is selected
Social network red
Create customized branded video content to play
The influence of key local opinion leaders in Japan
。 These branded videos are promoted through tweeting interactive advertising campaigns that cater to the preferences of heavy players, active players, and the broader player community. With engaging game demo videos, these campaigns increase conversations, enhance the impression of the game's brand by key audiences, and help people understand how to play @ROK_Japan games. Help "Awakening of the Nation" successfully create topics, achieve interaction, transform a large number of high-quality users.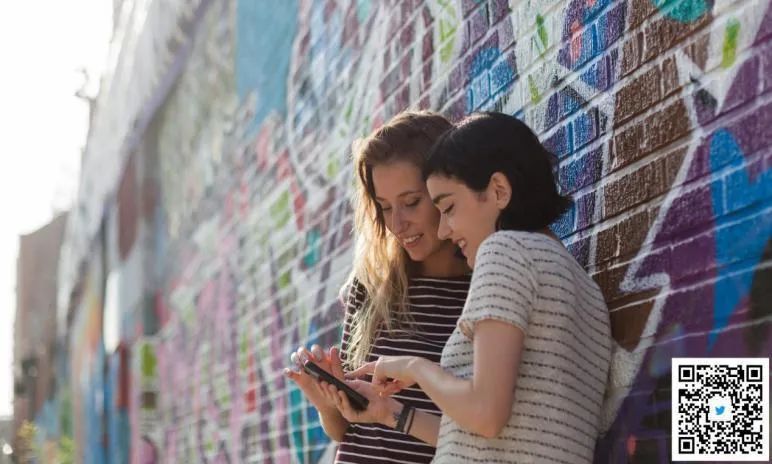 Meanwhile, the Twitter Next team is working to provide more creative inspiration for the brand. Backed by high-quality active users, Twitter Next continuously analyzes the behavior and conversation patterns of Twitter audiences, helps brands build bridges with users, and provides strategies and solutions for brand events and product launches by shaping brand voice.
A good man with three gangs
Enterprises "going out to sea" need good help
Based on these advantages, Twitter can accurately launch different types of games and markets, successfully achieving "one radish, one pit" type of babysitting information delivery, to promote the realization of "one product and one product."
For example
Japanese market
Twitter suggests games go out to sea: grab new games online, IP linkages, live streams online, event celebrations, and more
Key nodes
, expand
Conversational marketing
, to find the topic of publishing dialogue, stimulate participation in the game discussion, so that the entire marketing process continues to appear marketing pop spots;
Funnel marketing
"All-round surround the user; build with the player."
Real-time emotional connection
。 And in
U.S. market
Twitter advises manufacturers to do business
Game community
Use.
The topic is in the air
Build momentum and pay attention
Net red
Local influence and traffic inlet.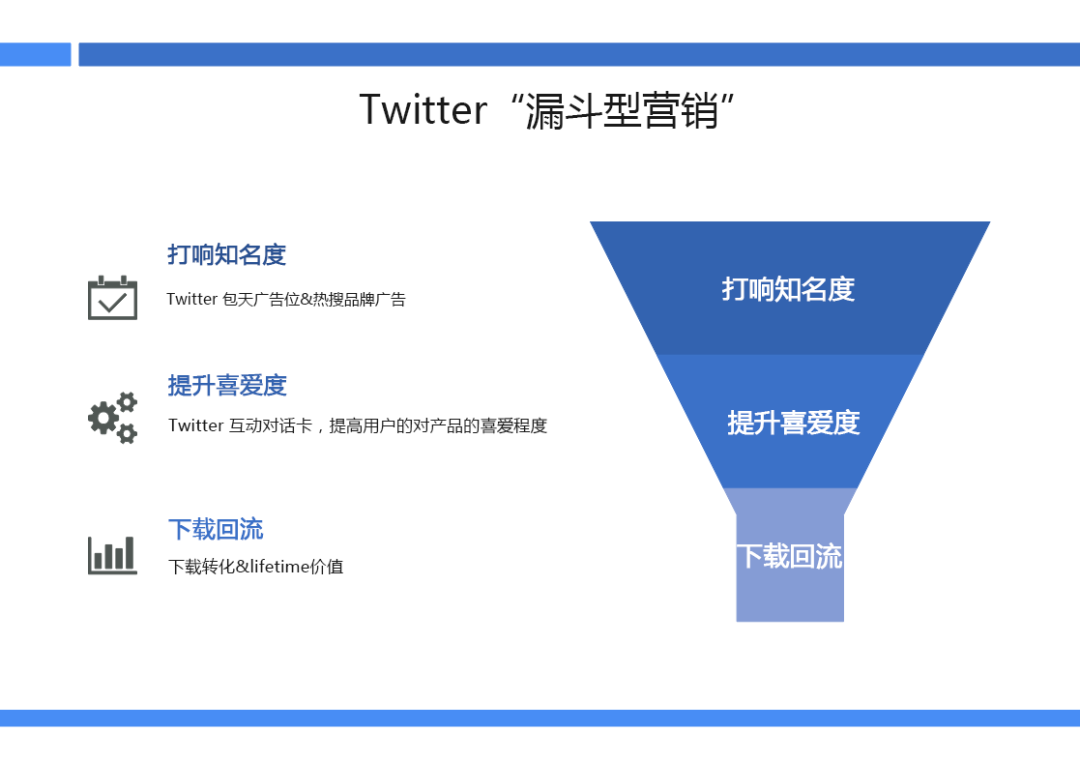 Take the top three Chinese hand tours in a week at the iOS market in Japan not long agoAwakening of the NationFor example, brands have teamed up with Twitter platforms to launch conversational marketing and launch GameWith IVS online red advertising campaigns on the day of launch, helping to increase engagement among key target audiences and further explaining how to play @ROK_Japan games to those audiences.Stimulate users to participate in game discussions, establish emotional connections, successfully create sound volume, the realization of "product." As it turns out, this set of play through Twitter brand exposure, to create a game community and interactive form of advertising, opened the upper-end marketing funnel, successfully achieved "effective", through brand advertising and performance advertising at the same time, the success of the "product efficiency"。 (Click:Join hands with Twitter to successfully conquer the Japanese gaming market! Read more)
In addition to Awakening, @XboxANZ launched the world's first virtual treasure hunt via Twitter: Xbox Twitter Hunt. Fans can earn points through the game to win tickets to the London X019 Game Conference. To increase user engagement, @XboxANZ has set up a number of interesting ways to earn points, such as fun Twitter emoji guessing, the discovery of hidden QR codes at the PAX Australia show, and more. And, at the same time, the game's highest-scoring contestants are posted on Twitter, sparking the player's desire to win and lose and attracting more players to the game. While increasing attention, the game itself has achieved a "attribute plus", and both the game company and Twitter have achieved "one-in-one".
In addition, @XboxANZ constantly update Xbox Twitter Hunt's customs tips and play tricks, and use Twitter streaming video ads to attract potential audiences, and Twitter promotes videos to reach target audiences. (Click:Brand interaction growth of 300%! @XboxANZ secret of our success is here! Read more)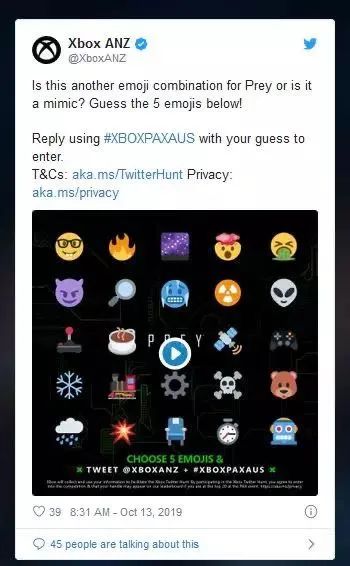 Also successful are the iOS Free List, which was launched less than 6 hours after pre-downloads were launched in Japan
Dragon Fantasy
Game.
Since the first half of the product launch,
Dragon Fantasy
An account was opened on Twitter to continuously maintain user activity through game content and interactive experiences, creating a reputation between players and, in turn, gathering a group of seed users.
5 days before the launch, through the daily fan retweet raffle for the game to continuously create sound volume, successfully ensure that the topic reached a peak on the day the game was launched.
There is no doubt that going out to sea has become a new choice for the development of many Chinese gaming enterprises. To enter overseas markets in a more open and flexible manner, to attract users with both creative and local content, and to achieve effective interaction with target users in an appropriate manner requires both corporate brand marketing concepts and platforms. So right now, it's an opportunity for Chinese companies and Twitter.
What the? Want to learn more about dry goods and insights? Want to get more Twitter products? Pay attention to WeChat public number can be done, the code is below, take away no thanks
---