Tencent Social Advertising Launches First University Algorithm Competition

The first Tencent Social Advertising "University Algorithm Competition" was opened online on April 12, 2017. This contest is based on theMobile app ad conversion rate estimates"As the theme, for the first time, Tencent's "real-world" data in the field of social and digital advertising will be presented in a highly simulated real-business way, and point directly to the core key issues in digital advertising: conversion estimation, the most intelligent algorithmic solutions for college students, leading the core technology direction of the advertising ecosystem industry.

To drive the development of the social advertising ecosystem, Tencent Social Advertising continues to innovate in the fields of big data and machine learning. This event, Tencent Social Advertising in cooperation with Tencent Data Platform Department, Tencent University, Tencent Cloud, Application Bao, Tencent Recruitment, T-Pai Campus and other major resources and platforms, invited well-known academic guests in the industry, for more than 2,800 colleges and universities around the world to provide tens of millions of student users to show the strongest brain stage and rich bonuses, together to open a brain-burning feast on big data.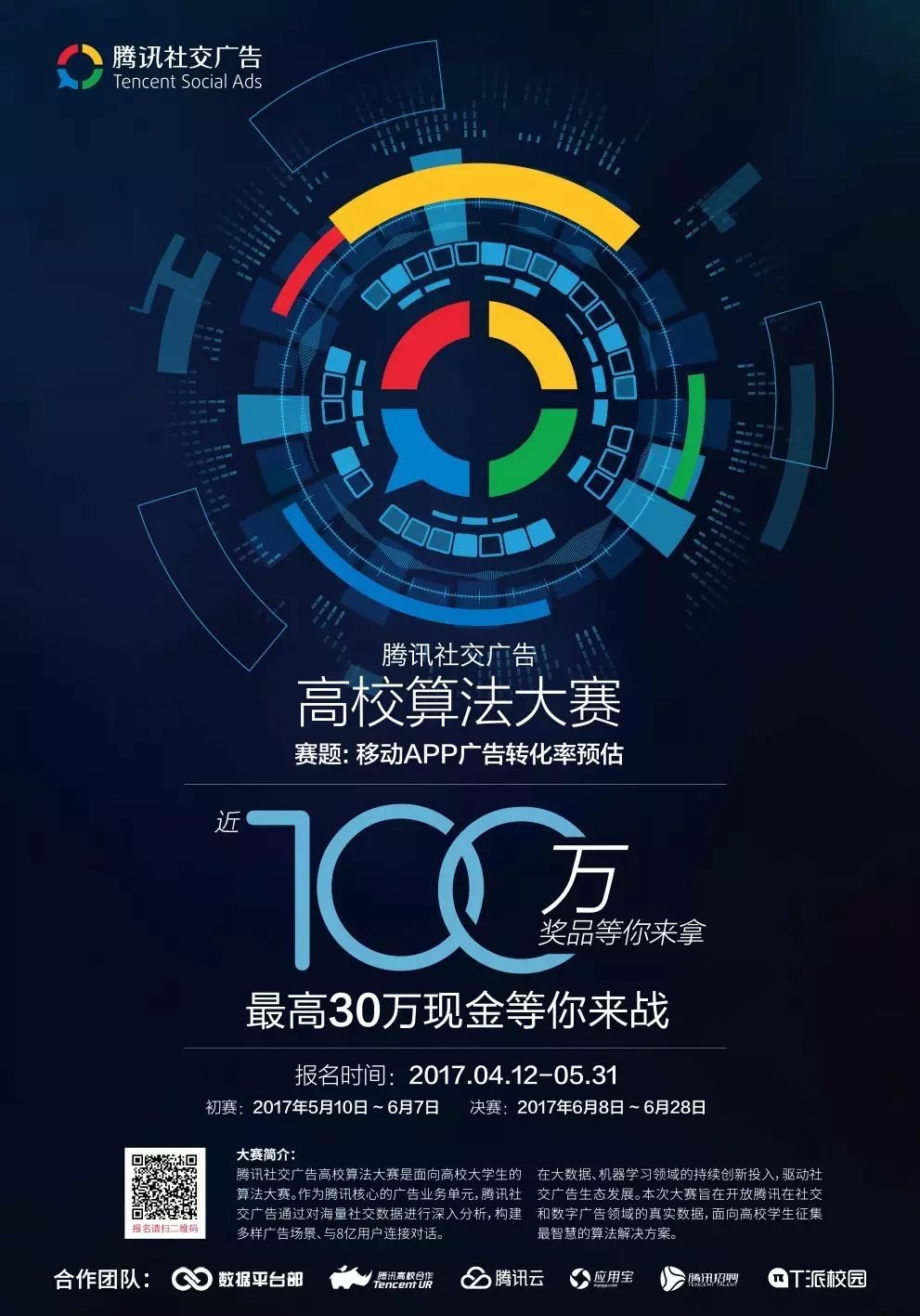 Highlight one
Tencent Social Advertising X external academic guests the strongest line-up to attack

In addition to Tencent Vice President, Director of the Technical Management Committee Wang Juhong, Tencent Social Advertising General Manager Luo Zheng, Tencent Data Platform General Manager Jiang Jie, Tencent Social Advertising Deputy General Manager Yang Yiguo and many other Tencent experts, the competition also invited li Xiaoli, director of the Institute of Data Analysis of the Singapore Institute of Information and Communications, Renmin University Professor Du Xiaoyong and other industry experts, as judges and consultants. At that time, the contestants will be able to get the industry leader in the competition - Tencent social advertising comprehensive technical support and big curry reviews. The winning algorithmic works also have access to expert detailed analysis and science.

Highlight two
Convergence of industry-leading algorithms to help all the way through Tencent

Tencent's social advertising advantage is not only to have a large amount of social data, but also to accelerate the optimization of algorithms to provide a complete and accurate solution for modern marketing. Tencent Social Advertising has now added user behavior data tags based on basic information data and social chain data, expanded the dimension of training data, and in machine learning, further insight into user preferences and intentions, the most valuable ads accurately pushed to the audience.
In the era of mobile Internet marketing, advertisers on the requirements of delivery, not only pay attention to the click price of advertising, pay more attention to the conversion effect of delivery.In May last year, Luo Zheng, Tencent's general manager of social advertising, proposed a Target-CPA solution to "face the target".Advertisers can use Activation as an optimization goal for their ads and provide the expected average activation cost (TargetCPA).
Based on thisoCPA( optimized CPA), an intelligent bidding strategy for mobile APP download ads, is a click-to-click charge for activation bids。 When you run an ad with oCPA, machine learning is used to estimate the conversion value of each request based on the conversion data reported by the advertiser.Continuously improve the efficiency of advertising and input-output ratioThis is also highly relevant to the core questions of this algorithm contest.
At the same time, Tencent Social Advertising also has extensive data collaboration with the industry, including advertisers, based on data, combined with large-scale machine learning algorithms, effectively integrate applications, data and technology-driven marketing evolution. In the process, joint talent is also a top priority.
In order to encourage the innovative spirit of algorithmic elites and data maniac, tap the scientific and technological talents of the Internet age, and produce more high-quality solutions to the problems of the advertising industry, the competition has established a wide range of awards. Among them, the maximum cash reward of 300,000 yuan, another rich prize. In addition, Tencent social advertising also in cooperation with Tencent University, Tencent recruitment, T-campus and other platforms to provide participants with internship opportunities and recruitment of green pass-through cards.

Highlights three
Join live online next can not be less

In order to allow more students to intuitively feel the importance of "algorithms and technology" in social advertising, and have the opportunity to participate in all aspects of the competition, the contest will be combined with Tencent's characteristics of the learning and exchange platform - Tencent University, in particular, the addition of online live interactive links, so that students can not participate in the online through the lens and industry curry and elite players close contact, sharing the intense and exciting defense process and award stage of the wonderful moment.
http://algo.tpai.qq.com/person/mobile/index
---