Old Wei chat e-commerce: Advertising saving strategy: set negative keywords and time-between bidding
Dots"Cross-border e-commerce win vera"AttentionPublic numberGet the latest dry goods
Win business Vera Lao Wei
Cross-border e-commerce entrepreneurs, senior cross-border e-commerce businessmen, foreign trade (cross-border) industry for 15 years, has a wealth of platform experience, familiar with the operation of cross-border e-commerce platform.
For a long time, Lao Wei has been practicing the principle of "better than words", continued to refine, a total of more than 1300 articles, sharing cross-border e-commerce operations experience, a total reading volume of more than 30 million people.
Currently operating Amazon's platform at the same time, its main lectureAmazon Live Full-Order Coursehas been held62period, for the industry transportMore than 4000A 90-day event built by cross-border e-commerce entrepreneursElite Seller Incubatorhas been carried out20period, won the recognition of the students.
This article is"Old Wei chat e-commerce" series 1390Original article, if you need to reproduce, please indicate the source of "Win Business Vera - old Wei", deeply grateful.
There is one in the in-site ad setup process"Negative keyword targeting"column (illustrated), many sellers did not notice the item when the ad was running, and some sellers knew it existed but did not know how to use it properly.




What exactly does negative keywords mean for ad serving and optimization?
How do we use it well and make it a plus for our operations?
Let's go into more detail next.


"Negative keyword targeting" is a setting amazon provides that allows sellers to reduce invalid traffic from certain keywords in an ad.


Specifically, in an advertising campaign, if a keyword isLarge exposure and clicksbut through that keywordConverted orders are few or noIn this case, we can save costs and reduce ad waste by blocking the ad's exposure in that keyword search by setting negative keywords.
For example, a watch seller found a keyword "Cool Watch" with high exposure and clicks through an ad report while the ad was running, but didn't bring any orders. Seller analysis felt that although "Cool Watch" is popular, but with their own product "Men's Watch" match is not high, so the seller made a decision to add "Cool Watch" to the list of negative keywords to negative. When the keyword "Cool Watch" is rejected, the seller's ad will not be exposed when another user searches for the word. As a result, sellers reduce low-performance exposure and clicks, saving advertising costs and increasing the overall conversion rate of advertising to a certain extent.
So, while the ad is running, according to the ad report pair"Two highs and one lows"(High exposure, high click, low conversion/zero conversionKeyword negation can not only save advertising costs, but also help to optimize product targeting and improve the conversion rate of advertising. Using negative keywords is an important part of advertising optimization in the station.
In different ways than keywords, there are only two ways to match negative keywords:
Negative phrases and negative precision.
Because the negative phrase radiates to a wide range of words, may hurt some can be converted into order keywords, so, in the negative matching choice, my proposal to negate accuracy can be, a bit similar to what we say on a daily basis, "the right thing to do" principle of doing things.
In the previous example, we can see that the seller is "through the advertising report" data to feel the need to deny certain keywords, and before the negative, the seller had thought "keywords and their own goods are not related." So
In the process of negating decisions, there are two variables to consider:

First, according to the advertising report data, my proposal is based on a single keyword click more than 20 times as a reference, before considering negative;
Second, the relevance of keywords and commodities, only keywords and commodities are not related or poor correlation, only consider negative.
In addition to negatives, we can save on advertising costs by setting ad bidding at times.
Because of the problem of time difference between China and the West, leading us to work when consumers are resting, and the daily running of advertising is from the site local time zero hours, so, many times a lot of sellers encountered the situation is that customers in the rest, advertising in the run, ads are clicked, and sales peak arrival, advertising has been blown up, out of budget offline.
In order to avoid the waste of advertising due to jet lag, we can takeThe pattern of time-period bidding adjusts the bidding of ads over different time periods, use bidding to change the advertising space, save costs and reduce waste. For example, in one ad campaign, you can set the auction to low at 10:00PM-8:AM Pacific time, while at other times adjust the auction to normal bidding to reduce the exposure and clicks of ads during off-peak sales hours and spend ad expenses during sales peak hours that can lead to sales.
Since Amazon's ad system currently doesn't set ad bidding by time, adjusting ad bidding requires us to set it manually every day, or with the help of third-party tools such as Asinking.

PS:Special period, also do not forget to learn!Hold the group to keep warm and fight the outbreak together!February 10, 19:30 Wei teacher online live broadcast "Win Business Vera cross-epidemic" topic for you to answer questions and puzzles, together through cross-border difficulties! Hurry up and add customer service to reply to the class!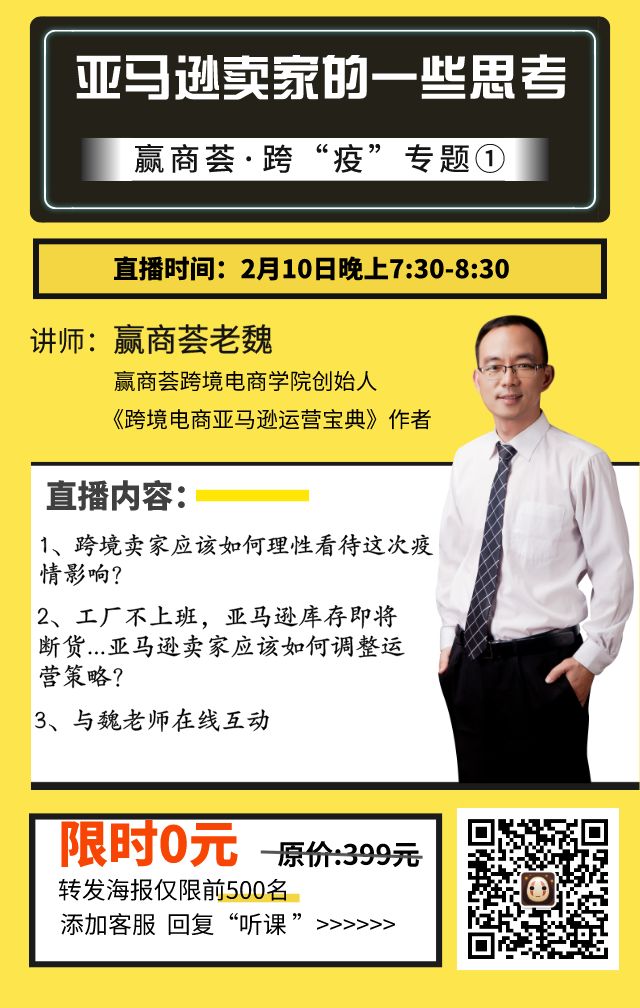 Guess what you like about the article

---