New National Goods "Growing Pains" - 2020 "New National Goods Model" list came out
"The tide comes in and knows!"
If it were in 2019, Li Ning's clerks would certainly not be so directly snorting at passing consumers. Relying on the eye-catching performance at New York Fashion Week, Li Ning used retro design and street culture elements to lay down his reform concept of "national tide" and the independent sub-brand strategy of "China Li Ning". The old brand, which has been in its inception for nearly 30 years, was refurbished by reinterpreting the classics, and the "national tide" itself was a guarantee of traffic at the time.
But by the spring of 2020, China's consumer market had been hit hard by the impact of the new crown outbreak, and the already strong demand had been sustained by force majeed forces. At its worst, Li Ning was forced to close 95 per cent of its offline stores, only to take the initiative to look for all possible market opportunities. According to Li Ning Group co-chief executive Qian Qi in August this year in an interview with Yi Magazine, "whether online, offline, or a single store, selling more than a pair of shoes is also good." "
With the domestic epidemic gradually under control, this summer also has a hint of consumerism.
In the year's largest "June 18" promotion, live and short video, subsidies and red envelopes flying Tmall achieved a cumulative turnover of 698.2 billion yuan (GMV), a new record. It's worth noting that this year, the first of 26 sub-sectors of sales was won by new brands less than three years old, the vast majority of which are national brands;
New things always exude unique appeal, and "new goods" are a conceptual by-product of the volatile global situation of the past few years for China's consumer market. While brands are eager to get back on track in e-commerce promotions, the power of "new national goods" is easily re-watched.
As many as 133 Chinese companies made the Fortune 500 list, released in August, surpassing the US for the first time. In the same year, Fortune China's top 500 list, the large consumer list of companies have 68, the overall pace of development of the industry is sound.
This year is also "First Finance" YiMagazine gold signboard project for the second time to launch the "new national model" consumer brand likeness survey. The poll received 4,094 votes, with 32 of the 36 categories associated with daily life recognized by consumers standing out. For the second year in a row, 24 national brands have gained market favorites, with eight brands on the list for the first time.

But in this year's visit to various "new national goods" brands, industry investment institutions and supply chain ecology, we also found that the "new national goods" concept of imagination is consumed much faster than expected, so that the brand is still in the process of rapid development, it has reaped a lot of trouble.For example, the old brand wants to "turn red", and then do IP joint name has been difficult to bring up consumer interest;
The brand's "monopolistic influence" is also becoming increasingly scarce, and the subversive power seems to be hidden in all kinds of subdivision demand categories. Last year won everyone electricity, small appliances, smart devices, home design, household groceries a total of 5 categories of the first Xiaomi, this year's influence in the list can only cover small appliances and smart devices two categories.
These changes in the "New China" brand, like those that will be experienced in the traditional consumer market, have accelerated the experience. But no one is sure whether this acceleration, determined by changing trends and competition in the market, will become faster and faster, to the extent that the brand itself is difficult to control.
From this point of view, "new national goods" brands may have to adapt to this "growth trouble" as soon as possible.
The aesthetic fatigue of the burst
Today, there is so little talk between big companies that public opinion showed a rare state of excitement when a legal dispute broke out between Tencent and its mother at the end of June.
In the case by the "impersonation" signed a marketing promotion contract of the old mother, secretly combined with our national consumer brand almost all the beautiful imagination - product quality, national (and even international) recognition, self-made entrepreneurial stories, as well as with mysterious management ideas. The brand's influence has even reached Tencent's compliance system, allowing a batch of "QQ flying car mom-only suits" and custom-made chili sauce to flow into the market.
Before the storm, Mom had launched "The Genuine Peripheral," which and Li Ning both appeared at New York Fashion Week in 2018. At that time, the old mother, Yunnan white medicine, double sister, Summer Palace, Master Kang and other brands at Tmall's invitation to open an online flash shop, the introduction of hooded clothes, zippered shirts, clothing and other fashion items.
In the following two years, the brand linked out of cross-border products, old brands around the explosion has become the most common marketing and exposure means of national goods. Each joint cooperation, the lowest appeal behind is "1 plus 12", each limited edition peripheral products, are hidden in the heart of the national brand want to innate Supreme. But consumers are remembering less and less.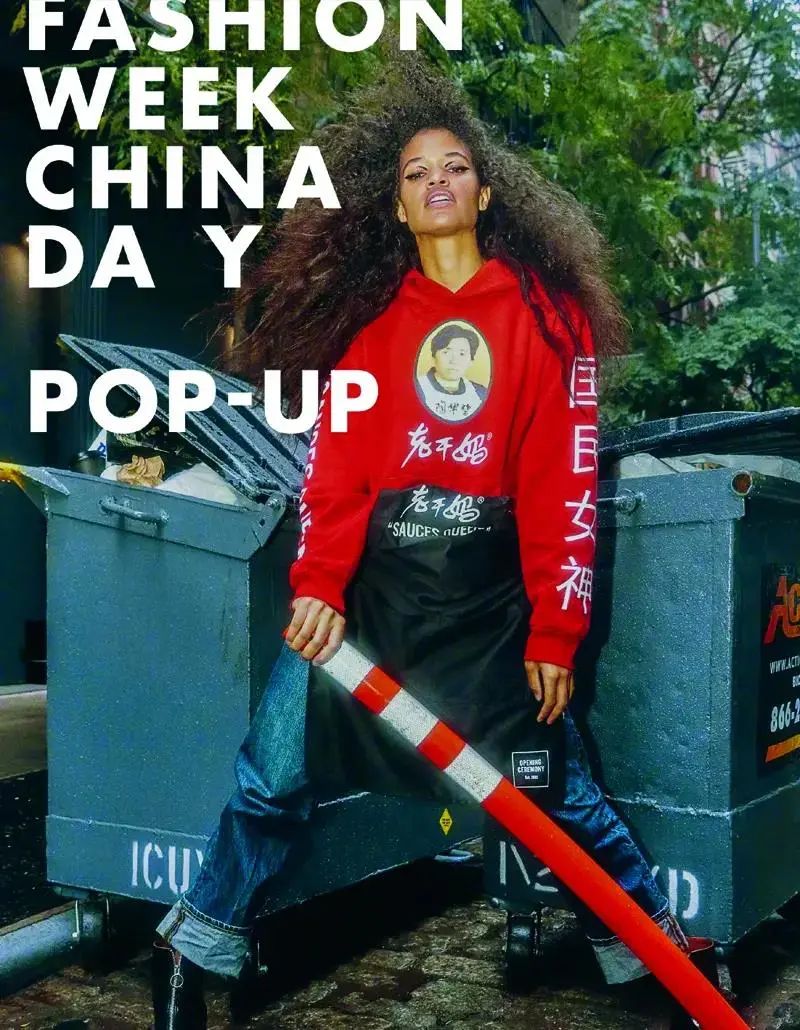 "Now many brands in the market are just for the joint name, the first is the lack of consumer insight, can not impress consumers, the second is the joint name can not land with the product linkage, just print a joint logo on the product, even if it is off-the-job cooperation."In a written interview with Yi Magazine of First Finance, Li Qinya, co-founder of colorkey, a new chinese-made makeup brand, commented on the "joint explosion" phenomenon on the market.
And when the market has been almost excavated the heritage of the national goods brand, "from the history to find culture" has become a kind of gold oil-style joint play. Incomplete statistics show that since 2017, the Forbidden City has worked with a number of brands, including antelope, Run Baiyan, Mao Goping, Shanghai soap, including eye shadow, lipstick and other beauty products are now the Palace Store's regular souvenirs. In addition, makeup brand is also very favored with the National Museum, Summer Palace, Dunhuang Museum, China National Geographic and other creative IP cooperation, the market once presented a "no museum without makeup" lively.
Makeup has become an important direction of national goods innovation, the important reason behind is the low threshold of research and development, the domestic production system is extremely mature. To promote a new brand, you can do almost nothing but work on packaging design and marketing strategies. The concept of "new national goods" seems to be a good proposition composition. So with cranes, peonies, phoenixes and auspicious cloud elements are repeatedly stacked, consumers open Taobao or step into the offline makeup shop, will quickly aesthetic fatigue.
Compared with many of the "new national goods" played out, the old chinese goods sometimes prefer traditional but "visible" marketing methods, such as 2019 by the brand exhibition in Shanghai harvest enough exposure, is still in the national tour of the 60-year-old national candy brand Big White Rabbit.
During last year's brand exhibition, Big White Rabbit and Happy Lemon collaborated on milk tea flash shop, with the Smell Library to cooperate with fragrance products, with the United States and Canada net cooperation with milk sugar lipstick, with Godiva to cooperate with ice cream, although they are limited-edition small test water, but the brand exposure surge, can drive a variety of goods - Big White Rabbit 2019 sales data show that the company's milk sugar sales exceeded 1 billion yuan, up 25% year-on-year.
By the summer of 2020, the Great White Rabbit Ice Cream, an innovative item, will also be officially served in the freezer of convenience stores. This time, however, the Great White Rabbit did not continue to work with Godiva, but instead found a local Bright Cold Drink foundry in Shanghai. In an interview with the Youth Daily in mid-September this year, Li Junlong, general manager of Bright Cold Drinks, revealed that the sales of the Great White Rabbit ice cream this year have exceeded 80 million yuan.
But a massive 60th-anniversary national tour, if the white rabbit is only a breakthrough at the selling level, rather than a brand level of real old and new, it may mean that the old brand's ambition is still to wrap up with that classic piece of sugar paper.
Yi Magazine of First Finance learned that yiMagazine, who had helped the Big White Rabbit plan a brand exhibition and various joint planning and marketing companies, has received a new project this year - for the same candy start-up, this year has been 110-year-old Japanese brand "no two" to do a tour.
It can be seen that the consumer market chasing traffic can always find the next older, more eye-catching classic IP, even if it does not have a "national goods" aura to hold.
The plan can't keep up with the change
Instant coffee in the new national brand "three and a half" these two years is very hot, this year in June 18 has been upgraded to Tmall coffee category sales first. The company's team expanded, but when the interviewer asked: "Why have I received the slowest courier in recent years, are your family?" "
Three-and-a-half meals are a "boutique instant coffee" that is more advanced than traditional instant coffee and retains its flavor better. Since its launch in 2018, sales have been growing three to five times a year. But every time e-commerce, the factory's capacity is always not enough to meet the enthusiasm of consumers. In June, the company's "24-hour delivery rate" was once 56.6 per cent "disaster-grade".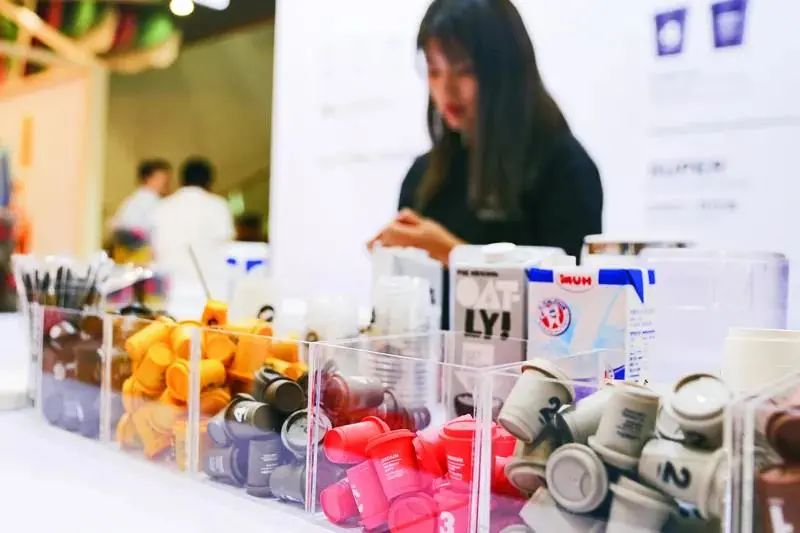 China's consumer goods production of industrialization level is not low, for large brands to do foundry foundation is very solid, it should not be a small instant coffee or a cosmetics difficult to live.
Another brand of fine coffee portable products, Yongyu, locked in the capacity of the only qualified founding plant at the time in a cross-share swap early in its life. Three-and-a-half are placed with factories by estimating sales and market growth, which often results in a dissolue between sales and production.
Another difference is that three and a half in order to improve the quality, decided to independently develop extractors, freeze-driers and other equipment.For brand-driven brand-oriented new brands, it is still a rare practice to actively extend the management radius to equipment research and development in the supply chain.
Another example is the Japanese bone soup ramen to open the market of the new national brand "ramen said." Its high taste reduction of pig bone soup, behind a condiment company "Suzhou Zhong" to support research and development. At present, Suzhou Zhonghe is also a box horse fresh, underwater fishing and other food and beverage brands suppliers, said to be able to achieve a variety of "salt solutions."
Detail innovation has become the core factor to support the development of the "new national goods" brand.According to the Ali Research Institute's 2020 China Consumer Brand Development Report, the overall contribution of category innovation of Chinese brands in the consumer goods industry as a whole reached 44.8% in 2019, an increase of 15.2% over 2018. Among them, mother and child / children's supplies, furniture, clothing, bag accessories, small appliances, architectural decoration and other six industries are mainly relying on category innovation to achieve market expansion.
The theory is beautiful, but it's not easy. For startups, research and development innovation or expanding mass production means spending more energy and money on the supply chain to strengthen collaboration with factories. The key to betting on a factory is often not the demand itself, but the point in time.
"The buying and selling relationship between brand and factory is not necessarily the basis of trust at a critical time for product start-up. Brands, for example, want to increase production from 10,000 units to 300,000 units next month, meaning suppliers will need to invest less. "The president of Xinbao Electric, a small home appliance brand started with foreign trade, said in an interview with Yi Magazine of First Finance.
During the product design phase, factories often have more experience and the ability to address consumer pain points more quickly. In the development of a cast iron pot, from the foundry to the independent brand of small home appliance brand Beading did not strictly follow the French, Japanese and other countries' recipe design, but for the Chinese cooking habits of cooking meat, in the pot water preservation rate, heating time and other details of the indicators have been improved.
"On the one hand, to keep the taste of the food fresh, on the other hand to maintain a better water rate. We'll see how much gas the lid leaks, how the water flows back into the pot, and make a lot of improvements. Zhang Moxuan, chairman of Beeding Jinghui, told Yi Magazine, First Finance.
According to Wu Jun, the company's expanded 30,000-square-meter plant is now filled with "huge, matrix-lined space-class freeze-dryers". This self-research production line, the initial design capacity can meet the monthly sales demand of tens of millions of yuan of products, but the scale of development to a higher stage, these small machines are useless.
"We didn't want to solve the big problem by copying the small production line, so we decided to build a joint venture and upgrade all the equipment to the new system. Shipping may still be slow during this time, but we will be more proactive in solving the problem because it means that the market demand is too great and the new system provides greater efficiency and value. Wu Jun told First Financial magazine. By September this year, the 24-hour delivery rate for three and a half meals had exceeded 90%.
The transformation of plant science
In June this year, Yi Magazine of First Finance went to Shunde, Guangdong Province, to try to understand how small household appliances such as juicer, multi-purpose pot and yogurt machine, which have been on fire for the past two years, became "net red". But after interviewing head manufacturers such as Xinbao and Cubs, we found thatBehind these "new national goods" brands, is still from the factory to do their own brand, to e-commerce platform to open stores upgrade ideas.
Market economic development so far, China's consumer goods manufacturing industry's contract capacity has always been the cornerstone of brand development, even if some of the early methods are disgraceful.
Take "Chinese shoe capital" Fujian Jinjiang as an example, many local shoe factory from the label factory to the first step of independent brand, often refer to the customer's shoes to obtain the design direction.
This is, of course, an advantage for brands that start their businesses through the supply chain. Before deciding to do the sneaker business, Pang Xiaomin, the founder of Pepper Shoes, was an Internet entrepreneur with no manufacturing experience, but his knowledge of upstream made him think the success rate of the venture would be high.
"No designer in any country has done so many products at a young age, like designers in our country. This gives them an understanding of the cost structure of an thing, the density of the market, and the feedback of the market. Foreign designers are far apart from the market. "For the design link, Pang Xiaomin has commented on the differences between domestic and foreign.
What the factories lack is mainly experience in brand marketing and determination to engage in new channels.
When Internet e-commerce emerged in 2008, Xinbao Electric had the opportunity to change its sales strategy and sell its product development capabilities plus brand packaging directly to consumers, but it failed to materially. "We missed a lot of opportunities to match our abilities." In an interview with Yi Magazine of First Finance, the president of Xinbao Electric, Zeng Zhanxuan, expressed such feelings.
So wait until 2017, the e-commerce sector appeared the next opportunity, Xinbao with the opportunity of agent British brand Mofei, set up an independent brand development division, determined to "cut OEM and brand." This means storing market and operational talent with e-commerce experience, while re-planning production and inventory.
The Pearl River Delta e-commerce economy is developed, even if the company is not in the big city, want to build a team is not so difficult. But for the past four or five years, the high mobility of front-line workers has been a dilemma for manufacturing companies. Li Yifeng, general manager of Cubs Electric, has found in statistics that only 50% of the company's workers return to the company after the New Year, and the other half are rehired.
"So why companies are pushing for automation and reducing employee movement is a real problem." Li Yifeng said in an interview with Yi Magazinge, First Finance.
Unlike selling goods through dealers or opening their own stores, watching data, promoting, or using the community to find seed users and gain insight into the subtle needs of consumers is also new to foundry. Fortunately, beauty, clothing and other categories earlier has become a new brand of rich mines, small home appliance manufacturers can follow the study of micro-blogs, small red books or shaking sound, Taobao live play, and how to do advertising in these media channels, and finally make a "burst."
Based on the degree of concern and the user's taste of the practice, the actual change of small appliances before the "classic" pursuit. Smart design, novelty and fun, often new, these common traits in the traditional fast-food category, are being used in the small home appliance market.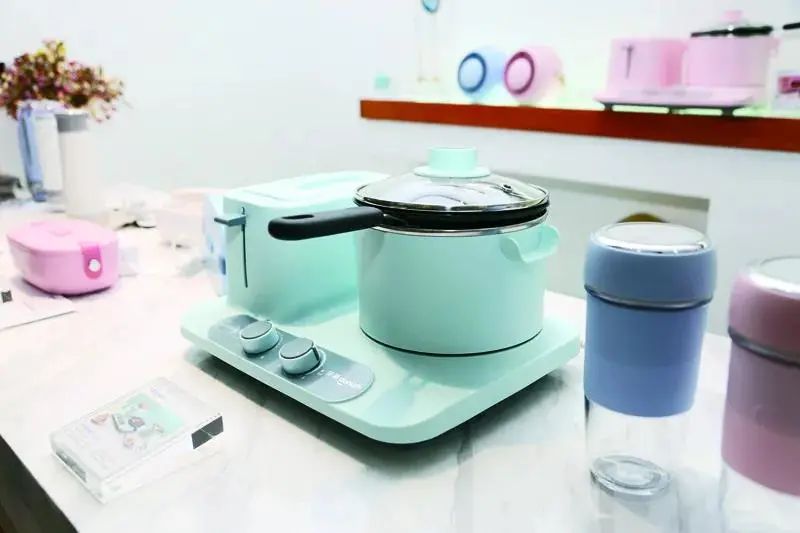 For example, one of The Bear's home products, egg cooker, there are currently more than 10 different subdivision functions of the version on sale, some upgraded to be equipped with steamer can steam frozen food, some increased the timed appointment function, and in recent years developed a multi-functional breakfast machine, sandwich machine, pan, doss stove, electric heating pot and other functions can be any combination according to demand.
But explosive products do not have a high technical threshold, but also make it easier to follow the trend.In an interview with First Finance magazine, Zhang Mohui, chairman of Beeding Jinghui, said he was not too focused on the short-term emergence of demand and was mostly skeptical of the industry's bursts.
"Hot things come and go fast. Some things will stay and become trends, such as retail e-commerce. Since it becomes a trend, starting earlier or starting later is not too different. Mr Zhang said.
Face up to the competition on the same subject
Perfect Diary and Hua Xizi, who will be the sales champion of this year's Tmall makeup category? The problem itself, which cannot be drawn from the current data, makes the perfect diary nervous.
Both companies are the hot "new national goods" brand in the past two years, in the community operation, joint cooperation, live shipping and other marketing new play, but the perfect diary in 2019 became the first to surpass the international big name, won the double 11 cosmetics category sales first. But this summer's data monitoring shows that between May and July, Huaxizi's online GMV was always higher than the perfect diary, and the proportion of products sold more than 10,000 a month was even better.
An industry investor has learned that Hua Xizi has become the focus of discussion on the board of perfect diary every time, has been repeatedly studied, "but the data is always difficult to surpass."
If Hua Xizi has any know-how, earlier attention to Taobao this year began to pay attention to live shipping, may be a reason. In September 2019, after Li Jiaxuan became Hua Xizi's chief recommendation officer, the selection strategy in the field of makeup was tilted. In the first seven months of this year, Li Jiaxuan recommended Hua Xizi's loose powder and lipstick 45 times during the live broadcast, nearly twice as many times as the perfect diary was broadcast during the same period.
In the same category, brands compete fiercely for traffic, especially online traffic. "Where the marketing budget is essentially equivalent, performance growth can only come from other channels, or from other product attempts."
The head of the new tea drink national brand happy tea, sometimes also have to think about such issues. By 2020, the company is expected to have 800 stores worldwide, often under pressure from takeaways and traditional, large and small stores. But as stores opened more and more, user enthusiasm for the brand slipped, and the "tea of inspiration" aura faded rapidly.
One of the ways magpies think of breaking the problem is to quickly expand the whole category - soft european bags, NFC juices, bubble water, ice cream, so that consumers can see happy tea in more places. But it also means that in a convenience store, the magpie tea party meets Yuanyuan Forest, Farmer's Mountain Springs in the refrigerator, and Zhong Xuegao meets in the freezer, and the focus of the brand's efforts has changed from internal competition in the category to an "all-out war".
It's rare for a brand to be so aggressive in invading areas where they're not good at it. They often take advantage of "small and beautiful" to communicate accurately with target audiences in market segments. HomeFacialPro, Ramen, Santon and other "new national" brands, almost all use this method to build brand awareness.
Most of the difficulty of competing on the same subject lies in the high similarity of competitors' thinking.For example, Wei li, Xiaopeng, ideal and other hot in recent years, "new national goods" electric car brands, in fact, are trying to high product prices, breaking china's domestic car brands have been difficult to break through the pricing ceiling.
To do this, they have either erred from the old marketing style of car companies, either with the charm of their founders, relying on a unique service system, or emphasizing their geek attributes, each winning a small group of loyal supporters.
On the Ully app, owners interact so often that they talk passionately about the advantages of their cars over traditional ones, and they even pay for their own brand advertising. This sense of pride and identity with local brands may have only appeared in electronics such as Xiaomi before.
But a small range of heat, has not yet been translated into public recognition. Outside the small circle, auto forums continue to criticize the shortcomings of these models, and many remain skeptical of emerging local brands. This is partly due to defects in the new brand's own products (a lack of experience in car research and development and manufacturing inevitably leads to product defects) and partly because of the natural distrust of consumers. Even if they don't know the brand, they're more likely to exclude them from the options first.
The biggest obstacle to the emerging electric car brand Breaking the Circle remains their "template" Tesla. The pioneer has accumulated unmatched brand influence around the world, and when it uses its factory in China to lower the price of a car below 300,000 yuan, consumers will gladly accept that 300,000 yuan will buy a cool luxury brand.
Today, in shopping malls in first-tier cities, several electric car companies can often be seen competing up close in the showrooms. The head of a Weiwei showroom told YiMagazine, a first-timer, that they could level the playing court with Tesla next door as they try to win over home users. Of course, many consumers will be heard to say directly, "Your car is really good and well-equipped, but we still want a Tesla." "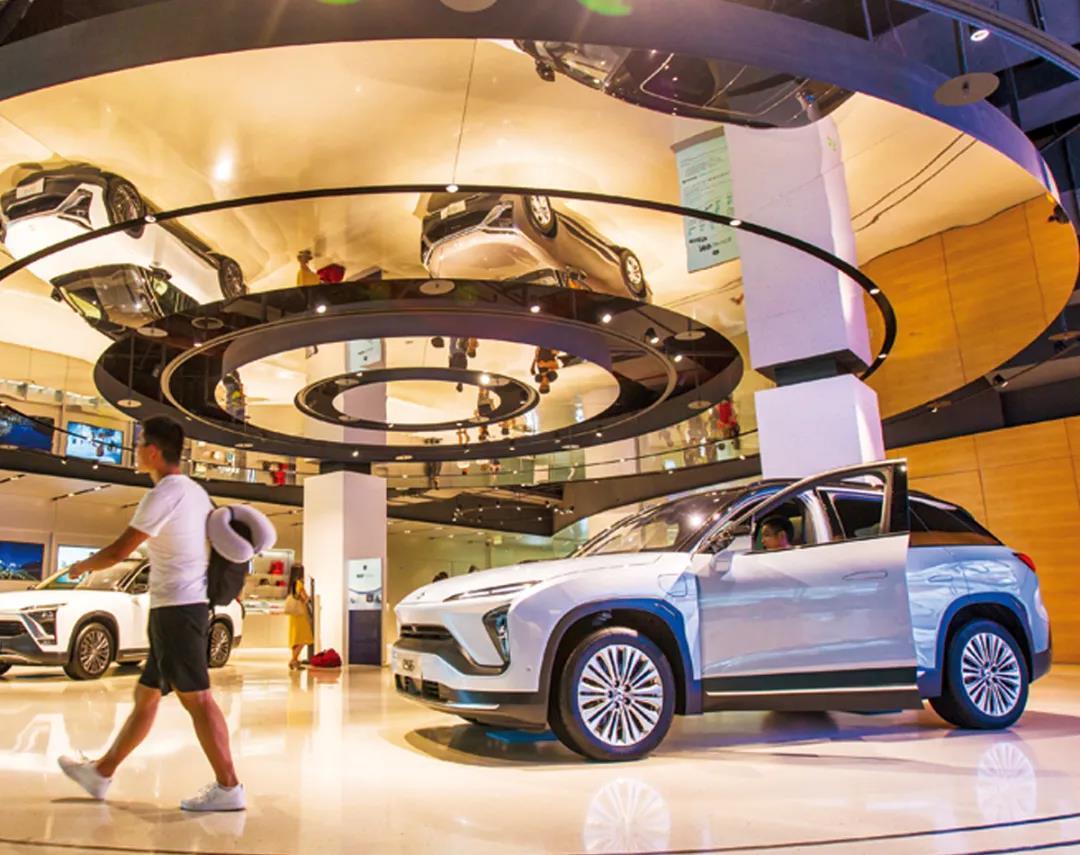 When the company grows up
On June 19, 2020, Zhang, as the founder of the company, participated in the bell-ringing ceremony of the listing of Beeding shares. The company's initial public offering on the GEM was less than 6 yuan per share, and three months later, Beiting's share price rose about 400 percent to more than 30 yuan. Previously, the company listed a new three boards in 2014.
Before boarding the GEM, Beeding Jinghui had done little equity financing and had only listed three new boards in early 2014. Due to the simple listing procedures, financial indicators requirements are very low, the new three boards have absorbed a lot of well-known national brands and industry institutions, including the sale of "blind box" bubble mart, net red MCN such as Han Holdings, the old name Xie Yuchun, and so on.
And when these brands get the "national goods" label, venture capital institutions and stock exchange boards often tell completely different stories about them.
On September 8th, Farmer Shanquan, who had a solid performance but little deliberate emphasis on the concept of National Goods, was listed on the Hong Kong Stock Exchange and was oversubscribed by 1,148 times the market during the public subscription phase, resulting in the freezing of HK$67.95 billion (about RMB591.2 billion) before the listing, making him the largest "frozen king" in the history of Hong Kong stocks;
On September 21st Li Ning's share price hit an all-time high of HK$37.35 (RMB32.56), up 62 per cent so far this year, with a market capitalisation of nearly HK$100bn.
In just one year, Bubble Marte's value has risen from 2 billion yuan at the time of the new three-board de-listing to $4 billion to $5 billion as rumored before the Hong Kong listing;
Hi-Tea and Perfect Diary have both completed huge financings in 2020, with valuations of Rmb16bn and Rmb4bn (RMB28.4bn), respectively;
Even the smaller three-and-a-half-year-old has taken four rounds of venture capital financing in two years.
Financing helps companies grow up, and listing is often considered the most significant moment in the corporate aura. However, this year's U.S. stock market, among the "China Stock" among the new chinese brands, is certainly not the friendliest.
As a result of the collapse of the Swiss myth and trade frictions between China and the United States, the SEC intentionally or unintentionally strengthened its supervision, and in August this year put the idea into practice in a report on protecting U.S. investors from significant risks to Chinese companies, requiring china's general stock to comply strictly with U.S. audit regulations.
When you become a big company, the risks of globalization can sometimes make them particularly vulnerable. Huawei, for example, the representative brand of "New China Goods", its consumer business CEO Yu Chengdong, has said that the second round of U.S. government sanctions hit, Huawei's high-end mobile phones used in the Heath Kirin chip after September 15 can not be manufactured, the company's full-year mobile phone shipments may shrink year-on-year.
The realistic choice of China's economy accelerating towards the "internal cycle" is undoubtedly good for chinese consumer brands. The huge population base, the growing number of consumer hotspots, and the rapid economic recovery in the post-epidemic era may all convince more people that China can produce its own L'Oreal, Shiseido, Starbucks or Nike in a short time.
This has forced many young brands to mature.
---