Microcast Yi Xutao: Social media integrated marketing into the era of grass 4.0
The following article comes from China Beauty.com , author Xu Tao

China Beauty Network
Beauty new retail information platform

(For the full report, please click to read the original article)
Author: Xu Tao/Vice President, Microcast YiXin Media Resource Center

Finishing: Luo Wei/China Beauty.com
Microcast Easy (ID: weiboyiweiboyi) is the industry's leading data-driven short video KOL trading platform, currently stationed on the platform more than 1 million KOL resources, monitoring 10-20 million KOL accounts per day, analysis of the value of commercial articles, with a huge data base to serve advertisers at the same time to help from the media, net red, people cash. At the 2020 China Beauty Network Red Selection Conference, micro-broadcast yi (ID: weiboyiweiboyi) was awarded2020 China Beauty Network Red Selection Conference Best PartnerAwards.
Ad serving tends to integrate social media marketing
The following conclusions are obtained from the microcast (ID: weiboyiweiboyi) data:
Conclusion 1: Jiyin, B station, small red book demand is growing rapidly, can focus on the platform.
GMV data from various platforms show that the growth trend of Jiyin, Xiaohong book and B station is much greater than 100%, indicating that advertisers in these media platforms to buy KOL costs are increasing significantly. The mainstream social media platforms for advertisers are Weibo, WeChat, Jiyin, Fast Hand, B Station and Little Red Book. Weibo's share has fallen year-on-year and is now about 25 per cent, while WeChat's share has fallen for three years in a row, from about 50 per cent to 20-22 per cent. In contrast, the proportion of jitters is increasing year by year, with the current budget at 30%. The growth rate of small red books is also particularly fast, now accounting for about 20 percent. B station growth is very fast, after the first half of this year B station several waves out of the circle, a variety of brands, MCN institutions and practitioners are concerned about B station. Moreover, Station B now has a larger dividend opportunity, the platform also has resources to support.
Conclusion 2: The competition between the platforms is intensified and the life cycle is shorter.
Platform competition intensified, with a monthly ranking of less than 20%. Jiyin new bloggers, new people are emerging, difficult to stabilize. B station because of powder and content quality requirements are much higher, so the stability is slightly better. In a highly competitive platform, in addition to content, most advertisers pay more attention to hot events, so that their own brand, marketing services. In platforms with low iterations, the quality of content is more important, with nearly 50% of traffic from station B coming from historically relevant videos and high repeat viewing rates. At the same time, the platform's competition is also deteriorating, in the anchor, talent did nothing wrong, and strive to operate the content of the situation, the picture of the era of account life cycle of about 9-24 months, the era of short video into 6-12 months.
Conclusion 3: Mid-waist and long-tailed accounts are more popular with advertisers.
According to the platform's May-June 2020 data, advertisers in jitters to run different fan gradient accounts accounted for 4% of the head cost, waist 49%, tail 33%, vegetarian 3%. From May to June 2019, the budget of advertisers spending money on their heads fell by 55%, the same decline as before the outbreak, so advertisers spent most of their money on mid-waist accounts, as did fast hands. The overall structure of microblogging is relatively stable, at present, no matter how advertisers pay for advertising, microblogging is a must. Little Red Book is growing very fast, because it attaches great importance to the sharing of each user's real experience, has a strong real and trust endorsement, has a big impact on fans. WeChat and Station B are also mostly at the waist.
So the current grass-growing activities, we sink to the middle waist to choose KOL trend is becoming more and more obvious, and is still in the dividend period, including CPE and CPM, including the overall cost is relatively cheap.
Conclusion 4: Advertisers pursue product efficiency.
Before August, micro-broadcast easy (ID: weiboyiweiboyi) received more than a billion demand, most of them are talking about grass, live-streaming with goods, e-commerce diversion. Now the overall media traffic and demand is more and more inclined to product efficiency, rather than single event marketing.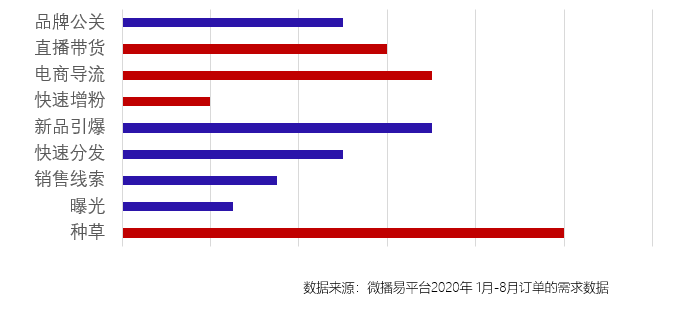 Conclusion 5: The trend of integration of social media marketing is becoming more and more obvious
More than 90 percent of advertisers choose social media platforms with two or three, rather than tweeting, shaking or fast hands. Brands and products to capture consumers in the difficulty of increasing, because everyone is fragmented, may look at Weibo, WeChat in the morning, noon to see the fast hand, shake the tone, the afternoon to see small red books, in the evening to visit Taobao, in this case to serve ads or e-commerce to sell goods need multi-touch multimedia platform to reach consumers, that is, the need for social media integration marketing, in order to achieve good results.
Interpret the new game of grass 4.0 from the "human cargo field"
What is Grass 4.0?
Three years ago to play Weibo, sent out a micro-blog everyone saw the same material, this is called a thousand people one side grass pattern, is a grass 1.0. Two or three years ago WeChat, Weibo to do integration, different scenes of different media to see the material and content are not the same, this is called a thousand people, is a grass 2.0. To the era of short video, into a thousand faces, may see through a funny way to show a brand, to the small red book became a review, to B station may be a game or secondary scene, this is a kind of grass 3.0.
And 4.0 is based on one person a thousand faces to achieve the product efficiency in one. Affected by the outbreak, the cosmetics industry offline channels are very affected, we are all moving online, many new brands through live or social e-commerce model rise, we are looking for transformation, and this transformation focuses on product efficiency, to make their own sub-categories, soPlant grass 4.0 is a thousand faces plus product efficiency in one。
How do you play grass 4.0? Let's talk about it from the e-commerce "people's playground".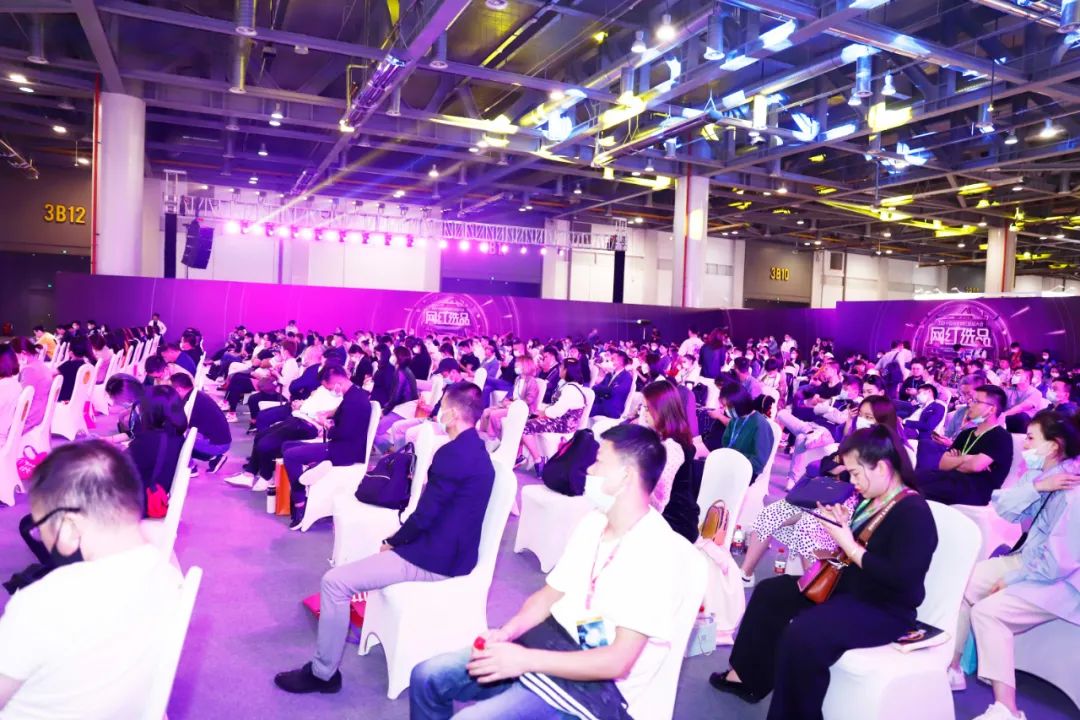 "Goods" is the name of the polishing and anchoring of goods; "people" is the OBJECT of grass who and how we should choose to plant grass KOL; "field" is what kind of scene and what platform to choose.
At present, the market popular grass products and market share is relatively large food and beverage, clothing shoes and boots and beauty care these categories, they share these characteristics:
1, more, more goods, rich categories.
2, fast, belong to fast-moving consumer goods, buying decision-making fast.
3, good, high face value, good effect, good composition, good theme, selling point can catch the eye of consumers.
4, save, 200 yuan or less of goods are more likely to arouse consumer interest, in the face of particularly expensive things, consumers in the live broadcast or social e-commerce decision-making time cycle is relatively long, according to the characteristics of the product different time required is not the same.
Another key point of "goods" is that there is an anchor name, the name is particularly important, the first is to make the name with the characteristics of the product or scene has a strong combination. The second is because the consumer's contacts are very dispersed, the flow between different platforms is particularly easy to cause the loss of traffic, cross-platform grass needs to be recognized "keywords" as link points and traffic mouth.
In terms of "people", we need to understand what the target population is like, what areas of activity, what platform to play on, and what scenes to use to reach him. The second is a more beautiful pattern that combines the scene with the user's pain points.Not finding the right KOL is actually a pseudo-proposition.For example, mother and child products, every day how to drink milk powder account number in KOL is very few, so may not find a suitable KOL. But the ads are mainly bought not just for the content of this number, but for the mother and child fan base behind it. Fan groups read content on social media not only look at milk powder, such as women, in addition to watching mothers and children will also look at food, beauty, touch they need to through different ladders of the model to pull out the service circle.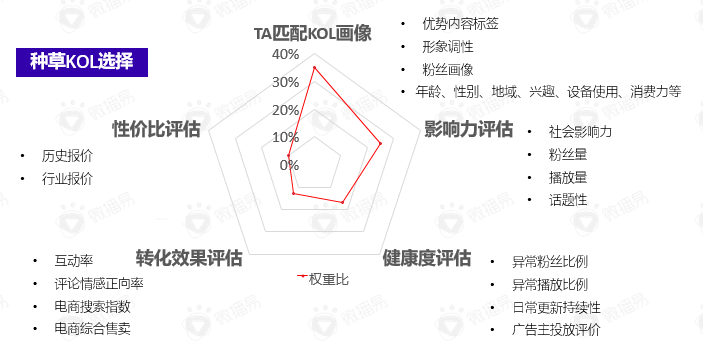 Microcast Easy (ID: weiboyiweiboyi) has a five-dimensional data account filtering model methodology that helps advertisers choose grass KOL, assessing from multiple latitudes whether KOL is right for you and your product, and five-dimensional includes cost-effectiveness assessment, conversion performance assessment, health assessment, impact assessment, and matching KOL portraits.
"Field" is divided into social shopping malls and traditional electric shopping malls. Social electric shopping malls are like shaking small shops, fast hands also have quick hands small shops, micro-blogs now jump to outreach also have to charge commissions. The new social shopping mall will make traffic into closed traffic, especially shaking sound, is now only live, the future may ban other external chains, to do their own see-and-see. The social mall is likely to have a dividend period in the next two or three years, as Taobao did then. Traditional electric shopping malls like Suning, dodo, we are already very familiar with, the same need for heavy attention.
Summarize the overall methodology of grass 4.0Test-buried-dig-sow-pull-sunbathingSix steps, "test" is the test, first take a circle to test whether the product selling point and the crowd match, and then the head "buried" into, through the star big V to "dig" product advantages, "broadcast" is to expand the dissemination of items, quickly spread out this matter, "pull" is to pull grass, node or make a big push, the crowd collected, "sun" is to let KOC products and use experience out. So repeatedly form a word-of-mouth cycle, as long as the scene is suitable can be used methodology.
The above content is Xu Tao in the 2020 China Beauty Network Red Selection Conference (Hangzhou Station) wonderful sharing.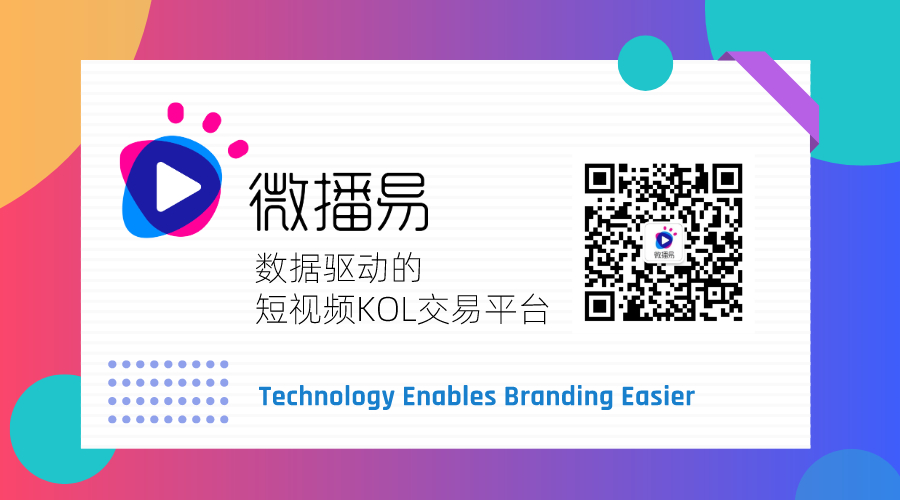 ---