Internet companies trap 20,000 people
The following articles are derived from flipping through books The author Pan is disorderly

Flip through the books
Science and technology archaeology, research company's rise and fall cycle.


Internet company employees to 20,000 people, the common action is the CEO wrote a letter, clean up the management team, in the company to carry out a clean-up campaign.
Source: Flip Books (ID: luanbooks)
China's 1.4 billion people can be stable and development, Foxconn 1.2 million people can also be stable and developed, why Internet companies to 20,000 people feel that management is very difficult?
Internet companies employ 20,000 people, one is the emergence of a huge central Taiwan, the other is rapid BU. Zhongtai is monogamous polygamous effort not to please, multi-BU each fight can not form a joint force.
Take Foxconn. Foxconn is a manual laborer, a pipeline worker, as long as you follow the standard movement to do a good job, convenient management. But is it true?
The Internet is intelligence-intensive, to encourage everyone to break through the self, what is needed is coordination rather than management, this industry itself is a relative pursuit of equal rights to centralize, everything must hate to discuss game compromise, which internal consumption costs and resistance in the end natural hair (change) exhibition (difference) into the form of Taiwan and BU.
Who has less entropy and who survives. Can you really explain it with a weak compensation theory that is simpler and better controlled?
Internet companies, 20,000 employees are Dokan.

Internet companies to 20,000 people, basically have played down a mature foundation, this time will face greater management and competitive development problems. At this time the CEO's common action to write letters, one hand grasp the management team, one hand to engage in wind sports.
On the one hand, because most of the CEO of Internet companies are research and development-born science and engineering men, very early start-up, did not care about so many people have not been tubed. "A lot of CEOs have just slogan-style technology that changes the world dream or a vulgar IPO dream, and they're the dwarfs of top-level design in terms of corporate management philosophy. Most have not formed a unique management philosophy, develop a sound management structure, mobilize and play a strong organizational strength, such as 12-year-old children although 170CM but mental development is immature. "(Ji Zhong Exhibition)
But I also think that corporate culture is the boss's character, management style is the CEO's world view of the refraction. I'd like to say that the company's problem is management and culture, but fundamentally the CEO's cognitive problem, miscalculation problem.
Take two unsuccessful cases: Google bet on social, and Baidu misjudged mobile.

Google's Q2 reached 20,000 people in 2010, with revenues falling significantly per capita, and Page's re-appointment as CEO in 11 years launched a product line purge, google wave, buzz, knol, desktop, labs, Sidewiki, reader.
"Since I became CEO again, I've been trying to improve the company's turnover and execution efficiency, with a focus on the biggest bet that could change the world," Page explained at the time. "
The biggest bet in Page's mouth is socializing. In order to push the G-plus, cut out Reader, and turn the user's private photo album Picasa into publicly searchable, YouTube had to use G-plus to log in to reviews, a stage in Page's worst user experience for Google.
At the time, the number of G-plus teams exceeded even the total number of engineers on Facebook, but as a result G-plus was always a ghost town and eventually closed.
Baidu is also about 2012 to 20,000 people. At the 2012 Baidu World Congress, Robin Li also believed that the mobile Internet was drunk driving, which was a fundamental miscalculation. Later in the 360 big kill into the search market, the end of the year sent an internal letter, shouting to "encourage wolf sex, the elimination of small capital." At that time, the wording caused some backlash both internally and externally.
The internal letter, titled "Change, Start with You," expresses Li's concern about the company's cultural variation, hoping to wipe out the company's gnawing old class. "Calling for wolf sex is about carrots and sticks, and making it clearer to all employees that if they want to find a stable job that doesn't work but don't want to live a mixed life, please leave now, or our big ship will be towed down."

This is actually an emergency response. Search is 360 hit, is Baidu's most nervous time, because search is their own lifeblood, 360 hit things are precisely what he is familiar with, search every pit I have visited. But because 360 is very wolf sex, so Baidu also want to encourage wolf sex, ignoring that Baidu's employees and cadres are not wolf sex, good students suddenly began to shout and kill is actually not very knowledgeable.
Baidu culture is actually talking about focus, is everything in order to search. Perhaps as with today's byte beats, what everyone admires is the absolute advantage that absolute resources bring. Search cattle can be, but when the search is not cattle and then focus, it is easy to buck the trend, just like Google to do social, Ali in the face of mobile push and turn, Baidu and Facebook in the face of mobile's first reaction is to reject the APP, to do H5. Because making decisions within the company's core competency and making other decisions requires different points.
The direction height is not enough, but the action is fast, it will certainly go wrong.
Miss don't need a reason, don't miss the need for a reason.
The easy problem for an Internet company of 20,000 people is that the team becomes arrogant, the quality of output per capita and the number of candidates is declining, and the salary and development range of the employees added is limited.
To solve these problems, in fact, can not be a headache head and foot pain, or from the top level of design, first to solve the problem of corporate governance structure and cultural clean-up.
When Huawei reached 20,000 people, Ren Zhengfei published "Huawei's Winter", "The management points of the past three years are all about per capita efficiency." Without the growth of per capita benefits, management will not progress. Therefore, the most important and core of an enterprise is the pursuit of long-term, sustained per capita benefit growth (financial and per capita potential). "
Alibaba in 2009 to 20,000 people, 18 Rohan collective resignation re-apply for partners, and Huawei in 2007 engaged in 7,000 resignations, so that the number of collective resignations within 20,000 re-election.
In 2009, Ali B2B's direct sales team had a number of employees who, in pursuit of high-performance, high-income, deliberately or negligently led some companies suspected of fraud to join Alibaba's platform. In order to maintain the company's "customer first" values and integrity principles, the company's CEO Wei Zhe, COO Li Xuxuan resigned. "Integrity is one of Alibaba's most important values, and any violation of our culture and values is unacceptable," Mr Ma said at the time.
When Wei Zhe's position is very similar to today's Jiang Fan, many people will use Ma Yun and Zhang Yong to the two executives of the different ways to observe the difference between the two CEOs. For example, an Ali classmate expressed the company's claim that the law is not strict questioning, "Wei Zhe is only management accidents, is implicated, before just downgrade, not open." Jiang Fan's handling was too light, and it was disappointing to see the results. But another Ali classmate explained, "Wei Zhe's problem is a value problem, Jiang Fan's problem is a question of personal virtue, the nature of different." "
Problems within the company, while ensuring that the general direction is correct, also need to adjust the organizational structure and improve the culture to do systematic corrective.
Many people say that it is very difficult to balance the interests of all parties in the enterprise. Especially when your character is a soft one, or if I'm a pacifist, I'm not going to start this war unless it's on my doorstep.
Ma Huateng in 2010 may have had the same problem as Robin Li in 2012, only to be woken up after the 3Q war.
Tencent in 2012 2000, because of the 3Q war and in order to better face the mobile Internet, the company made a major organizational restructuring, to fine-tuning the government, the next year issued an internal speech, "leading cadres to be hungry, not rich second generation." We have to be passionate, we have to learn, we have to be open. "
Tencent in QQ has done very well in the case, or let WeChat to make, and then can continue to maintain weChat's resource investment, this matter in many companies is very difficult to do. Being able to find out who's good, or even who's good at choosing this new product, is a big challenge for management, requiring them to dare to make decisions and analyze.
The company's pursuit of accuracy in the early stages of development can win. The reason why startups exist is a unique understanding of the business, the whole company to do only one thing, and the big factory at best can only send a small team. Startups don't have to exist if they can win better simply by investing more than anyone else.

But after the company has reached a certain stage, the company's mentality should change, you have to pursue is not to miss, not to miss is an important thing.
Tencent was stimulated by 360, and the fast hand was awakened by the shaking sound. After a year of being overtaken by shakers, Quicks hands will also announce their farewell to the Buddhist family in 2019.
Cebu hua and Cheng smiled as they expressed dissatisfaction with the status quo of fast hands, loose organization, Buddhist attitude, let them sleep difficult, think it is necessary to change, reflect on their own has been ignoring the organization of construction, "We are not the fastest running team, in the process of growing up, our muscles began to become weak, slow response, our connection with the user perception is weakening." "
As a result of the reflection, the whole staff was called upon to enter the fighting state and open the door to the future. "We're going to change the organization and optimize the structure," "We've always wanted to make a great product, so now we want to be a great company." "
From the Buddha system to the wolf nature, mobilize the company up and down the input.
从 run 产品到 Develop a company as a product。
But wolf sex is really not a good word, or there is a stage of application.
Encourage wolves companies generally prefer militarized management, the army's playing method is more to win to win, to win the war as the goal, win the battle as the goal. That is to say, we must win, take a mountain or beat some people, the first starting point is not to take the initiative to help customers or users.
Wolf culture will be more biased towards zero-and-zero games, easy to be hated, easy to exacerbate a lot of so-called contradictions.
If you think of a business as a person, culture is a person's character, Uber is a distinctive character of the rule challenger, subversive. Uber's cultural values are a fearless spirit of dealing with difficulties and challenges, a positive, rule-breaking force that encourages quick problem solving without caring about rules and authority.
Uber's cultural values, drafted by CEO Travis Kalanick himself, were first announced at Uber's 5th annual annual meeting in September 2015. Fighting to the end "Always Hustlin", the hot-blooded "Superpumped", the big vision big risk "Big bold bets" are its three most representative.
The Chinese translation below is an adaptation of the good Chinese song "The Water Otter" by Uber China employees:
Celebrate Cities roars through the city
Meritocracy and Toe-Stepping are the time to shoot
Principled Country meets the greats of power
Winning: Champion's Mindset wind and fire fight upstream
Let Builders Build says hit us
Always Be Hustlin's fire in the water doesn't look back
Customer Obsession is a bowl of wine, no less expensive
Make Magic doesn't change from one to the other
Superpumped Hey, hey, hey, hey, hey, hey, hey, hey, hey, hey, hey, hey, hey, hey, hey, hey, hey, hey, hey, hey, hey, hey, hey, hey, hey
Inside Out is a dog from the inside out
Bean Owner, Not a Renter You have everything I have
Optimistic Leadership is optimistic and open-minded, and enjoys the future
Be Yourself is who you are
Big Bold Bets Big Vision, Big Risk
Aggressive wolf culture has helped Uber quickly capture global markets, but uber has also become Silicon Valley's most rebellious and controversial company because of its aggressive, fearless wolf culture. The latter became an unbearable source of pressure for employees, and the ongoing scandals at Uber in 2017.

Companies can not only focus on growth and scale, but also timely strengthen quality and responsibility.
One-sided focus on growth and scale, without enhancing quality and accountability. This is april 2018 Zhang Yiming's apology letter content, the background is 10 million-level DAU product connotation segment by the relevant departments suddenly unplugged the network cable permanently shut down. It was on the rise, but the company was called today's headliner.

Byte beat that stage the company just more than 20,000 people, but also actively made some action to fight the big company disease.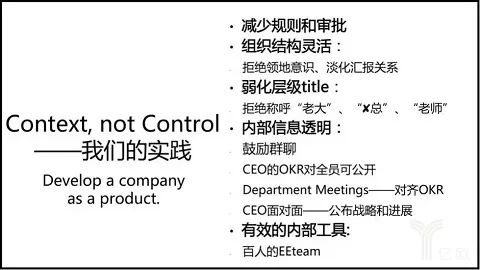 The practice of byte beat persistence is context, not control. The immediate source of the direct impact was Netflix, and the founders of Nye, a successful entrepreneur at the time, were hoping to create another "Amazon" in an industry.
Both Nye and Amazon are typical adult cultures. There is a section in the Na fei culture manual that employees should not be allowed to make the company their home. Because the company is the place to fight, home is the place to rest and comfort you.

Until the acquisition of music.ly at the end of 2017, byte beats were working around the PPT of the content type and distribution tools that Zhang Yiming painted in 2012. But by 2018, as the company grows, it will be actively exploring new businesses and investing more heavily in globalization. The company's vision also companies from "the most understanding of your information platform, connecting people and information, promote creation and communication." Upgrade to a global authoring and communication platform. "
Vision changes, learning benchmarks change, from learning Silicon Valley to learning Seattle. Previously, Facebook and Google were more likely to follow Facebook's growth team and advertising business, and Zhang Yiming would have asked executives to read Google's biography, How Google Works, written by Google Chairman Schmidt, but by 2017 the company had clearly become more research and reference to Amazon as the company's business became more complex and Amazon's preference for adults more in line with bytes.
For example, in the summer of 2018, the "work hard, have fun, make history" slogan from TikTok's Japanese office came from Amazon's recruitment slogan.

"When I interviewed people, I told them, 'You can work long, hard or smart, but at Amazon, you can't choose two-thirds,'" Bezos said in his first letter to shareholders in 1997. "
Although Amazon has reached the top of the world by market capitalisation, Bezos is also the world's richest man and has reached the pinnacle of corporate and CEO success. But in his view, he still has a long way to go. Amazon particularly loves PR's start-up history, and Bezos has always said he hasn't set up an "a lasting company" and that "the Internet in general and Amazon.com in particular, is still in Chapter One."

Zhang Yiming has also been avoiding byte beat to become a big company, want to maintain a culture of garage start-up style, so byte fan will also have Amazon's famous slogan "Always Day One."
Zhang Yiming said he wants to "develop the company into a product" and that the core of improving the speed of the company's products is management and values. Management is relatively rigid, is the company's hard rules. Values are the basic concept of the company's operation. So the way a company works is to work around the values that make the vision better, guided by the vision.
Byte-beating values, called byte vans, have also been adjusted as the corporate vision changes in 2018. From 2015 "positive frankness, openness, extreme judgment, always start a business" to "pursuit of the ultimate, pragmatic and bold, open and humble, frank and clear, always entrepreneurial." All this was announced by Zhang Yiming in an internal email.
To prevent company and employee arrogance, to narrow ego's hearing, add humility. At the same time the company more than 20,000 people, and then ask everyone to have the judgment may have difficulty, then take the judgment down as a requirement for team leaders.
You see, the Internet company to 20,000 people, the CEO sent internal letters, the management team to put higher demands, upgrade the company's culture, no one can run away.
Because weChat platform push rules change, if you want to see the article of new wealth often, hurry to star us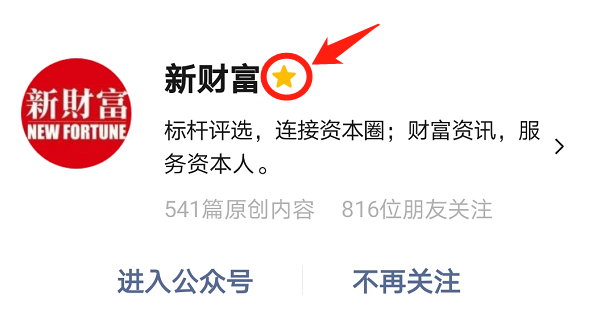 This article represents the author's personal opinion only and does not represent this public position.This public number reproduces this image only for the purpose of disseminating more information.If there is infringement or violation please contact us promptly, we will immediately delete it.
---