How do Facebook ads put up a lot of installs?
First of all, it is stated that this article only discusses how to run the installation as large as possible under the premise of stable cost, retention, payment, registration rate and so on about user quality, which is not considered here. Of course, "good user quality" and "high installed" do not conflict, can exist at the same time.
Let's just draw conclusions. The method is this picture.↓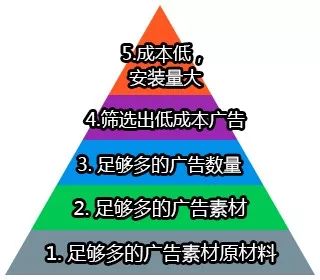 In a word: we have to have enough material base, enough ads, in order to filter out a certain amount of low installation costs of advertising, in order to achieve "low cost, installation volume" effect.
Below from 1 to 5 levels, say some practical methods.
1. Enough creative material raw materials
How can we get enough creative raw materials?
(1) to advertisers, original painters, operations managers, product managers, marketing directors and other students who can provide raw materials for products to as much as possible advertising material;The more they can offer, the less effort they will have to take in the next steps.
(2) Get the material by Spy. Including but not limited to: Smart Line Cloud, AppAnnie, FBSpy.co, etc., downloading other people's material, learning, imitating, or using it as raw material for making it.
(3) Pick up material from the home page of the competition. Previously, in Home Notifications, you could see footage from other channels. Now that Facebook has added the "Info and Ads" feature, there's little secret about creatives.
(Statement: It is wrong to steal other people's material.) It's better to be original yourself)
(4) Using Google Image Recognition to upload a footage as an example, Google can find many, many similar images for you. Greatly improve the efficiency of searching for footage.
(5) Accumulation. Accumulate material for certain types of products, as permitted, to serve advertisements for such products. If a piece of material on product A performance is good, then the big probability, when the same type of product B, the effect will not be bad.
2. Enough creative material.
(1) If the company is equipped with designers for the department, then congratulations, you have to cherish this resource. Good communication with designer classmates, clear your needs, size, format, it is best to give an example.Facebook ads should be simple, straightforward and attractive.And the design students made it clear that their production capacity will be very high.
In particular, if the department has video designers, it should cherish. Designers who can make videos are now very rare on the market (in 2018).
(2) If the company does not have a designer, or the designer is too busy, as an optimizer, you better master someBasic PS skills。 Even if you simply crop and slice some pictures, the output efficiency of the material will be greatly improved.
(3) If you have been tested, you have accumulated some good material, but because of the excessive number of impressions, the FB system does not give these material display opportunities. At this point you can make some small changes on the picture and video. Once re-uploaded to the FB system, FB will consider this to be 2 different pieces of footage (with different hash values). So this good material can run for a few more days.
3. A sufficient number of advertisements.
(1) There's nothing to say about that. First you have to pass on all the material. Here's oneHow to upload image footage in bulk, you can refer to it.
(2) If you have a lot of creative material, in order to avoid vicious competition in advertising, and to ensure that new material is available every day, you can take advantage of FB's advertising scheduling feature. For example, upload 100 pictures at a time and schedule ads for the next week, so that 14 new creatives go live every day. You're happy, and so is the FB system.
(3) In the absence of time to upload ads, there is a quick way to lazy - copy low-cost ads. In general, low-cost ads are copied, and the probability that costs are still low is high.
4. Filter out low-cost ads
(1) No one can guarantee that every piece of material you upload will work well. Generally speaking, send 10 sheets of material,It would be nice to have two or three good ads。 As for the remaining 7 to 8 sheets, according to your judgment, the effect is not good to close directly on the line. If the cost of the first day of an ad is high, the cost will not be low in the future. Don't expect too much from it.
(The "Rules" tool provided by FB can be used - automatically turn off ads when the cost is higher than XX)
(2) After the low-cost ads are filtered out, set the appropriate bid and set a high enough budget.Really good material, can stand the test of high budget(Even if the budget doesn't go up, the cost won't change much).)
When I first started advertising, because the cost is too high, set the budget often keyed rope, 5 knives start, the effect is good double to 10 knives, so the amount is very slow.
So, if you have confidence in the material,You can start with 50 knives; if the effect is good, go straight up to 500 knives。
If you have a gift, material to choose one, or the boss's rich atmosphere, burning tens of thousands of knives does not hurt, 5000 knives, 10,000 knives budget can also be. Your ad will buy a lot of display opportunities. You're going to be.
5. Low cost, large installation。
Low-cost creatives add up to the total installed volume.
You've achieved the desired effect. Low cost, large installation.
Looking back on this process, it's a bit of a bone-chilling meaning. We eliminated a lot of raw material, material, advertising, and ultimately the ads left behind are the elite who have been tested by the user. (Although sometimes the user's taste is very low)
Finally, low-cost creatives age and cost increases over time. The process of 1 to 5 needs to be repeated at this time. Method everyone will, is more diligent than who, more efficient.
Well, it's a little boring. I hope repeating this process will make us more money.
I'll fill in the missing details in two days.
I wish you all the best.
Welcome to the public number,
From time to time, you will receive experience articles related to Facebook ads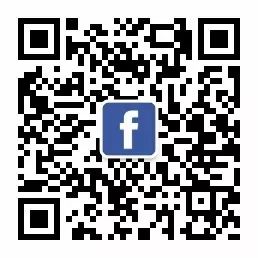 Thanks for reading, would you like to forward it?
It's okay to like it.↓
---