Hands-on how to build effective Facebook campaigns?

Are you thinking about Facebook ads?
Want to know how to build a successful Facebook campaign?
In this article, you'll learn how to create a valid Facebook campaign.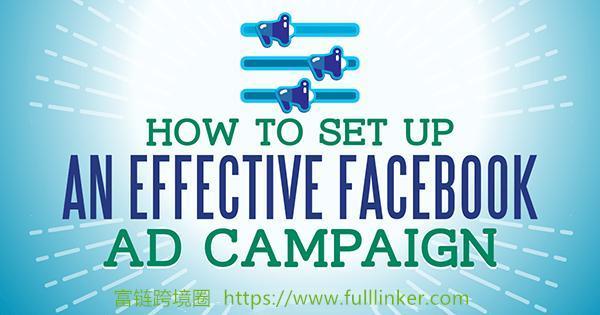 Choose a Facebook ad that's right for your marketingBefore you advertise on Facebook, you need to develop a strategic plan.
To see consistent results, determine where you can take advantage of Facebook ads in your sales channels. Answer these four questions to help you define your strategy:

· What are the goals of your Facebook ads? For example, do you want to generate new leads for your business, sell for your e-commerce store, or increase subscribers to your blog?
· Do you have existing or consistent site traffic?
· Do you have a mailing list? If so, how many people are currently on your list?
· Can you create something unique about your business/industry?
Based on the answers to these questions, we have three Facebook advertising strategies that we can use.
Offer free content to your audience。 Content marketing is one of the most effective ways to differentiate your business from your warm-up audience. Provide free and valuable content to entertain, educate or inspire your ideal customers. For example, you can use videos, lead magnets (guides, checklists, coupons, etc.) or blog posts.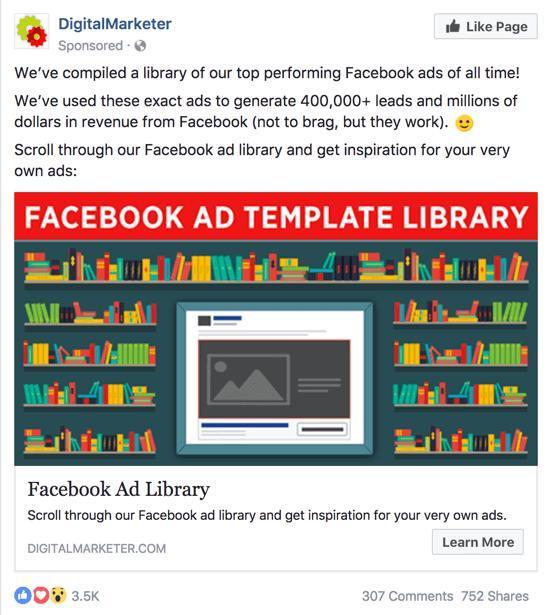 Reposition site visitors: If you have Facebook pixels installed on your site, you can target people who have recently visited your site.
Relocation strategy: It can also be the second phase of a content-first strategy. Create a custom audience for people who interact with your video content or Facebook page, and then respond directly to them to promote your product or service. Once you've defined your Facebook ad strategy, you can set your campaign to succeed.
1: Choose the right ad based on your goals
The structure of Facebook's advertising campaign consists of three levels: campaigns, ad collections, and ads. The first level of a campaign is the basis of advertising.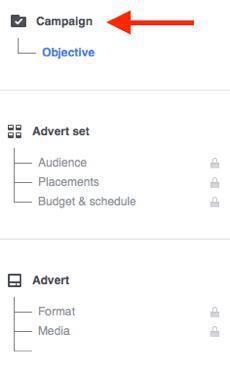 At the campaign level, you can choose your own goals, which people have to set when they see your ads. Facebook has three objective categories: awareness, consideration, and transformation.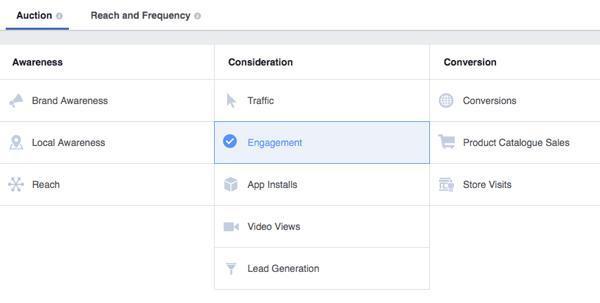 The goals you choose depend on your strategy. For example, suppose you have a content-first policy. Because video is currently the most effective type of Facebook content, you can use the Video Watch target to run specific campaigns.
If you want to run a redirect campaign to send people from Facebook to your site, select the Traffic or Conversion target, depending on the specific action you want to take. Determine your campaign goalsThe best approach is a discount or discount. For example, if your goal is to generate sales for your e-commerce business, you can offer them a 10% discount on your first order to attract them to buy.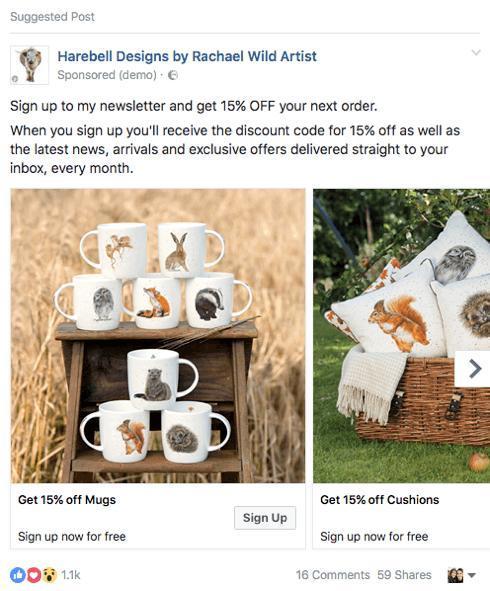 2: Build your ideal custom audience
The second stage in the campaign structure is the ad set, which specifies how your ads will run.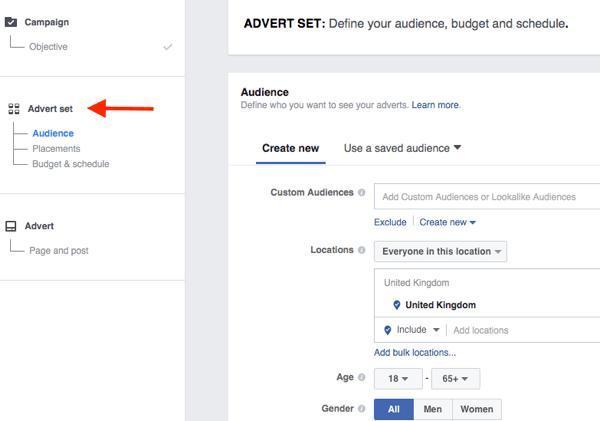 The middle level of Facebook's campaign structure is where you choose your targeting, location, budget, and schedule.
Targeting is one of the most important elements of your campaign, producing or breaking performance even before your campaign hits. There are three ways to define your audience.
Target population and interests
The easiest way to target your audience is to use demographic and interest options. This approach is typically used to target new users who have not previously interacted with your business.
Here you can choose demographic restrictions such as location, age, gender and language.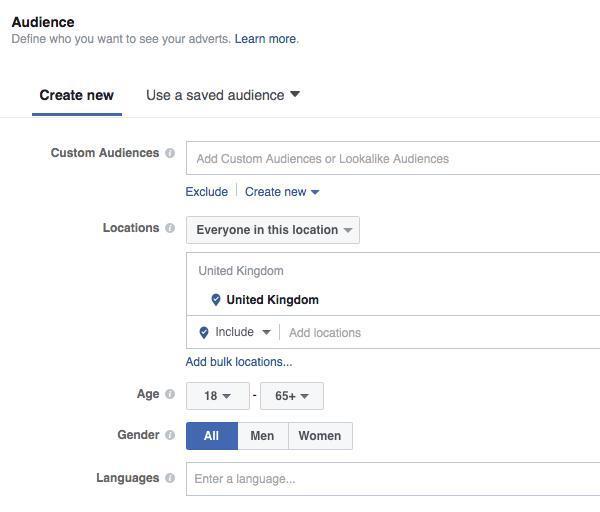 In the Detailed Targeting section, you can narrow your audience by choosing from thousands of interests, behaviors, demographics, and more.

Rules for the target audience. Typically, you will get the best results for basic positioning by using a hierarchical approach. Choose a mix of interests and behaviors to bring your ideal customer to zero.
For example, suppose you're a luxury retailer in the wedding industry. Start by targeting people who are interested in weddings and wedding-related matters.

Next, use AND criteria to narrow your audience. Click on the narrow audience and select the people recently involved in life events.Finally, consider hierarchical financial variables such as income levels and affluence, and buying behaviors such as premium brand buyers.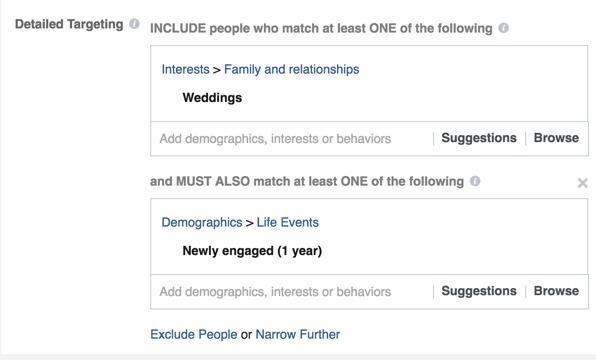 Targeting has become a habit of interacting with users
Custom audiences let you target people who have interacted with your business on Facebook, your site, or email marketing.
Custom Audiences can provide some of the best results for redirect campaigns because your goal is to reach popular audiences for people who know, like, and trust your business.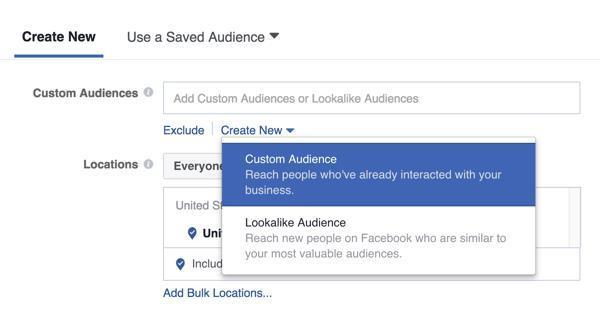 When you create a custom audience, you can select customer profiles, website traffic, app activity, and participate in Facebook from four categories.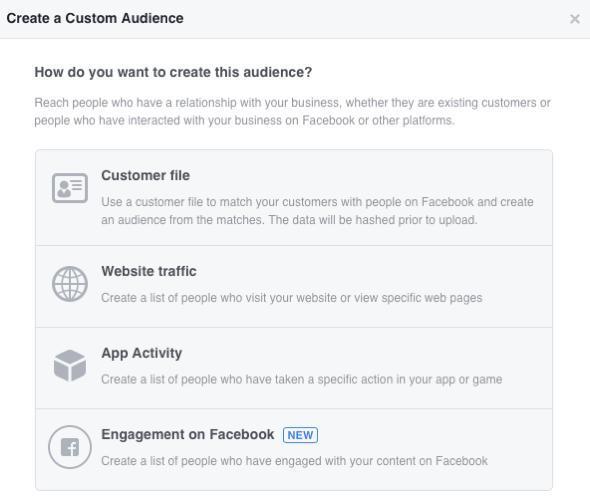 With Customer Files Custom Audiences (also known as Email Custom Audiences), you can upload or import a list of data, and Facebook will cross-match the people on your list to find them on Facebook. If you have an existing list of customers or subscribers, you can target that audience through your Facebook campaign, and this custom audience is a game-changer.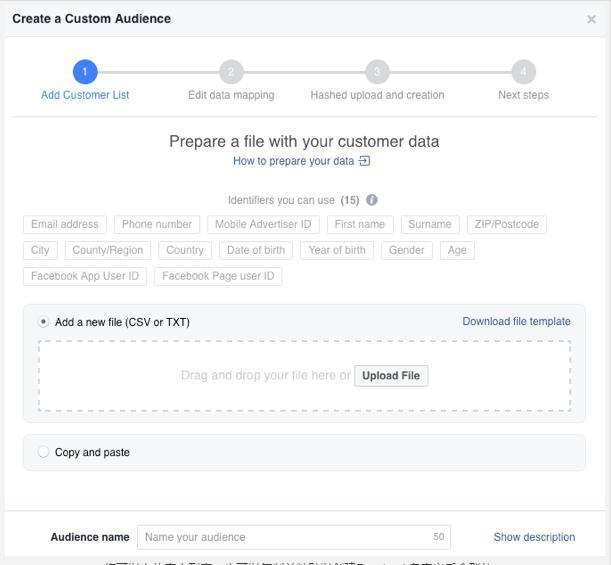 Upload a list of customers, or copy and paste to create a Facebook Custom Audience
Your site's custom audience is based on people activity on your site. You use Facebook pixels and conversion tracking to track visitors and their actions. This type of Custom Audience is best suited to reposition site visitors. You can create different site custom audiences based on the pages people visit, the time they leave, and what actions they take.
For example, suppose your goal is to increase sales of your product, and you decide to perform a redirect campaign to remind users to complete an order. To do this, create a site custom user to complete the standard event actions "Add to Cart" and "Check out but don't buy" people.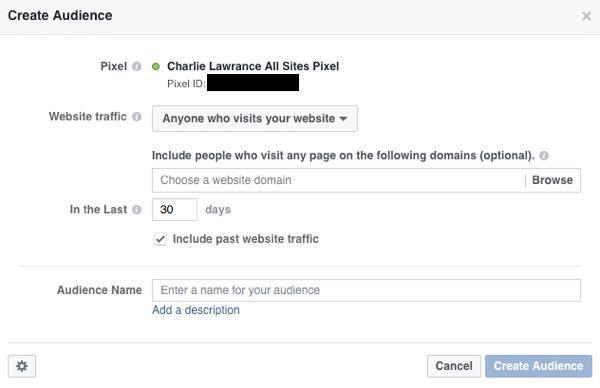 Create a website custom audience to re-target site visitors with Facebook ads
The App Activity Custom Audience allows you to include people who have done specific actions in your app or game. It's similar to a site custom audience, but the action takes place in the application, not in the site.
Interactive Custom Audiences include people who interact with your content on Facebook. Currently, you can choose from four types of interactive Custom Audiences: videos, lead ads, canvases, and web pages.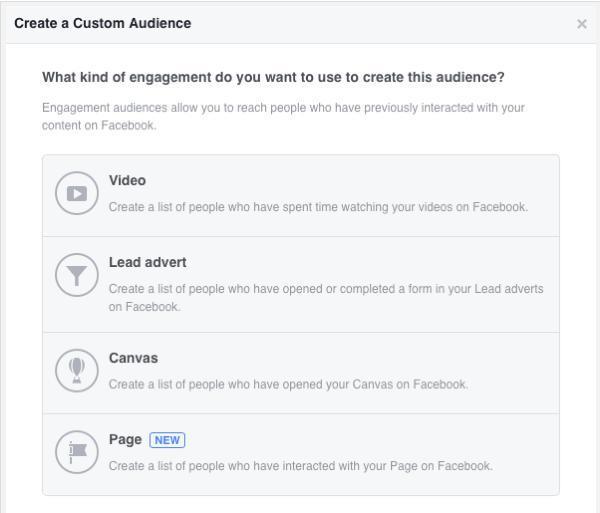 Video Interactive Custom Audience lets you group based on the video you're watching, which is the fastest way to build redirected target objects. Use your primary ad to customize your audience, and you can target people who interact with your potential customers. The same is true for canvas and canvas ad formats.

Page Interactive Custom Audience lets you target people who have recently interacted with your Facebook page.
It's worth noting that different Custom Audiences have different match rates. For example, a customer list Custom Audience might have a 50 to 75 percent match rate because not everyone will sign up for your email list (or buy your product) using the same email address associated with their Facebook account.
Video Custom Audiences, on the other hand, have a 100% match rate because content is included in Facebook. The same is true of other participating custom audiences.
Similar audiences for existing audiences
Audiences are the holy grail of Facebook ad targeting because they consistently deliver the best results.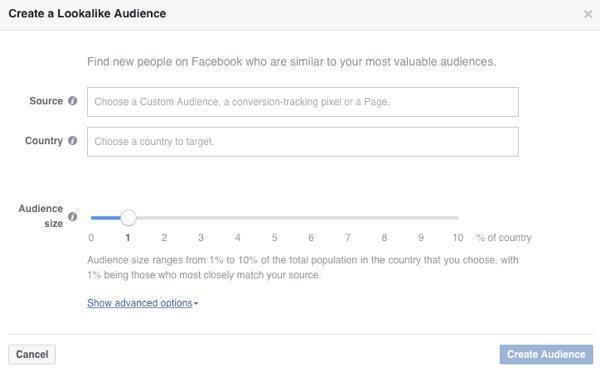 Simply put, viewers are effective because Facebook uses algorithms to create them. Facebook gets data points from audiences from your designated sources and uses them to find similar people. It's like cloning an existing audience.
Once you're defining your audience with Facebook's targeting options, you can choose where to show, set your budget and schedule, and then choose your bid type.
3: Build and test your creatives
The final stage of a campaign structure is ad level, also known as creative. Your ad is what your customers or viewers will see. Here you can select ad formats and creatives, including images, videos, news feed text, URLs, display link text and call-to-action (CTA) buttons.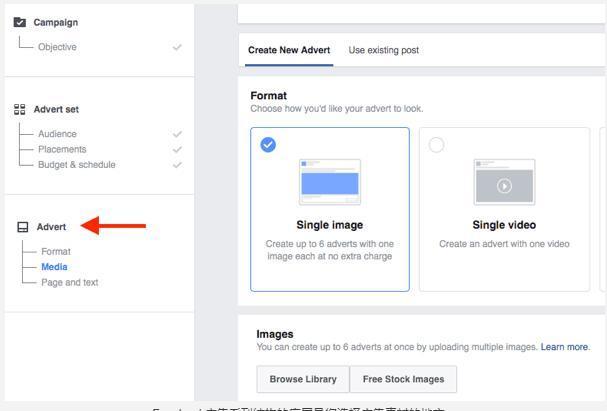 The bottom layer of Facebook's campaign structure is where you choose your creatives
The appearance of your Facebook ads depends on your ad strategy, campaign goals, and ad format. Some goals limit which ad formats you can use. For example, a video viewing target lets you select only the video ad format, while a locally aware target does not allow canvas ads.
All other ad targets let you choose from five different ad formats: carapoon, single image, single movie, slide show and canvas.


The best practice for Facebook ad ideas is to create multiple ads while running your campaign. For example, don't stop after you create a single image ad. By creating multiple ads to test copies, images, and even variants of the overall ad format, you can increase the life of your campaign.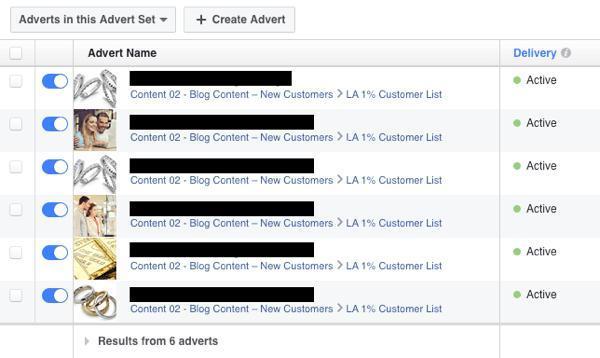 When your current ad's relevance score drops, you can introduce new ads, often because of the high frequency of ads (people see the same ads over and over again), which is the best way to continue generating results from your campaign.

For example, you can use basic single-image ads (the most common ad format) to start redirecting campaigns (designed to increase sales). As the frequency of ads increases, the relevance score starts to decrease (and eventually decreases), and you have several options:
· Split the test image. Create another single image ad with another image.
· Split the test copy. Copy the ad but change the copy.
· Split the test ad format. Introduce new ads in different formats, such as wheeled or video ads.
One of the common mistakes people make is to kill the movement and start a new one. If your first ad provides results, don't stop introducing new ads.
Before you create a Facebook campaign, take a moment to define campaign policies and use Facebook ads in your sales channels to expand your business.
Countdown to two days
The cross-border e-commerce site's Facebook Overseas Marketing Promotion And Sharing Conference is only two days old (Wednesday, October 18, 13:00). Welcome factory sellers, individual sellers, Amazon, Express, eBay and other sellers to participate, and so on, hurry to sign up! (click on"Read the original text"You can sign up.")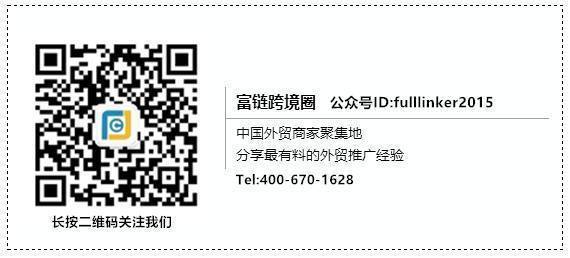 ---