Facebook's advertising revenue is expected to reach $67.25 billion in 2019


eMarketer's 2019 outlook predicts that Facebook will face some problems, but not enough to overturn the duopoly.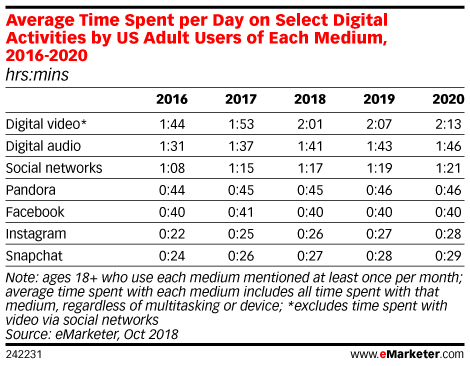 While the social network will face serious problems with user engagement, Facebook and Google will together dominate online advertising revenue over the next year.
eMarketer predicts that users will spend an average of 40 minutes a day visiting Facebook by 2020. In this regard, Facebook's share of users' social media usage is declining. Facebook accounted for more than half (53.0%) of social media visits in 2016, but will fall to 43.5% by 2020.
In its Top 10 Network Trends Report 2019, eMarketer notes that Facebook can't rely on Stories to increase user engagement, despite its popularity on Instagram. Facebook can't expect video content to increase user engagement. As a result, users' interactions with Facebook will be heavily dependent on their news feeds, so Facebook must struggle with fake news and negative news, among other issues.
eMarketer also forecasts that Facebook's global advertising revenue will grow to $55.44 billion in 2018 from $39.94 billion in 2017 and $67.25 billion in 2019.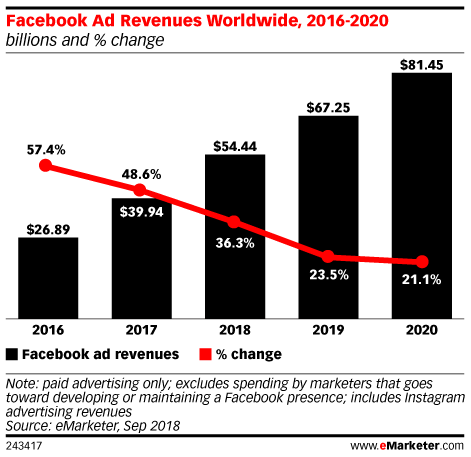 Facebook and Google's share of total U.S. online advertising revenue will decline, but there is no sharp decline. In 2018, double oligarchs accounted for 57.7 percent of U.S. online advertising revenue. By 2020, that number will fall to 55.5 per cent.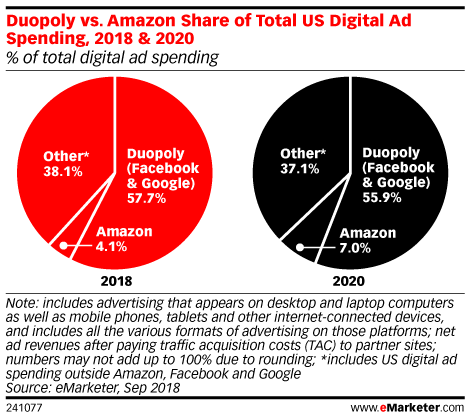 Support 199IT development, can join the paid high-end knowledge exchange group, thank you!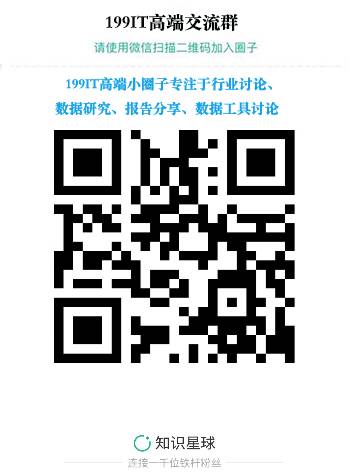 Highlights of 199IT Top Reports can be found directly at:

| NOTICE |
WeChat's public platform is currently available for subscriptionsNumber top function
Click on our home page
Check the top public number
Capture great content in a timely manner
 Media business cooperation
For business cooperation, please contact Microsyscope: dingli Public number to contribute to the mailbox: T@199it.com
For more data, click " Read the original"
---