From flow to retention - a new strategy for giant growth under the stock game
The following article comes from WeiXi Refers to North Author Wei Xi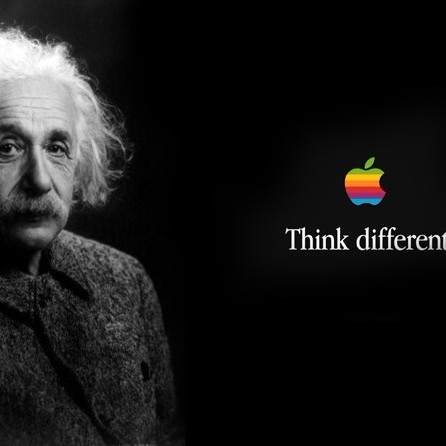 WeiXi refers to the north
A read you will top the technology Internet public number, author Wei Xi, a weekly in-depth article to analyze the Internet, advertising, marketing-related underlying logic!
Competition between giants has never been more intense.

In the past, giants would have been keen to tell such a story to investors and the public."You see, my field is a fertile, uncultivated land, where I have a huge advantage."
Today, it's hard to continue with the same logic because"Yes, you still have an advantage over this fertile soil, but the problem is, this fertile soil has been reclaimed by you almost!"
Is a drop, mobile Internet from incremental into the stock market!
First, from increment to stock - the change of mobile Internet game logic
Mr. Wang thanked Mr. Jobs when he went public, thanking him for inventing the iPhone that opened up the mobile Internet, the largest incremental market in more than a decade.
When the iPhone was born in 2007, the human Internet experienced a period of vigorous growthCountless new companies were born, countless great enterprises rose, countless people wrote their own glory in this industry.
HoweverThe technology industry, on the other end of the day, has a distinct cycleToday, it is clear that the mobile Internet has reached the end of the industrial cycle, and the new industry cycle has not yet started.
The mobile Internet, the big industry cycle, has come to an end and we can get a glimpse of one or two of the following macro data
1. Mobile Internet monthly living dataAccording to Questmobile, the overall mobile Internet grew by just 8.47 million a month in the first half of 2020, a poor 0.75 percent growth rate.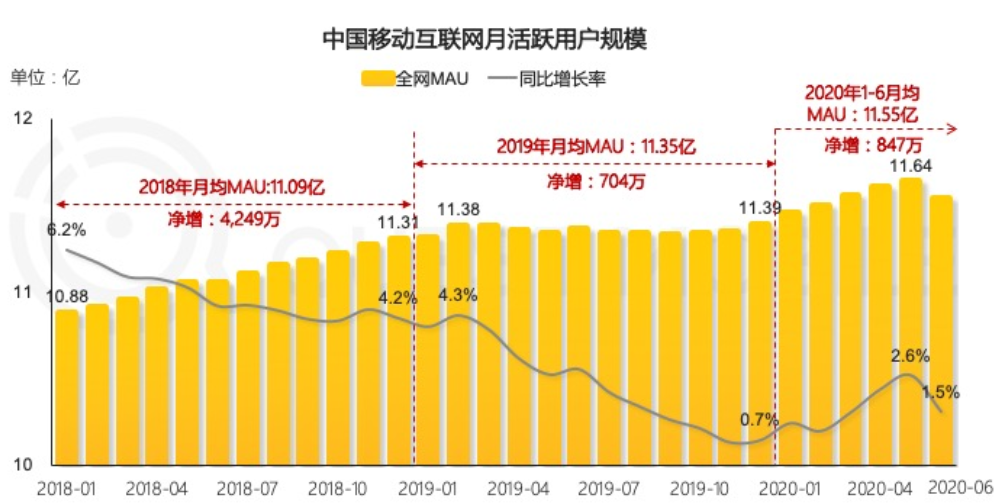 2. The length of time of mobile Internet usersIn the same report, the growth rate was only 5.2 per cent, despite the increase in user time caused by the outbreak.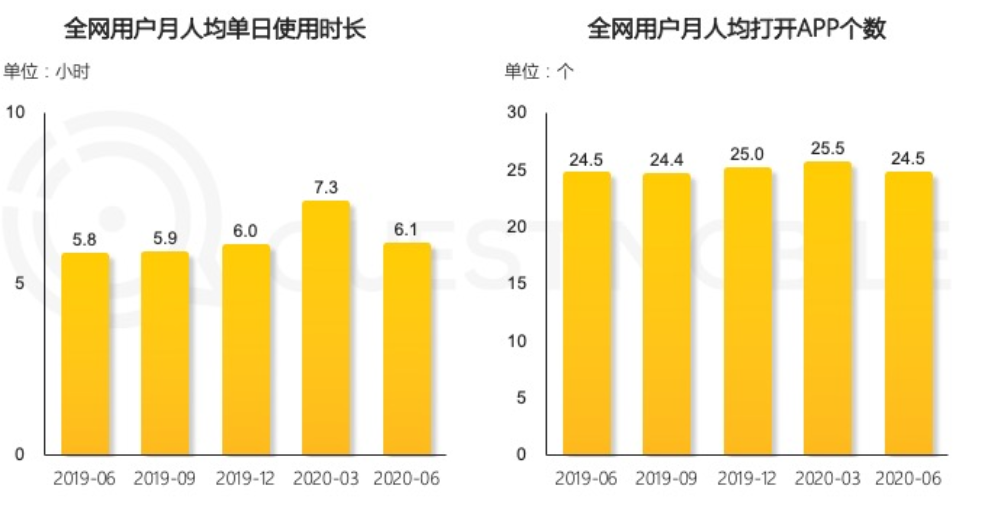 3. The number of APPS opened per person per month for users across the networkThat's 24.5 in 2019 and 24.5,0 by 2020, and people are no longer willing to try new APPS.
4. Smartphone shipmentsAccording to IDC, Q1 China's total smartphone shipments in 2020 will be just 66.6 million units, down 20.3% year-on-year.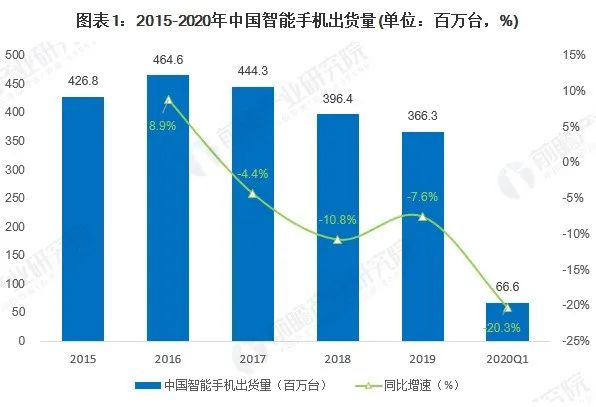 5. Change of machine cycleAccording to Aurora Big Data 2019Q3, more than 54.4% of domestic smartphone users have changed between 2-3 years and more than three years.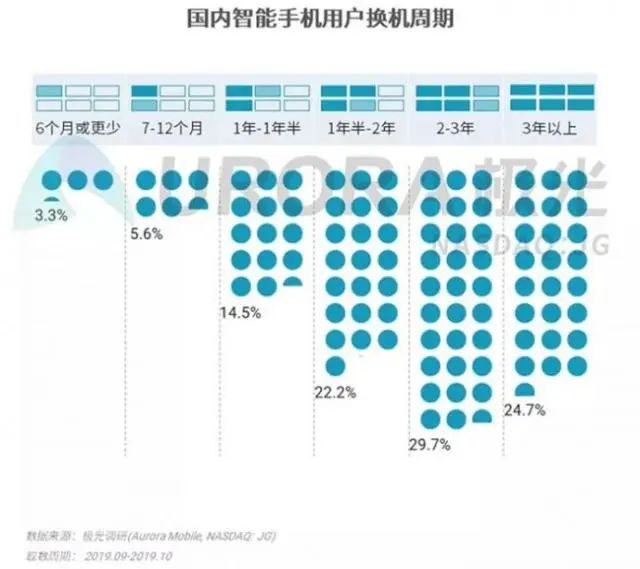 .........
All the Internet macro data points to a key word - the stock game.
Yes, this cycle of industry has come to an end, and the new story has not yet begun.
Changes in the competitive landscape will inevitably lead to changes in the rules of the game.
Yes, the era of horse-running circles is over, and the era of hard work has begunThe mission of the giants began to shift from how to circle more to how to grow more high-quality crops on their own circled land!
Second, from the moon to the day - what is the face of growth, the miles and gold?
For China's internet giants, monthly living is an important number.
Why? Because it's going to be in the financial report! Starting in 2019, however, Twitter announced that it would no longer disclose monthly live data in its earnings reports and would revise it to a new indicator of "monecurable monthly activity data."
Twitter's shift reflects, on the one hand, the increasing difficulty of growing live data in the stock game next month, and, on the other hand, the growing focus on more realistic indicators.
Let's look at another data - penetrationAccording to Questmobile, Tencent's penetration rate was 98.6 percent in June 2020, Ali's was 97.6 percent, Baidu's was 91.2 percent, Baidu's was 66.7 percent, and fast hands were 44.7 percent.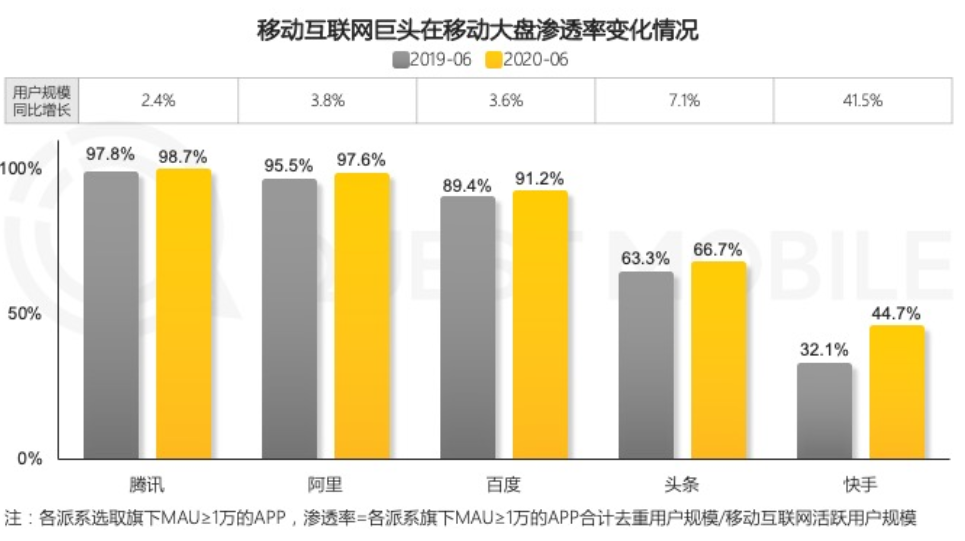 You can see that for the giants, their penetration rate has reached a fairly high level, such as the fast hand in the field of short video, and WeChat and other instant messaging, which is differentPenetration actually has a ceiling, so a more realistic strategy for these head giants is to turn more monthly life into daily life.
In the short video field, for example, the competition for the share of fast hands and shakers has entered a very deadlocked phase after last year's meat fight, so we see that in the short video field,The two sides mainly through two big strategies to wake up the sleeping crowd that is already their own users -
1. Large-scale strategic activities pull alive, such as the fast hand invited Zhou Jielun, in his live event marketing cycle, the entire network of resources spread out, directly to the live daily live pull to 30 million plus, and jitter through Xi'an, Chengdu and other cities to carry out large-scale urban theme activities, and this urban theme activities also need to expand the volume of sound through the external media.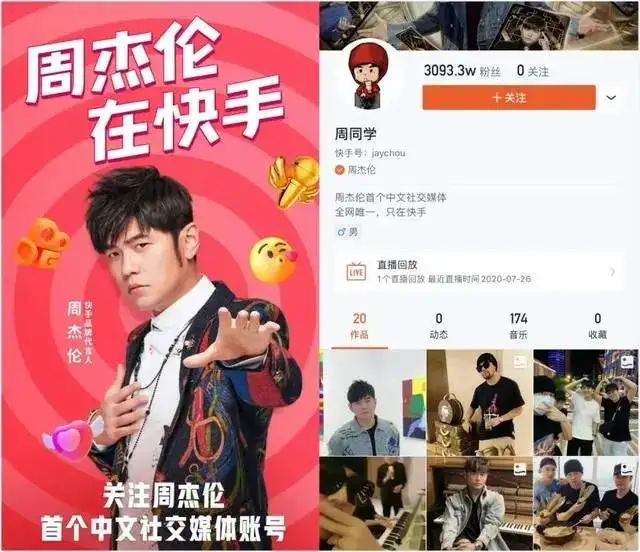 2. Periodic pull, yes, some users active on the platform is cyclical, need to regularly inform them that the platform has new things, and for their own login inactive users, there is no way through the short video APP itself to pull alive, but must be through external advertising, find the right media with the right short video footage personalized, periodic touch sleeping users.
Yes, the moon is the face, the day is the inn, and the user's length is gold.
So how do you turn monthly live into daily life to increase user time?A lot of people's answers might say - growth hacking, campaign operations, cash subsidies...
Yes, these moves could be immediate for a startup, which, for example, discovered early on that Facebook's user market could grow exponentially by ensuring that "new users can add seven friends in 10 days."
Today, such simple rules are rare, especially for already large trots, and any simple, single strategy can hardly have a very direct effect on overall day-to-day living.
So, putting aside the gimmicks that have just been said,What other ways can you effectively turn more monthly users into daily life?
The answer is advertising!Advertising may be one of the few growth strategies with the most certainty, but ad delivery is actually a highly specialized science.
What kind of media do you choose? What type of ideas do you choose? How do I keep up with the pace of delivery? How to get the best price right? How can ROI be measured effectively? .......
These questions present a lot of challenges for advertisers.
Advertising is actually an investment in essence, trading advertising is like running an investment fund, and advertising traders are fund managers, every choice to sell need to get income and results, since it is investment, it is pay attention to the rate of return.
In the past, the market is rising, any stock you buy can get a good return, but the magnitude is different, and today we face difficulties is -The market does not rise, this time the fund manager's ability to fine-tune stock selection is reflected.
Is a drop, stable, fine advertising is the growth of watermelon, and a variety of wave of tricks is the growth of sesame seeds, extensive savage growth is no longer suitable for the stock game competitive environment, fine is king.
Third, from diffuse irrigation to drip irrigation: the only way to fine growth
Before the analytics giants promote growth through sophisticated advertising strategies, let's talkA seemingly irrelevant story of Israeli agriculture, because it's interesting enough to fit well with today's topic.
Israel is not a country suitable for agriculture, a country on the southeastern shores of the Mediterranean Sea, which covers 60 per cent of its land area and less than 20 per cent of its land suitable for cultivation, with no rivers at all, only a tiny freshwater lake and some ditches and streams.
At the same time, there is almost no rain in Israel between April and November, and the annual rainfall is only 200 mm, 200 mm what is the concept, equivalent to a little bit of rain in Beijing, yes, this is Israel's annual rainfall.

In Israeli supermarkets, the price of water is RMB33 per litre, while the price of fresh milk is RMB10 per litre, which is a country where water is more expensive than milk.
But it is in such harsh circumstances that Israel has developed the world's leading and most efficient agricultural system.
Today, Israeli agricultural products account for 40% of the European fruit and vegetable market, and become the second largest supplier of flowers after the Netherlands, cows, strawberries, tomatoes, cucumbers, roses and other varieties of the world's first unit production,An Israeli farmer can feed more than 400 people.
So how does Israel do it?The answer is that it has created a highly skilled agricultural system in whichThe most outstanding is its world-renowned - drip irrigation technology.

Unlike diffuse irrigation, drip irrigation techniques send water directly to the roots of plants with minimal particle size.The effective utilization rate of water is as high as 95%, while the utilization rate of ordinary irrigation is less than 3%.
This.The technology, invented by an Israeli farmer by accident in the 1960s, is now iterating to the sixth generation, in great detail:
For example, in order not to let the growing root system block the drip irrigation nozzle, will be applied on the nozzle can inhibit the growth of the surrounding very small range of root system agents, at the same time after drip irrigation will be timely inflatable to prevent blockage, because the water added a precise ratio of fertilizer directly to the root, so there is no place for fat water, even weeds can not grow out, which indirectly save the cost of weeding.
Today, Israelis have designed this sophisticated drip irrigation technology and equipment into a complete system, exported to the world, the 1964 birth of netAFIM drip irrigation company occupied more than 55% of the world's drip irrigation market share.
Well, I'm spending a lot of time telling this drip story becauseToday the mobile Internet enters the stock game stage, and the whole industry becomes Israel.
The giants can't rely on the old, high-flying growth strategy, but need the fine work of Israeli agricultureDrip irrigation growth strategy to make the most of every flow.
Mobile Internet's drip-irrigation growth strategy requires a more detailed fit and layering of technologies, products, operations, and markets, with funnel transformation and ROI at every step.
Specifically to the growth, the original through the variety of names, outdoor advertising, mobile phone pre-installed and other mass media to buy the growth strategy marginal income is getting lower and lower.
Despite their ample capital, the giants are increasingly eager to calculate how well they produce every penny they spend on buying. Is there a duplicate override? Can you make a personalized recall? Is it possible to accurately calculate subsequent retention?
All these problems need a set of advertising-level drip irrigation system to fine-tune the implementation.
So, is there such a fine drip irrigation system in the domestic advertising field?
The answer is yes, there's more than one,Now many platforms in China have developed the RTA (Real Time API) system for accurately controlling the target audience for advertising.
Why can this system be called the drip irrigation system in advertising? The reason is that it allows advertisers to control the target audience for ad delivery in a more precise way, resulting in fine-tuning and increased growth efficiency.
Here's an example of Tencent's RTA to illustrate how this ad drip irrigation system works fine-
Four, from traffic to retention - how can RTA effectively improve the efficiency of the giant's pull?
If you look at Tencent's earnings for the last few quarters, there's a clear trend in advertising revenue growing fastThere are a lot of drivers behind the growing share of total revenue, but one of the important reasons is that Tencent has been exploring new ways to make advertising more efficient, and the RTA to be introduced today is one of those explorations.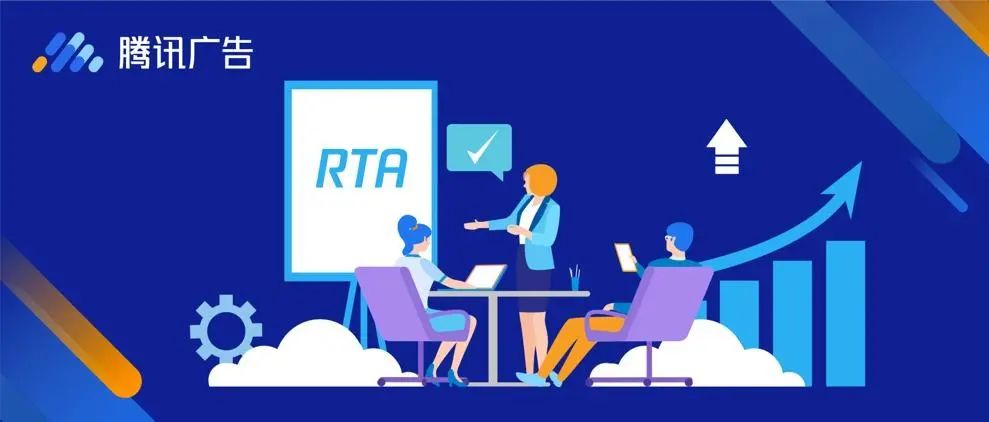 You may have heard RTB ads, but what is RTA?Simply put, that's itA lightweight API interface that grafts traffic precisely over Tencent's original advertising system。
For example, fast hands to advertise at Tencent, the traditional way is fast hands to choose audience orientation -
For example, fourth-tier cities, 18-23 years old, women interested in film and television, and then put specific ads on them, but in reality, users who meet this condition can actually be divided into several categories in composition -
For example, 50% are already fast-handed heavy users, 30% have fast hands but only once a month, the remaining 20% is never installed too fast hands, as Tencent advertisers fast hands, in fact, want to pull these 30% of low-frequency users at the same time touch 20% of non-users, and these two types of contact with these two types of user's advertising materials are not the same;
And to do that,A typical advertising platform needs to upload its own low-frequency population as a packet to the advertising platform, and then specifically select this packet for deliveryotherwise, there will inevitably be a problem of inaccurate contact.
But here's the problem, advertisers are usually very concerned about their data security, so uploading packets isn't the perfect way to upload packets, so RTA was born:
It is every time the fast hand ads run when Tencent will send a request to the fast hand, ask this traffic you want or not, after receiving the request, the clipper will judge the characteristics of this traffic on its own server, such as whether it is a high-frequency user, low-frequency user or non-user, and then decide whether to participate in the auction, which solves both the data security problem and the problem of fine touch.
Tencent's RTA system has a special appeal to the stock-competing giant La Live, and companies close to Tencent's investments, such as Express, Microbank, were among the first customers of the system.
Take fast hands as an example, the "K3 campaign" at the end of 2019 lets it pay great attention to the growth efficiency, for which fast hands are also developing a fast hand rapid version, and Tencent advertising platform RTA delivery is also an important part of the use of RTA, fast hands can accurately target different frequencies of users and non-fast users, and then for different types of users to produce different creative materials to personalize the frequency of promotion.
In the end, tencent advertising system to achieve the next day retention increased by 50%, effectively increased the proportion of up to 90%, the real advertising "traffic" into "retention."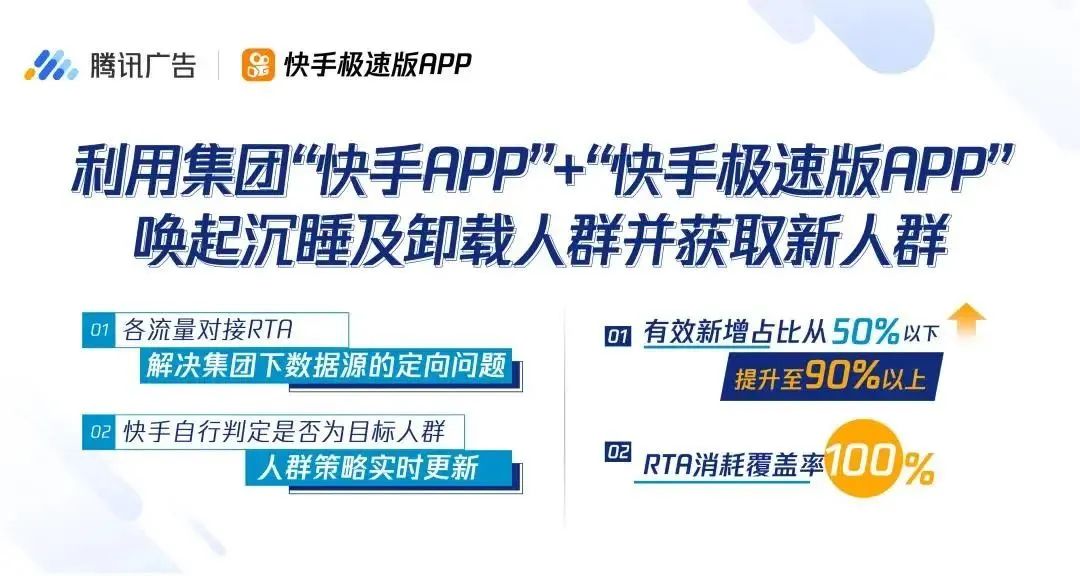 Yes, Tencent's new advertising system is indeed very attractive to the giants, and RTA this new mode of delivery has gradually gained widespread recognition in the industry, especially in the field of short video, more and more players are embracing this drip-filled growth path.
After all, retention is far more important than traffic, and growth is the hard truth!
Sweep the QR code and follow us
---