Friends Circle Ads Open Download Style Test . . New list intelligence
Senior media person Xu Li
Leave Southern People Weekly.
On December 2nd, according to Yang Jinlin, a veteran media personality and founder of Splendid Kirin Media, Xu Li, a senior media personality and editor-in-chief of Southern People's Weekly, resigned as editor-in-chief of Southern People's Weekly and was invited to the United States in January next year as a visiting scholar.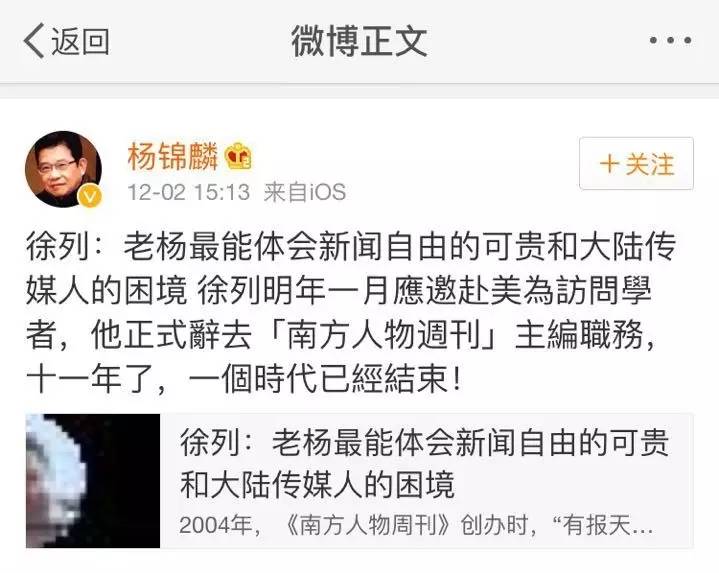 Xu Li, graduated from Henan University with a master's degree in Chinese in 1989, joined the Southern Weekend newspaper in the same year, and has served as Director of the Department of Public Information, Director of the Supplemental Department and Deputy Editor-in-Chief, and has wrote monographs such as "American Lawyers in China" and "Approaching the Truth in The Pursuit". In 2004, he organized Southern People's Weekly, and he was the editor-in-chief and senior editor.
Eastern TV said in a statement that it had stolen ratings
Yesterday afternoon, Oriental TV officials issued a statement, pointing out that November 30 at about 20:30 pm, Oriental TV in the broadcast of "芈 Month" in the process, many areas of Shanghai IPTV Oriental TV signal interruption phenomenon, resulting in many Shanghai viewers can not watch normally, the audience was seriously affected.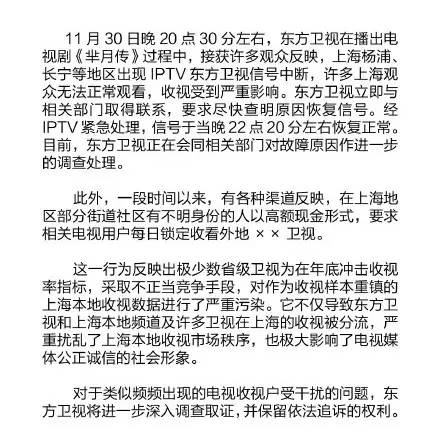 In addition, the statement also pointed out that in recent times, some street communities in Shanghai have unidentified people in the form of high cash, requiring users to lock in daily viewing of foreign XX TV.
Open download style testing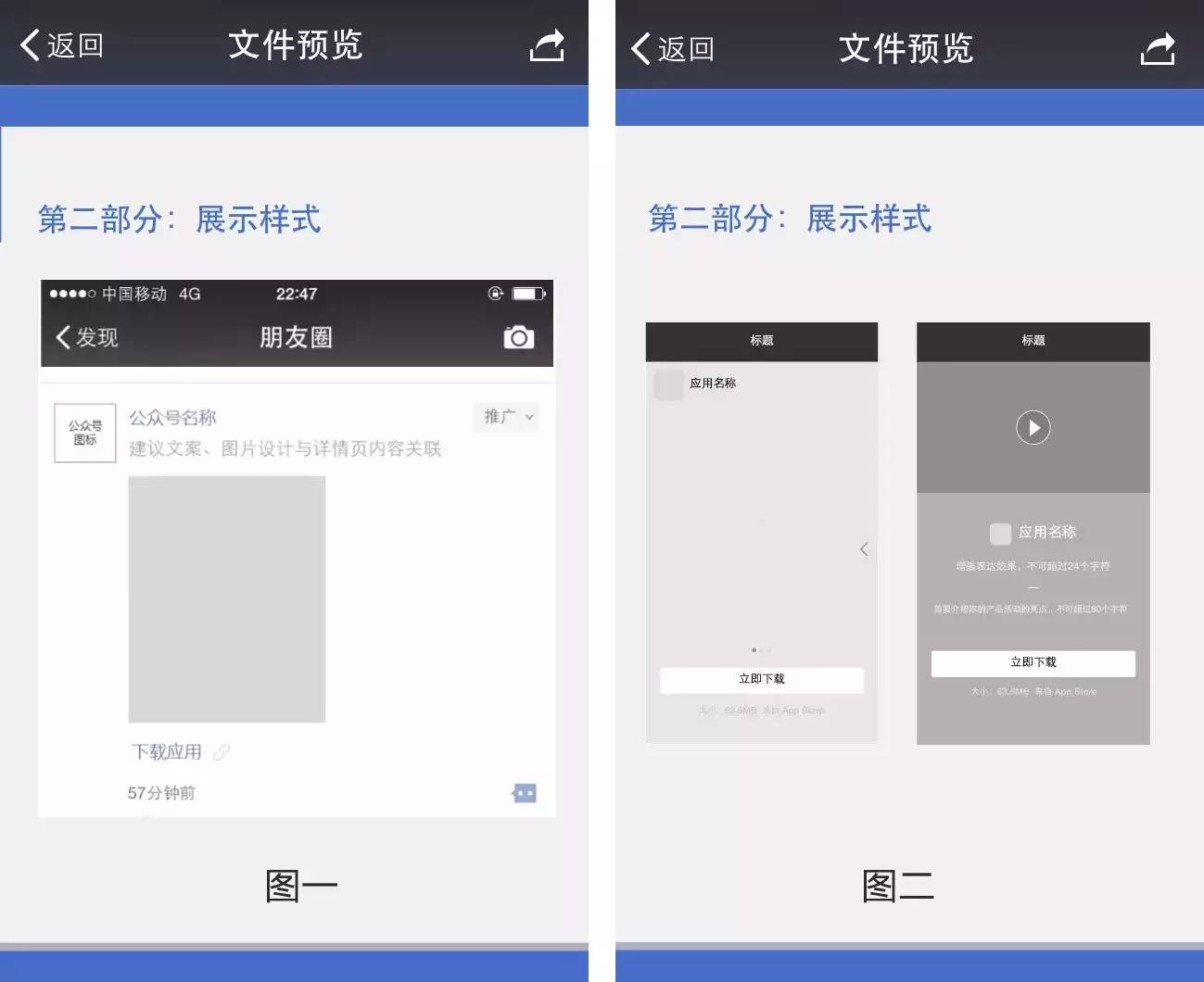 According to the industry intelligence received by the new list, WeChat friends circle advertising officially open download style testing. Click Download Apps below Figure 1 and you'll need to jump to another template landing page to download the app(Figure 2)。 It is understood that the current need for WeChat to select a high degree of matching customers to test together, the test amount of 50,000.
Chinese culture joins forces with CITIC Capital
Subscribe for a 13% stake in Manchester City's parent company
Chinese Cultural Holdings Group announced yesterday that it and Citic Capital Holdings Limited will pay $400m for a 13 per cent stake in City Football Group, the parent company of the Manchester City club. Upon completion of the acquisition, Li Ruigang, chairman of the company, will become one of the seven members of the board of directors of City Football Group.
It is reported that the layout of Chinese culture and sports covers the event copyright development, content production, media operation, event and event management, athletes brokerage, sports marketing, data services and other links. As a comprehensive investment and operation platform focusing on the media, entertainment, sports and Internet industries, the company has been making frequent efforts in the sports industry, especially the football industry, in China and the global market in recent years.
Weibo will push video ads next year
Weibo yesterday released its 2016 advertising strategy in Beijing. Weibo will make efforts to self-service advertising and multimedia advertising form, and jointly realize the open sharing of big data in the industrial chain, to help advertisers achieve more accurate marketing. Wang Gaofei, ceo of Weibo, said the company wants advertising to be more than just advertising, but an important form for companies to connect users in the mobile Internet age. Weibo will continue to optimize the business ecology and provide perfect social marketing solutions.
Weibo announced that it will launch streaming video ads in the first half of next year, targeting users for no more than 10 seconds, which will automatically play under WiFi. Weibo has so far tested this form of advertising.
Zuckerberg is happy with the money
Donate 99% of your shares
On December 2, Facebook founder Mark Zuckerberg promoted his father to announce the birth of his daughter Max, the Wall Street Journal reported.
Zuckerberg announced the news on Facebook, saying he and his Chinese wife, Priscilla Chan, welcome Max into the world. Zuckerberg also said he plans to donate 99 percent of his and his wife's Facebook shares to improve the world for the next generation.
Line launches a new partnership
Build Japan's top news platform
Line is a popular news app in Japan and has become one of the most popular apps for Japanese users to view news. In May 2015, Line claimed that its news service had 12 million monthly active users. Yesterday.(December 1)Line has officially announced a new partnership that will add 24 popular network, print and television news channels to its news service. Line works with these new content partners in a five-and-a-quarter way: advertising revenue.
With Line, you can not only browse Asahi(The second most subscribed news media in Japan)and Mainichi (The third most subscribed news media in Japan)information, you can also browse the BBC, AFP and other media giants on the platform of local news and international news.
Welcome to the first stop of China's new mediawww.newrank.cn, "New List Preferred" advertising matching trading platform has been online, big data, zero risk, no difference, commission-free, 100% payment protection. PC-side access works better!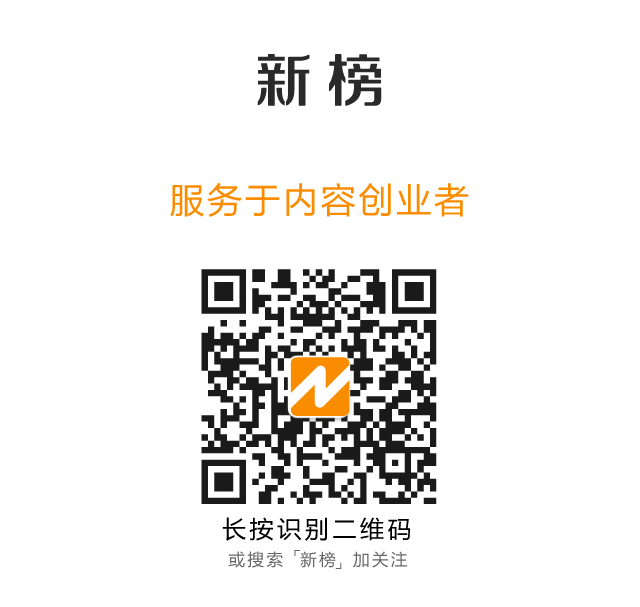 ---