Facebook Event Ad Live Review

In the latest issue of live streaming, YinoLink Ino explains a Facebook campaign ad guide for cross-border sellers.ToNext is a review of the highlights of this live broadcast.
Facebook 2020 Marketing Node
Here are two charts showing the key marketing nodes from April to December 2020: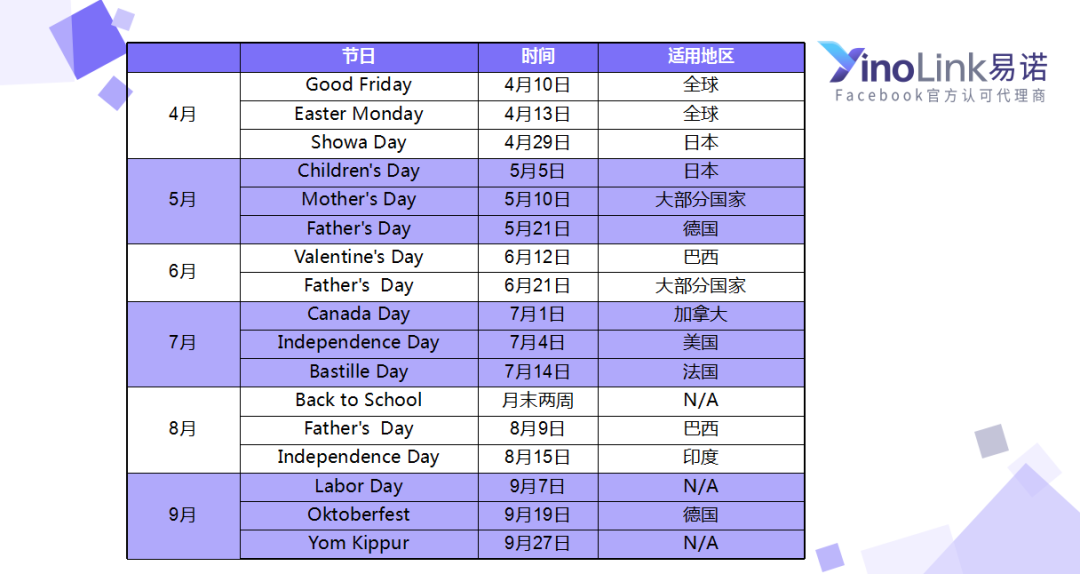 There are six popular marketing campaigns on Facebook: free mail, price offers, bundles, pre-sale offers, VIP specials and gift giving. It is important to note that the "gift giving" here refers to the user bought goods, the merchant to carry out a gift of an activity, rather than "free test."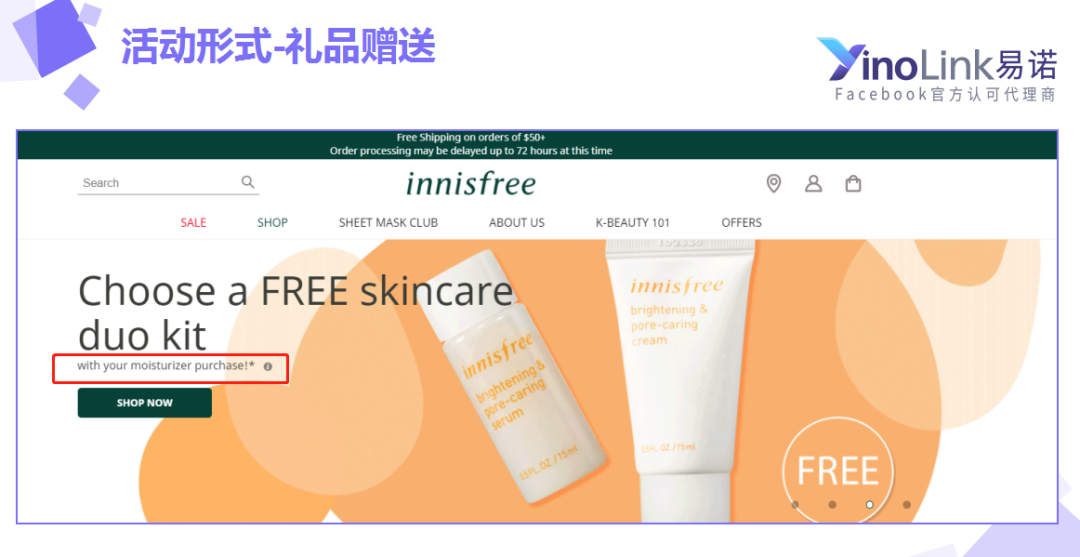 Third, Facebook marketing plan
In the course of a marketing campaign, YinoLink Ino offers advertisers the following Facebook marketing options:
1. Through brand promotion, inventory clearance, access to new customers, three-pronged to improve sales;
2. The size of the holiday season shopping group is expanding, shopping carnival also began earlier, sellers need to be prepared in advance and earlier;
3. Different periods occur throughout the marketing campaign. Sellers need to adjust their ads according to the changes in the period to match the marketing activities;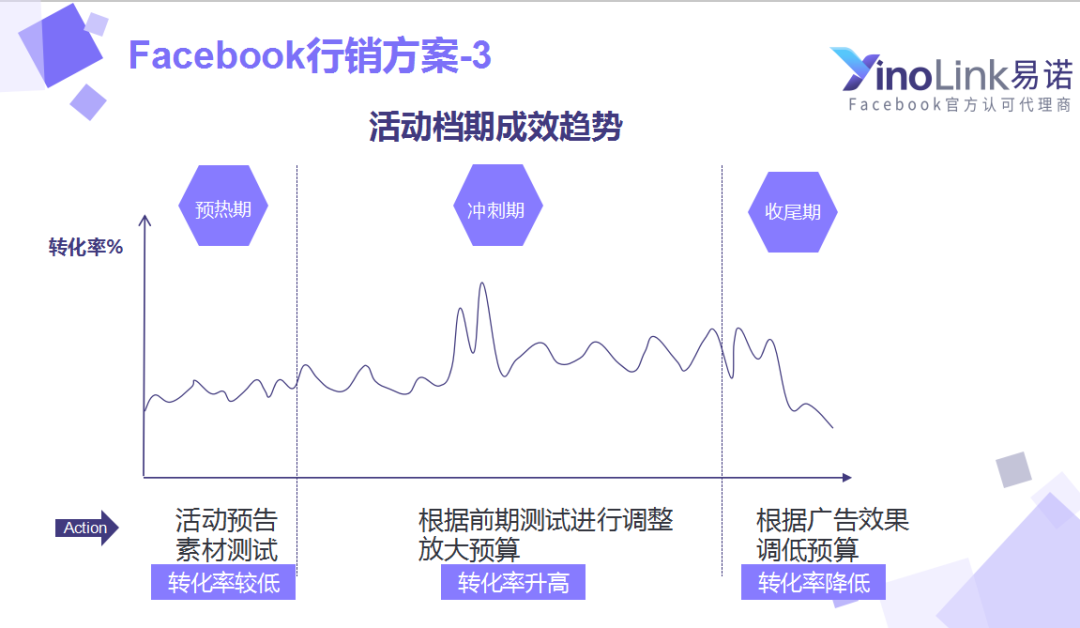 4. Can't the ad be delivered? You can solve this quickly by:
a. Advertising targets are pre-emption (purchase, initiate checkout) and end the learning period more quickly;
b. Improving system optimization mobility;
c. Quick delivery: fast, CPM high
5. During the optimization of learning, you can use the following tips:
increase dissonance of the audience;
b. Comprehensive use of multiple locations;
c. Increased budgetflexibility;
e. Optimizing the right events
6. Use cross-border multilingual dynamic advertising MMDA
Fourth, Facebook advertising account planning
1. Advance schedule: Preheat up the event in advance, create scheduling ads, increase trust with Messenger ads, and use video footage to increase coverage and clicks;
2.Advertising automation: Use CBO, AP, DPA, DABA, MMDA, automatic bidding and other tools;
3. Simplify ingup your account structure: According to 5 tips, reduce the proportion of advertising in the account during the study period, recommended at 30%;
4.Cross-selling: Recommend relevant products to users who have purchased items to increase the value of that user's purchases.
Live trailer
Next week, YinoLink Will also launch a Facebook Market Guide course to provide advertisers with more comprehensive learning content.
Live: Friday, April 24, 2020 15:00 PM
Live content: Facebook's market guide
Registration method: scan the code or click to read the original text, you can register free of charge.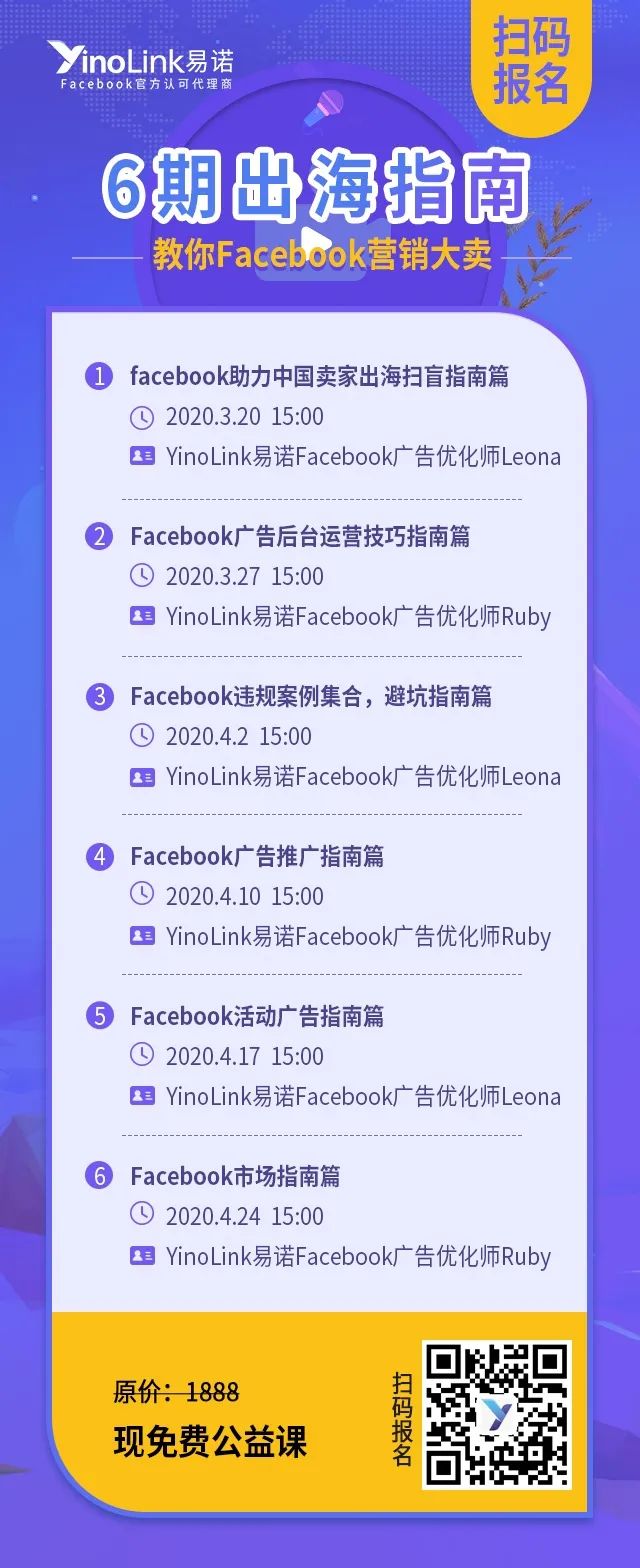 YinoLink Eno
The above is a review of the Facebook Campaign's Advertising Guide,If you have any questions can be through the public number message, or contact WeChat: yinolink contact us Oh
Stamp the original text, free registration!
---