Communication with post-95 requires special communication skills
Follow and "Everyone is a product managerSet as a star
Arrive on time every day at 07:45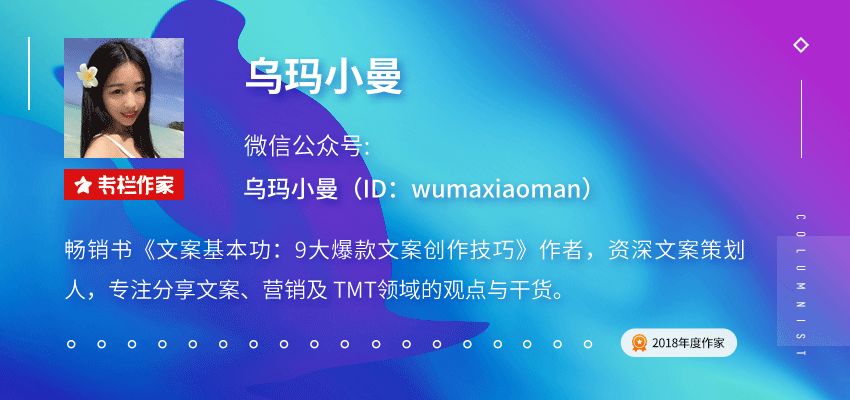 Awsl, zqsg are some of the most impressive points when it comes to Generation Z communication characteristics and love words. Of course, in addition to this type of pinyin abbreviation, Z generation communication has a lot of only internal groups understand the black words and code, then generation Z of this "language art" what on earth? How do we communicate properly with them? 
The picture comes from bilibili
The full text is 4802 words and takes 7 minutes to read
—————— BEGIN ——————
Douglas Adams, author of The Guide to the Galaxy and a British sci-fi writer, once proposed a "three laws of science and technology":
"Any technology that I was born with is commonplace and part of the natural order of the world;
Any technology born between the ages of 15 and 35 would be a revolutionary product of changing the world;
Any technology born after I was 35 years old is heresy against the natural order."
"The Three Laws of Science and Technology" is actually a humorous tone by Glass Adams, spitting out the narrowness of people's cognition.
This law can also be extended to other areas, such as:
Any song that was red when I was born is old-fashioned;
Any song that's popular between the ages of 15 and 35 is an irretrievable classic;
Any song that pops after I'm 35 is shallow and childish...
Such psychology also often occurs in different generations of people's perception of each other's cultures and circles:
When a middle-year-old sees a post-00 black word like "C", "zqsg" and "nss", the first feeling that comes out of his mind is, as Glass Adams puts it, "a heresy against the natural order".
But there is no denying that Generation Z, the younger generation born between 1995 and 2000, has become a major force in the Internet world.
According to statistics, China's post-95 to post-05 groups have reached 264 million people, accounting for 18.9% of the total population. They are creating their own unique circle and culture, and they are unleashing the potential to create popularity.
For Internet practitioners, communicating with young people is a "mandatory lesson":Only by understanding the context of the social networking, and Gen Z's circle culture and aesthetic tendencies, will it be possible to master the communication skills with young people.
01 Inflation of social terms
On contemporary social networks, people's emotions are experiencing "inflation".
For example, in the past when people knocked out the word "haha" to say they laughed, but now even knock out "hahahaha" people may still be expressionless, have to knock out "hahahahahahahahahahahahahahahahahahahahahahahahahahahahahahahahahahahahahahahahahahahahahahahahahahahahahahahahahahahahahahahahahahahahahahahahahahahahahahahahahahahahahahahahahahahahahahahahahahahahahahahahahahahahahahahahahahahahahahahahahahahahahahahahahahahahahahahahahahahahahahahahahahahahahahahahahahahahahahahahahahahahahahahahahahahahahahahahahahahahahahahahahahahahahahahahahahahahahahahahahahahahahahahahahahahahahahahahahahahahahahahahahahahahahahahahahahahahahahahahahahahahahahahahahahahahahahahahahahahahahahahahahahahahahahahahahahahahahahahahahahahahahahahahahahahahahahahahahahahahahahahahahahahahahahahahahahahahahahahahahahahahahahahahahahahahahahahahahahahahahahahahahahahahahahahahahahahahahahahahahahahahahahahahahahahahahahahahahahahahahahahahahahahahahahahahahahahahahahahahahahahahahahahahahahahahahahahahahahahahahahahahahahahahahahahahahahahahahahahahahahahahahahahahahahahahahahahahahahahahahahahahahahahahahahahahahahahahahahahahahahahahahahahahahahahahahahahahahahahahahahahahahahahahahahahahahahahahahahahahahahahahahahahahahahahahahahahahahahahahahahahahahahahahahahahahahahahahahahahahahahahahahahahahahahahahahahahahahahahahahahahahahahahahahahahahahahahahahahahahahahahahahahahahahahahahahahahahahahahahahahahahahahahahahahahahahahahahahahahahahahahahahahahahahahahahahahahahahahahahahahahahahahahahahahahahahahahahahahahahahahahahahahahahahahahahahahahahahahahahahahahahahahahahahahahahahahahahahahahahahahahahahahahahahahahahahahahahahahahahahahahahahahahahahahahahahahahahahahahahahahahahahahahahahahahahahahahahahahahahahahahahahahahahahahahahahahahahahahahahahahahahahahahahahahahahahahahahahahahahahahahahahahahahahahahahahahahahahahahahahahahahahahahahahahahahahahahahahahahahahahahahahahahahahahahahahahahahahahahahahahahahahahahahaha@@
Not only has "haha" suffered such a fate, many words over time after frequent use, its connotation will become more and more light.
For example, in the past to describe a girl beautiful, can be called "beautiful", but now "beautiful" has become synound for "female", and then "beautiful" iteratively became "goddess", but it still did not escape the fate of inflation - now use "fairy" to barely express admiration for a woman's appearance.
This phenomenon, known in linguistics as "the weakening of the meaning of words", refers to the use of some words will change with the times, the degree of meaning of the words become weaker and weaker.
For example, any electronic products can be labeled as "black technology", e-commerce platform clothes are full of "tide card", want to explain a thing funny, "too funny" it seems perfunctory, must "laugh to the head" "laugh to the neighbor alarm" to appear sincere.
If you want to say you've been hit by your favorite content, the most popular expression is "AWSL (Ah I'm dead), " like this: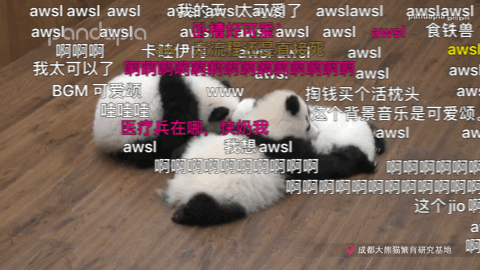 Describes the most striking part of a work as "injecting the soul";

If you like a work to say "another hundreds of millions of times";

If you think a work is particularly good, call it the treasure of the town station.

……
Such terms are common on Station B, and young users prefer to express their likes and distastes with words with dramatic emotions.
In the world of rice-ring girls, such terms have become more imaginative.
For example, in the matter of boasting idols, there are "want to swing on my brother's eyelashes" and "want to play slides on my brother's nose" such expression to praise the idol's face value.
Therefore, the proper use of exaggerated rhetoric and dramatic emotional expressions in documents communicated with young people makes it easier to achieve the same frequency resonance with young people's brain waves.
For example, nails in the introduction of online courses by elementary school students collectively rushed to the App Store "hit a star" comments, launched a "tearing heart and lungs" of the "nails, online for mercy" ghost animal video, the opening story is:
"The world chaos, backwater war, negative heart back, a hundred mouthless, repeated cross-hop, young people spare their lives, we are all my father."
However, the user's impeachment screen is also consistent with the style of video content, sing one and one, :
Within three days the shark had turned you up.
02 Aesthetic ecology of young people
This year, if we open the Japanese prime minister's official residence's Instagram account, the eyes are a pink and blinging fairy painting style, people can not help but wonder: the account operator is probably a group of female high school students?
The prime minister's Instagram account also bowed its head in an effort to raise young women's interest in politics and improve japan's low voter turnout.
Prime Minister Shinzo Abe's photographs feature large areas of pink, glittering fonts and colorful cute wind stickers and labels, while in the past the prime minister's official residence has featured untouched images of young users without clicking...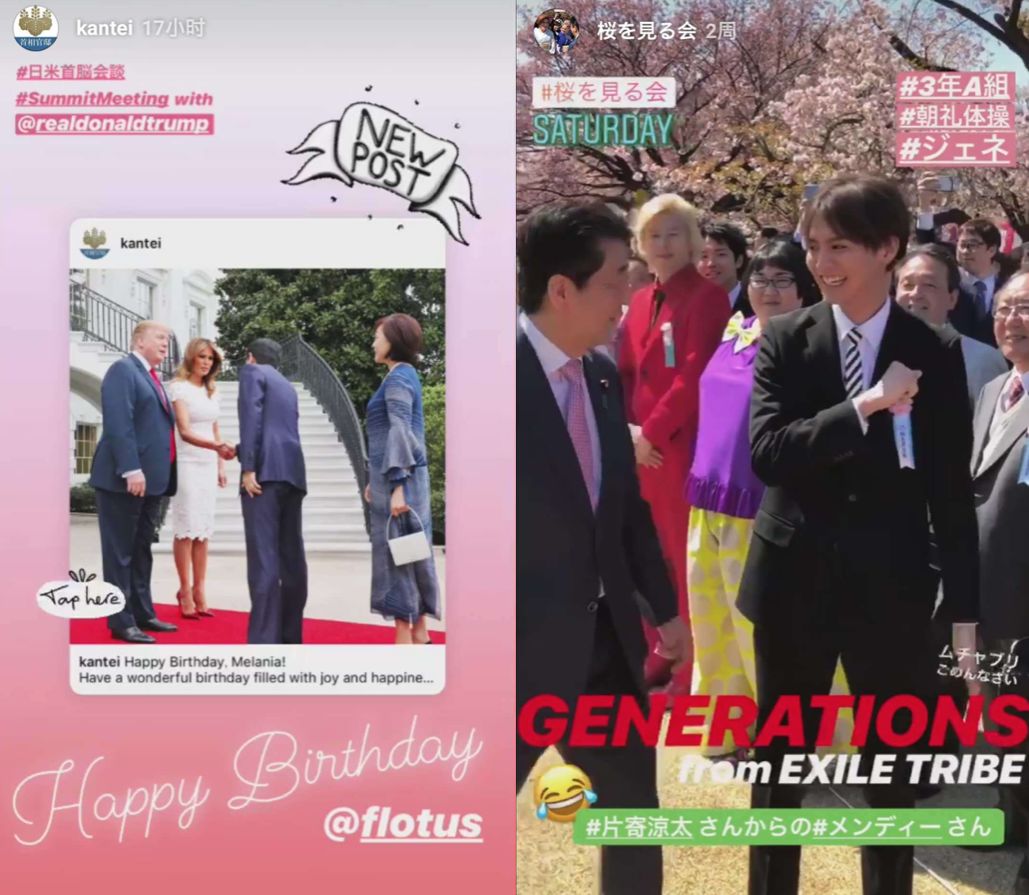 Ins users were also happy with the change, creating hashtags such as "Abe is also budding today," "Abe labor model" and "Abe don't cheat", and the account interaction rate has improved.
If you don't want to be seen by young people as outdated and boring, you need to be acutely aware of the subtle changes in the aesthetic ecosystem of young people and understand their aesthetic tendencies and trends.
In recent years, with swings and refined traces of the aesthetic INS wind has been sought after by young people, flamingo turtle back bamboo aon fruit elements become the "net red" style of the representative word.
But young people's aesthetic fatigue always comes particularly fast, and the tide is always fleeting - this time the young people are poping up with an unfiltered "original" wind, "Be Real is really cool."
In social networks, images and emoji packs that are as low as fuzzy and green are also popular with young people because "the more times they are retweeted, the lower the pixels", which in itself explains the popularity of emoji packs.
For example, the recently popular Mur cat emoji bag, paste to crack: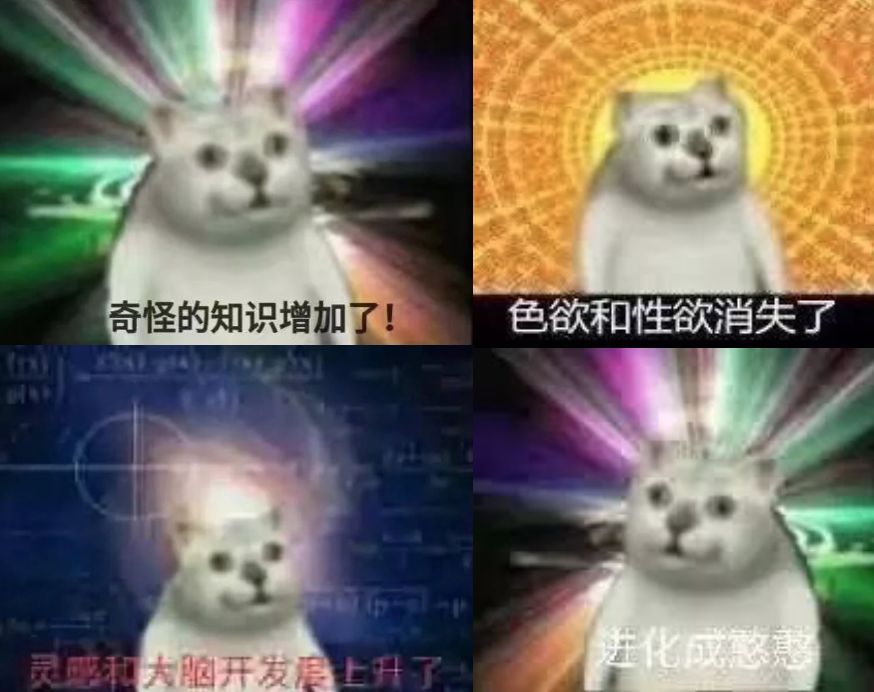 This type of emoji bag, also known as Deep Fried Memes, means that the emoji pack is processed vaguely or even yellow and green, as if it had been fried.
Pictures and emoticons that have been reduced in resolution, increased noise, and improved contrast, like a special filter, are popular for their special texture.
03 Equalization of content creation
In recent years, a number of accounts with the suffix "bot" have become popular.
"bot" is an acronym for "robot" and refers to accounts that mechanically publish user contributions. Although the account subject is operated by people, but the content screening and release are like a robot de-personalization, de-subjective.
There are many types of "bot", such as "eavesdrop on bot" content is from the daily life of netizens to hear the conversation, "the ginger bot in the dish" specializes in collecting and publishing food disguised as a variety of dishes ginger ...
For contributors, these bots are like "tree holes" that can be whispered to everyone, because anonymous publications do not require baggage and disguise;

For the account operators, it is a large library of UGC content and stories;

For fans of the account, you can also see interesting, real and even slightly rough content from various bots.
The cold distance and authenticity of these bot accounts make young people feel intimate and interesting.
The popularity of "bot" accounts can be seen in part as a sign that content creation is moving towards equalization; today, young people are no longer attracted only to carefully crafted content, and more authentic, grounded content is more likely to resonate with them.
Many keen brands have gained insight into this trend, advertising directly on user-produced content.
Twitter moved users' love lives and partners' spitting grooves from the web to offline billboards during Valentine's Day marketing:
【1】
My boyfriend just drank the water that I soaked in the "hidden beauty"
I can't stop laughing now
【2】
Q: Why am I single?
A: Reject all appointments
It's three to five business days to get back to the message
Emotions are not revealed
Parking will not be available on the side
【3】
My boyfriend said:
His cheating object is my different personality
【4】
My wife said, "Can you be a little more annoying?" "
Then I found my goal for tomorrow
Segment-like user spit slot, can let most people find their own shadow, real fun, but also to arouse the user's good feelings about the brand.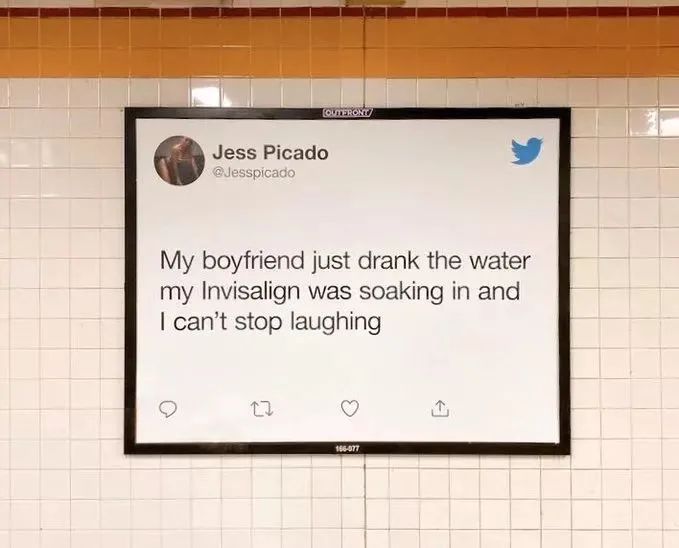 Spotify, the music service, also regularly sends users to billboards, and in 2018 it will be able to tap into the fun with data that platform users listen to: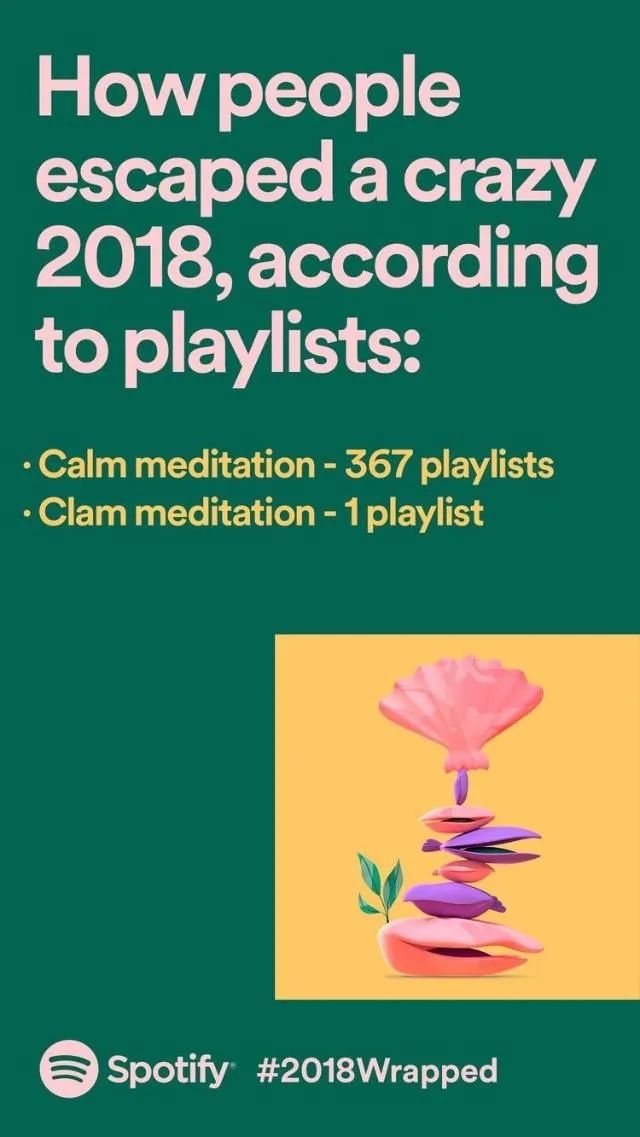 【1】
How people are escaping madness through song lists in 2018:
Created 367 calm meditation songs to appease yourself.
There's also a wrong-named Clam meditation song list.
【2】
Is God a man or a woman?
The answer given in the song list is:
God is a man: 9 votes
God is a woman: 28,08 votes
"Atom" refers to the smallest unit that constitutes a general substance, and the relationship between atoms can exist independently and be weak.
In the rapid development of contemporary society, the development of the material and network world, for people's individual independence provides conditions, especially young people are increasingly becoming "atomic individuals", more inclined to immerse themselves in their own world undisturbed, appear isolated or even isolated, the reality of interpersonal relations are increasingly alienated. In the Met, this phenomenon is even more pronounced.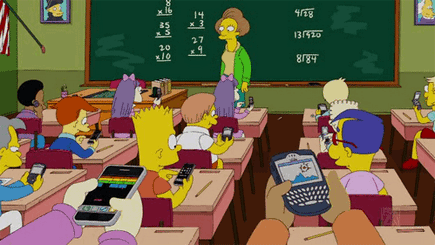 Thanks to the popularity of smart mobile devices and wireless broadband, immersion in the virtual world is readily available.

The virtual world has become a major place for young people to communicate and play, building more closed and subdivided layers in the Sebo world, creating a unique set of languages for communicating with each other, also known as "black words";

Such as the language C, cdx, expansion, fire, nss and other black words from the post-95, it is inevitable that the first contact with them a fog.

In the case of language C(language Cosplay), for example, it refers to a social game in which participants play certain "people" (character settings) in the form of words and interact with other participants through dialogue, movement, portraits, behavior, and psychological depictions.
These "people" can be original by the participants or from characters that already exist in certain comics, animations, novels, histories, games, or films.

For example, in the form of a "celebrity circle of friends", participants can select a person from thousands of celebrities, stars, and historical figures as their own "set-up", to publish content that conforms to that person's identity and language habits, and interact with other related "people-set".

Simple example, for example, a participant chose "Jia Baoyu" as a person, then when you see "Lin Daiyu" and "Jiahuan" at the same time release status, the participant should go to "Lin Daiyu" state message and release rainbow farts, not "Jiahuan" state message.
Because in the "Dream of Red Mansions" book set, Jia Baoyu and Lin Daiyu are a pair of close lovers, and Jia Baoyu and Jia ring is a bad relationship of plastic brothers.

Behind the interactive entertainment methods such as language C, it can also be seen that young people's definitions of "social" and "accompanied" have long been different.

They project themselves into virtual human settings and interact and communicate with other people who are equally virtual, and although these people have little to do with the real world, they can still express themselves and find identity from them.

Not only is he keen to play someone, but the younger generation is also very concerned about the characters in the works when judging novels, movies, TV dramas and other content. The essence of the pursuit of human existence lies in the need for identity, and different people represent different interest tendencies and value orientations.

In the face of this trend, many brands have also opened the way to running "people", which operate on social media.

The most famous case is Durex's micro-blog, relying on its own unique product attributes, on social media, driving around writing love poems, over time, to create a humorous and understandable brand.
As it turns out, people-run operations are not in vain; although Durex has no advantage in all aspects of the data in the evaluation post, but still by virtue of their own people located in social networks brush the sense of existence, long-term stability of more than 30% of China's condom market share, the number one.
05 Conclusion

There is no denying that the younger generation is an increasingly difficult group to "label", that they are personal and metanatized enough, like a floating atom, or that they do not get very close together because of a similar attraction, or that they soon disperse to form new groups, and that no set of communication skills can work for much longer.

Young people's nerves are washed away by the torrent of internet information, their preferences increasingly discerning by the endless variety of products; this is bound to be a harder generation to please, but if they find the right context and skills to communicate with them, in a tone that is open and sincere enough, they will show their affections unreservedly.

—————— / END / ——————
—————— / Recommended reading / ——————
 What are the young people playing now?
 This young man, a circle of friends pretended to be dead, jumping on Weibo
Middle-age people before 95, "social play" after 00 to understand?
>> Delivery people, light collectors and Lonely Planet are mirrors of young people's social interaction
95 Post-Internet Interns 2019: Moving forward in freedom and growing up in breakthroughs
—————— / Good Lesson Picks / ——————
Z-era teenagers, in fact, not as "childish" as we think, 20-25 years old, they not only have their own unique circle culture, but also and "old bacon" when the same upward learning heart!
If you are a "Z-era" college students, or just graduated a few years of "Z-era" career newcomers, want to change themselves, into the job transfer product manager, do not need to go to too much doubt, just need to change immediately, here to recommend the starting point of the college focus on building, focusing on college students and new people in the workplace product manager into the employment course - "product manager employment training camp"
The ultimate goal of learning is to enter the product take Offer, special training camp courses by 20 plus top instructors in the industry configuration, original 6V1 teaching guidance, 12 courses of service coverage teaching, learning, practice, to ensure learning effect, 11 job-seeking employment services, overall promotion of employment opportunities!
Key: The latest issue of the special training camp officially opened today, March 30, the last 10 classes, more enjoy 1000 yuan to learn to beat the card activity reward, report the end!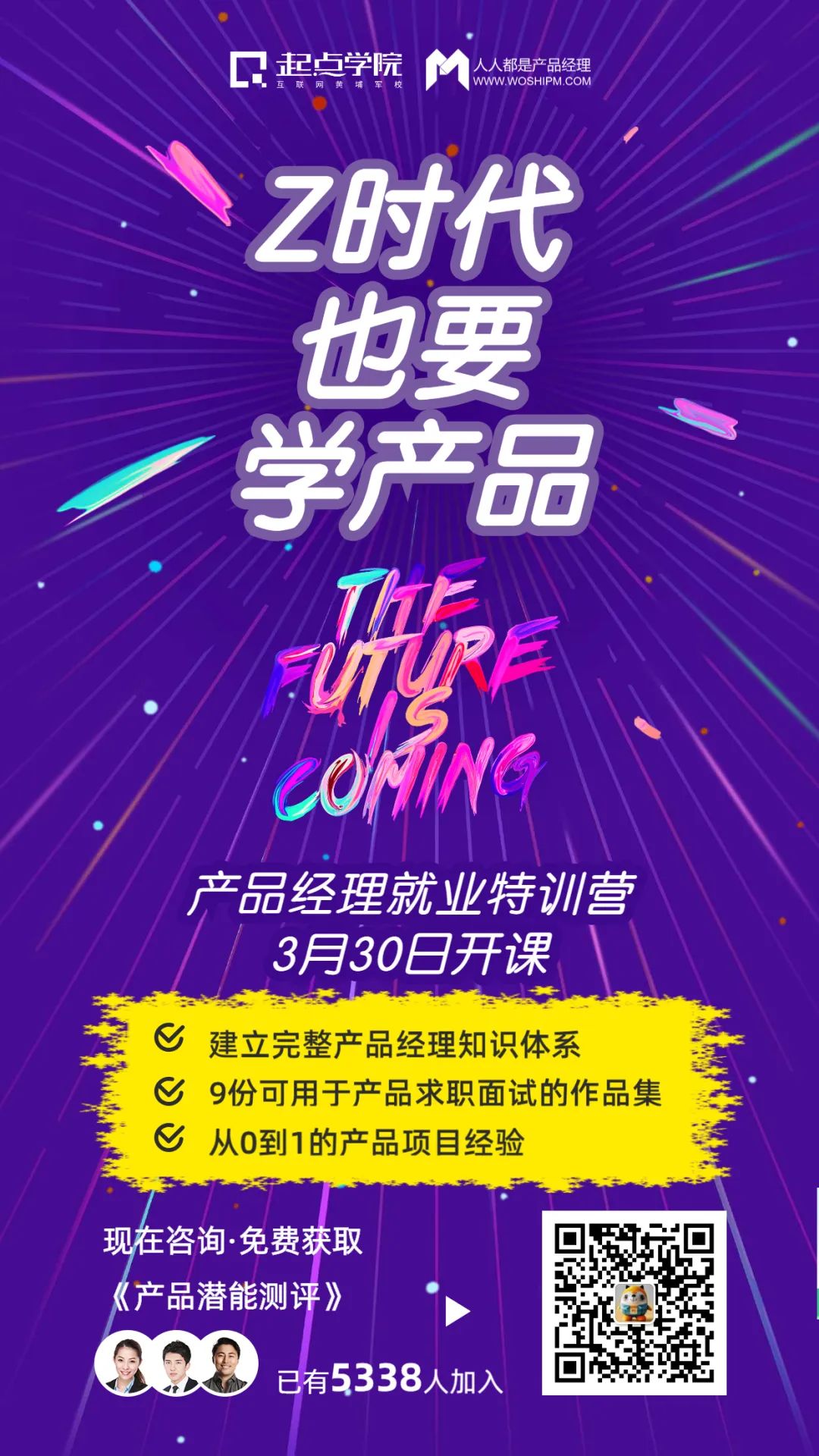 Click on "Read the original text"View course details
---