Can Weibo retain advertisers?
This article is from WeChat's Public Number Appearance (ID:excel-ers), author: Zhou Wei (Senior Researcher), Editing by Reno, Data Support:Insight Data Research Institute,Originally published as Why you can't keep advertisers with 550 million monthly live tweets

Ten years ago, Weibo was called the "High-Knowledge Gathering Place", standing at the top of the social contempt chain, just like today's infinite scenery B station, but today's micro-blog has not been able to maintain their first-in-command advantage, maintain a high growth trend.
Advertising is already a technology-driven business
After February 2018, Weibo fell from a peak of 142.11 to 37.08 by August 2019, a drop of 283%.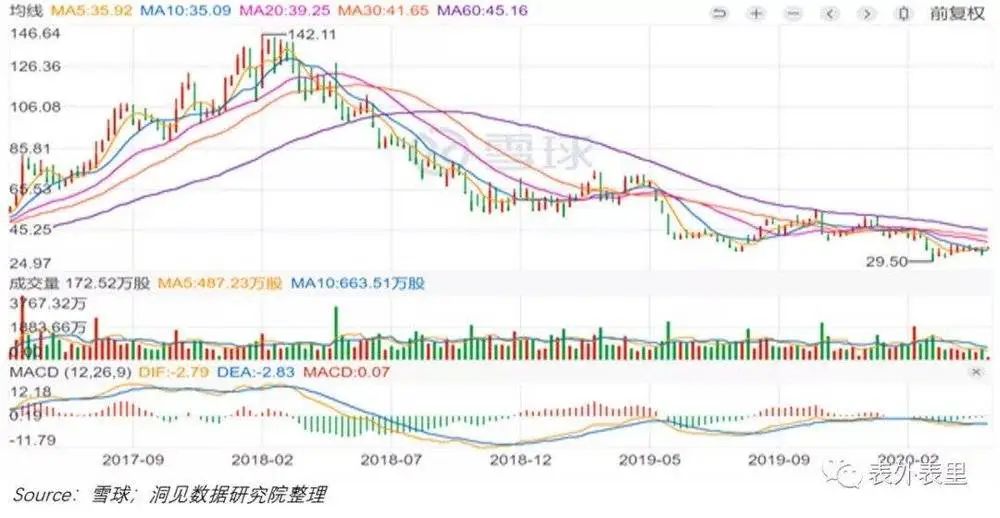 Behind investors' expectations is Weibo's continued decline in revenue growth. According to the 2020Q1 results, Weibo's revenue was only $323 million, down 19% year-on-year and the 11th consecutive quarter of year-on-year growth since 2017Q3.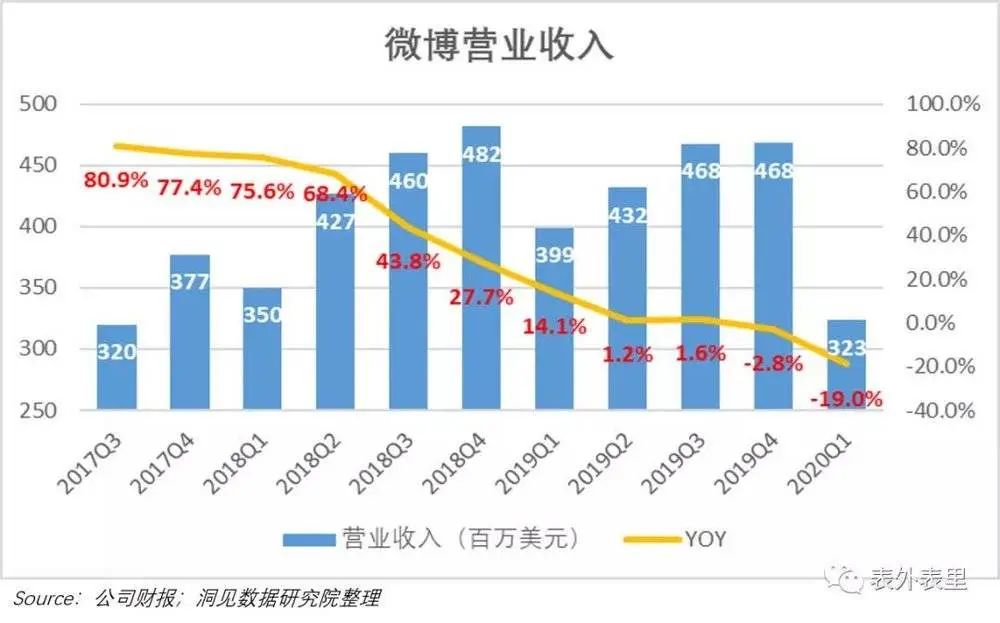 A closer look at Weibo's earnings reports is actually very fragmented:On one side are falling revenues and share prices, and on the other are continuously growing user data。
In 2020Q1, Weibo had 550 million monthly live visits, the largest number of users in the country, and social media in the public domain, up 34 million from the previous quarter, like a high-growth enterprise.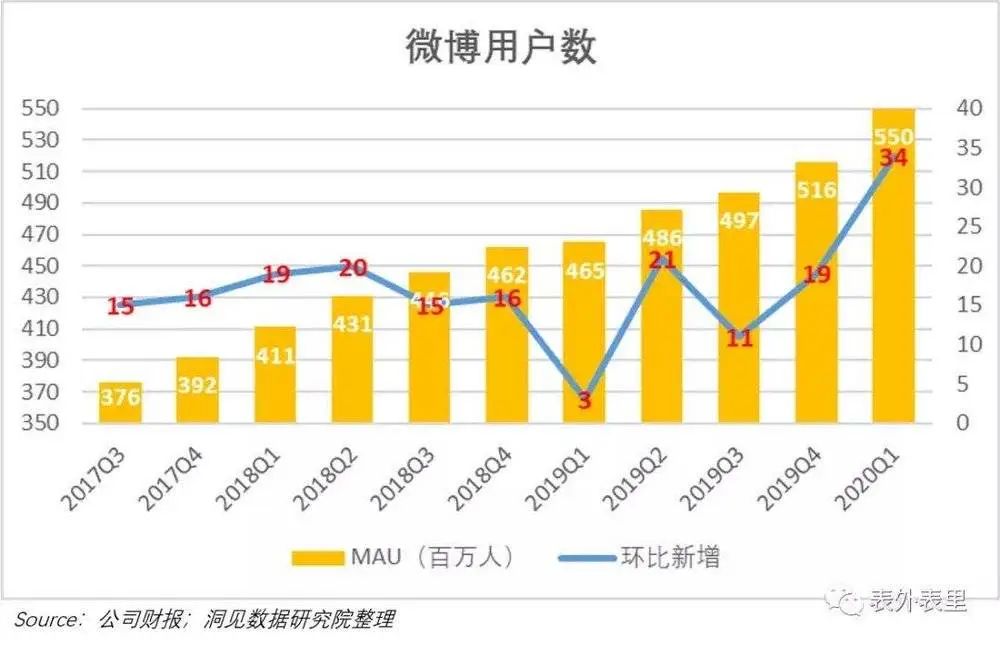 So the problem came, the user's "hot", why in exchange for the investor's "cold-eyed treatment"?

The answer is: as times change, advertising is no longer a traffic-driven business, but a technology-driven business.
Before analyzing the problem of microblogging in detail, let's analyze the composition of advertising in detail and review the four "small times" of domestic Internet advertising.
Advertisers generally have two requirements when running ads. One is the amount of exposure, which is Marketing in the figure below, and the amount of exposure depends on the amount of traffic on the platform. Second, the sales conversion situation, that is, sales in the figure below, the platform has traffic at the same time, the better the conversion rate of advertising, sales results are stronger.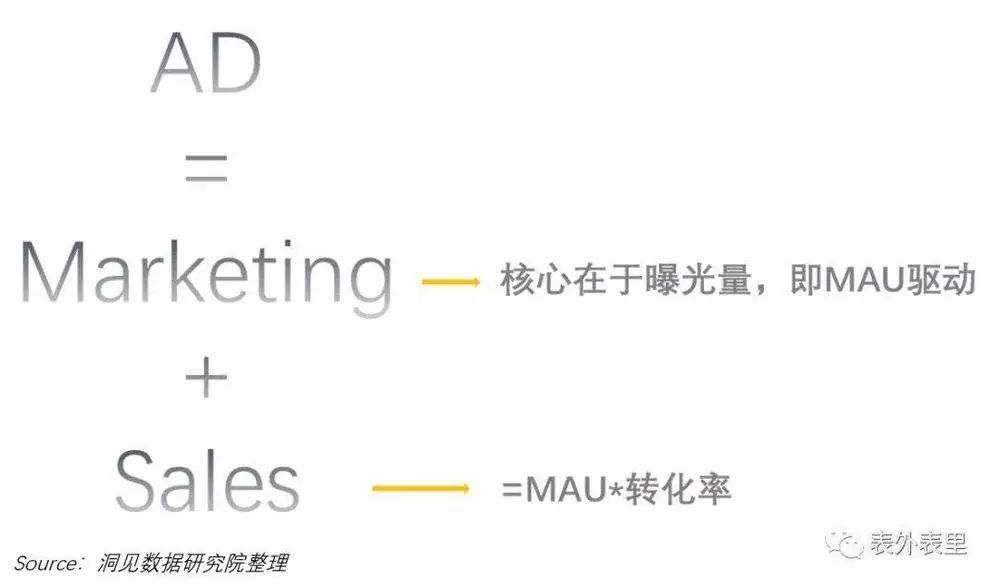 And the changes in the four "little times" we're talking about always don't get around Marketing and Sales. At different stages, the platform can achieve different advertising performance for advertisers, and gradually strengthen.

1.0 Portal banner era
As the name implies, the portal era, the core is page traffic - PV /UV, determine the brand advertiser's delivery, the pursuit of more Marketing, that is, consumer Influence. So in that day and age, all the companies were frantically piling up content, emphasizing exclusive and fast news, and then cashing it out.
2.0 Search Age
In the age of search, it is clear that pure brand advertising is no longer sexy. Can be converted into Sales, gradually become the main core appeal of advertising, which is obviously an incremental market, Baidu and Baidu alliance, as well as Taobao, etc., become the winner of this era. At their core is the ability to quickly turn user search data into leads that generate revenue directly.
At this point, advertising began to gradually have certain operational requirements. For example, like Baidu, through the natural funnel model, screening and layering users, improve conversion rate.
3.0 The Age of Algorithms
The core is to track user behavior, use machine learning and other technologies, so that easy users indulge, and get accurate user portraits, and then when users use the corresponding APP, through large-scale ad penetration (MAU), relatively accurate ad recommendation (conversion rate), to earn Sales money. This recommended conversion rate may not be as good as searching for leads, but several times the potential leads are completely covered with relative flaws in quality.
4.0 The era of product efficiency in one
The latest, is the last year or two developed the model of product efficiency, obvious examples are shaking sound / fast hand / Taobao live and other platforms advertising.
For example, jitter on the live delivery, in fact, not only earned the report brand's Marketing money, but also earned the user conversion of money, typical such as Luo Yonghao's live shipping. The core is in the MAU, there is a large enough amount of paving(Platform recommendation), relatively high conversion, Marketing and Sales money, together earned, and enough weight.
In the emerging era, advertising is no longer a pure traffic business, traffic conversion is not only rely on operations, but more and more rely on algorithms, accurate recommendations and other technologies.
When the wheel rolls into the 4.0 product efficiency in one era, jitters, Tencent, fast hands are all spelling technology, spelling research and development, spelling algorithms;
Later we will analyze how this way of thinking is reflected in the financial data.
The nostalgic way of playing Weibo
As we mentioned earlier, 4.0-era advertising, spelling algorithms, is the technology behind algorithms.
So, how do you do a good job of algorithms? The answer is that more research and development is needed.
However, we do not see in the micro-blogging as the market demand changes, the initiative to invest in research and development, plus code advertising algorithm.
To some extent, this may have something to do with weibo management. We can clearly see from the resumes of Weibo management and Zhang Yiming that the most visible keywords in the former resume are "operations" and the latter is "technology". The two men's ability to look after the family, or the old line, is fundamentally different, which may also affect their sensitivity to the new advertising era.
Weibo management is "sensitive" in the PC era, which makes advertising dollars from operating traffic(Including the hot microblogging, but also by star-run start-up), but did not seem to continue to be "sensitive", which is evident in the cost of micro-blogging investment.
Insufficient investment in technology
Weibo's research and development spending has not exceeded 20% for six consecutive quarters since 2018Q4, and only 7% year-on-year for 2020Q1.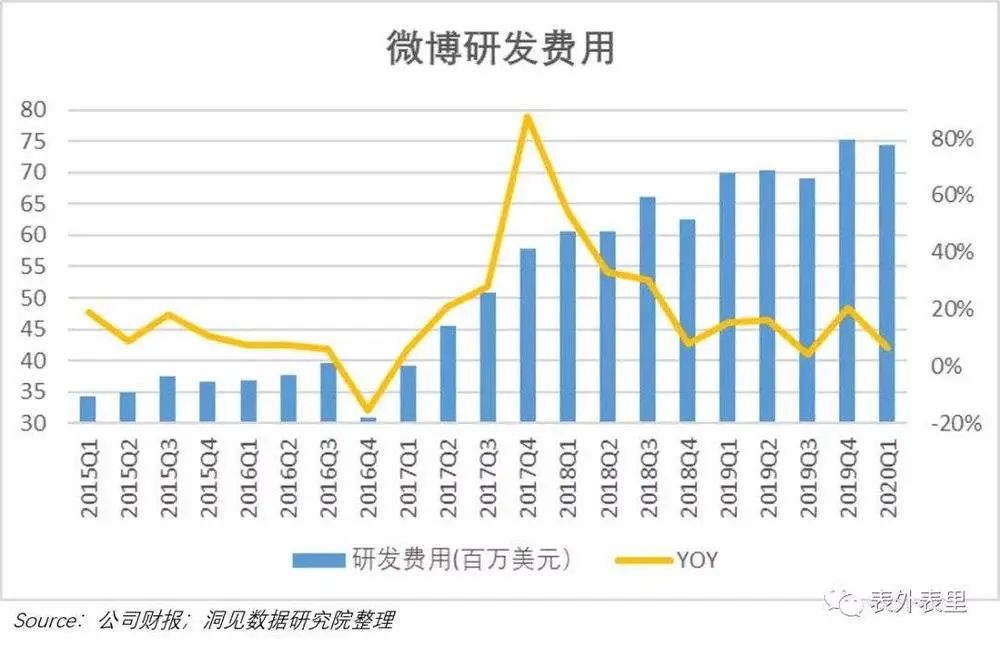 We can also illustrate this by changing the data relative to Twitter and Facebook.
Let's start by comparing microblogs to Twitter, which, like Twitter, are more social media-biased in the commons, and their core sources of revenue are advertising. In 2020Q1, the two ads accounted for 85.2 and 84.4, respectively.

Both social media platforms' core revenue streams are advertising, so we can assume that most of their research and development spending is on advertising-related businesses such as precision and algorithms.
However, the two research and development costs as a percentage of revenue is very different. As can be seen from the chart below, Twitter's research and development spending has been greater than Twitter's since 2014.
(The rapid increase in research and development expenses as a percentage of revenue from 2020Q1 weibo is due to a large decline in revenue growth, rather than a increase in research and development costs.) )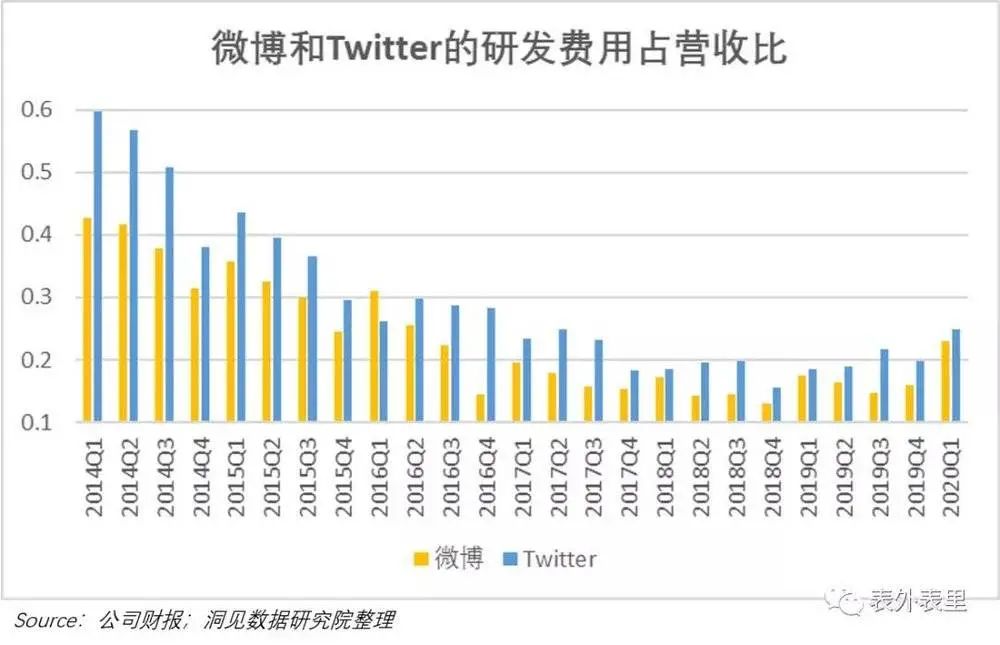 How much research and development costs are invested, and the feedback is directly reflected in the year-on-year growth rate of operating income. In 2018Q1, Weibo's revenue grew by 78% yoY, and has fallen rapidly to -19% in eight quarters. In contrast, Twitter's year-on-year growth rate, although also declined, but much smaller than Weibo, 2020Q1 affected by the outbreak, still maintained positive growth.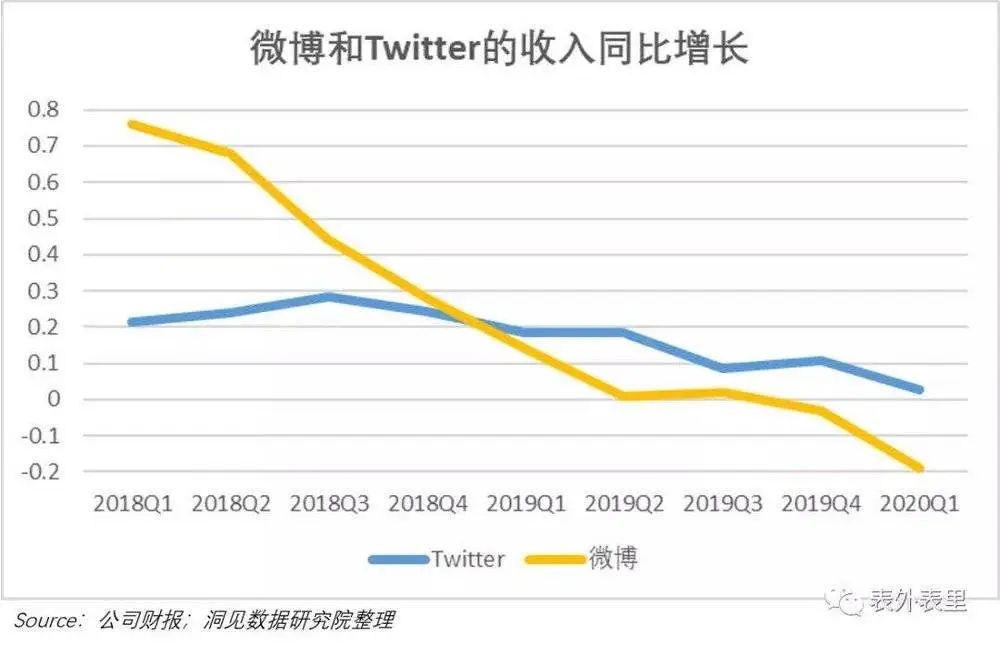 In addition, we compare the cost of microblogging and Facebook as a percentage of revenue, cross-validation, can clearly prove that it has not edgy in recent years with the new product efficiency of advertising, thinking stuck in the era of recommendation.
We compare Facebook because the industry's recognized ad recommendation mechanism is doing a good job, and behind that is a lot of research and development investment. In absolute terms, Facebook 2020Q1 will cost $4 billion in research and development, or 12.5 times its revenue for the quarter.

Facebook relies more on ad revenue than Weibo, accounting for more than 98% of its annual revenue.

In January 2011, weibo quickly passed the 100 million mark for registered users in just over a year and a half, but by 2014 Q3, MAU growth had begun to slow. So, in order to do a large traffic pool, Weibo began to strategically sink, and the platform to change. At this stage, research and development costs are always above 20% of revenue and higher than facebook, our benchmark.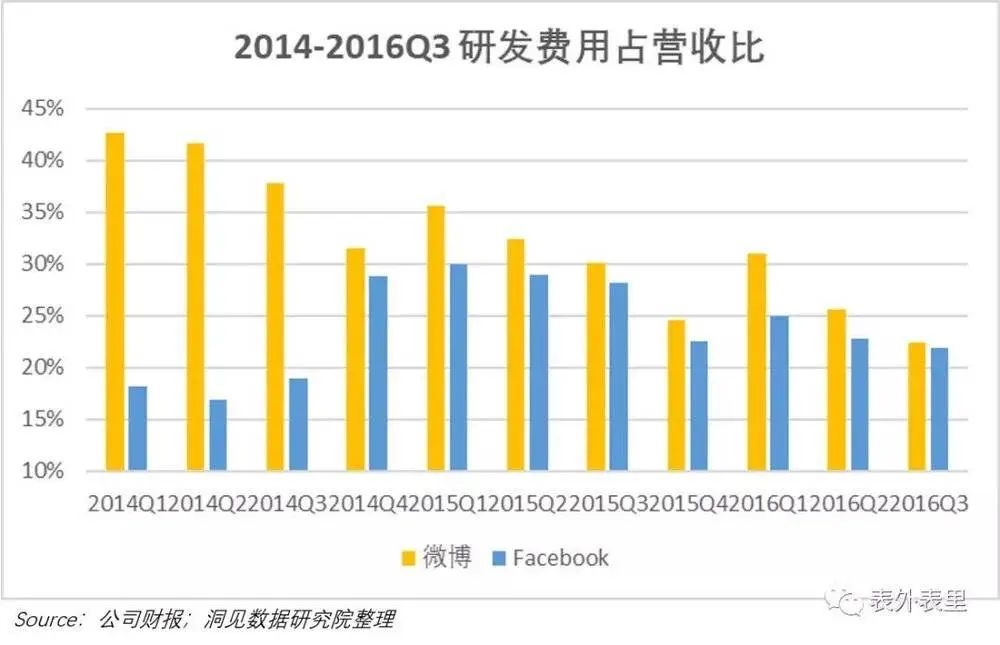 2016Q4, Weibo MAU quickly exceeded 310 million times, the platform's major revision basically ended, sinking the early "foundation construction" basically completed.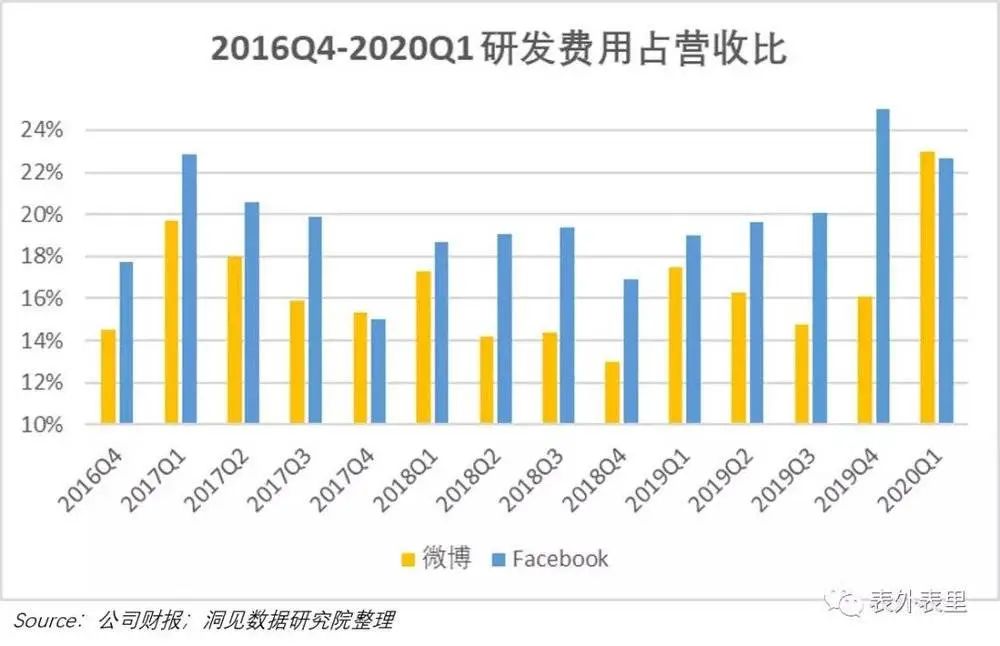 As a result, Weibo's research and development spending as a percentage of revenue began to decline, and has since hovered around 15%, always lower than Facebook's.

In contrast, Facebook is spending more money on research and development and increasing its revenue share as the advertising market becomes more competitive. On Weibo, by contrast, even in the highly competitive 2018 and 2019, research and development spending as a percentage of revenue has never exceeded 18%. 
The proportion of marketing expenses increased
Starting in 2018, Weibo is aware of the fierce competition in the market, and while it has not spent much on research and development, it has spent more money on publicity. We believe that micro-blog in the 4.0 product efficiency of the era of playing more traditional purchase traffic, content, etc. , than investment in research and development, so as to make strong and accurate recommendations.

Marketing costs as a percentage of revenue rose rapidly, reaching a peak of 33% in 2018 Q2. Although there has been some volatility since then, it has always been greater than 25 per cent, which is actually a lot more than the 22 per cent "competitive easing" in 2016.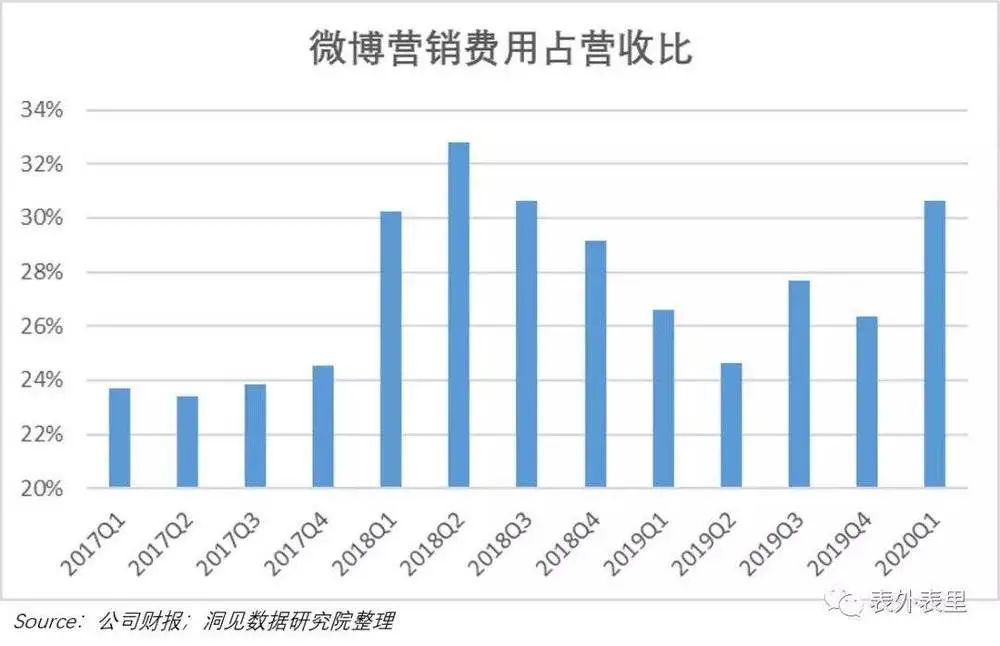 It is clear from the earnings data that after 2017 the micro-blogging is still stuck in the 2.0 era, in order to increase publicity efforts, do a good job of traffic operations can win back advertisers, and did not spend too much thought at the research and development level. As a result, the best development period of strong algorithm advertising was missed.
In the era of product efficiency, the logic of advertising has changed, no longer traffic plus operation, but technology-driven, but the big V network of micro-blogging red star, hot current political topic is still, which means that the status of the traffic pool is still, the basic disk is still.

This content is the author's independent point of view, does not represent the tiger sniffing position. No reprints may be made without permission, please contact hezuo@huxiu.com
If you have any objections or complaints about this manuscript, please contact tougao@huxiu.com
End
What market signals does the GEM registration system send out?
What are the main points of reform? How do I capture new opportunities?
GEM, Science and Technology Board, New Three Boards, how do you choose?
Tiger Sniff pro Open Day No


Wait for you to 👇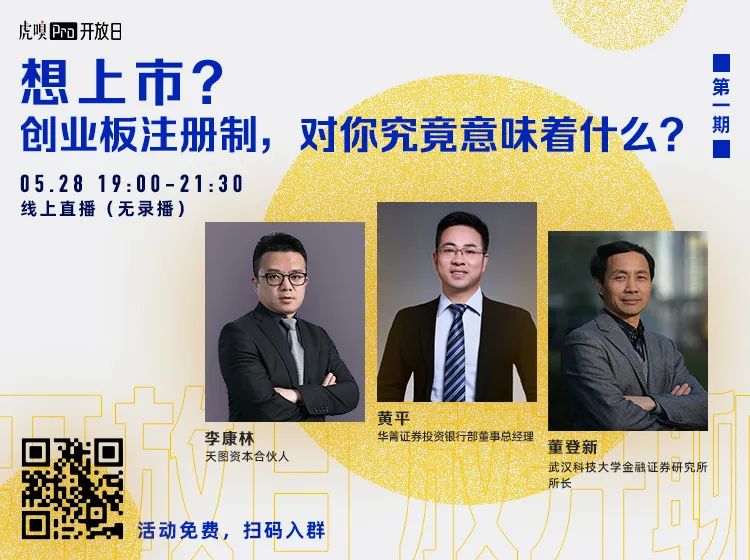 ---