B station and watermelon video, up master how to choose?
In.
Between Station B and Watermelon Video, who is most likely to become China's Youtube? Today, this has become a topic of concern for many video bloggers.
In February, Mr. Aguang, who had been idle because of the outbreak, tried to release his first video on Station B. As the creative director of a 4A advertising company, A guang originally had a very good income, at first with the attitude of playing tickets to become the Owner of up he did not think that in the next four months, short video will become an important part of his life.
"I was just playing, and I didn't expect the first video to get positive feedback very quickly, and I was pushed to keep doing it."
After releasing 19 videos in a series of videos, today's Aguang has been certified as a high-quality Up owner in the knowledge area by Station B, and in addition to accumulating 90,000 followers and gaining 2.69 million broadcasts, he has an economic gain: 6,000 yuan before tax.
In addition to Station B, Aguang also put the work on the 130 million moon live watermelon video, "because of time is limited, now only focus on the head platform, other platforms if there is momentum up, will try later." "
But on the watermelon video, Aguang's numbers are not ideal - it has so far gained only 360,000 streams and 10,000 followers, while earning only about 2,000 yuan in economic terms.
B station and watermelon video playback revenue has different calculation criteria. The former will be for the up master of the creation of home-made manuscripts for a comprehensive assessment, including content quality, popularity, interaction rate and other measures, according to a up master B station, generally 20-40 yuan / per 10,000 playback. The latter is based on the number of exposures shown in the ads, according to industry insiders, its combined unit price of 10-90 yuan / 10,000 times play.
In terms of playback revenue alone, A guang created content in watermelon video playback unit price is 2.5 times B station, but the impact of B station harvest is much greater than the former.
According to Li Yang (analyte), head of a medium-sized MCN agency, this difference stems from the difference between B-station and watermelon video user groups, popular content is also different, "the properties of each platform, user groups are not the same, resulting in the author's content output of high-quality standards will also be different." "
Li Yang, who entered the short video industry in 2016, currently operates 21 homemade video accounts with 50 million fans across the network, and has a layout on several video platforms, including B-Station, Watermelon Video, YouTube, Jiyin, and Good-Looking Video.
"B station users have strong personality, young, student group-oriented, like high-level, terrier, topical content. Watermelon video and the number one user to 80, 90 after the male user-oriented, like more direct expression, can be understood as popular, social or grounded gas content. Mr Li said.
Several operators interviewed by DreamWorks believe that the commercialization model of Station B and Watermelon Video is also very different: At Station B, fans are created mainly with high-quality content and then cashed out by business cooperation, while watermelon video creators rely more on platform subsidies.
As the ceiling of the PGC-dominated long video market becomes more visible, the cake in the UGC content market becomes even more enticing. Watermelon video on the B station up master, from digging corner "plant director" in the watermelon video synchronization update, to the exclusive signing of a batch of "catch the sea" up master, "witch finance", the two in this track competition intensified, how should the video creator choose?
B station and watermelon video which platform is more money road?
Up main business advertising, by the B-station user image called "just rice", which is in addition to "power generation with love", supporting the up master can continue to produce video the main material power.
The "Cantonese Men's Voices", which began operating in the second half of 2017, has finally been commercialized this year. Account operations head Chu Fei told several entertainment dream factory, in Station B after more than 150,000 fans, business cooperation will be more up, "We now on average a week can receive a promotional cooperation." "
"Cantonese men have words" is the entertainment variety category up owner, responsible for the operation of a film and television communications company, "before receiving commercial cooperation, are used the company's other projects to supplement the income of video expenses." Chu said.
After a year of operation, "Cantonese men have words" only received the first commercial cooperation, before the video revenue source is platform subsidies.
"But the benefits are small." So much so that they didn't really calculate how much revenue they could earn from the amount of air, Chu added.
Chu Fei refers to the platform subsidy refers to B station in February 2018 launched the up master incentive plan, that is, traffic subsidy, B station will be for the up master created by the home-made manuscripts to provide a comprehensive assessment to provide the corresponding benefits. Comprehensive assessment includes content quality, popularity, interaction rate and other measures, different content on station B playback unit price is not uniform. According to a up owner of Station B, it is generally 20-40 yuan per 10,000 playbacks.
"B-station platform is more pursuit of content quality, many up owners two weeks more, one more, a month updated content is difficult to exceed 10, so there is no way to rely on the revenue of traffic as a support." Li Yang believes that B station fans sticky high, up main commercialization path, is to accumulate high-quality content fans and then rely on business cooperation to complete the realization.
Chufei team operated by the "Cantonese men have words" also confirmed this, "we are by selling their own peripheral products, and later can receive more promotional cooperation to truly commercialize." "
"Extreme tolerance, extreme loyalty, extreme harshness", this is the B station coo Li Wei to B station users. "Extreme tolerance" can be seen in the high level of tolerance of up-master ads by users on Station B - when their favorite Up-owner appears in a video, the screen often brushes "let him do it."
Station B animation area head up owner LEXBURNER often in the video implanted in the unsparing ads, but did not cause the fans' dissatisfaction, even when there is no ads in the video, fans will joke that they are not used to.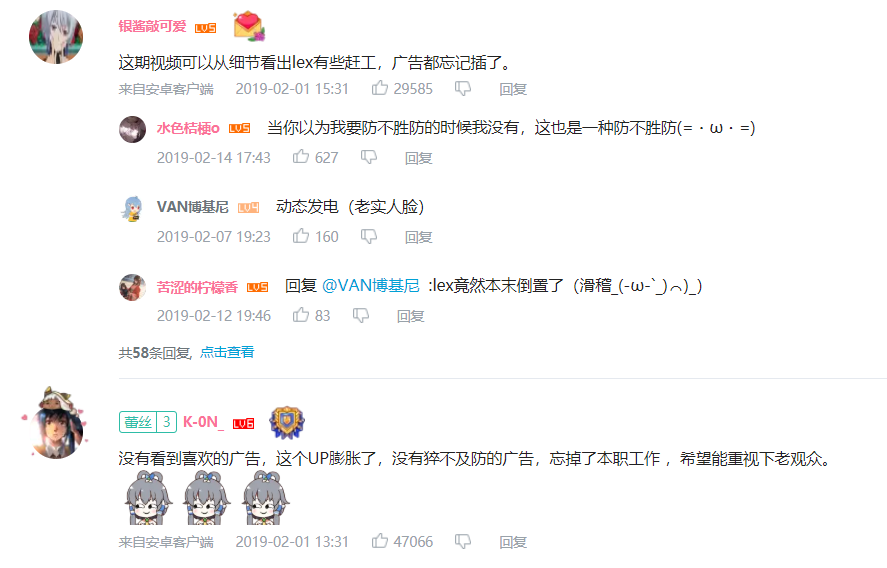 A year after becoming the main B-station up, "Cantonese men have words" and in the watermelon video also opened the same content account, Chu Fei on the two platforms intuitive feeling is, "watermelon video platform subsidies than B-station."
Li Yang has the same view, from his account, "the same account watermelon video traffic subsidy is more than four times B station." "
To the outside world, watermelon video's parent company, Byte Beats, has more than $100 billion in advertising revenue in 2019 and is connected to more than 500 million jitter accounts a month, both in terms of traffic and advertising cooperation will have an advantage over Station B, but Li Yang says that's not the case.
"We rarely get business cooperation on watermelon videos, almost nothing." He explained that watermelon video platform account fans are less sticky, for businesses advertising value is not high.
Many UGC authors can clearly feel the difference between the fans of their accounts on the two platforms, in watermelon video on the same account each issue of the video playback fluctuates a lot, from millions to hundreds of have, but on the B station is relatively stable.
Much of this comes down to the platform's algorithmic mechanism, watermelon video is a strong content recommendation mechanism, and sometimes fans may not be able to brush the content of the video number they subscribe to.
On the other hand, for the platform with advertising revenue as the main source, UGC authors if they undertake too many ads, will impact the platform's advertising revenue, "so the platform has a lot of restrictions on advertising, such as not allowing WeChat QR code, LOGO, etc., but also to reduce the recommended amount of video with these commercial elements." Li Yang added.
The user type determines the upper limit of the up master "just rice"

Station B, which has a good community atmosphere and high fan stickiness, has long been regarded as the platform most like China's Youtube. Now, watermelon videos are announcing their ambitions for YouTube.
In January last year, Watermelon Video released a new brand positioning, a comprehensive video platform that aggregates multiculturalism. This year, the UGC content creators are swinging an olive branch with plenty of money.
Recently, B station head knowledge area up master "witch finance" high-profile out. Although previously caught up in the plagiarism, washing scandal, but according to rumors, the wizard financial still received watermelon video up to 10 million signing fee, the contract period of 2 years.
In March of this year, B station popular "catch the sea" up master has also signed exclusive watermelon video. Among them, the popularity of the "Fisherman Ao" in station B updated a farewell video, "some time ago did not update the video, because in communication with watermelon video, this platform found me, I considered for a long time, I think this."It's a great opportunity. "
A B-station game area UP owner has revealed to the media the watermelon video to send him the invitation content: watermelon video, revenue will be 10-20 times more than before, but also enjoy a large number of recommended rights and sound platform traffic support.
"Watermelon videos are also invitedAsk us to enter the platform, to provide us with some support, but perhaps because our content and the platform's user base does not match, even if there is support, the effect is always not ideal. Another B-station entertainment area of the up owner said.
And watermelon video and the headlines of the jitters, today's headline account interoperability, should be better than Station B traffic. But by comparing the data of the two platforms, it is found that B station and watermelon video which platform will be better, can not be generally discussed.
Unlike the entertainment and knowledge areas of the up master in the watermelon video of the soil and water, "fisher a" is like fish water, whether the number of fans or video playback is more impressive than the B station data. Li Yang's film and television accounts also got better playback data on watermelon videos, and the number of fans was twice that of Station B.
In response, Mr Ma, a senior analyst at Easy View, said: "Different platforms have different audiences and how much they like content." "This means that popular content doesn't necessarily have the same effect on watermelon videos.
According to the headline data, watermelon video user age distribution is concentrated in 25-35 years old, accounting for 50%, of which 31-35 years old accounted for 25%, urban grade distribution is mainly concentrated in the second- and third-tier cities.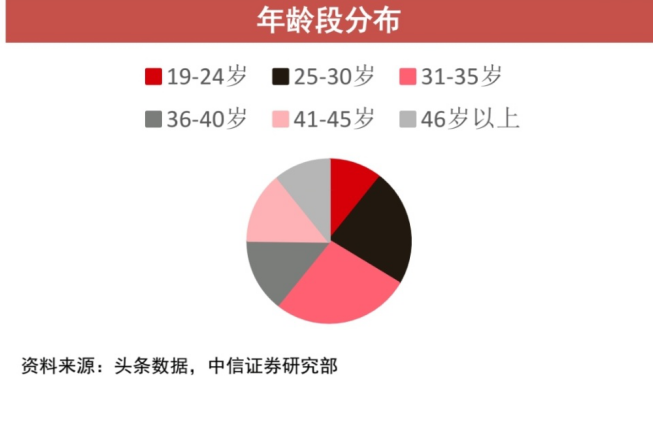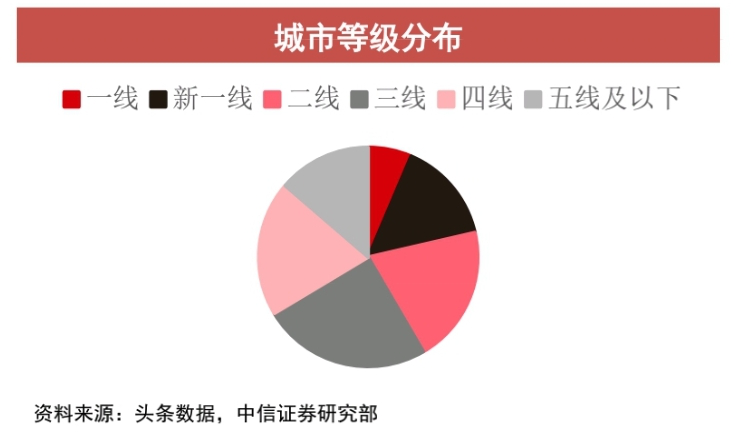 And B station users to young people mainly has long been an indisputable fact. According to a public statement made by Chen Rui, Chairman and CEO of B Station in 2019, the proportion of users aged 18-35 at Station B is 78%, while the urban hierarchy is mainly concentrated in first- and second-tier cities, with an average age of 21.
In the platform content, B station currently the five most popular content categories are lifestyle (fashion and Vlog), entertainment, games, animation, technology. Watermelon video's head content category is divided into film and television, games, entertainment, food, variety, of which film and television accounted for 24.8%.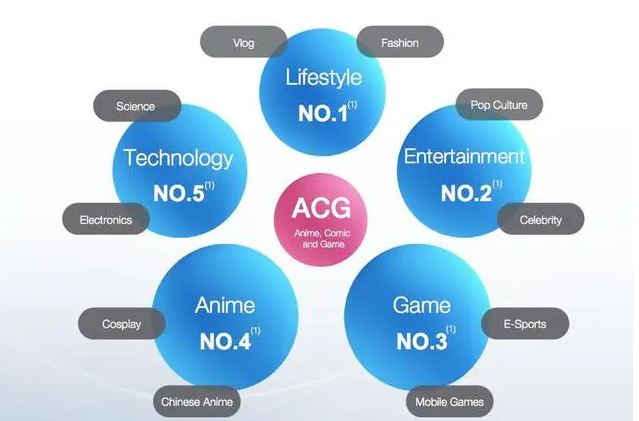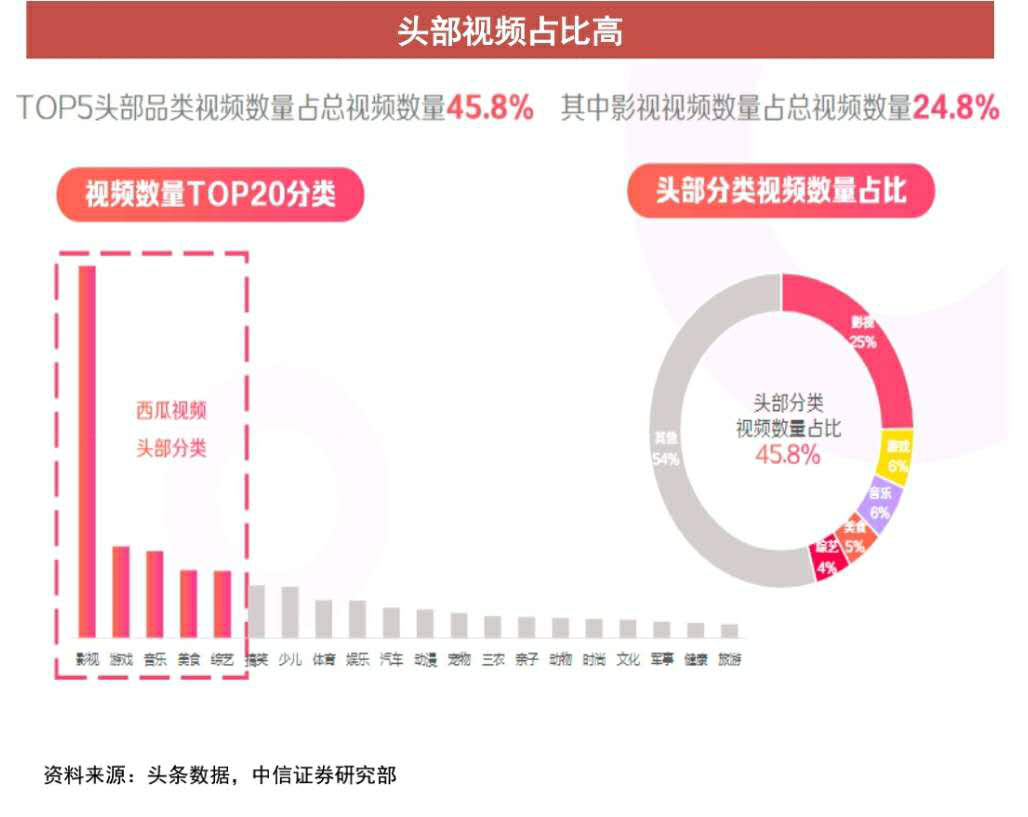 (Watermelon Video Head Content Category)
"The attributes and user groups vary from platform to platform, resulting in different quality standards for author content output." Li Yang said that from the point of view of MCN organization operations, each account in the initial positioning is not the same, is the main traffic or the main fan stickiness, "both traffic and fans can adapt to the whole platform is very difficult, so generally choose to do one-way." "
"Everyone wants to make Papi sauce, leech, office ono... But they are destined to be a minority. " 
What's missing from "China YouTube"?

Station B, watermelon video, Penguin, good-looking video, Ai Qiyi, YouTube... Li Yang has a layout on all video platforms, and there's no doubt that the best earner is YouTube.
YouTube's high revenue lies in its high share of the platform.
"YouTube's revenue is based on the platform's share of advertising, and its CPM (cost per thousand impressions) is 10 times that of a domestic platform." Mr. Li says YouTube's huge advertising share provides creators with the conditions to create full-time.
YouTube gives 55 percent of its advertising revenue to creators, allowing them to focus on producing high-quality videos, which also meets users' content needs and creates a virtuous circle.
According to practitioners, watermelon videos are divided into 20%. But watermelon video and YouTube naturally can not be compared, YouTube has a monopoly of 2 billion users, backed by trillions of market value of Google, and in the domestic fierce competition environment, watermelon video does not have the ability to share most of the profits to the author, there is no way to feed the author to let them concentrate on content.
On the other hand, YouTube's recommendation algorithm is also different from the domestic platform, "most of the domestic platform is the main recommended video content, and YouTube is the main recommended account, so the creator's content should be more than indiscriminate." Mr Li said.
In interviews with DreamWorks, some video authors even said that the recommendation mechanism for watermelon videos doesn't allow them to focus on content, but rather cares more about algorithms and more about research operations than content, otherwise it's hard to get good feedback on videos released.
B station on the contrary, content quality has always been one of the core competitiveness of B station. But on Station B, operating an account requires a lot of up-front investment, and whether it can be commercialized varies from person to person.
"Lin Chen classmate" who filmed "Wuhan Diary" sent out a "full-time up year, 370W playback, can feed themselves?" in December last year. In the video, he says, "I'm asked what it's like to be a full-time UP owner." I said a bit like, you don't have a map, but you paddle a boat to find an island in the windy sea. Because you don't know where you are, you don't know where you're going. "
In the video, he reveals his income for the year: $12,000 in incentive program revenue from more than three million broadcasts, about 1,300 fan appreciations, and promotional co-production revenues similar to 20,000 in incentive program revenue, which is less than $30,000 a year.
"Do the program to make money, do the video to spend money", "Lin Chen classmate" said he has been relying on helping others to do the program to subsidize the cost of doing video.
"The commercial value of accounts is also related to content attributes, and some accounts have difficulty receiving promotional collaborations even if they have invested a lot of effort in accumulating a lot of fans." Li Yang pointed to the uncertainty of commercialization at Station B.
The head of station B's fashion district, the "smart party sister", also "unmasked" the income of the up master at station B after gaining 3 million followers last August.
According to her description, B station each district up master's business value in turn for lifestyle, game animation, dance music, ghost entertainment. At the same time, she said, "when the scale is very small choose to do full-time, this time want to eat enough will inevitably take a lot of bad promotion, of course, this is only a fashion living area, because other areas of small size when simply can not eat." Just rotten money is a pure consumption behavior, will lose word of mouth, will certainly drop powder. "
This is also B station COO Li Wei said B station users "extremely harsh" side, they are extremely demanding on the quality requirements, can "just rice" but not "just rotten money".
How to better help UP master "eat enough" and gradually reduce "power generation with love" is the key to B station truly become China's YouTube.
Guangfa Securities report analysis shows that the current B station has relied on high-density community relations and UP master formed their core competitiveness. However, there are still shortcomings is that B station is facing the UP main system pyramid, illiquidity and commercial incentives less than three points, and the user size of the expected growth and commercialization system is an important grasp of the current break.
But the other reality is that even YouTube, with 1 billion active users in its 10th year (2015), backed by Google's advertising system, has not been profitable.
"This is the era of the great seafaring of video creators." This analogy from Zhang Nan, the former president of watermelon video, has aroused the infinite vision of the video man. For countless UGC creators, watermelon video and station B are like two huge ships, and in this wave of short videos, who can carry the creators further into the future? Controversy has only just begun.





---