20 low-cost draining methods for cross-border e-commerce self-built stations

Cross-border e-commerce independent station
"Cross-border e-commerce independent station" the only official WeChat public number.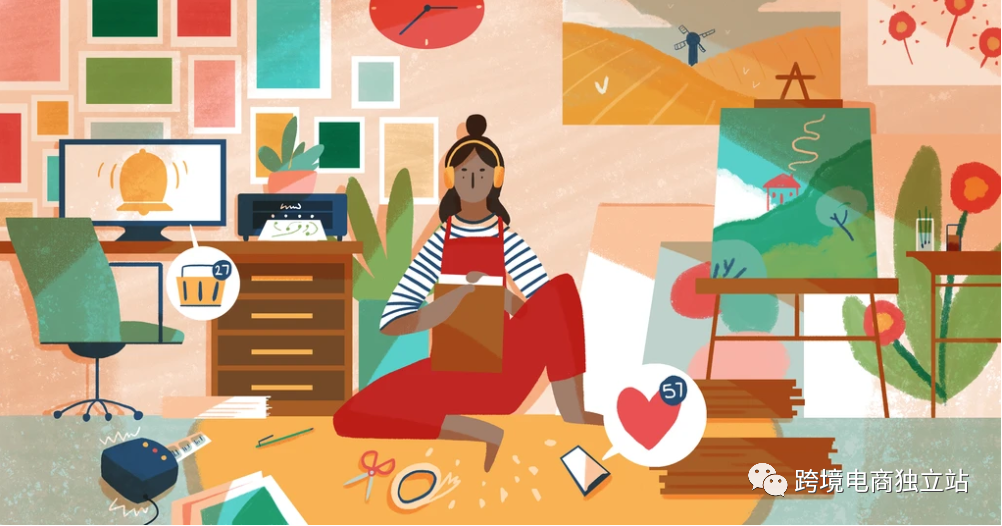 "How for our cross-border e-commerceSelf-built stationAttracting more traffic? " 
At some point, this idea runs through every cross-border e-commerce businessSelf-built stationthe owner's mind.
Perhaps you spent time and effort creating your cross-border e-commerceSelf-built stationAnd adjust all content to actively release products, but where is the store traffic? Over the past six months, you may have seen steady growth, but there has been a bottleneck in traffic and sales. Or maybe you've managed to find a draining strategy and be curious about the strategy you can try next.
Whether you're trying to attract your first or 1,000th customer, attracting more traffic to your self-built stand-up store is a key part of your business growth. If your site is properly optimized for conversions, increased network traffic may mean more customers and more sales.
You should know about adding self-built stations

Knowledge of traffic
From a marketing perspective, the good news is that getting the first customer is the same process as getting the first customer. "However, for traffic to be successful in terms of sales and profitability, there must be some basic prerequisites to ensure that traffic can be converted and that costs are sustainable." You should ask yourself:
Is this a good product?A "good product" means it's good enough for your audience and has passed their implicit cost-benefit analysis.

Is there a big target market?The market is a group of people who have already spent money on something. Will people buy the same type of product again?

Is there a target market?A targeted market is a group of people with clear common qualities who have already spent money on things. Can you focus on a market segment? 

Are there great product stories and/or compelling scripts?You may have a clear "why" for your product compared to your competitors, but you need to turn that hype into compelling web replication. Will your product promotion resonate with them?

Is there a low-cost way to appeal to these audiences?

The goal should be to keep customer acquisition costs low. Can you attract potential customers in a number of ways?
How to increase the flow of self-built stations
We've collected a list of 20 proven high-impact strategies to get more traffic to your online store.
Refer to the following guidelines:
Launch paid social media campaigns
1. Facebook ads
2. Instagram ads
3. Pinterest ads
4.  Google Ads
Engage in interactions on social media
5. Share with friends and family
6. Take the initiative on Twitter
7. Post your store to Reddit
8. Stimulate interest through contests and giveaways
9. Limited-time discounts are available
Engage new audiences with online marketing
10. Send a free sample to Instagram.
12. Blog about Net-a-Go and its recommendations.
Engage customers with content marketing
13. Blog to provide information or solutions
14. Create podcasts to reach new audiences
15. Use video for education or entertainment
Use SEO to improve your store's search ranking
16. Write a title that matches the search intent
17. Write unique and precise meta-descriptions
18. Take advantage of internal links
19. Add a long-tailed keyword variant to the page
20. Stand out with a rich summary
Which strategy is best for your business?
Some of these sources will generate higher-quality traffic for your particular business, while others will generate lower-quality traffic.
For example, suppose you're targeting young people who are interested in buying quirky office supplies.LinkedIn may be a better option than Pinterest.
"The most relevant traffic we can find" is very subjective and everyone is different, so let's break down the various strategies that can be used to increase network traffic:
Tactical type This idea includes short-term and long-term traffic strategies.Short-term strategies usually work faster, but require more maintenance or investment.Long-term strategies take longer to see results, but are evergreen and require little maintenance.

Efforts. How much time, skill, or experience do you need to invest? 

Return on Investment Time (ROI).Whether you're investing time, energy, or money in a traffic-enhancing strategy, it can take days, weeks, or months to increase traffic and sales. 

Cost. You need to execute the up-front budget for this tactic.

Drain effect

The total traffic that can be streamed to your store.
Run paid social media campaigns
To increase site visits to stand-alone sites, you need to have the product displayed in front of your target customers.With paid social media ads, you can create targeted campaigns that tailor ads to customers who are most likely to click and buy your product.
If you're considering running paid social media ads, you should consider some of the following platforms:
1. Facebook ads
Tactical type:Short.
Effort:Low.
Return on investment time:Days.
Cost (out of 5  💰):  💰 💰 💰
Drain effect (out of 5 👤): 👤👤👤
With 2.6 billion monthly active users in the first quarter of 2020, Facebook is the world's largest social media platform.Facebook is full of opportunities to attract new customers and attract them to your stand-alone online store.Its powerful advertising platform lets you target users based on their interests, behaviors, locations, and more.Facebook can also save you time and money by optimizing your ad serving and showing your messages before they're most likely to be converted.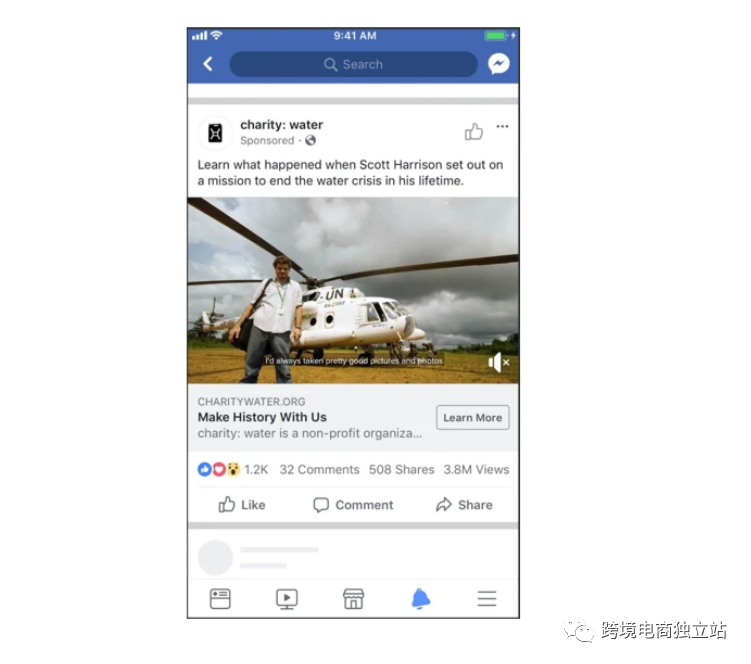 Use.Facebook Live Ads,You can even provide automatically generated ads for customers who have previously visited your site, including products that they have viewed or added to their shopping carts.These powerful ads help you bring people back to your site to maximize the traffic you've already got.
2. Instagram ads
Tactical type:Short.
Effort:Low.
Return on investment time:Days.
Cost (out of 5  💰):  💰 💰
Drain effect (out of 5 👤): 👤👤👤
Instagram is a very popular platform, according toInstagramthere are more than a billion active users worldwide, 90% of whom are business-focused。
On InstagramFind.The subject labelOr create a video or image for marketing justInstagram toolsA small part,Can be used to attract more people. Create.Instagram adsIt's most likely to lead to an increase in website traffic and sales, so if you've built up a following army on Instagram, you can't really reach your full potential until you've tried its advertising platform.
Make sure you're registeredInstagram business accountor convert a personal account to a businessAccount.。This will give you more ways to connect with your audience through Instagram ads.The platform can make ads into photos, videos, rotations, favorites and stories, so you can start crafting ads in the most searchable content format.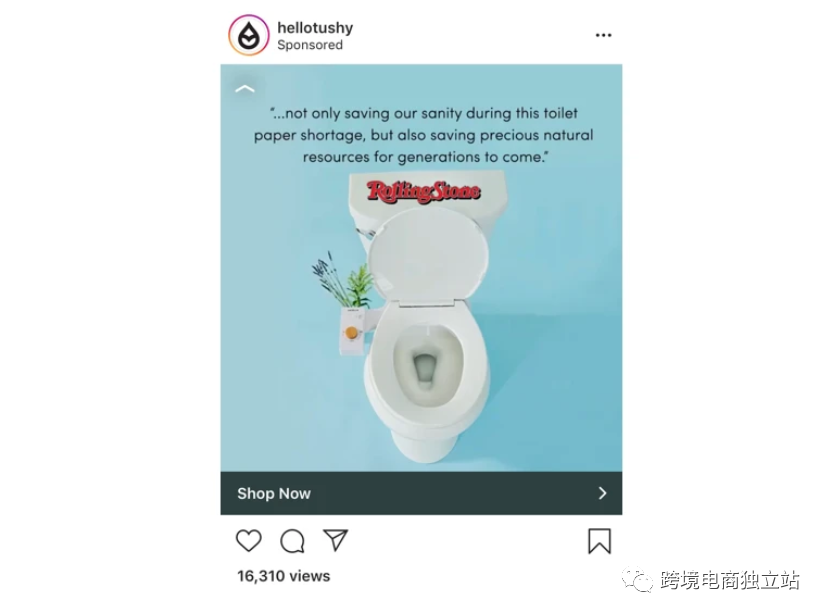 3. Pinterest ads
Tactical type:Short.
Effort:Low.
Return on investment time:Days.
Cost (out of 5  💰):  💰 💰 💰
Drain effect (out of 5 👤): 👤👤👤
Pinterest is the ideal place to reach potential customers when they visit the platform to consider future events and purchases.According to Pinterest, there is72% of active usersIndicates that they use it to find new brands and services, while in another study, there were90% of respondentsIndicates that Pinterest can provide them with ideas about which products to buy.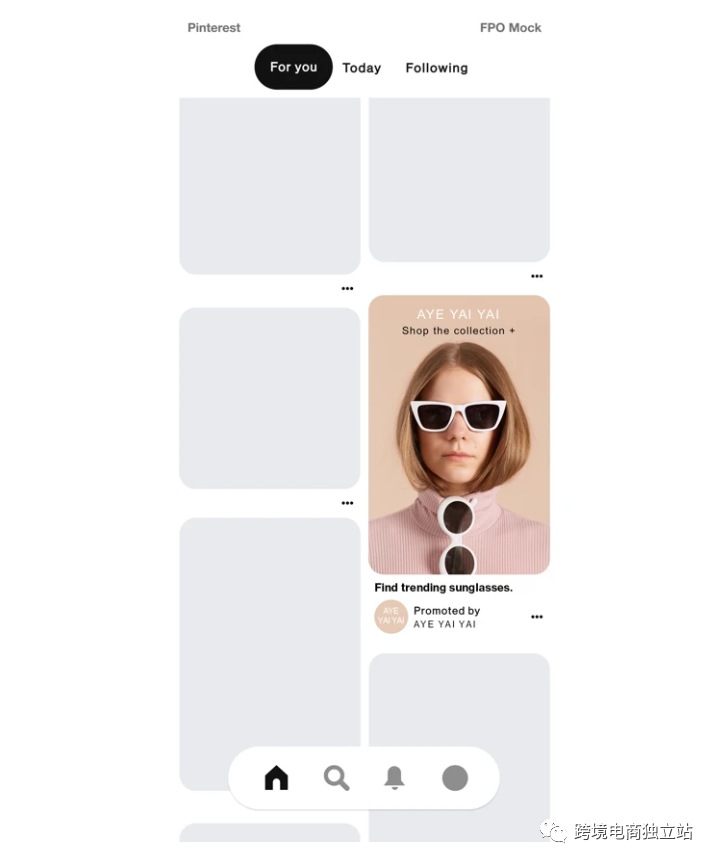 Pinterest is popular with target groups such as home decoration, decoration, beautification and DIY crafts, and is ideal for businesses wishing to enter these markets.
Pinterest is home to Promoted Pins, a paid ad that pushes Pins to the top of customer search results to help you stand out from the crowd.The promoted Pins blend with the rest of Pinterest, making it a great tool to attract customers' attention and attract them to online stores.
4. Google Ads
Tactical type:Short.
Efforts:High.
Return on investment time:Days.
Cost (out of 5  💰):  💰 💰 💰💰
Drain effect (out of 5 👤): 👤👤👤👤
Unlike social media advertising platforms, Google Ads offers a unique opportunity to promote your products and services directly to people who are actively searching for them.EmarketerThe report said 35 percent of users bought the product within five days of searching for it.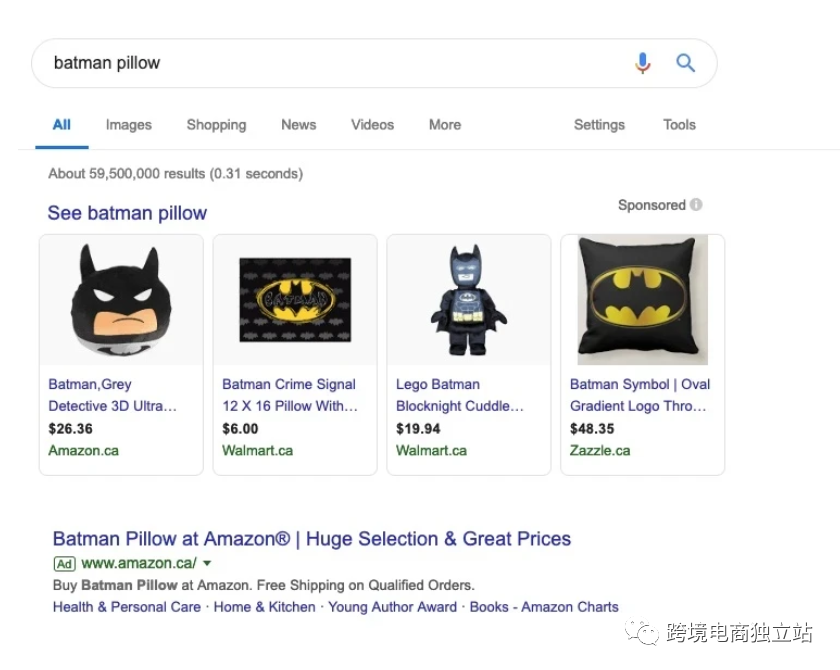 Google gives you the option to show ads to users on two of the world's largest search engines: Google and YouTube.While the platform enables you to increase web traffic and sales, the downside is that it's a complex platform for the general public, and you can risk spending a lot of money on ads to the wrong audience.
Google offers three ways to put your ads in front of your web browser;Search ads, Google Display Network and YouTube ads.Google ads work as a bid: the amount you bid on the selected keyword determines your ranking relative to other bidders and their relevance to search terms.
Interact on social media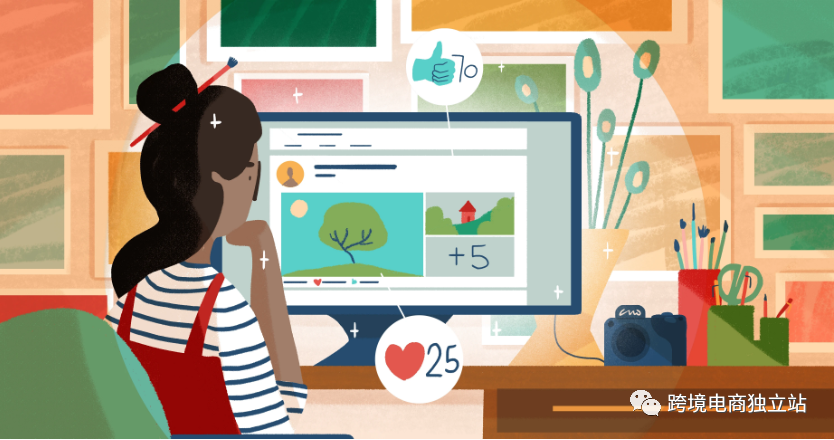 Social media engagement isn't just about sharing links to your stand-alone online store on Facebook, Twitter, etc. in the hope that it will increase website traffic.Social engagement is about encouraging dialogue with the right people, responding well, and stimulating interest and enthusiasm.
5. Let friends and family share
Tactical type:Short.
Effort:Medium.
Return on investment time:A few weeks 
Cost (out of 5  💰):  💰
Drain effect (out of 5 👤): 👤👤
When you're doing business, turning to friends and family is a great way to get an initial understanding, attract traffic, and even sell for the first time.People don't do business too often, so seeing you create your own online store can be novel in your circle of friends and family.Hope they're willing to share news about your new business.
Are there channels to talk to large families?Will they plan a party on the e-mail list?Send a note and introduce them to your new store.
Don't focus your requirements on getting them to buy your product.While you can offer them products for free or at great discounts, it's your friends and family who are asked to share your store with their network.You have a higher success rate than you do with strangers, and if enough strangers share, you may gain enough motivation to maintain a steady customer flow.
6. Actively participate in Twitter
Tactical type:Long.
Return on investment time:A few weeks
Effort:
Cost (out of 5  💰):  💰
Drain effect (out of 5 👤): 👤👤
You don't have to start selling products before you interact with people on Twitter.There are many ways to get someone's attention and make it a cool new store.
Blackbird Baking Company(Blackbird Baking CompanyA Toronto-based bakery selling fresh bread, it attracted more than 500 enthusiastic bread lovers on Twitter and remembered him the first time fans wanted to buy bread.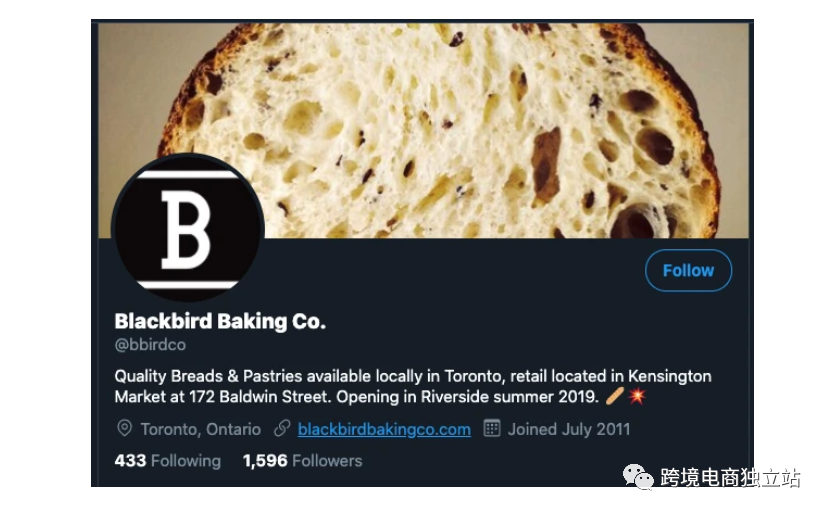 The 500 followers are by no means groundbreaking, but it's hard to get new followers when it's time to start a new business and develop a social media account from scratch.So how did Blackbird get hundreds of followers before it was released?
First of all, the bakery follows strictlySocial media marketing strategies。It generated some reverb by following specific people on Twitter, which identified possible interest in the new bakery.They include Toronto restaurateurs and self-proclaimed bread lovers.
You can also find people with similar or special interests in your field.One tool for finding relevant users isFollowerwonk。By logging in via Twitter, you can search for relevant keywords in BIOS and profiles.
Second, Blackbird has been uploading photos of its bread being baked and delivered to stores across TorontoInstagramAnd.Facebook。These pictures are mouth-watering.
Third, Blackbird Baking Company actively works with those who tweet in the local community.Topics include life in Toronto, delicious food and, of course, bread.
So when the bakery finally opened, there were a lot of interested people waiting to buy bread.
How to interact with Your Twitter audience: 
Use Twitter Advanced Search to find keywords relevant to your business in people's tweets or resumes, or try tools like Followerwonk.

After finding an audience, look for opportunities to help people or add value to their conversations in a way that lacks sales pitch.
7. Post your store to Reddit
Tactical type:Short.
Effort:Low.
Return on investment time:A few weeks
Cost (out of 5  💰):  💰
Drain effect (out of 5 👤):👤👤
RedditIs a collection of forums and sub-forums where people can share news and content and comment.In addition to its home page, which aggregates the most popular content on the platform, its home page has thousands of wallits called subreddits.You can find sub-indexes on almost any topic, for example,/r/bicycling, /r/scifi, or /r/corgi.
Reddit offers an interesting opportunity to increase brand awareness and attract website traffic to your store.Here, passionate people gather on their favorite topics to discuss and share advice, best practices, and personal life stories.
First, you should be aware of threads that might be helpful to your business./ r / enterprreneur subreddit has about 739,000 subscribers, including many interesting tips and discussions about starting a business.You may also be interested in related /r/smallbusiness threads, which are another source of general business advice.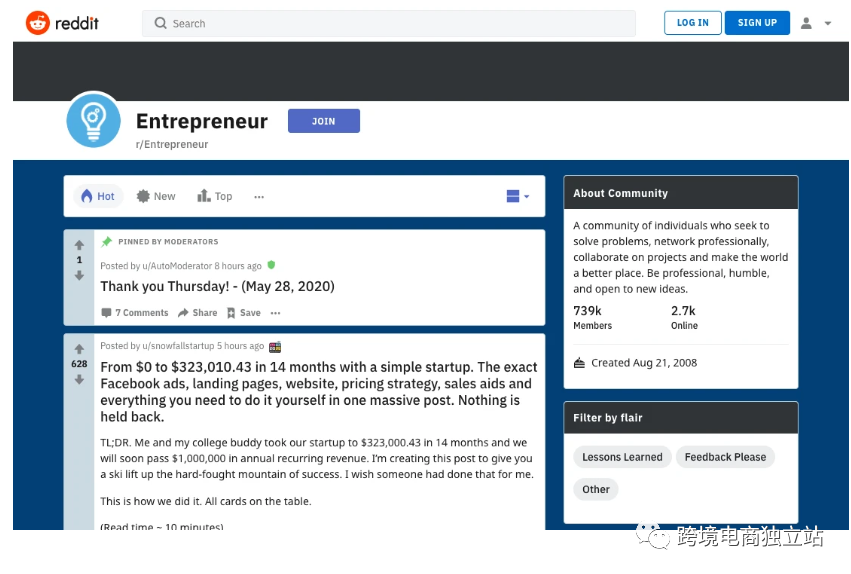 Let's take the example of a company that started selling hair products. 
Navigate to subdirecters such as /r/femalehairadvice because there is a lot of discussion about all aspects of female hair care.There are also some children, such as / r / haircarescience, / r / curlyhair or just / r / hair.
To boost your business and want to increase site visits, create a new post.Make the post short and show only the nature of the new store.This is part of a wonderful article:
Create a striking title。Keep it associated with subreddit.For example, if we post on curly-haired subreddit, we can try the title "Who says short hair can't be fancy?" "

Add value and keep it simple。The text in the main body of the post will appear lively, eye-catching, and less practical.

Add a photo。Not necessary, but adding images can help convey your message, as they appear on the subreddit page and may appeal to more readers.

Add links to the most relevant products。This is essential.Leave a link so people can find more information about your product or business.
Also noteReddiquette Guide,and check if you follow subreddit's Reddit guidelines.They can be found in the sidebar on the right side of subreddit.Some subdirecters don't allow promotional material, so you don't allow ads that are basically your store.If you post your site where you don't need it, you may find that no one will click on your link, or in extreme cases you may even be barred from subreddit.
8. Stimulate interest through contests and giveaways
Tactical type:Short.
Effort:High.
Return on investment time:Days.
Cost (out of 5  💰):  💰 💰 💰
Drain effect (out of 5 👤): 👤👤👤👤
Contests and giveaways areAttract more followers on Instagram, a great way to increase social media engagement and website visits.When you play a game or giveaway,The user has94% of the timeShare promotions as soon as you sign up.Of the total participants, 62% shared it with friends and suggested that they also participate. 
Use.Contests, giveaways and sweepstakes,You can offer prizes in exchange for customer participation.This quickly attracts more traffic to the store.Rewards and rewards are a powerful incentive to attract new and old customers to your store.
9. Limited-time discount is available
Tactical type:Short.
Effort:High.
Return on investment time:Days.
Cost (out of 5  💰):  💰 💰 💰
Drain effect (out of 5 👤): 👤👤👤👤
Offering time-limited discounts can prompt action and is an extremely effective way to increase traffic and sales. Limited timeDiscounts can take advantage of scarcity, which is a powerful psychological trigger.
In the following example, discounts offered by the bag and accessories brand Railform expire in a day.Rareform is a larger brand that offers 50% discounts and quick sales on its products.If you are a recently opened store, consider increasing the minimum purchase limit.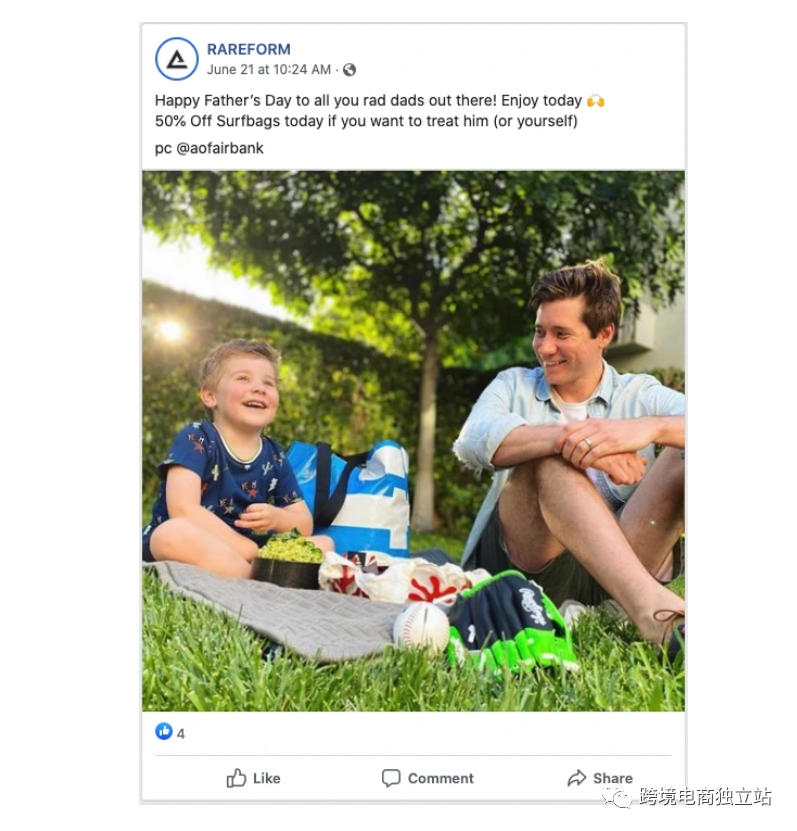 Product discounts aren't the only benefits you can offer your customers.If you don't usually offer free shipping, doing so occasionally can be an attractive incentive to lure traffic from social media or email campaigns to your store.
Engage new audiences with online marketing
Net-a-Go marketing is the process of building relationships with Net-a-Go to make your online store available to new audiences.Under.BrightLocal's investigation88% of people trust online reviews written by other consumers, just as they trust the recommendations of personal contacts.
With Online Red Marketing, you can leverage the creativity and influence of relevant online reds in your industry, while using the trust they already have with your audience to bring referral traffic to your store.
10. Send free samples to Instagram
Tactical type:Short.
Effort:High.
Return on investment time:A few weeks
Cost (out of 5  💰):  💰 💰
Drain effect (out of 5 👤): 👤👤👤👤
Instagram is one of the most effective marketing channels for e-commerce companies.Under.Yotpo's statementAt least 30 percent of Instagram users buy products they find on the platform.It's also a great way to increase brand awareness and potentially increase store traffic, especially if you know how to target your network.
Bloggers andEstee Lalondesocial media celebritiesHighly trusted by followers, getting them to show your products is an effective, organic strategy for increasing traffic.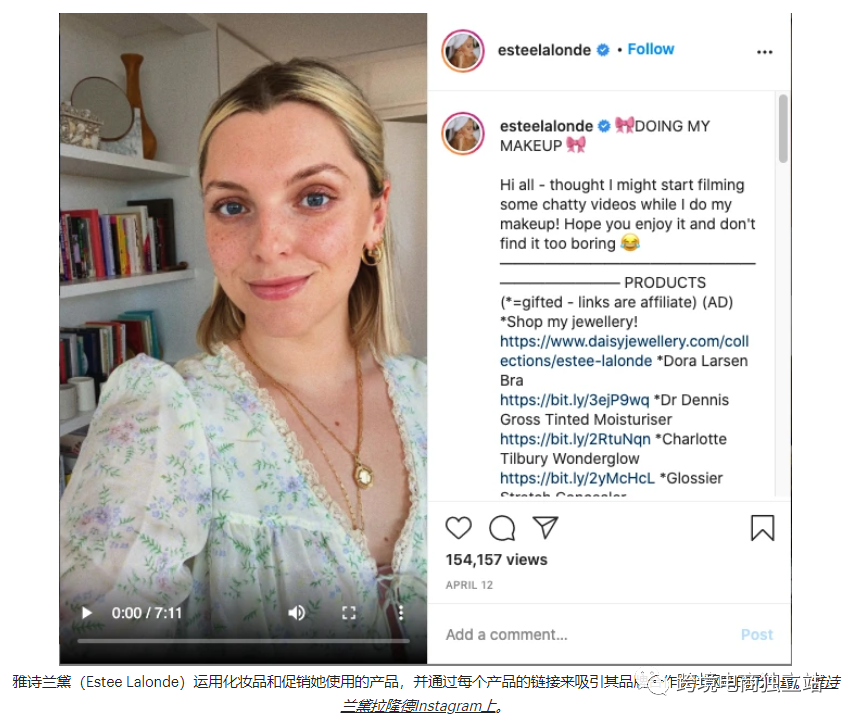 In addition to visiting their audience, there are many more reasons to work with Instagram.You can leverage their knowledge of the platform, learn about effective methods, and learn to create the best content for the platform.In addition, you can work with them as brand consumers and get their feedback and insights to help improve your product.
Here are some questions to ask yourself when looking for Instagram to work with:
Are we a good brand?Ask yourself, "Do we work with people who look like we want to be customers, who actually use or wear our stuff?" "

How's their participation rate?Fans.Quantity is not necessarily the most important, and participation rates are even more important.Ideally, the fan engagement rate is around 2-3%, with multiple comments per post.
11. Use blogs to promote
Tactical type:Short.
Effort:High.
Return on investment time:A few weeks
Cost (out of 5  💰):  💰
Drain effect (out of 5 👤): 👤👤👤👤
It's hard to grow your business and market it separately.When it comes to online sales, the more contacts, the better, especially when they're connecting with their target audience.Connecting with who to talk about your product is critical to increasing website traffic and sales.This is the source of the blog extension. 
Blogger's business scope goes far beyond making friends online.This is a process that helps you achieve measurable success in your business.Even if you don't have many contacts online, you can still connect with people.The key to a successful blog promotion is to provide value and tell the blog exactly what the benefits are for them.
Here are some blog promotional ideas that may help you attract traffic:
Visitors post on other blogs。While increasing your audience, guest postings give you a way to stay ahead of others.Even if the link is only in the author's profile, please link back to your website.

Do an expert review.Find experts on a topic and ask them to contribute an idea to your blog post, such as tips, recipes, or stories.Then, publish a list of all the responses you receive.Let them know when you post insights that they are likely to share with their audience.

Ask for product reviews.Contact bloggers with interested audiences and offer to send their products to them for free in exchange for comments.If you have a great product, they'll love it and tell everyone.

Use the loyalty program to promote your business.By usingMembership programand a commission for each saleto motivate others to attract traffic to your business。

Get the contents of the gift guide.The right gift guide can increase sales and visits to your site.

Ask Instagram to promote your product.When you contact Instagram, you can still use the same techniques you use to contact bloggers.Getting the right mentions or stylish photos can increase store traffic or sales.

Get news coverage.If you have a good story or interesting product that can be written through a story or story, thenGet in touch with bloggers and journalists who cover businesses like yours, write stories, or promote articles.
You don't have to pick the one with the most fans, or the most famous net red.You have more opportunities to be recommended by a smaller audience, because they do not have a lot of brand invitations so the willingness to cooperate will be stronger.
12. Write a blog post about NetHong and its recommendations
Tactical type:Short.
Effort:Medium.
Return on investment time:Days.
Cost (out of 5  💰):  💰
Drain effect (out of 5 👤): 👤👤👤👤
This strategy is an extension of the blog extension and is worth a try because it has been running for a long time and has been going on.
At the heart of the strategy is writing blog posts that include net red and their recommendations and sending them via email or Twitter in the hope that they will be shared with their listeners.
For example, here are two ways to get started:
Ask Net-a-Go for advice on the product.Imagine you're a cosmetics brand and you're writing a blog post about what to look for when buying your next foundation.You may want to contact Net-a-Go, which writes or records a video of their comments, and ask them what they're most looking for when buying a new foundation.You can do this with only one net red, or you can adjust it to your wishes.

Create a master list of trusted voices in your industry market.Potential buyers are always looking for authoritative recommendations in areas they can trust.Try writing a blog post listing the top five, ten, or twenty trusted net reds in your industry market.By doing so, you will help potential buyers start a good relationship with Net-a-Go.
After you've crafted your blog post, contact Net-a-Go via a link and ask if they can share it with the audience.
Instead of waiting for net red to recommend you, you can recommend it to your potential buyers first.
Engage customers with content marketing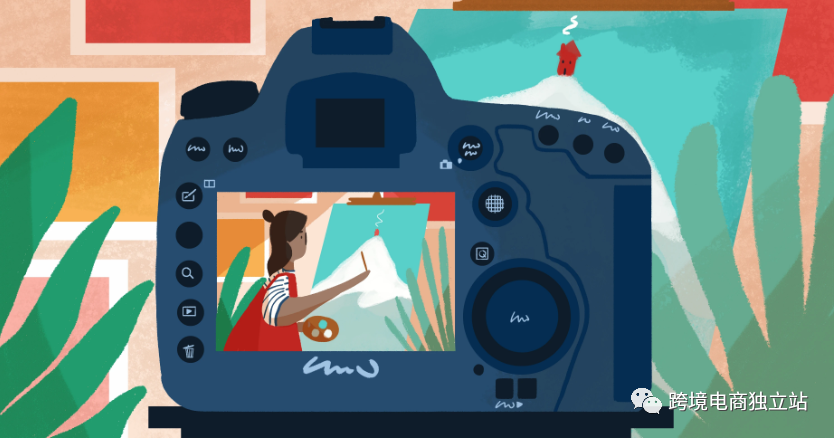 Content marketingIt's about creating interesting, informative, and engaging content to organically engage customers to your stand-alone site.From videos and podcasts to guides and e-books, your business has unlimited opportunities to expand into the content world and generate traffic.
Original content helps position your business as an industry think leader and build your brand.An enterprise's content policy can include anything relevant or interesting that your customers may find. Don't limit yourself to content that contains or focuses on your product.Instead, consider all topics and resources related to your business that are relevant to the customer.
Content marketing also gives your store access to search results in addition to product and brand keywords.Use.Google Keyword PlannerAnd.Keyword.ioFree tools for classesto create new opportunities for your business, optimize search results rankings, and engage more audiences.
13. Blog to provide information or solutions
Tactical type:Long.
Effort:Medium.
Return on investment time:Month.
Cost (out of 5  💰):  💰
Drain effect (out of 5 👤): 👤👤👤👤👤
According to WordPress, the world's largest blogging platform, 409 million people view more than 20 billion blog pages each month.During the same period, WordPress users generated about 70 million new posts and 77 million new reviews.
While there are plenty of opportunities to engage your audience, if you want to attract relevant buyers and blog traffic back to your store, you need to target it.Solving problems through content while producing a "searchable search engine" is the best way to blog, but it's not easy.Literally, this is a good job description for a content marketer.The content marketing on the blog involves someCustomer journey mapping,Role building,Keyword researchand content gap analysis.
Successful content marketing on a blog starts with two things:
Find out who your ideal audience is.Let yourself think from a potential customer's perspective: What problems do they have to solve in your store?Are they interested in your product?What do they play with their friends?What are they passionate about?Create blog content based on the answers to these questions.

Create content where the ideal audience wants to have video group chats.To show in front of the right audience, list the topics and phrases you want to target.Ask yourself: How would I search if I was looking for this product/service/article?What words would I use?What phrase Attracting potential visitors is key to generating high-quality traffic.
Don't go to the blog unpreponsed.Get to know your ideal audience, develop a strategic plan to reach that audience, and eventually create a new venue for them to browse online.
14. Create podcasts to attract new audiences
Tactical type:Long.
Effort:Medium.
Return on investment time:Month.
Cost (out of 5  💰):  💰
Drain effect (out of 5 👤): 👤👤👤👤👤
Under.Edison Research(Edison ResearchOver the past five years, the number of Americans listening to podcasts per week has increased by 175 percent, with about 90 million people listening to podcasts each month, according to the data.
Like a blog,Podcast.Gives you the opportunity to stand out in specific market segments that target specific audiences.
15. Use video for education or entertainment
Tactical type:Long.
Effort:High.
Return on investment time:Month.
Cost (out of 5  💰):  💰 💰
Drain effect (out of 5 👤): 👤👤👤👤👤
Although video can be transmitted in a number of ways, it isYouTubeis the most popular and best traffic generation channel.It is also the world's second largest search engine. 
Under.YouTube statsWith more than 2 billion users (almost a third of the internet population), mobile devices alone can reach 18-34-year-olds, more than any television network in the United States, with YouTube accounting for more than 70 percent.
So how do you narrow your audience and properly engage your YouTube channels and then go back to the store?Here are some different types of content that your business might use:
The content of the education.Teach new skills to build trust with your audience and, where possible, focus on your products to solve their problems. 

Publicity.Inspiring videos that match your corporate image are ideal for reaching a wider audience.

Entertainment.Fun videos that satisfy your audience's interests are one of the best ways to get their attention and focus on your product.
Follow the public number of the Cross-Border E-commerce Independent Station
More relevant knowledge points
☑
Effective SEO technology to drive organic flow in 2020
☑

What is the difference between SEM and SEO?
☑

Neglected SEO: Optimize search images and videos
☑10 SEO ways to bring traffic to WordPress sites
Use SEO to improve your store's search ranking

Can your customers find your store online?
When a customer searches for your product, you want your store to be one of the most popular results in search results, especially for considerationTo.One itemStudyThe report says 75 percent of clicks go to the top three on the search engine results page.This precious location is a key factor in generating continuous, qualified website traffic for your online store.
Search engine optimization or SEO is the process of fine-tuning a website to improve its chances of ranking higher in search results for relevant keywords.
SEO is a great science and works only if you spend time and effort learning the rules used to manage search engines, such as Google and Bing, and apply them to the structure and content of your site.
16. Write a title that matches the search intent
Tactical type:Long.
Effort:Low.
Return on investment time:Days.
Cost (out of 5  💰):  💰
Drain effect (out of 5 👤):👤👤👤
A metaheader is a line that a search engine displays on a search results page.
Both the metahead and the meta description are properties that determine how the page appears on the search engine results page.They are important for getting page clicks.Search clicks are the lifeblood of organic clicks.They are one of the important metrics Google uses to prioritize the order of results.
Google explainedTitle is critical to enabling users to quickly understand the content of the results and their relevance to the query.It is usually the primary information that determines which result to click, so it is important to use a high-quality title on a Web page. "
Ultimately, this is the metahead, which will help you stand out.We recommend that you write metaheadings for:
Create a unique title for each page.

The page title should be less than 55 characters long.

Use title or sentence case to be consistent on all pages.

Join the target keyword.

Make sure to match the search intent of the query.
17. Write unique and precise meta-descriptions
Tactical type:Long.
Effort:Low.
Return on investment time:Days.
Cost (out of 5  💰):  💰
Drain effect (out of 5 👤):👤👤
The meta description acts as a summary of the page's content.Search engines typically display it on the results page.
Writing a great page title can attract attention on search engine results pages, and page clicks can be won with enticing and interesting meta-descriptions.Google explained"In general, meta-description labels should be used as short, relevant summaries to inform users and interest specific pages, thereby interesting users."They're like selling a page that convinces users that it's exactly what they're looking for. "
Also, if your copy is boring and doesn't provide any compelling reason to click, you'll get a lot less traffic, which can affect your natural search ranking.It should also be noted that metascripts can be of any length, but they are often truncated to fit the device performing the search.
The objectives are:
Summarize the content on the page.

Write a meta description of up to 145 characters.

Write a unique description for each page.

Use sentence case and be consistent throughout the site.

Write an interesting copy of the description, and then click. 

If possible, include keywords in the description
18. Add internal links between important pages
Tactical type:Long.
Effort:High.
Return on investment time:A few weeks
Cost (out of 5  💰):  💰
Drain effect (out of 5 👤):👤👤👤
Getting external links is an important and well-known technique for improving SEO, but internal links also play an important role in helping pages rank in search engines.That's because of GoogleA.NamedPageRank'sMetrics, the formula measures the importance and value of a page based on the number and quality of pages linked to it.
Links from pages in your domain that have a higher PageRank can help the target page get a better ranking by authorizing.In addition, linking from your low-priority page to a high-priority page on your site can pass PageRank back to your priority page.
Here's what you can do:
For SEO Optimize yoursThe structure of the site。

Find the site map and submit it到Google Search Console。

AddReadcrumbTo your product category to create an internal link immediately. 

List the high-value target pages that you want to rank higher.

Determine which pages on your site currently have the highest permissions and page rankings.(You can use free tools, such as Moz Toolbar for Chrome.) )

Add a link from your permission page to the destination page.

Use anchor text related to the keywords that you want the destination page to rank for it to naturally join the link into the authorization page.
The home page of a site is usually the most authoritative page in the domain, so linking to an authoritative page is an obvious choice.With regard to the functionality of internal links, this is only the tip of the iceberg.For more information about internal links, seeMozAnd.Ahrefs'sThese articles。
19. Add a long-tailed keyword variant to the page
Tactical type:Long.
Effort:Medium.
Return on investment time:A few weeks
Cost (out of 5  💰):  💰
Drain effect (out of 5 👤):👤👤👤👤👤
Building keyword policies for your e-commerce site is critical to continuously generating natural traffic from search engines.It's easy to focus on short words because they're easy to identify and study, but if you don't look at long tail keywords, you might miss page views.
Ahrefs pair 1.9 billion keywordsA study was carried out, found that 92% of these users get 10 or fewer searches per month.According to their data analysis, while 60 percent of search results are keywords with searches greater than or equal to 1,001, they are short-tailed keywords, accounting for only 0.16 percent of the total number of keywords.This means that the remaining 40 percent of keywords are long-tailed keywords, which have 99.84 percent of queries that search 1,000 or fewer queries per month.
That's good news, because long-tailed keywords are easier to rank than short words, and often get higher click-through rates from search engines. 
As an example of how to maximize exposure to long tail changes and increase traffic, let's say we sell Logitech C310 webcams and want to optimize our pages to rank as many searches as possible.We can use itGoogle keywordstools and so onTools.And note all the long tail changes, or, if we really want to dig deeper, you can use free tools, for examplekeyword.ioThere are many long-tailed queries that can be made.We also want to see the bottom of the search results, where Google lists the searches.The search for Logitech C310 looks like this: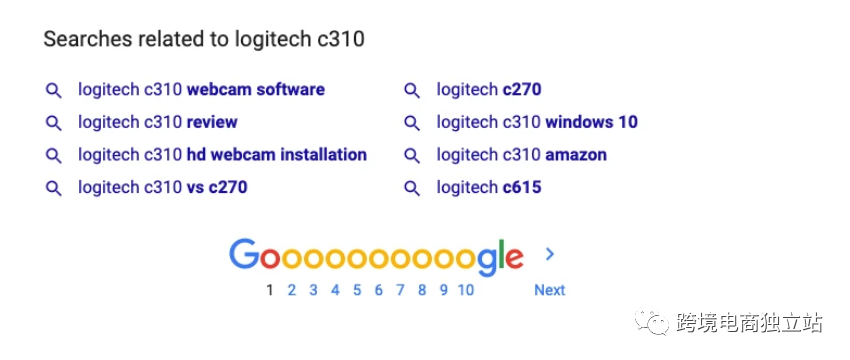 Because our Logitech C310 page is optimized for the word "Logitech C310," we don't need to insert each long-tailed search phrase verbatively into the page.Instead, we want to make a unique variant of the end of the Logitech C310 into our copy to rank it.
Revisiting the search from above, we want to select the relevant words and add them to our page.For example, we might include the words "comments" and "Windows 10."We can also compare the differences between the C270 and C615 models by using the phrases "vs C270" and "C615".By matching all of these newly included decorations to the copy, our pages can rank a wider range of queries.
Not all modifiers we find apply.Brand keywords such as "amazon" will be useless, and we may have merged many modifiers.However, by looking for long tail changes, we often find a small number of gems to help increase potential ranking opportunities and ultimately increase traffic.
20. Stand out with rich clips
Tactical type:Long.
Effort:High.
Return on investment time:A few weeks
Cost (out of 5  💰):  💰 💰
Drain effect (out of 5 👤):👤👤👤👤
A rich web summary is a search list that contains information about product prices, availability, and number of reviews.They are useful for quickly understanding a specific product or site from the search results page without having to access it.
Rich summaries can amplify the traffic you attract from search engines.A study of rich web summaries by Search Engine Land found that they can make the number of people who click on your pageUp to 30% increase。Once you get used to making these customizations to your site, some of the features that are usually relatively easy to implement will be greatly improved.By contrast, you can increase your marketing or advertising budget by 30%, and you'll understand why it's so powerful.
If your page appears on the results page and contains price ranges, stars, pictures, or anything else that makes your list stand out from the list with only standard metaheads, descriptions, and URLs, your page is sure to get more traffic.
You can use itGoogle's structured data testing toolto make sure that no problems are displayed.Rich summaries may take some time to appear in the search list, so don't worry if you don't see them right now.
Attract more traffic and attract more customers
With these strategies in the marketing kit, you should now be able to generate more site traffic for your online store.Increasing traffic starts with choosing policies and related channels and starting to use them, rather than trying all methods right now.Keep in mind that a good digital marketing strategy is to layer short- and long-term strategies so that they work together.
Backstage message your point of view or expected content, there will be echoes
Cross-border e-commerce independent station
Cross-border e-commerce use of big data and AI artificial intelligence
Dry goods sharing that find another way outside the comfort industry circle,Cross-border e-commerce independent stations, foreign trade self-built stations and corporate image stations, from nods to excellence.Big data system → reputation construction→AI fission operations, selection / collection / logistics / SEO / flow / KOL network red PR / SNS marketing / answer questions / set of disassemblement.
Every "look" you order, the editor wants to eat you
---