"Hacking Empire" and "The World of Chumen"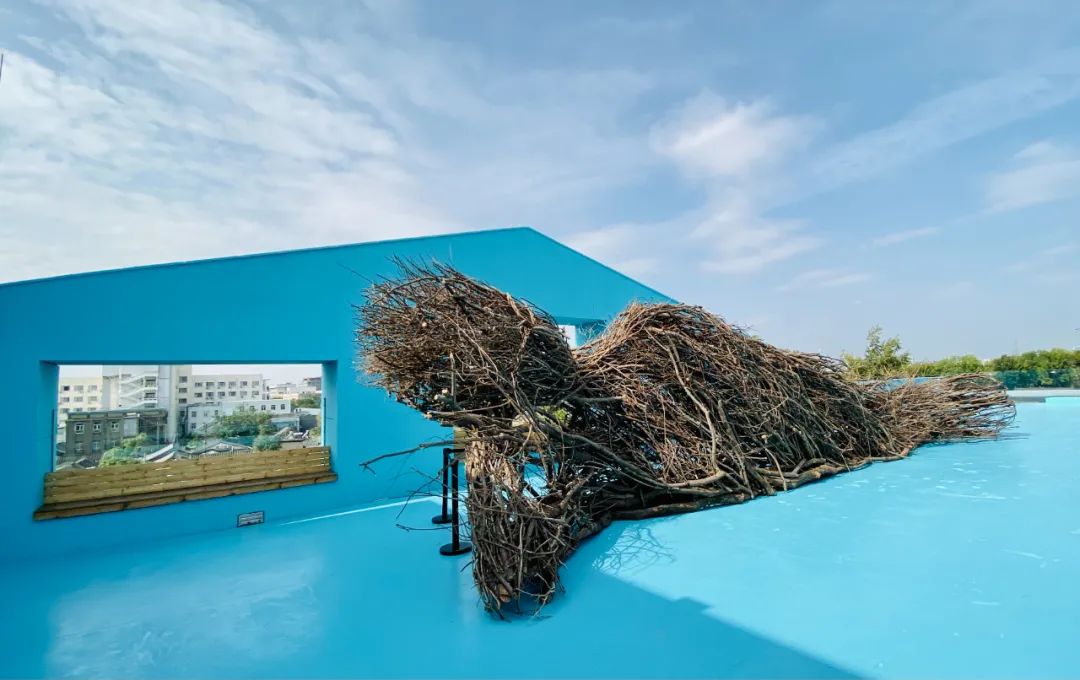 Instagram: Meditation . . Photograph: Robin Lu
In the news yesterday, the S . . . 500 is up 6 percent so far this year, with facebook, Amazon, Apple, Microsoft and Google among the top five technology companies up 42 percent, while the rest of the index (495) has returned -2 percent over the same period.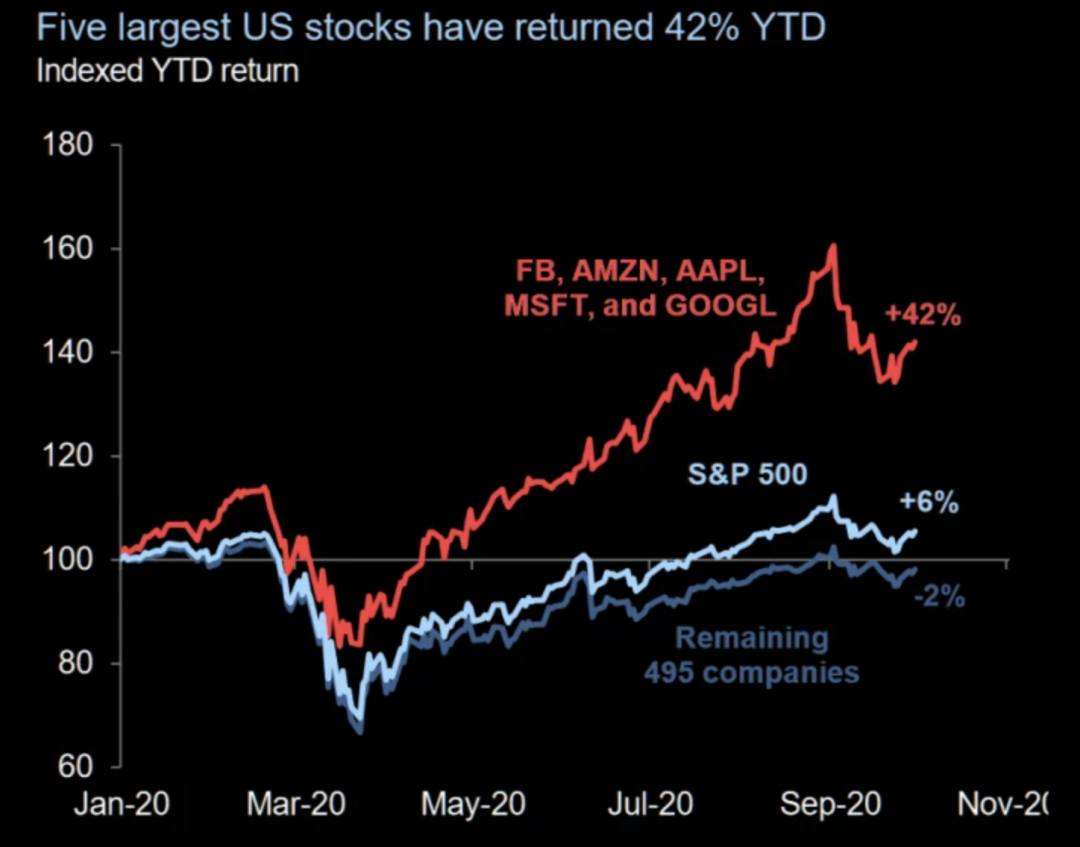 Of course, there are reasons for the outbreak, the isolation brought about by the outbreak, home and so on to benefit science and technology stocks more, but it should not be ignored that the trend of science and technology stocks ruling the world is becoming more and more obvious.
Is this the re-emergence of the dotcom bubble in 2000, or is it a logical long-term trend? I've never had an answer.
Just in time, I watched a Netflix documentary, WatchIng Capitalism: Smart Trap The Social Dilemma, and gave me an answer from another angle.
If you don't spend money on a product, you're the one being sold
The documentary interviews people who have worked at Google, Facebook and Instagram, including early Facebook investors, presidents, vice presidents for growth, "likes" Button designers, Youtube recommendation system architects and others.
They're reflecting on a problem: the software created by tech giants - Facebook, Instagram, Youtube, Twitter, etc. - has allowed algorithms to transcend human weaknesses and, unwittingly,Man has gone from being a user to a neuron in this huge super network。
In the early days of Silicon Valley, the business model was simple.Make good products and sell them to users, and then collect money directly from them。 Whether it's a hardware PC or software like Photoshop, Windows, Office, and more.
In the last decade, the business model of the entire Internet industry has changed dramatically.Tools become "free", and behind this free, they actually collect users' attention and time and sell them to advertisers。
The change is subtle, and it's not the users who pay, it's the advertisers. Advertisers buy "attention resources" and "conversion rates", and the user's identity changes from a user of the software to a part of the attention resource and conversion rate to a part of the product.
To quote a sentence from the film, "If you don't spend money on a product, you're the one being sold」。
Excluding bed time, each person has only 16 hours a day. Facebook, Instagram, Google, Youtube, TikTok and more are all competing for the 16 hours, hoping to monetize your time from the real world, from competitors, to mobile screens, and to show ads.
So it became a math problem.
More time available, allowing users to invite more friends and more efficient cashing (montification).
Three goals
These products all have three main objectives:
Engagement goals: Increase your use so that you can swipe the screen all the time;

Growth targets: Let you keep coming back and invite your partner as much as possible;

Advertising goals: Make sure everything goes according to expectations and sell more ads
Backed by advanced management tools such as OKR, these goals are broken down layer by layer and ultimately optimized by engineers and product managers.
For example, participation goals. This goal is to increase the user's usage time and prevent the user from leaving the screen. With this goal in mind, many clever Tricks have been designed: a "pull-down refresh" that began in 2011, allowing users to quickly update and get "real-time feedback" when they pull down the screen; "xxx is entering..." in the real-time communication tool is also a tiny psychological cue to tell you not to leave the current page first; and "Infinite On" in short video softwarerowbasically put your behavior into an unconscious state;A/B Testing, which started on Facebook, treats us like mice in the lab to test a more participatory scenario...
Then there are the growth targets. The goal is to keep users back in the product and invite as many partners as possible to participate. The two most famous examples are "Notifications" and "Hacking Growth". "You've been circled by xxx in the photo, take a look", "xxx sent you a private message", notifications have been used as the main way to wake up users back to the software, "hacker growth" uses psychological knowledge to guide users to spontaneously spread, triggering "fission" ...
To borrow a phrase from Facebook's vice president of growth in the film: "WePsychologically figure out what's best for you, and then return to the things that excite youwe're doing a great job on Facebook."
Ads are more direct. The first two goals have been brought inMore usersAnd.Longer user life。 The goal of the advertising system isCash in efficiently。 More efficient cashing means you need to show the user what he wants to see most.
What is an advertisement?Advertising is about changing people's perceptions or feelings and changing their behavior。
In these products, on the one hand, through the "feeding" of information, our thinking patterns and perceptions are gradually and little by little changed as we use these software;
On the other hand, on the other side of the screen, all our data is monitored, tracked and evaluated. How long have you been in a certain photo, when you've been lonely, when you've been depressed, when you've been looking at a person's conversations and circles of friends over and over again, what you're doing late at night, what you're doing during the day... This data is recorded in the system and used to optimize the "modeled" you behind the screen to make better and better forecasts.
This certainty is simply unmatched by traditional advertising。
Tools - Go when you use them
Writing here, I think of Zhang Xiaolong's often-said phrase, "Let the user use it and go."
If your positioning is a tool and your goal is to meet user needs, the business model is to charge users. You make things like bicycles, cups, or Photoshops, and they stay there quietly until they are called and used by the user.
But if your targeting isn't a tool, your business model is to collect people's time and turn it into ads. Instead of being honest, the product you create will have a desire for users, manipulate and seduce you, and maximize your business goals in its own way.
"Go with it" and "Kindness is more important than intelligence", I think I understand better what Zhang Xiaolong wants to say behind these words. But after all, WeChat's business model is also advertising, not user pay, how balanced is his restraint, how long can he last? This is also an interesting question.
Sensitive and fragile
In the book Why Buddhism is true, author Wright tells us that the ultimate goal of the Creator's designers is to "spread genes."People are designed and evolved to "care about the eyes of others", which helps us to increase the probability of survival and obtaining a spouse in primitive society。
Social software takes advantage of the characteristics that people need to live in groups and care about other people's eyes to optimize, naturally there is the possibility of addiction, but it can also cause unexpected problems.
The documentary interviewed the designer of the Facebook like button, who confessed: "When we designed the like button,Our whole motivation is to spread positive and love in society。 But now, teenagers are depressed because they don't have enough likes, including polarization. This was unthinkable in the first place. 」
He was referring to the following picture: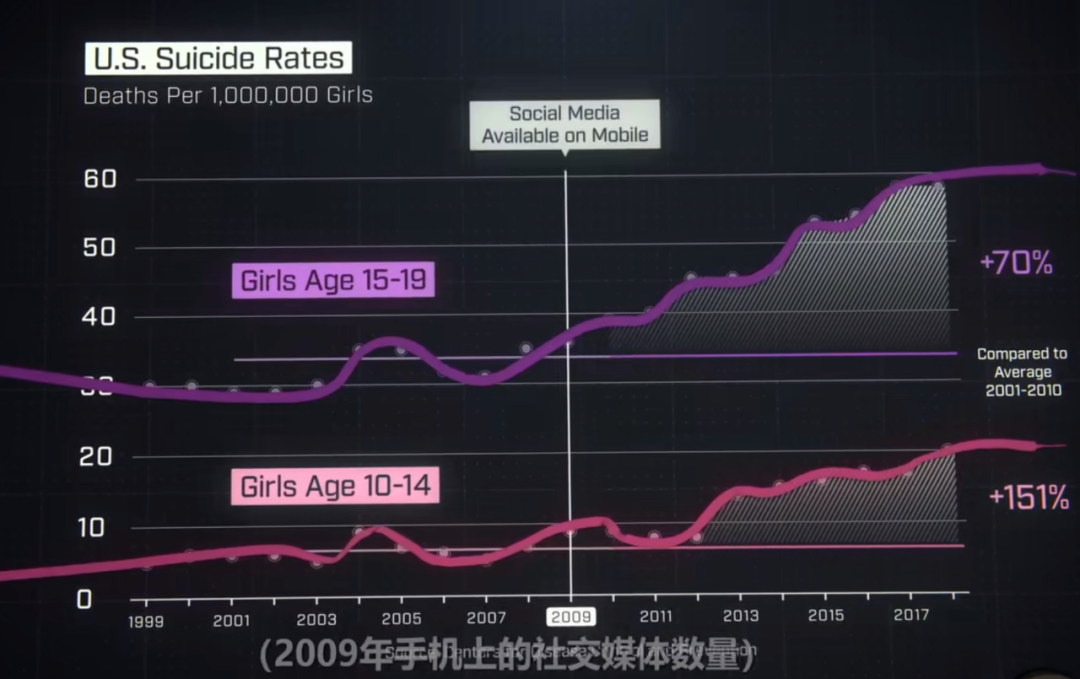 Since the rise of social media and the mobile Internet in 2009, suicide rates among girls aged 15 to 19 in the United States have risen by 70% and among girls aged 10 to 14 by 151%. Both figures have been fairly flat for many years.

In primitive society, "caring about the eyes and evaluation of others" can improve the probability of our survival and reproduction, but do we need to care about the eyes of 10,000 people? Do we need to be recognized every 5 minutes?
Love, praise, these short-term signals give us "rewards", which we incorporate into real life. But these are short-term, passable, and after a short period of dopamine we get into the void and ask ourselves, "What am I going to do next?"I still want that feeling」。
Unlike face-to-face interactions in the real world, on-screen communication lacks real feedback, so we get caught up in it: Did he look at my circle of friends? Why didn't he give me a compliment? Why did he leave such a message? Did he block me? Not enough likes is what's wrong with me in this picture?
Just before 2009, we got these feedbacks, which triggered these psychological activities much less frequently than they do now.
Polarization and tribalism
In recent years, I have had a strong feeling that the world we live in is becoming more and more polarized. People no longer believe each other's words, they don't listen to each other's reasons, they don't even think we're going to share something basic and common.
I realized thatBehind these polarizing views is that most of the world you and your partner see every day is different through mobile phones, through headlines, microblogs, WeChat circles of friends。
We are no longer objective, constructive individuals, and when you see strange statements on the other side, you might think: Why are these people so stupid? They also saw the information I didn't stop seeing, how could they come to such a conclusion?
The answer to the question is:They didn't see the same information as you。
Go back to the three goals above: engagement goals and growth goals.
If the system's goal is to keep you in the app as much as possible, will it give you information you like to see, or "objective" but "different"?
More seriously, according to a study by the Massachusetts Institute of Technology,Fake news spreads on social networks six times faster than real information。 But the platform and ecology of this system is the goal of most playersMore user time and more forwarding propagation, so false information or emotional information becomes the most popular carrier.
Two days ago a friend asked me: Why do many well-written articles read only a few thousand, but those provocative but crude articles are a hundred thousand plus? The answer is simple: on WeChat's public platform, the "monecured value" of a public number is determined by "reading volume" and the way it is cashed out is mostly advertising, and in such economic interests, it becomes the most rational choice to trigger communication in various ways, such as "title party, exclamation point, and provoking emotion".
In a previous chat with the founder of a community, we were talking about PGC (expert-generated content) or UGC (user-generated content) and whether to use "recommended" information or user-active "concern" information, and he chose "UGC" and "recommendation" for the following reasons:We have no way to judge the authenticity of information, we should provide users with a platform for users to identify the authenticity of information。
I'm becoming more and more suspicious of this statement.
"Economic interests" are the best reward and punishment tools and will also guide user behavior. With existing business models and economic incentives, isn't it more likely that "feed" the information users want or like to see, and generate false information that is spread by a lot of emotions? And are these the causes of "polarization"?
The two statistics cited in the film show the growing polarization of American society from 1995 to 2017.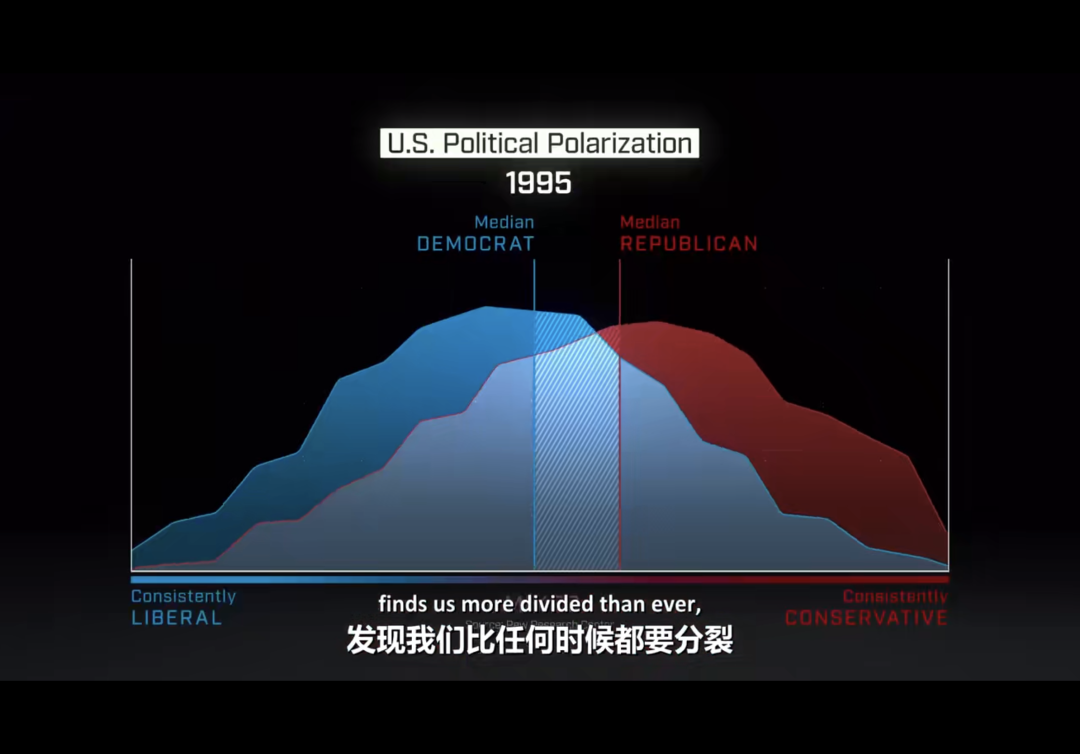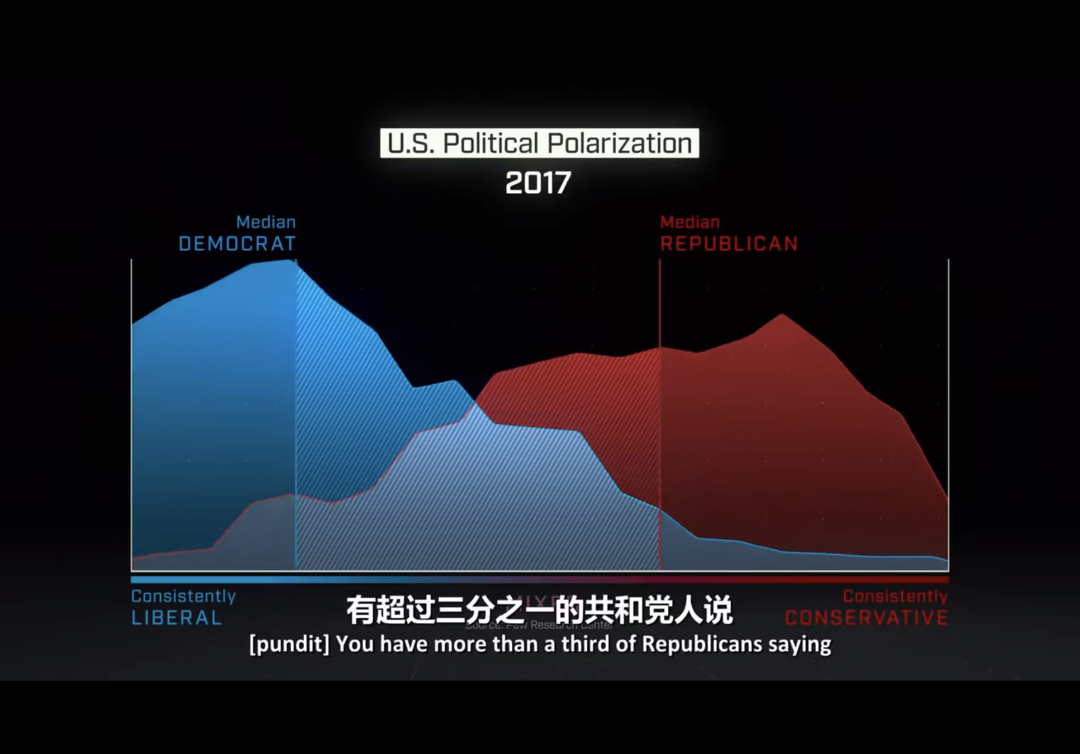 Have you seen the movie "The World of Chumen"? It's like 2.7 billion people living in their own "Chumen world."
Why hasn't Chumen been able to find out that his world is not the real world?
Because.We believe that the world before us is reality。
However, the world before us has changed dramatically.
Twenty years ago, we could see the same world, we refreshed the wave news every day, we looked at various BBS, we could see different arguments debating and impacting each other; Facebook and Twitter brought "concerns", we started proactively filtering people and sources of information that interested us; and "recommendations based on algorithms and big data" went a step further and automatically fed us the information we needed.
Algorithms and speed
Does the algorithm really have no values? No, algorithms have values.
The values of an algorithm are defined by some kind of "success"。 If this success is to maximize commercial profits in the interests of shareholders, to increase the length of time for more users, to grow better, and to make more efficient advertising realise, the problem we are now seeing is the result of this definition.
I agree with the film,The current situation is one that no one could have expected at the earliest。
I'm working on a few Internet companies this holiday season, and just this morning I wrote this:
"Internet companies are light asset models. For them, there is no accounting sense of net assets to speak of. Thus the traditional PB loses the meaning of horizontal contrast. More important for Internet companies is the user's life cycle, and the user's usage time. 」
I suddenly found it interesting that when I was analyzing these companies, I was an asset to them myself. My attention resources, my time, are also contributing business value to these companies, and my life is affected to some extent by them.
These companies have fewer employees than traditional industries, all in a light asset model, with optimized algorithms, ever-collecting data, and user time. As a result, they are growing much faster than many of the biggest companies in history.
For the first time in 42 years, according to FT, for the first time in 42 years, five companies, all of which are technology companies, contribute 20 percent of the market value of the S.P. 500.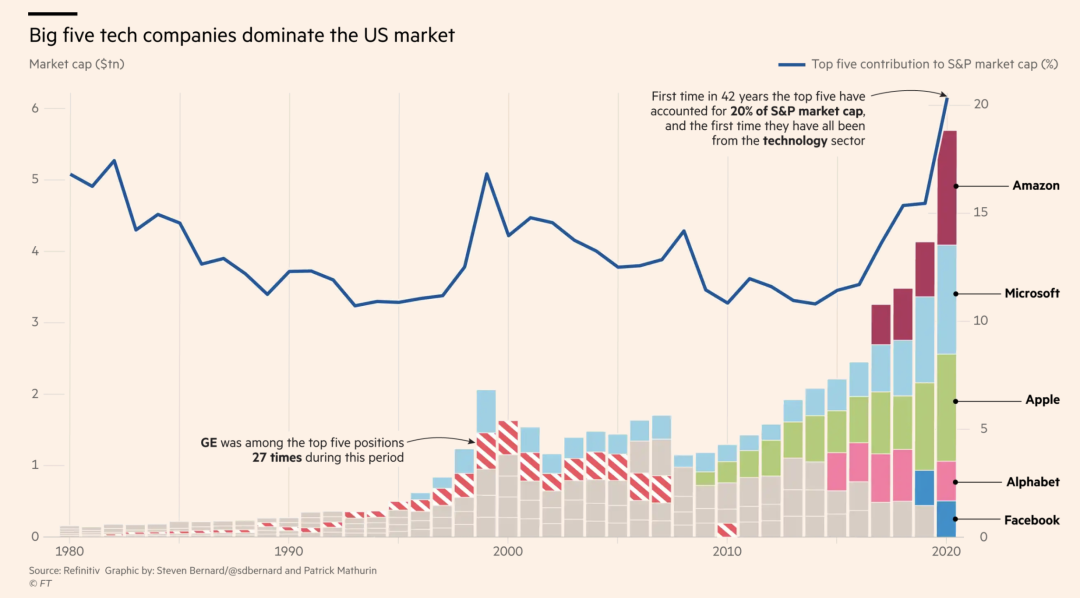 Experiment.
After reading the text above, do you have in mind the huge matrix in the Hacking Empire, and we're all powering the entire mother's battery?
Or to quote the metaphor in the film, "As if we were building a global super brain, every individual is a neuron, not important at all." The system programs every node to control your brain and change you.
I don't know.
But what I do know is that it's not a question of whether you use these apps yourself, because some of the underlying foundations of human society have been slowly changed by algorithms, data, and this business model.
What's the future like? Whether, like new things like cars, phones, and television, humans are slowly adapting, or whether these fundamental changes can trigger extreme events and problems may take time to come to an answer.
Just in time for the holidays, I'd like to spend these 7 days doing a little experiment:
I turned off all the notices;

I turned off WeChat's Circle of Friends and Take a Look;

I forbid myself to bring my cell phone to the table and bedroom;

I set myself a 2-hour daily mobile phone usage quota
I want to see how I feel.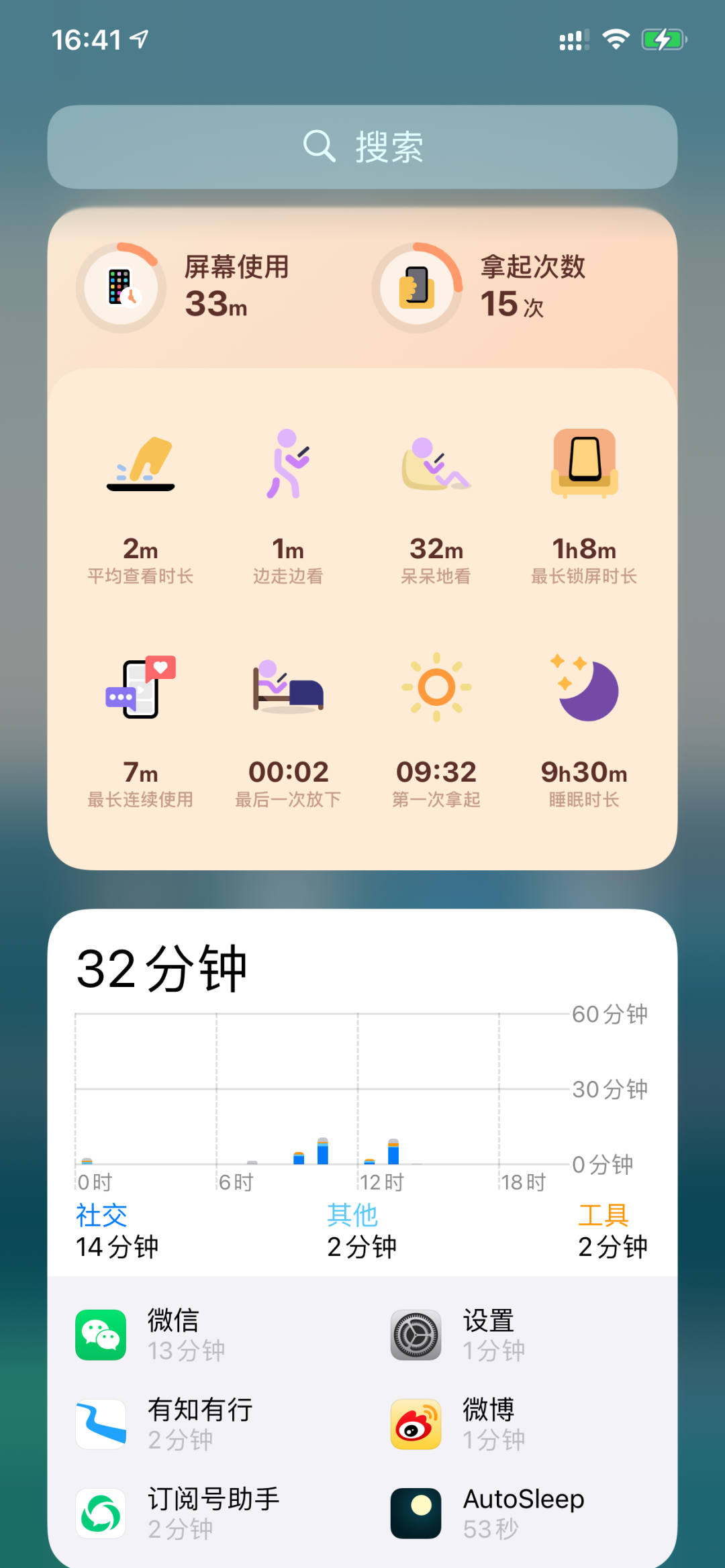 Up to now:
I often unconsciously pick up the phone, trance why a notice is not;

More powerful than the explicit notice awakening is that my subconscious has been implanted by these software "pick up the phone, brush information" such an idea, from time to time come out like the song of the sea demon is seducing me;

There's a little bit of emptiness

At last.
The engineer who designed the Facebook like button said this at the end of the segment:
"Today, we live in a world where trees are dead more worth living than trees are alive; But now it's time to pay attention, Humans are the next tree, the next whale, and our attention is being mined and exploited. In the end, we'll just become zombies staring at the screen all day long, giving our attention to advertisers, and missing out on the good life we could have."
What is a "tool"? What is a "product"?Are you using the product or are you part of the product?? That's probably what each of us should be thinking about.
In this beautiful long vacation, you may as well put down your cell phone, go outside for a walk, go with your lover and friends.
Don't forget to order a "look" before you put it down.
(Happy holidays, joke ha)
2, this week's operation
3, the latest net worth
Real Investment Weekly Report No 155 period, the latest assetsIs. 6,650,177.70, the fund netThe value is 1.2965this week's growth 0.20%。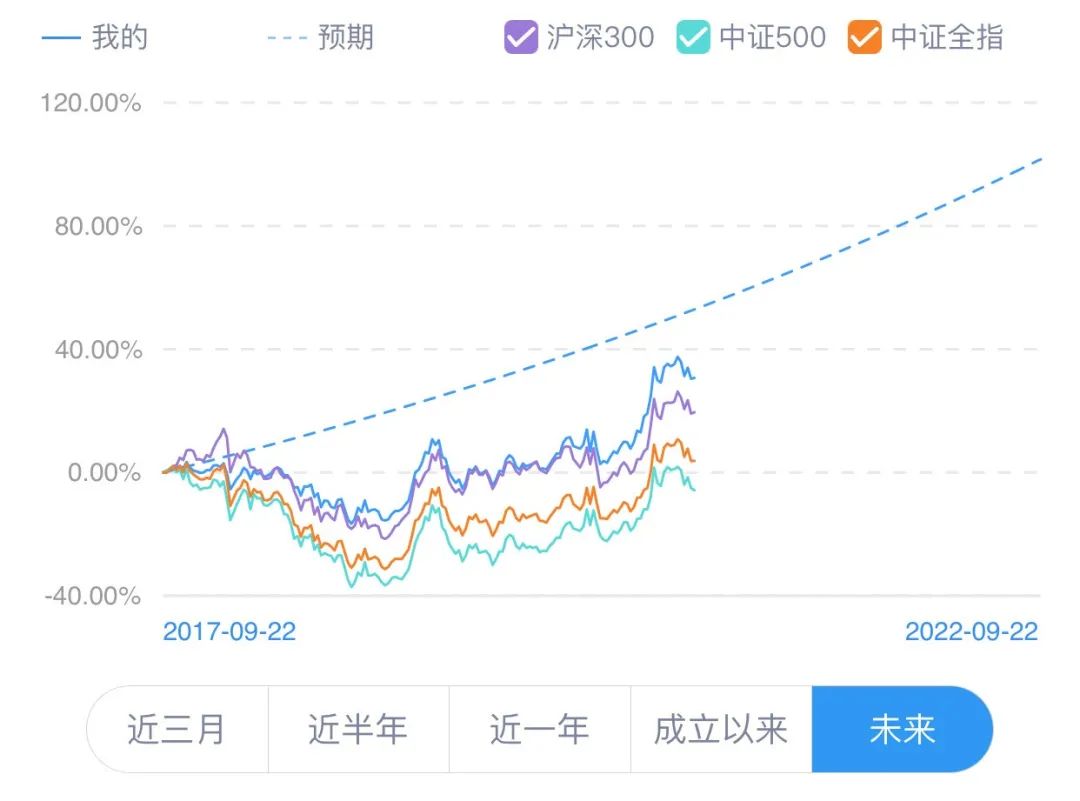 Attached with the latest and slow screenshot (September 30, 2020)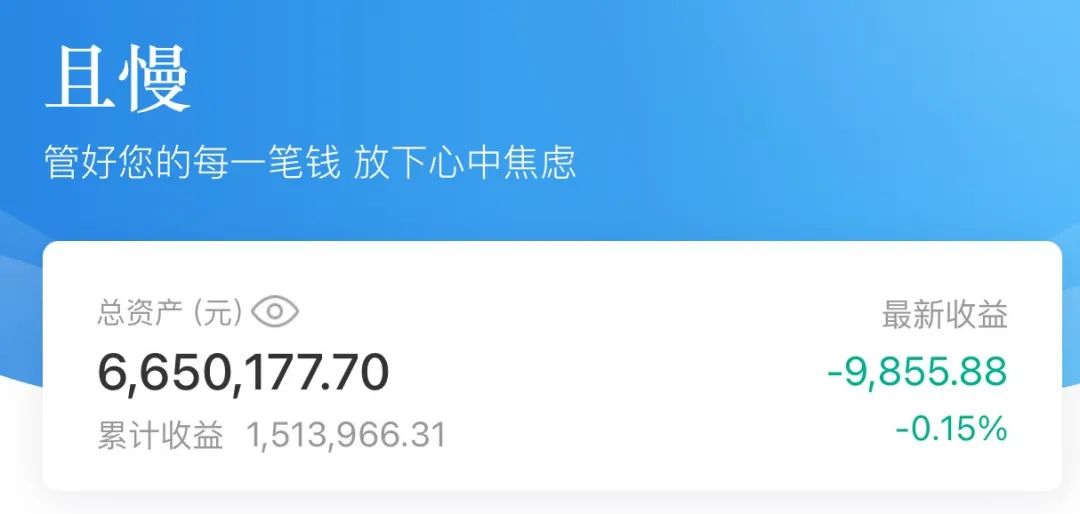 The market is risky and investments need to be cautious. This record does not represent any recommended use and is only used as a verification of your long-term investment. Investors should remain independent.
---