"Downon energy industry sharing" marketing case . . How brands use Facebook ads for marketing
Tang can translate cattle:
Flying Book Interactive is an international marketing service provider that focuses on overseas markets, is Facebook's officially authorized top agent in China, deep into e-commerce, games, tools APP, tourism, education and other fields. At the end of 2017, Tangnen Translation and Feishu Interactive signed a long-term cooperation agreement, mainly for the Canton Fair's Facebook text to provide Russian/French/Western/Arabic multi-language translation. Tangeron's specialty product market communication translations, including translation and writing, as well as English and foreign native language translation, are designed to solve the market communication problems in the process of customer globalization. Today's share is about how brands use Facebook ads for marketing.
Whether it's a big, well-known business or a start-up, you like to use the Facebook/Instagram platform for brand and effect marketing. And fast-shooting ads with short and vivid characteristics stand out, can effectively motivate users to take action, become favored by the brand marketing weapon.
Here's a look at how Irish beer brands Guinness, Polish fashion brands Reserved and Singapore Airlines use Instagram snaps and other Facebook ads to market their brands.
Irish beer brand Guinness has boosted the advertising impression of men aged 18-24 by 11 points by using Facebook video ads and Instagram snaps to promote their sponsorship of the International Rugby Championship.
▍
Brand Story: Brewing Art
Guinness is a long-established Irish strong black beer brewed in 50 countries and sold around the world. In 2019, Guinness became the title sponsor of the Guinness Six Nations, the international rugby championship. Guinness is owned by Diageo, one of the world's largest producers of spirits and beer.
▍
Marketing goal: To promote the identity of the sponsor
Guinness hopes to launch a massive campaign in the UK to celebrate rugby fans' love of rugby and make its name as the Guinness Six Nations.
▍
Solution: Game perspective
Guinness launched a massive campaign on television, outdoors, PR and social media to kick off its sponsorship of Guinness Six Nations. The campaign focuses on a series of videos that depict a range of true fan stories.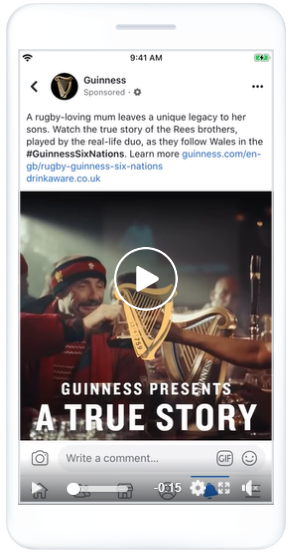 Facebook and Instagram play an integral role in campaign's strategy, providing Guinness with a way to stay in the tournament at the same time
Build a brand and attract football fans
path.
In order to create an influential campaign, except
Adapt videos for Facebook and Instagram mobile devices
In addition, Guinness also
Create a series of platform-specific ad groups
。 These include video interviews with the captain, Instagram snaps featuring the sound of the game, Instagram polls that interact with fans, and Instagram snaps featuring recommendations from local pubs so people can enjoy a beer after the game.
▍Advertising.Results: A successful game plan
Guinness's "Made of More" campaign has inspired fans to be passionate about rugby. Between February 15 and March 10, 2019, The Facebook and Instagram campaigns achieved the following goals:
Males aged 18-24 had an 11-point increase in advertising impressions

Men aged 25-34 improved their information acuity by nine points

Women's advertising impressions have improved by eight points
▍Use the product
Rotating ads:An ad can display up to 10 images or videos


Video ads:Get attention with engaging video ads

Instagram:Promote your business to audiences who use Ins


Take a quick ad:Share your story with immersive full-screen ads
Guinness's targeted use of game-sounding, voting-enabled, and Instagram snaps with local pub recommendations, based on different fan audiences, is worth noting.
Fashion brand Reserved has successfully raised the profile of its new fashion line by using the voting feature on Instagram to get people to choose what Kendall Jenner should wear.
▍
Brand story: Popular fashion in Poland
Reserved is LPP's flagship fashion brand, and LPP is a Polish company with several clothing brands. Through its website and stores throughout Europe and the Middle East, Reserve offers its loyal customers elegant, up-to-date fashion essentials.
▍
Marketing goal: To sell the style of the new season
Reserved hopes to increase the visibility of its brand and new winter products by crafting ads that are truly appealing to consumers.
▍

Solution: Get celebrity-related votes on Instagram snaps
Reserved invited TV star and supermodel Kendall Jenner to a campaign to encourage fans to vote on which winter new item Jenner should wear.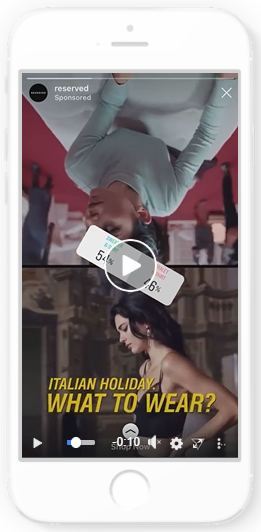 To create a voting mechanism, Reserved uses the voting feature in Instagram Snaps. Ads run in three forms: one is
There are no standard ads for voting
One is
There are advertisements for voting
And there's another one
There are votes, there are ads that visit the website call to action
。 These three different ads allow Reserved to evaluate the conversion performance of the ads in three ways.
▍
Advertising effectiveness
The campaign, which was launched in the UK in October 2019, compares to the standard ads on Instagram:
Ads that use interactive voting have increased brand awareness by 1.5 times

Ads that use interactive voting and call-to-action language have increased brand awareness 12-fold
Obviously, interactive ads work better than regular ads, and ads with call to action can improve communication more than 10 times on the basis of interaction. So when creating ads, don't forget to take these two points into account.
Singapore Airlines has used Facebook 360 image ads and Instagram snaps to promote its new direct flights between Singapore and Seattle, which has increased its advertising impression in the U.S. by 4.8 points.
▍

Brand Story: From Singapore to the World
Singapore Airlines is Singapore's flagship airline and has long been regarded as one of the best airlines in the world, according to research firm Skytrax. The airline has been expanding its network for years and in recent years has added direct flights from Singapore to Seattle.
▍

Marketing objectives: to promote new routes
Singapore Airlines hopes to raise the profile of its new direct flights by socializing on Facebook and Instagram.
▍

Solution: An immersive perspective
Singapore Airlines posted 360 photo ads on Facebook showing famous landmarks in Singapore and Seattle. People can move their phones from side to side (representing a smooth flight) to experience a seamless transition between Singapore and Seattle.
The airline also used photos of the same landmarks in its Instagram snaps.
All advertisements are directed to Singapore Airlines' website
People can learn more about the new route on the website. And
All ads are also optimized for vertical phone browsing.
These ads
Widely target Singaporean travelers between the ages of 25 and 50 and first-tier U.S. cities, including Seattle, as well as interested groups.
The brand-boosting study was conducted on Facebook and Instagram for five weeks from July to September 2019.
▍

Ad performance
As a result of the success of this campaign, Singapore Airlines will continue to use 360 photo ads and Instagram snaps in related events in the future:
Ad impressions increased by 4.8 points(campaign for the United States)

Brand awareness increased by 3.8 points(campaign for the United States)

Purchase intent increased by 1.5 points(campaign for the United States)

Ad impressions increased by 3.2 points(campaign for Singapore)

Brand awareness increased by 3.4 points(campaign for Singapore)
▍

Use the product
Image ads:Inspire your audience with image ads

Take a quick ad:Share your story with immersive full-screen ads
360-degree panoramic photos create an interactive experience on Facebook where users can explore. Brands can use it to publish grandiable images, or to bring people behind the scenes, or to showcase products or services that involve scenes, such as hotels, tourism, etc.
From the "Flying Book Interactive" WeChat Public Number, welcome to subscribe!

Tang can translate ⁺
---
Top 10 influential brands in China's translation industry;Asia Pacific Top 30 Language Service Providers;
17Artisan polishing is better than translation, do the most effective language services!
A styled language and culture WeChat public number. For your original and selection of "Dang can weekly English hot words", "industry sharing" (translation / multi-language website / translation / translation / language / machine / learning), "reading line", "Wodong Waixi", "Tang can style", "Ocean View" and other columns. We gather a group of proficient in language, love translation, ingenuity of production, familiar with Chinese and foreign, open their eyes to the world!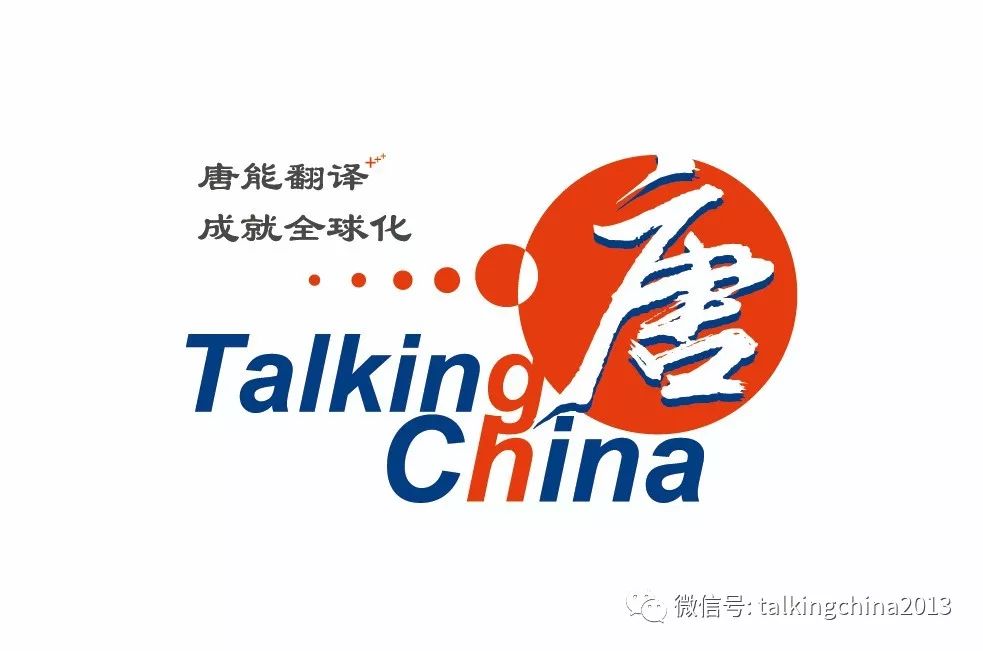 Long press QR code to pay attention to Tang can translate      





   

    Hotline:400-693-1088

           86-21-6279-3688 Shanghai

           86-10-6590-1015 Beijing

           86-13022184137 Shenzhen

    QQ:288 082 9277

    http://www.talkingchina.com

    talkingchina@talkingchina.com

    https://weibo.com/talkingchina
---