Watch a video and you'll be able to fight for gold! Reaction net red, understand
I believe you see the title of this issue to know what the editor is going to say, yes, yes, this issue is to tell you is -Reaction net red。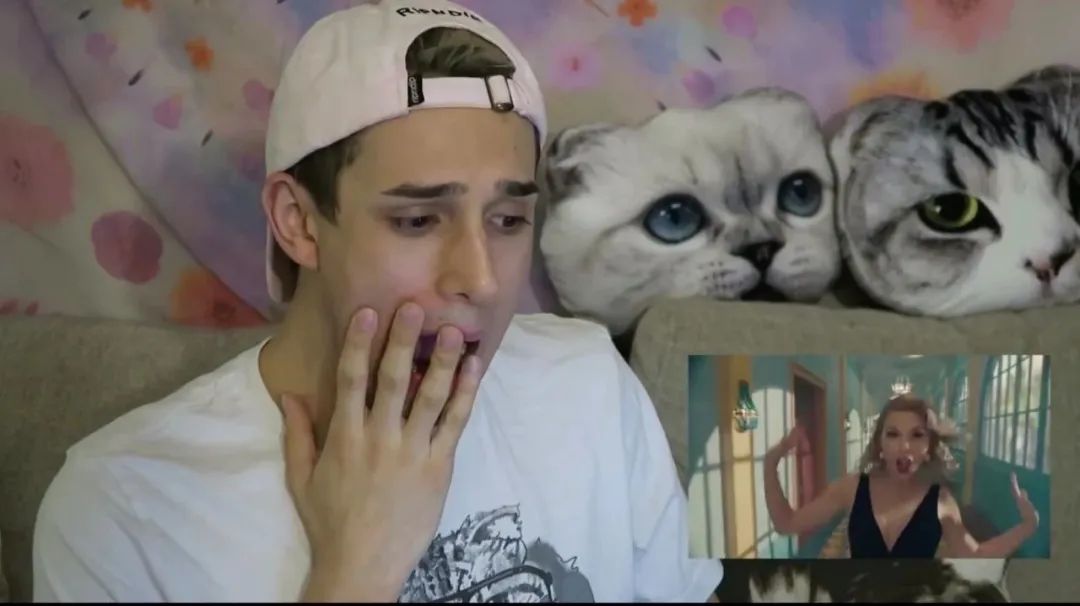 Small editor in previous issues have also written for everyone on how to become a net red article, but it seems that everyone has some doubts about their interest points crawl and how to start and long-term creation, worried that their interest is not enough to support their own long-term creation, so belatedly dare not take the first step.

So today's small editor, to introduce you to a kind of net red, it does not require looks and requires sweet voice, even if you will not, you can also quickly get started, that is - reaction net red.
What is Action?
Double screen synchronization, expression of immediate reaction
Reaction video, which has no official Chinese, is translated by many as a "reaction video" according to its English translation.
You may have watched the football live commentary on TV, the footage was broadcast live, the nadator synchronously drew the commentary, and reaction video worked the same way.
Open a Action video and you'll see two one-to-one images in sync. The small picture at the front is usually the MV of a star singer, while the blogger himself is at the rear, which occupies most of the screen. During playback, bloggers react accordingly to the content of the MV screen, and sometimes they pause the screen to say what they think.
Often the same MV Action video, because of the interpretation of different bloggers, and show a rich effect.
The blogger's impromptu reaction is the biggest point of view of a Action video, if a blogger says to learn to sing, interject like proficient, or full of Drama, Yan Art, then it is easy to be favored by netizens, naturally look forward to his next performance.
Of course, if you don't have a strong sense of variety and don't want to take the Drama route, you can also share your views on MV and what you've known about the singer or video protagonist for a long time, and attract other fans to interact with the show. Generally this kind of video will choose the European and American popular diva and male singers, kpop male troupe, domestic talent show or singing programs of the various phenomenal performances. All in all, you can think of it as a "hot" behavior, but you have to deny that it does bring you rapid traffic growth.
Recording a full Action video is not as difficult as shooting a Vlog. Generally speaking, the pre-recording needs to have two devices, one for recording screens, one for filming themselves, and finally to get two pieces of footage. Overlaying the two footage together later, and making appropriate clips of the picture and audio tracks, is the most basic Action video.
Why can Action suck powder quickly?
Rice circle culture, emotional resonance
Reaction responds to the need for restaurant fans to seek a shared star-chasing experience, but it's not just serving the dining circle culture. Today, many Live or MV versions of music have strong sensory stimuli, such as Hua Chenyu's "Singer" scene, often in pursuit of highly intense musical performances.
This allows the audience, which has obtained the ultimate sensory experience, to begin to demand repetitive and common aesthetic experiences in addition to personal physical and mental satisfaction.
They watch the Action video,It's a way to relive the enjoyment of the music itself, and to find commonality in the reaction of the blogger's first viewing, thus reaping the rewards of identity。
Seeing the blogger's reaction very similar to his own, they would say, "I'm right", and when the up owner gradually "heads up", or can't contain his surprised expression, they can once again confirm that their favorite music is indeed a work of Cow X, immersed in the pleasure of complacency.
Music appreciation often brings the rhythm of the body. Just as rock songs make people swing back and forth violently, reggae music makes people shake their heads lightly, brainwashing house music makes people can't help shaking their legs.
The common body rhythm undoubtedly builds a bridge between the individual aesthetic experiences at both ends of the screen.

The re-emergence of music in reaction videos and the physical responses of others brings double happiness to the audience, as well as recognition and self-reinforcing.
Domestic head vigorous waist shortage, foreign support and change has now basically taken shape
On Youtube, Reaction video has become a unique branch of video. Youtube officials and advertisers co-sponsor to encourage native content, and some Action bloggers can get a certain amount of funding based on the amount of money they show. On SocialBook, the world's largest online red data platform, we searched the YouTube section for Action keywords and found that there were about 38,400 online reds, reaching 799.5 million people. And we can see on YouTube that its data is also very bright, so if there is no strong video production skills, but also want to quickly become a YouTube network red, I suggest you can start by doing Action video, because this is one of the fastest traffic.
Photo from www.socialbook.com.cn
On YouTube, there's a well-known channel called FBE, in which the action series is their gold-letter signature, reaction content covers the film and television entertainment, updated at a daily rate, with more than 20.1 million followers, while channel owner Fine Brothers earns more than $8.5 million a year, and ranks among YouTube's top 10 earners, and reaction videos are popular overseas.
Photo from www.socialbook.com.cn
THE FEB fan portrait is from www.socialbook.com.cn
At home, reaction video hosting platform is generally station B, young people like to build their own social business card on station B.

Cantonese action up main "Cantonese men have words" director Laugo said, "Cantonese men have words" in many platforms are updated, but only on station B people to see, he felt that the content of station B ecological related, and there is no advertising, impeachment interaction form will be very popular with the audience.
Most of the content that thrives on Station B conforms to the tastes of B-station users and is younger. "The audience certainly wants to see their favorite idols, young people are very interested in the current trend, " Said Laugo, describing the taste of the B-station audience.
Currently, reaction videos fall into two main categories.One is such as "mosquito", watch entertainment variety video to do action, especially "straight men look at XX" this type by many B-station female users love.B station up master "Little Yelou" as a science and engineering man, for the delay drama "Chen Love Order" made 49 issues of the action video, so that many of the powder came to support.
The other is cultural themes, such as "Park Myung-pyoing" and "South Korea's Dongdong" series of "Korean Reactions."
Among them, the highest-rated video is "South Korea Dongdong" video "South Koreans watching Chinese dramas are angry!" Please shoot Korean TV for five minutes! , playing 2.34 million.
But at home, many act bloggers say the business model for the content is still immature. Most act bloggers benefit in three ways:
1. Platform traffic sharing. Station B now has incentive programs for creators, and up owners can make a profit from the platform split.
2. Advertising collaboration. Like most creators, advertising is an important way for action bloggers to "just eat."
Learning Korean and other learning ads, commonly found in the dynamics of the action up master, the reason for choosing this kind of advertising, bloggers said that one is basically no impact on the content or restrictions, and the other is exactly the target and star-chasing or interested in Japanese and Korean culture audience.
3. E-commerce.
"Cantonese men have words" the main commercial way is to sell things, they will be directly implanted in the program of their own Taobao shop snacks, let fans to search for their own, snacks unit price is not low, 30 yuan a pack, but there are still many viewers willing to buy.
"A lot of our peers don't dare sell like we do, they're afraid they're going to drop powder, but we're not afraid."
Now, "Cantonese men have words" e-commerce income has been able to cover the late, director and other staff wage costs.
"Mosquito" also opened taobao shop, selling some small snacks you can eat when watching the play, Wang Yanxiang said that C-side e-commerce is "mosquito" to explore the commercial closed loop part, he admitted that "mosquito" is not too much profit, not to earn money, but is still in the early stages of the market, lack of sound business planning.
**************************************************************************

Want to get more attention on your Action video?

An intelligent hot spot tracking and title management tool is especially important.
SocialBook Builder

r plug-in
Not only can you quickly recommend relevant hotspot tags, you can also find missing hot tags can also be unified management of YouTube channel tags.
YouTube blogger must-have: SocialBook Builder

r plug-in
Of course it can be

Live notifications of popular videos on similar YouTube channels, YouTube hot word push
, competitors popular video push at the same time can adjust the push frequency
YouTube blogger must-have: SocialBook Builder

r plug-in
PS: In YouTube's data, indicators of how long users watch can also affect video ranking.
If you don't have enough keywords, your title will not only convey the content of the video, but also be attractive enough for someone else to click on it.Of course, if the title is too long, it will be folded by YouTube and Google, usually no more than 60 characters.

If you want to contact Net-a-Go star KOL to make your brand a flower!
+:flala0127
If you want to learn online red marketing strategy
Successfully launched overseas net red 
Public number reply to the course: sign up for the online red delivery division!
Reply to "I want to be a net red"
You can unlock YouTube bloggers
Instant keying, quickly make e-commerce posters, video covers
Reply to "I want to key the picture"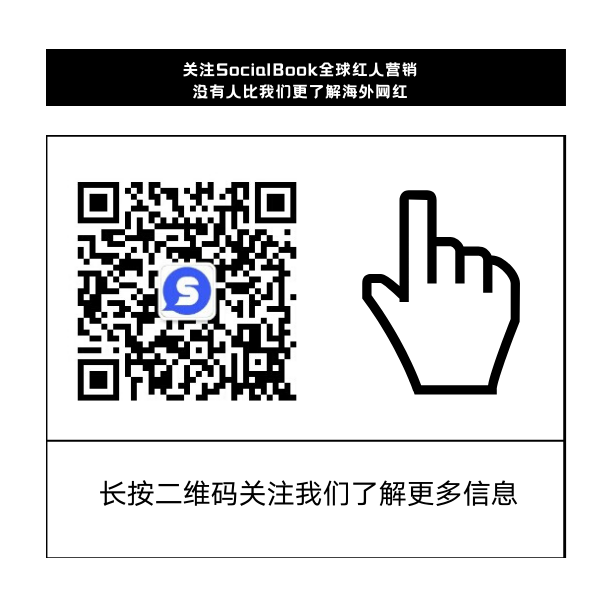 ---