Titanium Media Interview with App Annie Greater China: What's changed in the game?

Titanium media TMTPost.com
Technology leads the new economy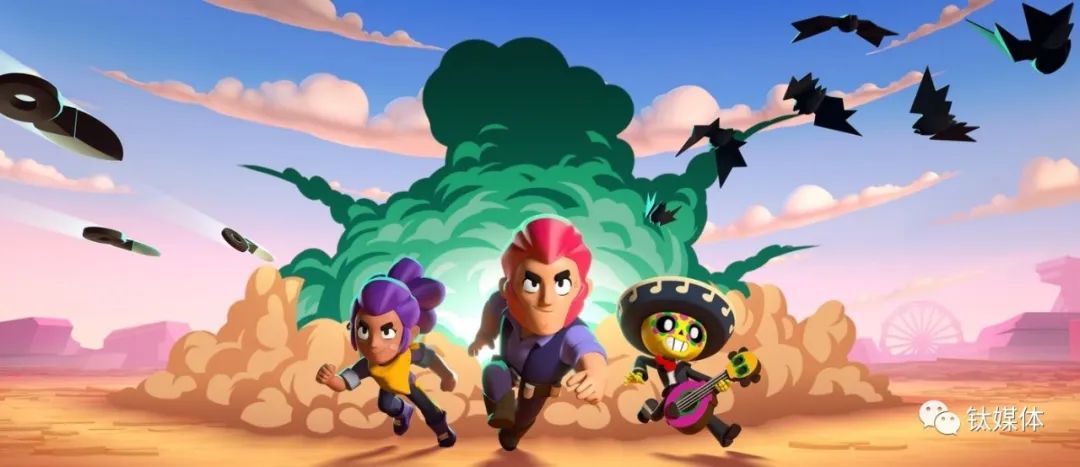 Just as App Annie released its May list of Chinese manufacturers' revenues, Tencent returned to the top of the list: "There's competition in the market, and it's an interesting track that deserves sustained attention." Dai Bin told Titanium Media about several recent changes in the game's offshore market.

Titanium media editor Nie Xiao Huangji
On May 13, 2020, App Annie released its April list of Chinese manufacturers' revenues, with the top five players: Lilith Games, FunPlus, Tencent, NetEase and IGG. Domestic game lovers may not be familiar with gaming companies other than Tencent and NetEase, and you may be more confused if you turn back time to two years ago.
In April 2018, App Annie counted the top five Chinese manufacturers in the monthly revenue rankings are FunPlus, IGG, NetEase, Smart Star Tong, Long Teng Janehe, this time Tencent got the 10th place, ahead of it is long-term Yueyue, Tap4Fun and Yuzu and other gaming companies.
Technology media people in 2018 so commented on the Chinese game manufacturers' sea situation: although China's hand-travel market has always been "two strong meat, leftovers drink soup" pattern, but in the sea, but there is a different landscape: waist manufacturers active - such as Smart Star Tong, IGG, the network of tourists focused on overseas market developers - far higher than their performance at home.
App Annie Greater China head Dai Bin eyes is another side of the landscape, he told titanium media, "this so-called "waist head concept" is divided according to their size in the Chinese market, Tencent, NetEase is certainly head game manufacturers in China, and overseas market-based companies, such as Smart Star Tong, IGG, Tap4Fun, etc., in the early days did not participate in the domestic market competition.
Titanium Media observed that the main business of Zhistar, founded in 2008, is overseas, and their 2014 release overseas of the hand-wringing "King's Dispute" (COK) after September 2015 flowed more than 300 million yuan a month. In 2016, the country's little-known gaming company, with overseas revenues, was second only to Tencent and NetEase in terms of revenue, apparently the head of China's offshore gaming makers.
But the situation is also changing, in April this year, Chinese manufacturers out of the sea revenue list, the name of the smart star pass did not appear in the top 30, and Tencent from the end of 2016, holding the "Arena of Valor" (King's Glory overseas version) and "PUBG Mobile" two games in overseas markets, and finally ranked third in the 2019 Chinese manufacturers out of the sea income list.
Tencent's list of Chinese manufacturers' offshore earnings fluctuated by a small margin in April, dropping from 2nd place in March to 3rd place, with NetEase in 4th place. Just as App Annie released its May list of Chinese manufacturers' revenues, Tencent returned to the top of the list: "There's competition in the market, and it's an interesting track that deserves sustained attention." Dai Bin told Titanium Media about several recent changes in the game's offshore market.
Make money first or ask for users first?

"The first issue that App Annie and publishers have to address in partnership is the choice of market and game categories." Dai Bin believes that the first step in the game to go out to sea is to choose the right direction.
The broad overseas market needs to be more carefully divided, and last August App Annie and Google jointly released the 2019 Mobile Game In-depth Insight Report, which divides overseas markets into mature and emerging markets. User spending, downloads, and market patterns are very different in both markets.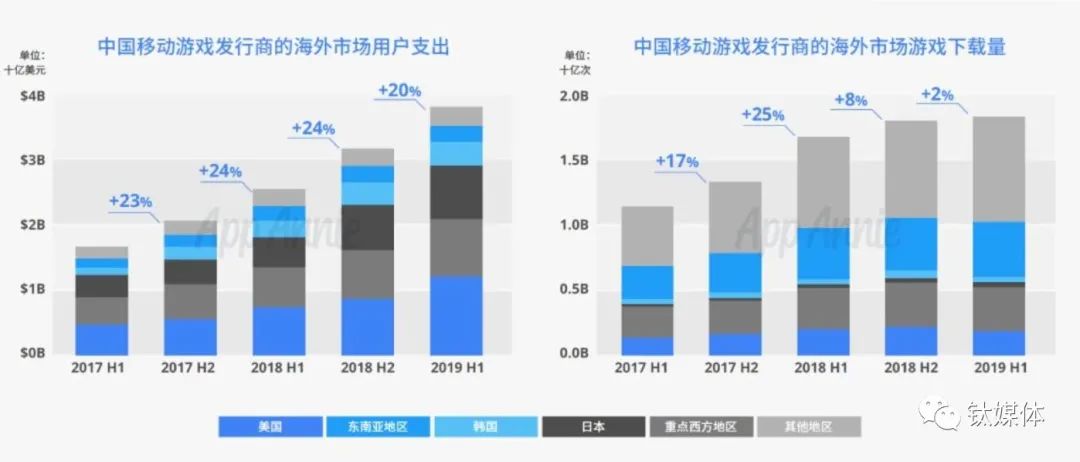 Photo from the 2019 Mobile Game Out to Sea Insights Report
Mature markets include the United States, Japan, South Korea, Germany and the United Kingdom, of which the United States, Japan and South Korea have been local console games, end-of-the-game manufacturers to cultivate a strong sense of pay. But it also means that Chinese manufacturers face more competitive local game makers in mature markets. In Germany and the UNITED Kingdom, Chinese manufacturers in the local and U.S. game manufacturers have a certain gap.
Emerging markets include India, Brazil, Russia and Indonesia, and in addition to Brazil, which needs strong competition from U.S. game makers, China Mobile game publishers are leading the market in all three other countries.
These are two different paths. More competitive mature market users have a lot of money, although the mature market mobile game user spending, the share of Chinese publishers is low, but the user spending growth rate is high, an average annual growth rate of 51%.
Chinese manufacturers have a high share of emerging markets, and game downloads will grow as smart device penetration rises, but as the demographic dividend shrinks, game makers need to make money by raising awareness of how users pay.
In the past two months, Mr. Dai has also seen some changes through observations, noting that Chinese publishers' revenue share in the U.S. rose to 16.9 percent in the first quarter from 14.5 percent in the first quarter of last year, as well as in Japan and South Korea, where Chinese publishers' revenue share rose from 11.4 percent to 15 percent and in South Korea from 17.8 percent to 25.4 percent.
Emerging markets are a different situation, with Chinese issuers' revenue share in countries such as India not much changed in the first quarter of this year compared with the first quarter of last year.
App Annie predicted this in an insight report released late last year:
Downloads for most emerging markets grew by less than 10% year-on-year, with negative growth in Chinese mainland, Vietnam and Thailand, resulting in weak overall download growth in the handset market. However, when we pulled our perspective to revenue, we were pleasantly surprised to find that the U.S. contover market not only still accounts for the vast majority of the global market share, but also shows almost double-digit growth, reflecting the huge economic dividends and profit margins in the overseas travel market.
"It confirmed our judgment at the time, " explains Dai Bin.Emerging markets have reached a mature stage where there will be no erred improvement. Publishers' revenues change with the market, growth comes from the rise of the market as a whole, revenue increases but the proportion is stable ... At the same time, mature markets are difficult but cannot be ignored, and Chinese publishers still have an imaginative growth rate in this market. "
Successful game categories at sea,
It is not equivalent to the game category with the largest local market share

It is equally important to choose a specific game category, not to say "do the hottest game category or the game category with greater potential" this benevolent problem, before the manufacturers have to figure out what the region's hottest game category is.
One of the stereotypes of domestic players about overseas regions is that American players like SLG (strategy games), Japanese players like RPG (role-playing games), and Southeast Asian players like MOBA games (multiplayer online tactical games).
Dai Bin thinks a more accurate statement should be: the most successful type of game that Chinese manufacturers go to sea in the U.S. is SLG, and the most successful type of game in Southeast Asia is MOBA, "but the Japanese market is right, Japanese players do prefer RPG." "
"2019 China Mobile Games Out to sea deep insight report" has Chinese manufacturers in the U.S. market game category proportion data, we can see that China Mobile game publishers in the strategy game has a good performance, but in the leisure category, puzzle category and other game categories on the development is still weak.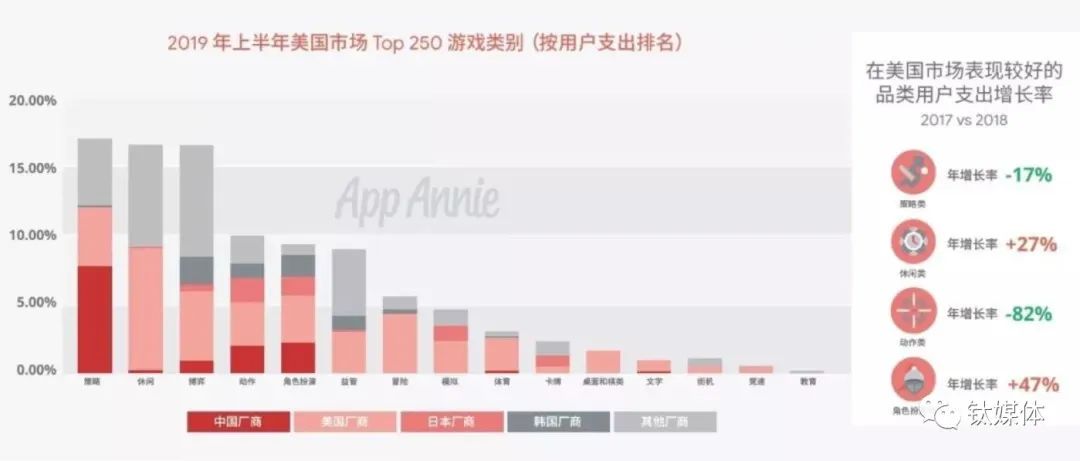 Photo from The 2019 China Mobile Game Deep Insight Report
If we look at the data for the entire U.S. market, casual games (games that sell creatively, play simple, and play on the go) and gaming games account for about 60% of the U.S. market. From a revenue perspective, the majority of U.S. user spending is dominated by three games: Candy Legend, Dream Garden and DreamLand, as well as gaming masterpieces Coin Master and Slotmania, with leisure games accounting for nearly 10 percentage points more than SLG.
Sea-going manufacturers at this step need to make a clear decision again: "the sea-going predecessors have paved the way" SLG market, market share is small; Now, there are some Chinese manufacturers in the United States to do ultra-casual game market.
Time for foreign players is becoming more and more fragmented

The rise of casual gaming has expanded globally, with App Annie's Mobile Market Report 2020 showing that casual games (represented by arcades and puzzles) are the most downloaded game category in the world in 2019, accounting for 82% of total downloads, but only 18% of the total downloads of popular games, but with a 55% share of usage time.
This is because casual games are open and playable, simple to operate, and the length of a single game is very short.
When Chinese players play a game of about 15 minutes of "King Glory" time, overseas popular casual competitive game "Wild Fight" directly shorten the length of a single game to 3 minutes, and simplify the skills of heroes, players only need to move in the game, general attack, big trick three operations.
There are many reasons behind the rise of leisure games, such as THEP ecological environment changes, expanding the game APP, will be many previously not "gamers" users covered, short video, live streaming and other pan-entertainment APP constantly grab user downloads and time, the game can provide users must also be leisure and entertainment experience.
Another interesting reason is that the user habits cultivated by short videos also indirectly contribute to the success of casual games. Dai Bin observed that pan-entertainment apps such as short videos are affecting users' usage habits. "The amount of time and opening time spent on games after 95 worldwide is significantly less than that of the older user base, and the number of times a single use of non-game APP is decreasing and the frequency is getting higher."
The total game length that doesn't grow much is cut even more, and the long, more difficult nod tutorials and hands-on experience increase the likelihood that the game will be "hands-on" and narrow down the audience. Leisure games/ultra-leisure games have grown in growth, while ultra-casual games have spawned a business model of advertising realization.
What can ads do to not lose players?

At present, the game has four ways of revenue: internal purchase of props, a buy-out, subscription, advertising cashing, in 2006, Shi Yuzhu in the "journey" online paid props, will be "game free, props charge" design concept to carry forward, until now, most of China's hand tours are the internal purchase of props, but also the early majority of Chinese manufacturers choose to cash out.
But simple, relaxed casual games are hard to inspire user awareness of pay, and in 2017, French publisher Voodoo touted iOS USA games for free with a number of casual mini-games, opting for advertising to cash in on this revenue - through a short period of high-buying piles of high product exposure, after the game burst into flames, selling in-game advertising space.
"Traffic is revenue", the survival of Chinese Internet enterprises, but also by overseas game manufacturers to grasp the fire pure green.
On the other hand, there is a common perception that only casual games can rely on advertising to cash out, and advertising to a certain extent will affect the user experience, resulting in the loss of users.
Dai Bin thinks this matter can not be generally discussed now, for example, last year has reached the top of the iOS free list TOP1 "The Legend of bow and arrow", put the incentive ads in various parts of the game, players can watch video ads to get props and gain effect, resurrection.
Positive game feedback from ads is partly to avoid player disgust, and Dai bin summed it up and cited YouTube ads as an example: "It's like when we look at YouTube, there's always something about the ads, the way they're shot, the values that make you feel interesting." "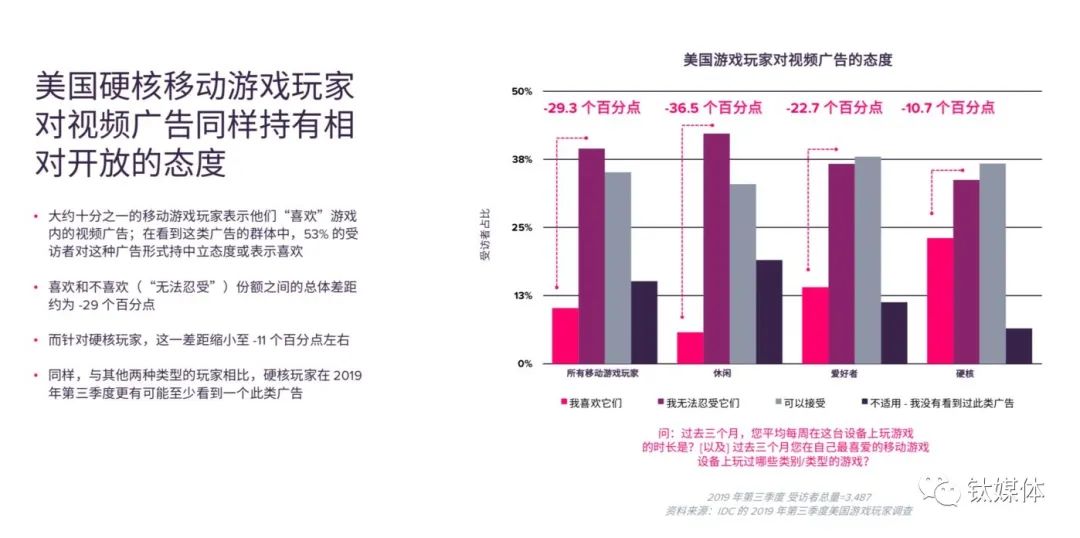 Photo from Focus on the Game: A 2020 Review
App Annie and IDC's Focus on Gaming: A Review 2020 review also showed that about 23 percent of U.S. mobile players said they liked in-game motivational video ads;
At the same time, some overseas medium and heavy games are also trying to advertise cashing, that is, the final game will be mixed cashing (user in-buying and advertising revenue).
For example, The Shooter Tour's Call of Duty Tour also added incentive video ad designs when it went online last year, allowing users to earn prop rewards for watching ads. According to the 2019 Mobile Game Out to Sea Insight Report, in App Annie's Global Mobile Game User Spending Top 1000, the percentage of mixed-game realizations (i.e., user spending and ad revenue) by publishers in other overseas countries is as high as 1/3, while that of Chinese publishers is only 15%.
Not only the sea-going manufacturers in the charging mode is so cautious, mixed change is now the domestic hand tour market is not common, "King Glory" certainly will not let players through watching motivational video to get skin, and the beginning of this year's fire of ultra-leisure games, most of them also did not buy, only advertising to cash in a revenue model.
Unlike domestic game makers' adherence to the charging model, overseas publishers adjust their operating strategies as the product life cycle changes, such as a game that chooses to charge in-house, but developers can consider other revenue methods such as subscriptions or incentive ads when the user pay rate has reached the ceiling.
Dai Bin recalls the history of Chinese manufacturers in the past decade, from the game out to sea to drive tools, software companies to the sea, to live, short video out to sea, but also from "Copy to China" to "Copy from China" process.
But in the last six months, he has not seen the emergence of a new phenomenon-level sea-going trend, "I think this is what we should be looking forward to, or, domestic sea-going manufacturers do not stop at live and short video, these two categories are limited, we should look for new points." "That is, Chinese sea-going manufacturers can no longer simply and crudely copy the domestic success model overseas, but should actively look for new growth points overseas."
Where's the new point?

During the outbreak, games did not appear to be the best option from a revenue-boosting perspective, with Focus on Gaming: A Review 2020 showing that the app store's share of game category downloads rose in the first quarter of this year compared with the same period last year, but declined in revenue.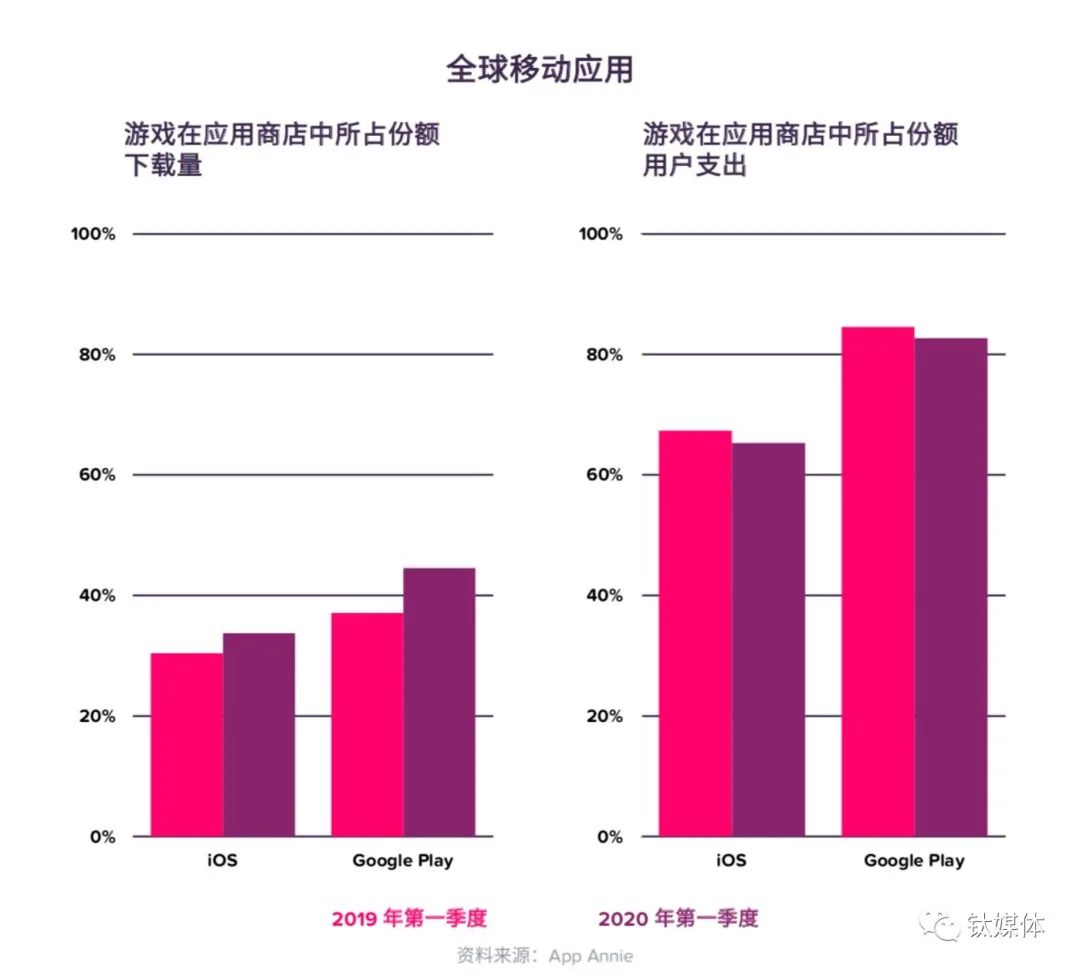 Photo from Focus on the Game: A 2020 Review
"During the outbreak, game downloads outsnumed the broader market, but in terms of revenue, it was the slowest growth in the broader market, " He explains. Because while the outbreak has generated good growth in game revenue and downloads, it has not been as effective as the outbreak in promoting applications. "
He recently looked at overseas data during the outbreak, and the growth rate of business office and education applications was high, both just needed, and likely to be long-term growth opportunities.
However, these two pieces are not good bone, not to say that both areas of the sea have more difficult to cross and serious barriers to living environment, the domestic education market is still burning money to rob users and the market in the Red Sea, "commercial office may be better to do a little, domestic and overseas markets have more in common." "Dai Bin also knows the extent of the difficulties, but the future of online office, online education digitalization is in its inf shape, and we need in-depth analysis to lay it out ahead of time." This is a suggestion we would like to make, during the outbreak, Chinese manufacturers should keep a close eye on changes in overseas markets, try to seize such a market advantage, many places are certainly not demographic dividends, but there is a market. "
(This article was first launched by Titanium Media App, author . . Little Yellow Chick)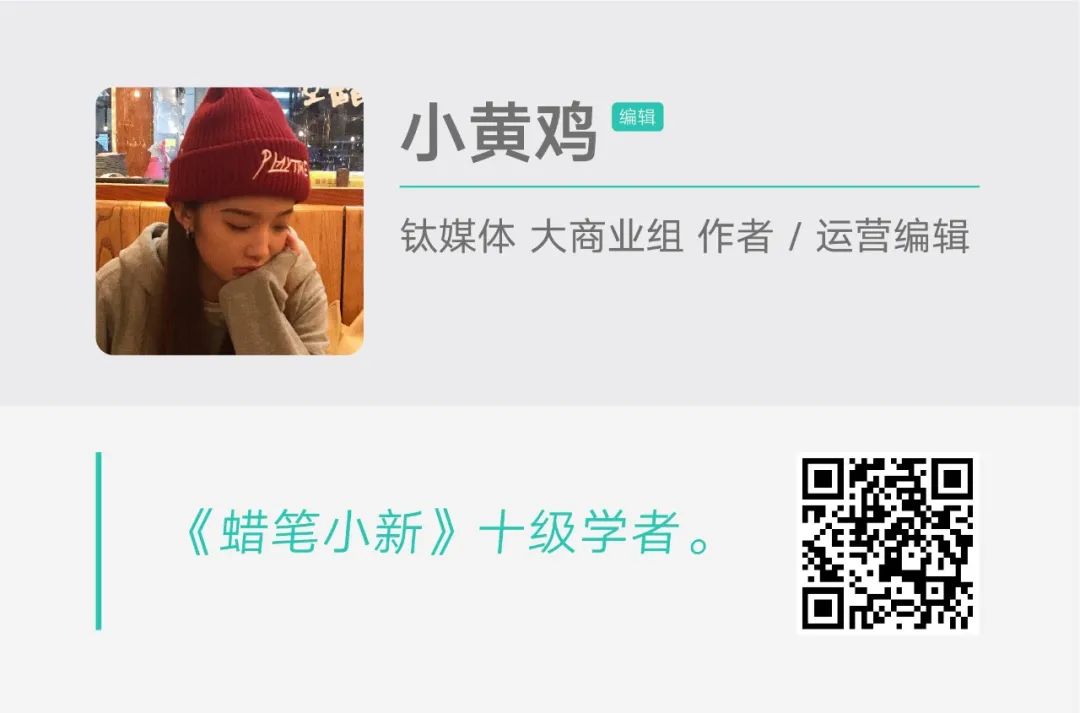 ---------------- gorgeous split line-----------------
Titanium media video numberIt's open!!! Global new things, new technology, big guys have something to say, fun product evaluation, etc. , all inTitanium media video number。 Identify the poster QR code below and follow the titanium media video number.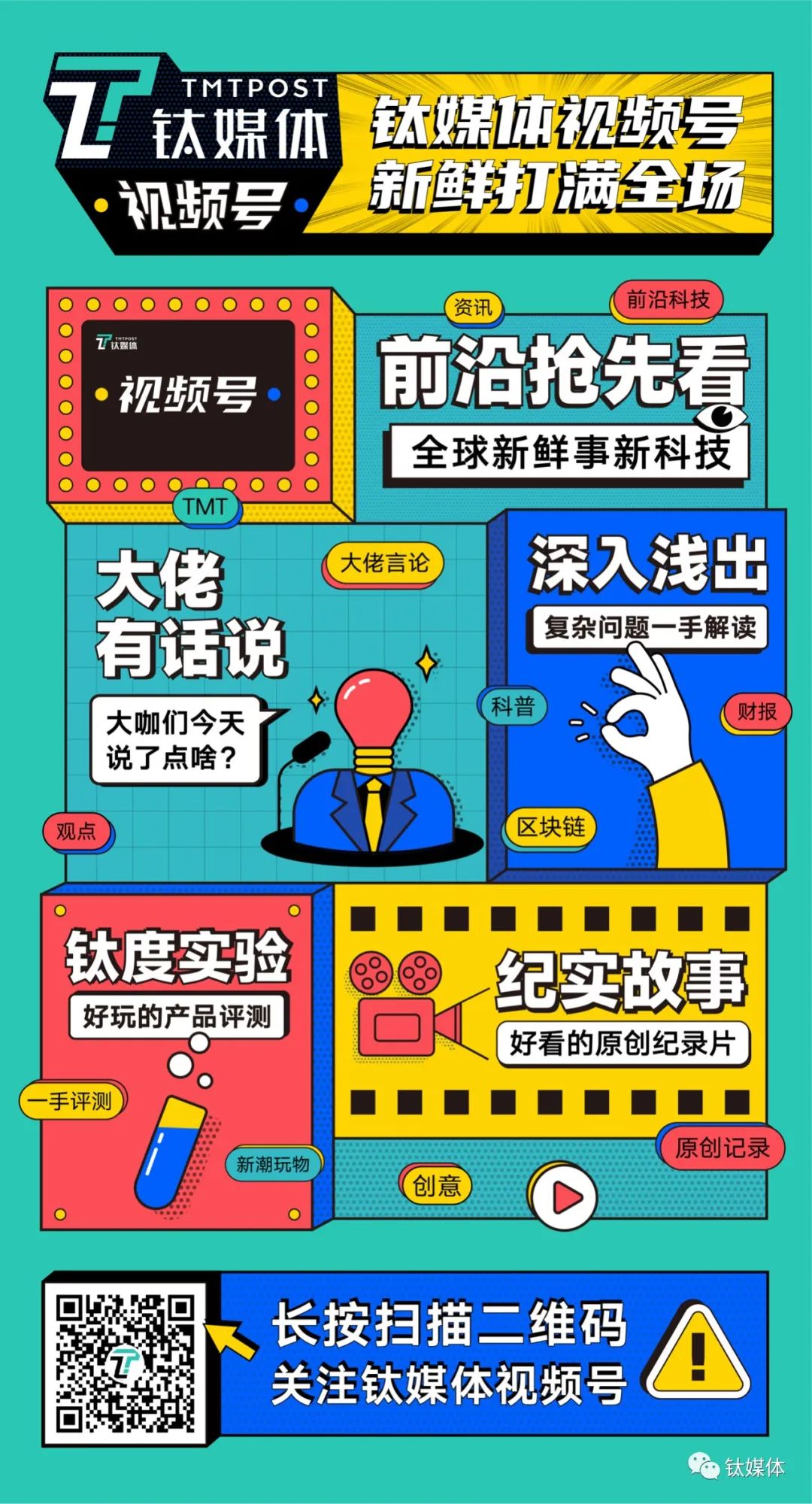 Click.
Read the original text
Download.
【
Titanium Media App
, wonderful content, the latest information, one hand to master.
All water is always love, order one

I'm watching

No way
---