The Economist Google y Publicidad Pídeme una forma de vivir (2)
Ads may be more sophisticated now but still find ways to irritate.

Los anuncios de hoy en día pueden ser más afables, pero todavía pueden molestar a los usuarios.
Dodgy ones are a popular delivery route for malware.
Es muy popular para cargar armadura suave maliciosa por medios indebidos.
They are injected by criminals into legitimate networks, then displayed on respectable websites.
Los delincuentes instalan malware en redes legítimas y muestran anuncios en páginas web autorizadas.
If ad-blocking makes the web a safer and more enjoyable experience for users, however, the trouble is that fewer ads being seen could mean fewer websites.
Aunque el bloqueo de anuncios mejora la seguridad del sitio y mejora la experiencia del usuario, la disminución de los anuncios visibles para el usuario también significa que el número de sitios disminuye en consecuencia.
The ad industry, indeed, is in an arms race with blocker-writers.
De hecho, la industria de la publicidad y el bloqueo de anuncios están en una carrera armamentista.
Many sites now try to detect ad-blockers, and force users to disable them if they want to visit websites.
Muchos sitios web ahora están tratando de detectar bloqueadores de anuncios y obligando a los usuarios a seguir visitándolos solo si los desactivan.
The adblockers have retaliated with techniques to dodge the detectors, and so on.
Los programadores, por otro lado, actualizan el código para evitar ser detectados por el detector, y la competencia entre una magia de un pie de altura es infinita.
Some publishers, meanwhile, have been adapting in their own ways.
Al mismo tiempo, algunos editores de sitios se han ido adaptando al bloqueo de anuncios a su manera.
Salon, a news site, invites ad-blocking visitors to let the site borrow their computers to mine cryptocurrency as another way to make money.
Salon, el sitio de noticias, atrae a los lectores al ganar dinero al permitir que los sitios web midan criptomonedas utilizando dispositivos que bloquean a los usuarios con anuncios.
Google's move thus looks like an attempt to save online advertising from itself.
Como resultado, el movimiento de Google parece ser un intento de guardar la publicidad en línea.
Chrome's strong market position means it can oblige advertisers and websites to comply with minimum standards, removing the most annoying dross whilst lessening incentives for users to install third-party blockers that screen out almost everything.
La sólida posición de mercado de Google le da la capacidad de obligar a los anunciantes y sitios web a cumplir con los estándares mínimos: eliminar los anuncios más molestos para los usuarios e impedir eficazmente a los usuarios instalar software de terceros que bloquea casi todo.
It is also launching a service called "Funding Choices" that is designed to allow website operators to invite people who use ad-blockers to pay small amounts to view their pages instead.
Google también está lanzando un servicio llamado "Opciones de financiación", en el que los editores pueden cobrar pequeñas tarifas a los usuarios que navegan por la web que utilizan bloqueadores de anuncios.
Its new products could land it in trouble.
Sin embargo, el nuevo producto podría poner a Google en un aprieto.
Margrethe Vestager, the European Union's competition chief, tweeted last year that she would be "closely" following the firm's ad-filtering efforts.
El año pasado, Margrethe Vestager, jefa antimonopolio de Europa, tuiteó que estaría viendo de cerca el programa de filtrado publicitario de Google.
The worry is that by defining what counts as an acceptable ad Google will amass still more power over online advertising.
La preocupación es que al definir la "publicidad aceptable", Google reunirá más poder para controlar la publicidad en línea.
The European Commission fined it 2.4bn ($2.9bn) in 2017 for giving its price-comparison shopping service preferential treatment in search results over rival offerings.
En 2017, la Comisión Europea multó a Google con 2.400 millones de euros (2.900 millones de dólares) por su sesgo en los resultados de búsqueda en favor de su propio servicio de compra de ofertas para reducir a sus rivales.
It was unclear that users of such services lost out much.
No está claro si hay una pérdida significativa para los usuarios del servicio.
Consumers also have lots to gain if Chrome can help stem the ad onslaught.
Lo que es seguro es que los consumidores se beneficiarán mucho si Chrome, el navegador, puede soportar el frenesí del anuncio.
(El texto completo de un total de 295 palabras) (palabras de etiqueta roja para las palabras clave del examen y la investigación) 
Palabras clave para el examen y el estudio:
sofisticado .s'sst-ke-t'd'adj. Complejo; exquisito; mundizado; experimentado
irritar ('ér-te't' vt. Para estimular y hacer emoción; Causar irritación y desagradable
criptomoneda criptomoneda
embestida ('ɒnslɔːt' n. Asalto; Asalto

¡Un Economista bilingue no lee lo suficiente todos los días!
Seguir a WeChat Public No.Estudiar inglés con la misma fuente de revistas extranjeras
Empuje un nuevo artículo de omnomnidiom bilingue todos los días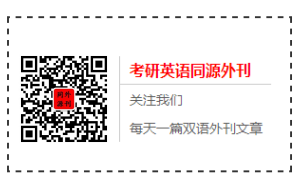 ---