Super utility keyword planning tool guidebook - Keywordtool
The following article is from Silk Luzan College , the author's course editor

Silk Road Zan College
Use audio and video standard courses throughout the digital marketing process, 10 minutes to master a marketing skill, one minute to understand global business inspiration and business opportunities, inquiry analysis, effect improvement decryption, customer skills... Keep up with new trends in digital marketing and get 10 times more streaming results!
Friends who have run Google ads must know that keyword selection is especially important if you want your ads to work well. Good keywords not only make your ads rank well, but also achieve unexpected results. But keyword expansion is not out of the box, really need to use keyword planning tools to expand.
When it comes to keyword planning tools, your first reaction should be Google Keyword Planner. But google keyword planners aren't for everyone, and it needs to create a Google Ads account to use them. So for customers who don't have a Google Ads account, a tool that doesn't need to sign up and doesn't need to sign in is better for them. Keywordtool.io is a simple, easy and fast keyword planning tool that you deserve!
First, what is keywordtool.io

keywordtool.io is a keyword development tool that helps users get keywords from different search engines.It is aimed at more users, no restrictions required, not only easy to operate, but also can expand out of more keywords.No matter what product you are, you can generate suggestions for relevant keywords.

You can also learn about its related tools on the first page, as well as common issues and related resolutions. Questions and questions you may have, it has been thoughtfully answered.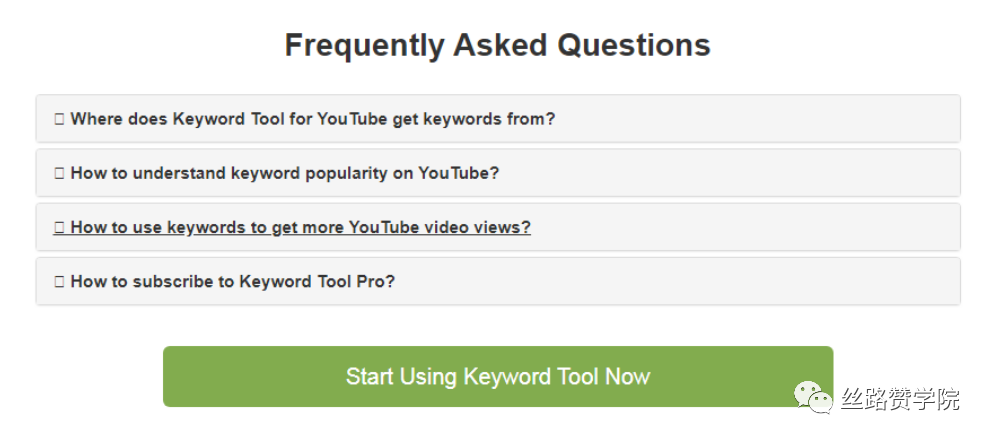 Second, what are the advantages of keywordtool.io?
1. Registration is not required
Unlike keyword planners and other tools, keywordtool.io doesn't require registration, login, and just open a link to operate the experience. Even if you don't create a Google Ads account, you can use this keyword tool for free at any time.See here: http://www.scotsman.comhttps://keywordtool.io/
2. Multi-platform support
It supports not only keyword generation for Google platforms, but also keyword suggestions for Youtube, Bing, Amazon, eBay, Play Store, Instagram, and Twitter platforms. The tool meets customer needs and requirements for expanding keywords across different platforms, so you can find the right keywords no matter which target platform you're an advertiser on.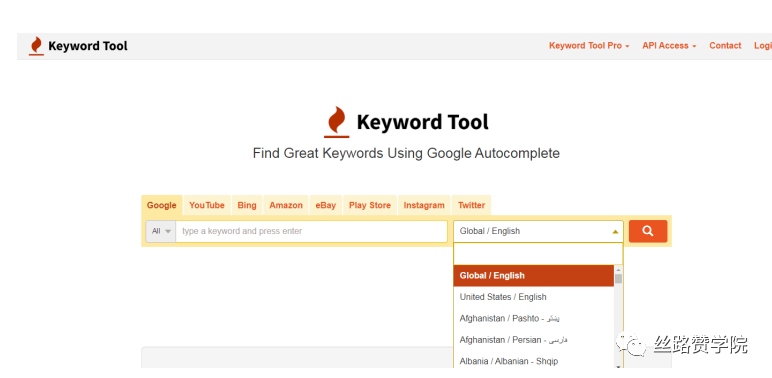 Support for multi-sphere, multilingual

You can select a specific Google domain from 192 supported domains and support 83 different languages. No matter what country your ad is running, you don't have to worry about keyword translation. It shows not only the language, but also the corresponding country, so that you can have better control and choice of the language and the country of delivery. As long as you set the target language, you can generate keywords for that language directly. In general, it is good to choose global/English, of course, you can also be specific to a specific region, really convenient and fast.
4. The number of keywords is large
keywordtool.io generates recommendations for up to 750 long-tailed keywords per search term, and it's extremely fast, making it easy for users to expand enough keywords. With this tool, are you still worried about not finding keywords?
5. Subscribe to Tool Pro
Yes, there's a paid version of the tool. Don't be scared away as soon as you hear about the paid version. You can pay to know the unit price and competitiveness of the product's keywords, and you can also pay to subscribe to the Keyword Tool Pro and Keyword Tool API.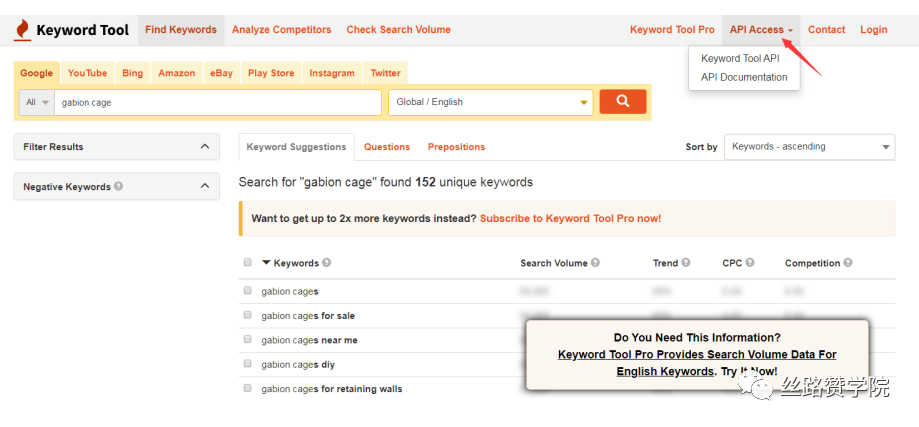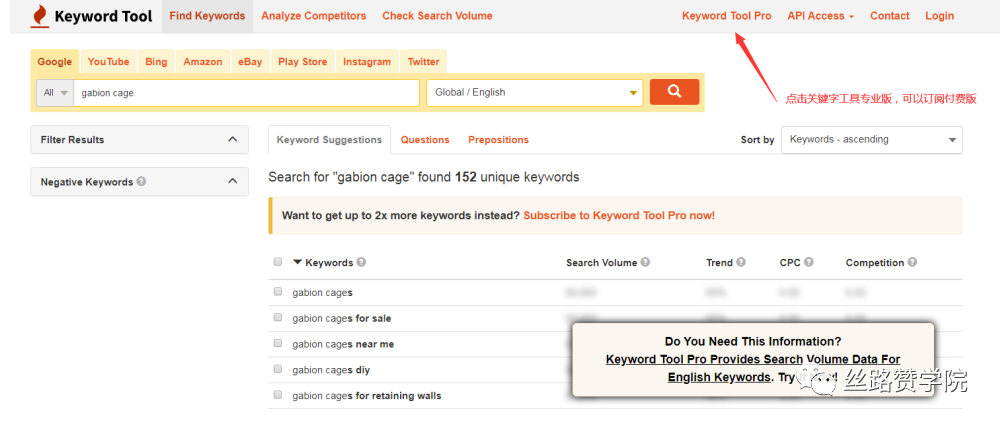 Paid tools support all Google domains and languages and provide very accurate keyword searches, cost-per-click and Google Ads competition data for all 192 supported countries, 47,035 individual locations, and 46 languages. The above information and contents are at your discretion. However, in general, the free version of the function is enough for us to use
Third, the use of keywordtool.io
Since the keywordtool.io tool is so powerful, how on earth should we use it correctly? Here's an example of Google's "Gabion Cage" product word to show you how to use the keywordtool.io tool:
Step 1: Open https://keywordtool.io/link
Step 2: Enter keywords. Select "All" in the input box and enter directly the keywords you want to query for expansion, where we enter "Gabion Cage", select Global/English in the language on the right, press the "Enter" key or the small icon of "Magnifier".

Step 3: Build keywords. The keywords generated by "Gabion Cage" are displayed directly in the section below. The resulting keywords are divided into keyword suggestions, questions, and prepositions. You can choose to download it yourself. However, it is more recommended that you select Keyword Suggestions. To the right of these categories, you can also select keyword ascending/descending order to help you navigate through the resulting keywords more clearly.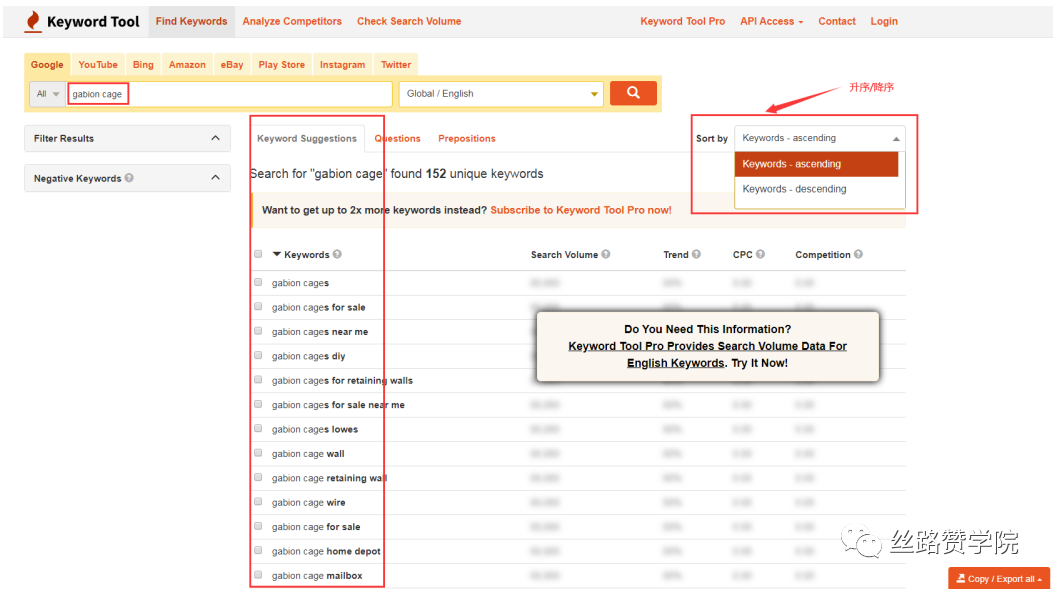 If you want to filter again in build keywords, you can filter your keywords directly by clicking "Filter Results" on the left.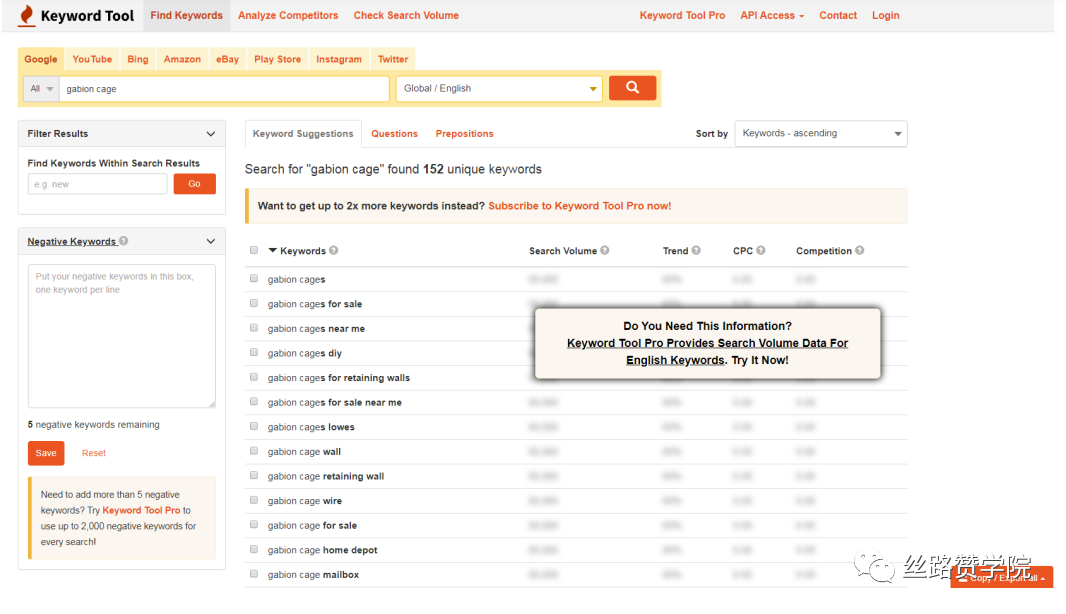 Similarly, you can use negative keywords to exclude unwanted keyword results. When you add a word no, you'll automatically filter out keywords related to the word, making your keywords more accurate. However, the free version can only support less than 5 no words Oh, if you want to add more than 5 negative keywords, you can use the keyword tool Pro version, each search using up to 2,000 negative keywords.

Step 4: Check the small box next to "Keywords" to select all keywords, click on the orange rectangular icon in the lower right corner, "Copy and export all", and select Paste to Excel table. The keyword you ticked will be downloaded directly. Alternatively, you can copy to the clipboard and export to CSV, and you can choose what to do.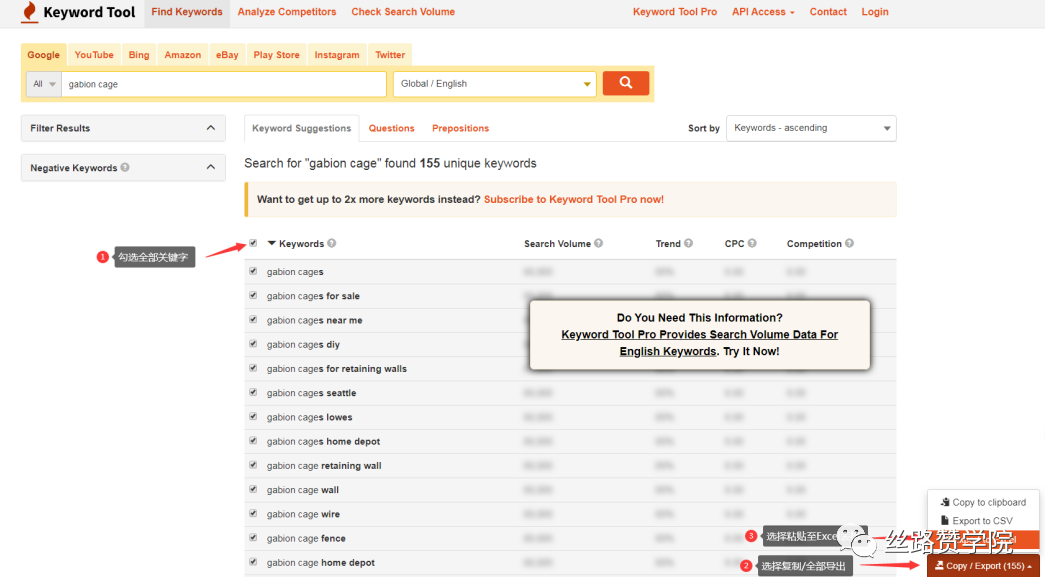 Choose a good export, so that your keywords are easy to export, you can export the keywords for other actions to filter, a complete and effective keywords are organized.

How about, is it easy and fast to operate? Overall, keywordtool.io is a free keyword planning tool that not only covers keyword expansion across major platforms, but also requires no registration, no sign-in, simple operation, and no waiting. Export all valid keywords with one click. Still worried about keywords you, quickly open keywordtool.io, get it done!
Original contribution: Beijing success Yi Zhang Ziye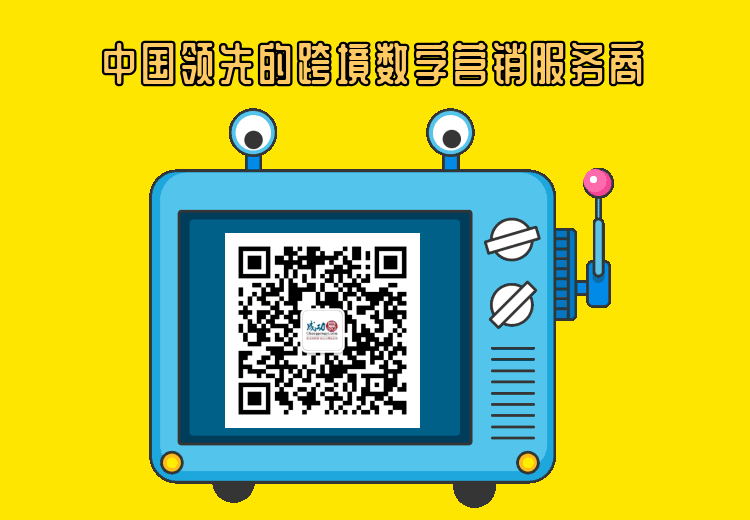 ---