NetEase was legally interviewed and punished, and Apple's scheduled iPhone 12 launch was a weekly hot spot

In order to enable app operators and developers to better understand the recent App Store dynamics, industry hot spots and game hot spots, Master Yan prepared a weekly ASO weekly report for everyone to take stock of the industry hot spots and dry goods knowledge.
This week's ASO Weekly focuses on industry events:Apple announced that it will hold its autumn launch on October 14th, Beijing timeThe iPhone 12 series is expected to be released.Apple stopped selling competing brands of headphones and wireless audio products, related products have been removed from Apple's official website;Beijing Net-a-Letter Office in accordance with the law to interview and punish NetEase, NetEase news and evaluation function suspended for a week;Epic lost the case againThe judge ruled that Apple could take off Fort Night. For more, follow this week's ASO Weekly.
Last week there were 6,867, an average of 981 per day, a 907 fewer than last week
The number of shelves is relatively stable
Last week there were 10,935, an average of 1,562 a day, an increase of 1,265 from the previous week
The number of lower shelves is relatively stable
4 on the list, six fewer than last week
Four of them are game types, two free games and two paid games
1) Apple will hold its autumn launch on October 14th, Beijing time, and is expected to release the iPhone 12 series.
2) Apple extends its free subscription to Apple TV plus until February next year.
3) Apple stops selling competing brands of headphones and wireless audio products.
There have been reports that Apple will stop selling competing brands of headphones and wireless audio products, including Sonos, Rogge and Bose. For a long time, Apple has been selling third-party hardware on its official website. But surveys in foreign media show that since the end of last month, all headsets and wireless speakers from rivals such as Sonos, Rogge and Bose have quietly taken off Apple's official website. Employees at Apple's brick-and-mortar stores have also recently been instructed to remove audio hardware products from third-party companies from stores. It has also been reported that Apple will launch an Apple-branded headset as soon as this year.
4) Apple and Epic have a trial for Fortress Night, which will begin on May 3, 2021.
The U.S. District Court for the Northern District of California announced that Apple and Epic Games' trial of "Night of the Fort" will begin on May 3, 2021, in order to avoid conflict with the schedule of other jury trials, from July to May. In addition to the change in the date of the hearing, the Court set a number of pre-trial dates, including the dates of submissions, cross-examinations and pre-trial meetings by the two companies.
5) In response to the antitrust report issued by the U.S. Congress, Apple strongly disagrees: there is no dominant market share.
6) Apple will use the retail network to distribute goods, currently covering North America.
7) Guo Mingxuan: 錤 price of the iPhone 12 is lower than that of the iPhone 11, the supply chain share price will continue to rise.
8)

Foreign media: Bank of China version of the iPhone 12 will be ordered on October 16, the cheapest and most expensive version will not be the first time to sell

。
1) Samsung Galaxy F41 Release: Built-in 6000mAh battery, 64MP triple camera
。
2) Huawei released Mate 40 on October 22nd, and Huawei 5nm Kirin Core (Kirin 9000) will be released simultaneously.
3) Xiaomi entered Hurun China's top 10 consumer electronics, ranking second with a market capitalization of 434 billion yuan.
4) Huawei has established a sixth research institute in France, focusing on basic research in mathematics and computation.
1) Thunderbolt: Former CEO Chen Lei was investigated for alleged misappropriation of company funds, Xunlei called on Chen Lei to return home as soon as possible to cooperate with the investigation.
According to the announcement, Shenzhen Xunlei Network Technology Co., Ltd. filed a complaint with the Shenzhen Municipal Public Security Bureau in April 2020 on the alleged occupation of office by Chen Lei, former CEO of Xunlei, and others, and recently received a notice from the Shenzhen Municipal Public Security Bureau that the Shenzhen Municipal Public Security Bureau had opened a case against Chen Lei and others suspected of embezzlement. Sources said that Chen Lei is not only suspected of false trading links to encroach on the company's assets, creating false contracts to extract company funds, he is also suspected of misappropriating tens of millions of dollars of the company's funds for illegal currency speculation prohibited by the state. To avoid investigation, he left the country in early April with Dong Cod, a former senior vice president of Thunderbolt.
2) Beijing Net Letter Office in accordance with the law to interview and punish NetEase: NetEase news and evaluation function suspended for a week.
Recently, the Beijing Internet Information Office for "NetEase News" APP, NetEase "NetEase News" channel, "NetEase" with the evaluation link repeatedly spread illegal and illegal information and other issues serious interview With the person in charge of NetEase, ordered it to immediately self-check self-correction, comprehensive and in-depth rectification, seriously deal with the relevant responsible person. At the same time, the Beijing Internet Information Office in accordance with the law to the NetEase network to implement fines and other administrative penalties. The person in charge of NetEase said that the relevant laws and regulations will be strictly implemented, deeply learn lessons, comprehensively strengthen the platform business and personnel management, during the rectification period to suspend the "NetEase News" app evaluation function for a week, from October 10 at 12 p.m. to October 17 at 12 p.m.
3) Byte beat commercial adjustment, jitter, search, e-commerce, education have changed.
A number of business adjustments related to commercialization are taking place: Jiyin has a new product owner called Seven; search ads are online in today's headlines and Jitter; e-commerce technology built more self-employed, internally built closed loops; and education businesses are exploring new businesses such as high school AI classes and small classes. This series of adjustments corresponds to the three most important revenue channels at present: advertising, live e-commerce and education and other new business.
4) Google announces it will turn YouTube into a shopping platform, challenging Amazon and Ali.
5) The U.S. Mission Review was officially renamed "American League", and the change took effect on September 30.
6) Lei Jun recruited a former Credit Sushi executive, Lin Shiwei officially took up his duties as Xiaomi CFO.
7) There is news that Station B may go public for a second time next year, with plans to raise between $1 billion and $1.5 billion.
8) Drip announced the launch of 10 billion subsidies activities , "Drip Festival", involving network cars, bikes and other categories.
9) The EU has a regulatory "blacklist": 20 companies, including Apple and Google, are likely to be listed.
10) 47 anchors suspected of engaging in illegal and illegal activities are blacklisted and banned for a period of 5 years.
11) Luo Yonghao will hold the fall old machine launch, the same day as Apple's iPhone 12 launch.
12) Meitu raises the social field, its new independent community app "not square" on the shelves to the major app stores.
1) Epic loses again: The judge ruled that Apple could take down Fort Night.
On October 9th a U.S. judge hearing the case ruled against Epic Games' pre-injunction, ruling that Apple could ban Epic Games' Fortress Night from the Apple Store. But presiding judge Yvonne Gonzalez Rogers also ruled that Apple must not harm Epic's developer tools business because the software used by third-party developers is outside the scope of the antitrust battle.
2) Tencent's "Tianya Moon KnifeMan Tour" is officially scheduled: October 16 full platform line.
3) Google issued an ultimatum: will be the store in-app purchase forced to draw 30%.
According to the New York Times and other foreign media reports, Google will start on September 30, 2021, Google will be forced to Google Play in the in-app purchases of 30%. Google requires all apps that are available on Google Play to use Google's in-house payment system and pay a 30% commission. However, the enforcement applies only to a small number of developers who still don't use the system, such as Netflix and Spotify, which bypass Google by prompting users to pay with credit cards.
4)

Amazon has abandoned the development of its first big video game, Crucible

。
5) A new company shall be established with the head of the investment department, Lin Yuquan, as the general manager and executive director.
6) Byte beat into the "Red Police OL Hand Tour" developers have love each other entertainment, or take advantage of the momentum to go out to sea.
7) NetSite acquires RF Online IP and plans to develop IP hand-travel.
The ranking soared last week
The product's list soared nearly 700 places in the last seven days, reaching the top of the game-free top 11. As a product launched in June this year, and in the absence of a major update in the near future, the ranking can have a greater improvement is not easy. According to the app description, the product originated in 2016 the Palace x Tencent co-sponsored the Nextidea game creative competition, the product won a gold medal, so the developer decided to implement the project.
The Artisan Wood game is a smart game, using a similar way to building blocks and 3D puzzle solving. Players need to carefully observe the sample diagram given and the shape of the wood blocks in the game, and then cut off their own pieces of wood before polishing them so that the wood can be stitched tightly.
Craftsman is currently free to play 4 chapters, the rest of which players need to pay to unlock. The average price per chapter is one yuan, which is acceptable. At the same time, wood materials in the game need to be paid to be purchased and used. However, this does not affect the player's love of the game, the game currently maintains a high rating of nearly 4.9, it can be seen that the players of this kind of intentional game is still very recognized.
Review the interpretation of rejected terms
Guideline 1.1.6 - Safety - Objectionable Content

Problem analysis:

The review guide clearly states "disgusting content" and states that products with the problem will be denied access to the App Store.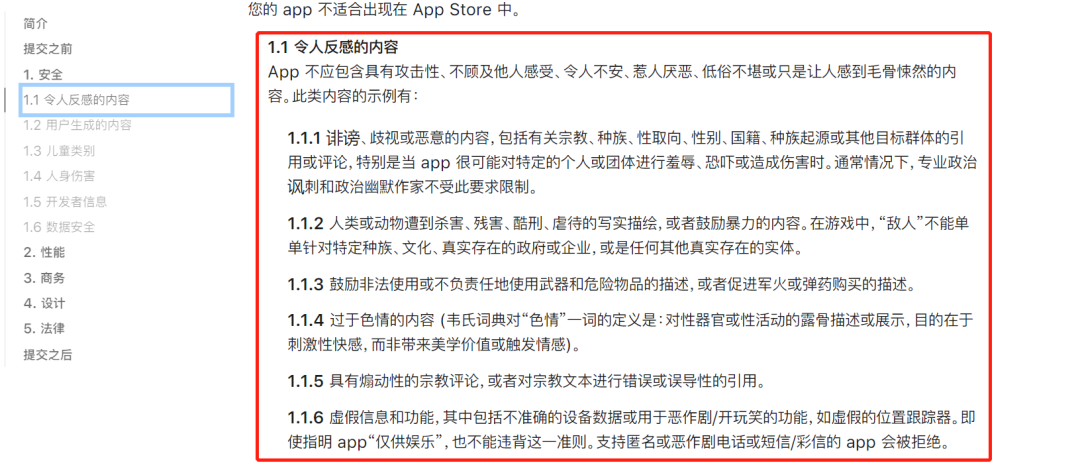 Solution:

Apps that explicitly violate the rules will not be able to access the App Store for those that do exist. However, if it is not the developer's subjective intention, the relevant content can be clarified and explained. The following is an additional explanation for 1.1.6.
When the product name of the submission review does not match the project name and folder name, it may also be found to be false information and functionality, at which point the name is changed to match and resubmit.
Keen to see data every day, Jianghu called it a "manual reptile machine" and a "visual analyzer."
Good text recommended to read
---