Different, size code can limit my beauty?
The outbreak is still fermenting, nesting and lying, but can not limit my beauty. In this life, many people will have nothing to do with "exercise", hate wet and sticky sweat, hate meaningless fake exercise, hate the restraint of high oil and high heat, from an young age the absence of motor inertial nerves or congenital genetic obesity genes. This society is often critical of women, and as the Body-Positivity body acceptance movement grows around the world, women and coolers are coming forward to reject pop culture's vilification of obese people, and "body anxiety" is being amplified and resolved by the most body-focused brands, reconciled with the world and themselves in an open and inclusive direction.
photoedby ALEX HUANGFACHENG
The launch of the "big size" model
Brand image and contact with the consumer groups are also subtly gradually wave away from the past, fashion is not only designed for a small number of people, all kinds of skin color and body type of girls have the right to pursue beauty.
Fashion sources such as Milan and Paris have achieved near-paranoia in their quest for a traditional "perfect body"
Degree.
Bone and slimness have long been respected by traditional fashion, with the definition of "beauty".
Paloma Elsesser & Jill Kortleve in Fendi 2020FW
Fendi and Chanel changed the criteria for choosing models in the past, with Fendi creative director Silvia Venturini Fendi choosing "big size" models for the first time, while creative director Viginie Viard took Chanel on a new journey - the first time in nearly a decade that Chanel has launched a "big size" model. The two brands upended Karl Lagerfeld's statement that no one was interested in girls without curves.
Jill Kortleve in Chanel 2020 FW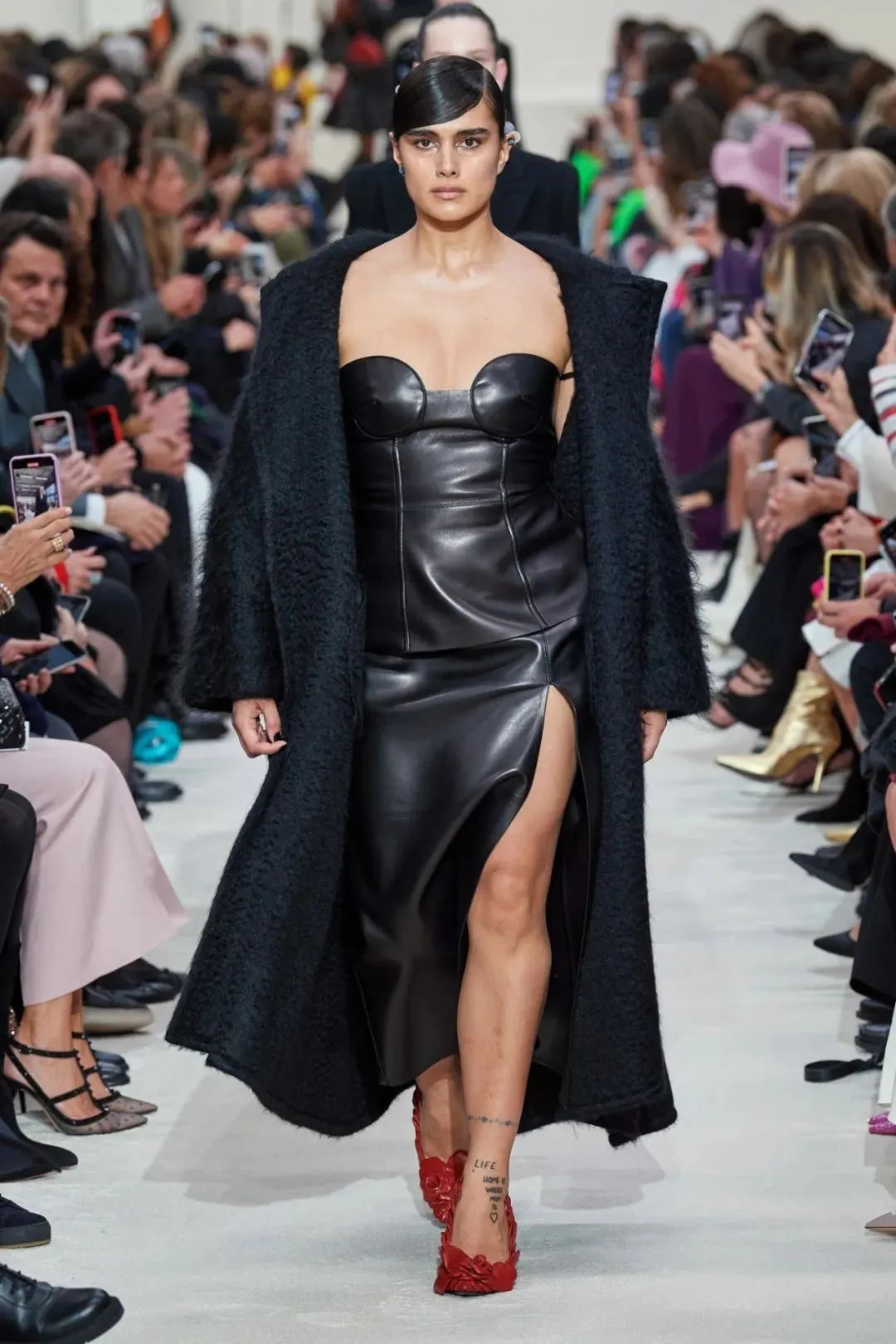 Jill Kortlevein Valentino 2020 FW
Paloma Elsesser in Lanvin 2020 FW & Jill Kortleve in Alexander Mcqueen 2020 FW
Many of the old fashion houses invited so-called "big size" models to the catwalk, showing their courage to change and even challenge the core of past brands.
Ashley Graham, Stefania Ferrario to this year's Paloma Elsesser and Jill Ko
rtleve, these beautiful faces, all of which come in different shapes but are confident and beautiful, are proving that beauty is never just a standard.
You have the freedom to manipulate your body, not to be kidnapped by some sort of aesthetic that's conventioned.
Ashley Graham & Stefania Ferrario
Paloma Elsesser & Jill Kortleve
Colina Strada, the New York brand launched by Hillary Taymour, focuses on staying true to her style and becoming a fully sustainable and transparent brand in the near future.
Each season's goal is the same: to encourage self-introspection through clothing. How can you be the best you can be today? So in the fall/winter 2020 show we can see not only the size of the diversity of models, but also transgender people, the elderly, pregnant people and other people's self-confidence display.
It's worth noting that the show's stylist, Charlie Engman, is also a photographer on the cover of Weekend Illustrated's Spring/Summer 2020 womenswear book. A multi-dimensional view of the unique people around her is her consistent visual language.
About the design of the "body curve"
The word "curve" is more appropriate for these girls than "big size" - curves represent feminization and beauty. In the past, many large-size clothing design and tailoring is to hide the fat, to achieve the visual effect of slimming. But clothes should be used to show off the body, not to hide it.
This has also led to a lot of designer action and thinking, designers began to fat-inspired theme, for the big size of women brave voice: what definition can be advertised fat beauty? It's easier to design clothes that fit your slim figure, and when your body has curves, you'll need more tailoring to fit the package.
"Put the wearer's body first, not force the wearer to adapt to a dress that doesn't belong to them"
Sinead O'Dwyer "Martina" 系列 campaign
Sinead O'Dwyer, a graduate of the Royal College of Art, spent a lot of time talking to her friends about their favorite body features, making a complete mold out of the body of her best friend Jade Bruce Linton and then shaping it with the thinnest fiberglass.
Using silicone and fiberglass to cover the surface of a woman's body to make molds that restore the body's natural form, it also attempts to call for a change in society's aesthetic pursuit of women's slender bodies. Sinead O'Dwyer named the series "23:19:26" after the body data measured by her muse, Jade Bruce Linton.
Sinead O'Dwyerin INDIE Magazine
Caroline Vitto Gomes, a costume designer, was born in Brazil and lives in the UK. As Caroline Vitto puts it, these are two countries with very different cultures, including women's body standards. She suffered from the "perfect standards" of the Brazilian cultural system, and it was not until she moved to the UK that she began to talk to her body and build a good relationship.
She found beauty in the fat that flows down a woman's body, and women are often "encouraged" to hide these parts
Get up.
Her design starts with a clip at the waist, which she uses to study how the body is reconstruced in different ways by protruding or moving muscles.
She explains to the series:
"For me, this series is really about size, it's about form.
"Aesthetic stress is what most women suffer from.
"
The Body as Material SS 2020
As Rui Zhou, a rare designer in China who has studied body design, her work explores the interaction between clothing and the body, treating clothing as a second layer of skin.
Rui Zhou's Parsons MA graduation series "cloth up" was inspired by three women in the family: mother, sister and herself. The relationship between the three influenced her view of women's experiences and their lives. She wraps knitted fabrics around her body in different spaces with wire, then stretches knitted fabrics on her body with pearls to form a sexy geometric circle on the surface of her skin.
She also boldly launched a variety of size models to perform her new season series of LOOKBOOK and static displays, meaning her multi-dimensional perspective and highlighting the strength and refinement of different women, sexy and soft.
RUI ZHOU recently located in New York.Com
The positive multi-value output of the brand
Rihanna's personal brands Fenty, Fenty Beauty, and Savage X Fenty are all aesthetically, full-color, and all-person.
Since Savage X Fenty was founded, the choice of advertising models has been diverse, covering a wide range of skin tones.
Savage X Fenty's first spokesmen, three black female singers Normani, Tinashe and Dreezy - perhaps the first brand to feature all-black women - chose to stand up for them at a time when black women are constantly being "xenophobic" by mainstream business aesthetics.
Normani & Tinashe & Dreezy
Savage X Fenty's outing has pushed the Body-Positivity body acceptance movement to the top, and once launched, the size of their lingerie line is very well contained in 44DDD. Similarly, the three chosen spokesman's figure is not even the traditional sense of "thin", unlike the previous concept of tall and slender underwear supermodels, Normani and Tinashe are the world's most famous singer-songwriters, they are all powerful, with fitness and practice dance muscle beauty, and Dreezy is now popular slightly fat, plump body.
The performance of Normani's ultimate sense of power on the Savage X Fenty show
U.S. rapper Chika Oranika has previously been invited to shoot a branded sports lingerie ad for Calvin Klein and posted a series of themed videos on YouTube with the hashtags ' I. Just Me . . . #My CALVINS. Unlike the sexy core expressed by calvin Klein, consumers have been brave enough to break through for the brand and Chika's frankness and bravery in front of the camera.
INSIDE and outside NEIWAI
Domestic brand NEIWAI has also recently released the theme of "NO BODY IS NOBODY" both inside and outside the country, triggering a group of women to retwet. They invite girls of different sizes to shoot spring/summer 2020 blockbusters through Luo Yang's lens language - insisting on designing for different bodies and looking forward to every real interpretation. And in the form of documentaries about body diversity, I hope more voices can be heard.
It's not about age, size, scars, all sorts of factors that promote facing your body. Thanks to the brand's diverse value output, which has made contemporary women more open to facing themselves, "body anxiety" may slowly become a by-product.
In fact, there is a group of non-cured sense of the true voice of idols
Watanabe is straight and beautiful
With the development of various equal rights movements and the popularization of feminism, our ideological dimension is becoming more inclusive and open. It's hard to break the mould of thought, it's hard to subtly cure the mind - the discussion of body shape is still one of the opening topics that we haven't seen for a long time, breaking the deadlock. "Humor" and "happy food" are not synound for them, they are just them, and we are not the same.
👇

The annual special issue of the Weekend Illustrated

Heavy on-line,
Click on the image below to purchase
---