Blessed by disaster? After the epidemic, Trump will win the polls
The latest poll by the Sunday Express and the Democracy Institute, a think-tank, put Mr Trump's national approval rating at 46 per cent, slightly higher than that of Democratic presidential candidate Joe Biden at 45 per cent.
The poll was conducted after Trump announced that he and his wife, Melania Trump, had been diagnosed with 2019 coronavirus disease (COVID-19), but Trump's lead in the poll was down 2 percentage points from September.
The poll predicts that if the general election polls reflect the results, Trump will get 320 electoral votes, with Biden at 218.
The Institute for Democracy has successfully predicted Britain's departure from the European Union and Trump's victory in the 2016 presidential election.
In addition, the poll shows Trump with 47 percent support in key swing states like Florida, Iowa, Michigan, Minnesota, Pennsylvania and Wisconsin, up from 43 percent for Biden and still four points ahead.
The poll also noted that a whopping 68 percent of respondents said Trump's diagnosis would not affect their vote, while 19 percent said they were more likely to support Trump and 13 percent preferred not to vote for him.
Among white voters, Trump's support is 52 percent, up from Biden's 45 percent; among African-American voters, Trump has only 18 percent, while Among Hispanic voters, Trump has 40 percent and Biden 50 percent.
The Democracy Institute poll was conducted between September 30 and October 2, 2020, with a random sample of 1,500 "likely voters" in the United States.
The poll has a margin of sampling error of plus or minus 2.5 percentage points, while the confidence interval is 95 percent.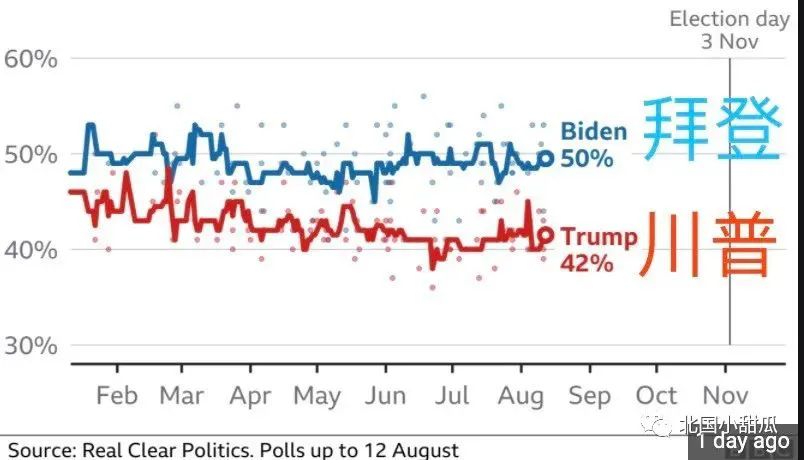 This month, US media CNBC interviewed 20 of America's top strategists, 19 of them from the US and one from the Asia-Pacific region. Of 14 thought Biden would win, three expected Trump to win.
The results are in line with current mainstream polls. In early September, a Wall Street Journal/NBC poll showed Trump trailing Biden by nine points.
The latest CBS/YouGov poll: Among likely voters, Biden leads Trump by 50 percent to 42 percent.

In the U.S. election, there was a saying: "Advertisers get the world." For now, Biden's team is spending far more on advertising than the Trump team. Last month, the Biden team spent about $75 million on radio ads, almost five times as much as Trump.
However, the Yiwu Index is a very intuitive indication that Mr. Trump will be elected. On 30 September, the Singapore United Morning Post featured a special issue:
"In a store less than 5 square meters in Yiwu International Trade City, owner Li Qingxiang head also did not raise the prediction, "of course, Trump won." From the sack under the shelf, Li Qingxiang flipped out a blue flag that was 5 feet long and 3 feet wide, with the words "Trump 2020" printed on it. At her factory in Shaoxing, Zhejiang province, she said, the flag has shipped more than 100,000, while Democratic candidate Joe Biden, the same size campaign flag, has shipped only a few thousand..."
Yiwu Trade City's Xiao Zhou, also think That Trump will win. Her factory has been receiving orders for U.S. election flags since the end of 2019, initially from Trump's and with more than 10 designs. It wasn't until nearly two months ago that there were orders from the Biden camp, but only one pattern, and less than a-half of the Trump camp.
Zhou said colleagues in charge of international operations have been receiving orders from the Trump camp. A few days ago, a colleague texted a group of WeChat messages asking the factory to "urgently process" a batch of Trump flags.
Of course, Trump's response is now nearly three-quarters lower than in 2016.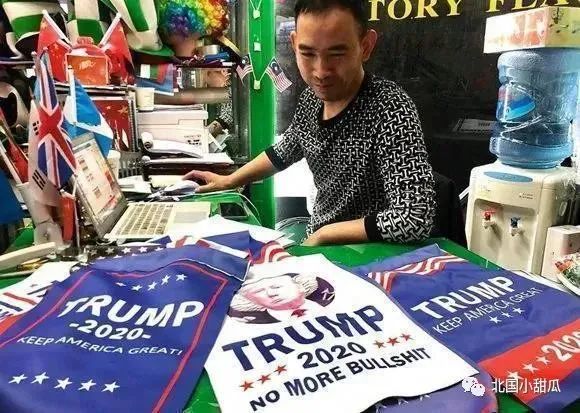 As an unprecedented event,What does Wall Street think of the president?


"After the initial reaction, only news that is seen as affecting the outcome of the election or public health is likely to have a lasting impact on the market," Paul Donovan, chief economist at UBS Global Wealth Management, said in a note to clients.

However, Lindsey Piegza, chief economist at Stifel, a Wall Street investment bank, said: "Trump's positive test results also serve as a reminder that the virus is far from under control and remains the biggest risk to the economy, prospects, policy and the election itself." "

Mark Haefele, chief investment officer at UBS Global Wealth Management, said he remained optimistic about the stock market's medium-term outlook. "In the medium term, we expect liquidity to continue to improve as vaccine development and additional fiscal stimulus in the US move the economy towards a 'more normal' direction."

In a letter to clients, JPMorgan analysts wrote that the president's illness slightly increased Biden's chances of winning and "can reduce post-election risks and market uncertainty to some extent."

Matt Gertken, a geopolitical strategist at BCA Research, cites several reasons why the new crown could be "good news for Mr. Trump's chances of winning," the most important of which is that he is a survivor of the disease. "As long as Trump recovers, that's good news for his election chances," Gertken speculated. This distracted attention from his first debate performance and at least gave him some sympathy for his illness. "

Betting markets on October 2nd showed a sharp rise in Biden's chances of winning. According to The Predictit.org deal, Trump's chances of winning have dropped by 3-4 percentage points since the news of his diagnosis was announced. On the same day, Biden led Trump by 7 percentage points in a national poll by Real Clear Politics.

Follow Yuan Media's accounts:
Youtube: Source Media

Facebook: Yuan Media

Twitter: VOWashington (Source Media Time Channel)

Instagram: Asian.Food.Guide (Source Media Food Channel)

Linkedin:Yuan Media
Yuan Media U.S. Headquarters Contact:
Mail:info@yuan.media
Address:12358 Parklawn Drive, Suite 110, North Bethesda, MD 20852

---