BAT didn't do a good job, Google, okay?
The following articles are derived from the combustion sub-yuan The author of Burning Finance Studio

Burning sub-yuan
A daily in-depth report redefining the innovation economy.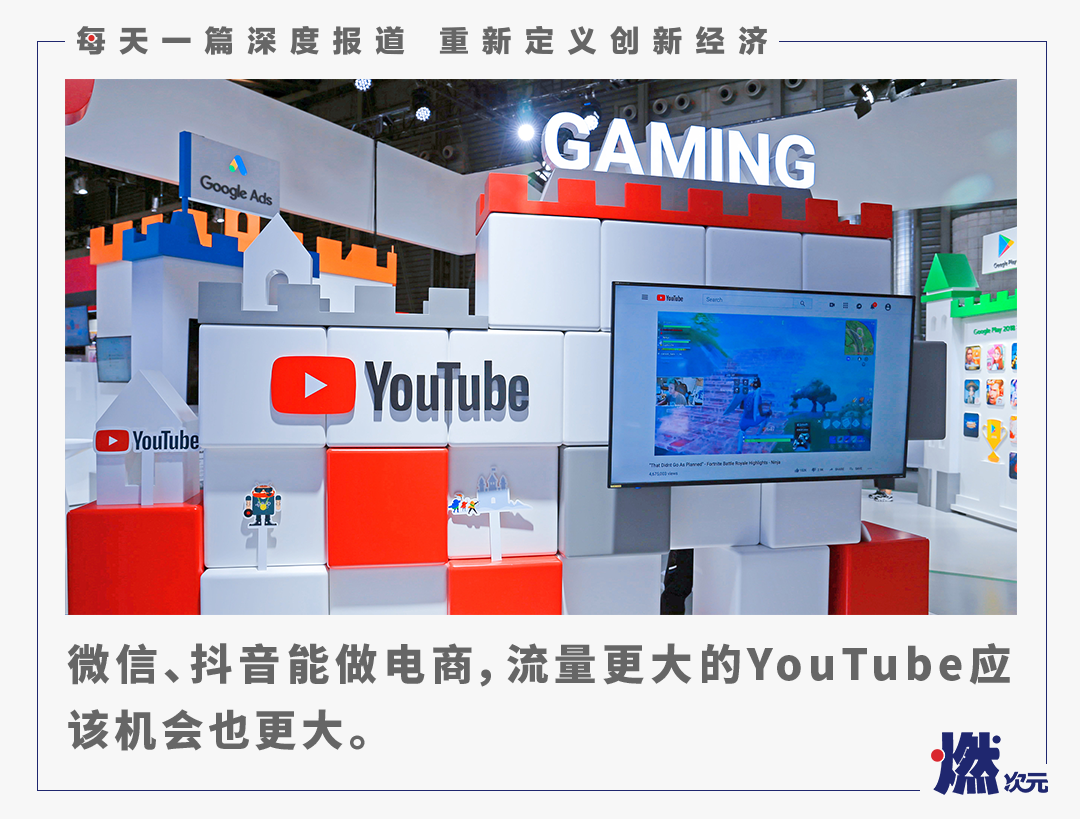 Burning Finance (ID: chaintruth) original
Author . . Yang Jie

Edit the . . Rao Xiafei
YouTube, which already has more than 2 billion monthly users, can't be quiet about itself because parent company Google needs it to make new changes.
According to Bloomberg, Google plans to make YouTube a shopping platform. Google requires video creators on YouTube to use software to label the items that appear in them and link them directly to Google's analytics and shopping programs. That means the huge amount of video on YouTube will also be transformed into a huge catalog for consumers to know and buy directly, according to people familiar with the matter. There are even further reports that Google is in talks with Shopify to transform YouTube directly into a home appliance platform.
A YouTube spokesman confirmed that Google was indeed testing with some of its video creators. Of course, creators have control over the choice of goods, and more details of the test are not easy to reveal. The report also said that if the project is rolled out, YouTube is likely to become a new competitor to Amazon and Ali.
"The news is sensational, but it's almost possible." Industry insiders believe that from a commercial point of view, the advertising ceiling is certainly lower than e-commerce, YouTube in the future will have more e-commerce-related content, such as grass, diversion, live broadcast, etc., is inevitable. In fact, YouTube has made a lot of e-commerce-related attempts before, but YouTube is also a content platform, the user mind is different from e-commerce platform.
YouTube was founded in 2005 and was bought by Google for $1.6 billion 20 months later. Since then, Google has been strongly supported in terms of content copyright, advertising revenue, and so on, meaning that YouTube has injected Google's genes into its early days, the equivalent of a son.
YouTube was founded to upload and share videos, and then a big vision was to pull viewers from front of the TV screen to the front of the computer screen, and now YouTube, the world's largest online video provider, has built the second-largest social network.
Google has recently been hit by calls by US presidential candidates and regulators to spin off "big tech companies". YouTube CEO Susan Vosicki, according to media reports
(Susan Wojcicki)
"Our use of Google's technology has helped a lot, just as machine learning can find offending content," he said at the Atlantic Festival. By doing this on a scale, we benefit from Google's technology. I don't think it's good for the user if we're split up. "
Google's radicalization is not surprising, since in recent years, the entry of traffic platforms into e-commerce has become almost a prescribed move. The most recent was in early June, when Byte Beat announced the establishment of a tier-one business unit explicitly named "E-commerce", and in July, the E-commerce Center was inaugurated.
Byte-beating vision is to build a global platform for creation and communication, and according to its founder, Zhang Yiming, what needs to be done, whether it's today's headlines or shakes, is to connect information with people. According to the latest figures, there are more than 600 million active users on Shake Day.
Like YouTube, which is a traffic pool for e-commerce platforms such as Amazon, Jiyin is also a traffic pool for Taobao and others. According to late reports, last year's cooperation between Jiyin and Taobao was 7 billion yuan, this year's size is close to 20 billion yuan.
But jitters don't want to just do a traffic pool, it tries to set up its own e-commerce closed loop, after the holidays on October 9, according to the previous jitters issued notice, third-party goods will not be able to enter the live shopping cart, jitter shop officially "on the horse."
One of the bottoms of this is that WeChat's small programs have verified the feasibility of trading with traffic, and in 2019, WeChat's small programs will live more than 300 million times a day, creating a cumulative total of more than 800 billion GMVs. The latest data show that WeChat small program daily live more than 400 million, small program merchandise trading GMV increased by 115 percent year-on-year. Tencent insiders say the volume of transactions in small programs will at least double this year.
In addition to the small program, WeChat in this National Day holiday, also began gray-scale testing video number live and long video function, and try to open WeChat small store in the video number.
Theoretically, youTube, with more traffic, could do better if WeChat and Jiyin could all be e-commerce. But "cross-border" is still a huge test. Even Tencent, which is not short of traffic and payment methods, has fallen in this pit many times. And can Google and YouTube, which lack e-commerce genes, do a good job?
On the other hand, if YouTube can do a good job of e-commerce, it is also a good revelation for Ai Youten, who is mired in a loss-making quagmire.
Search for ads for Waterloo
Even Google inevitably encountered Waterloo for search ads. At the end of July, Google, Facebook, Amazon and Apple, the big four U.S. tech giants, reported second-quarter results on the same day, all of which rose, with Only Google falling into the awkward position of falling revenue and profits.
Alphabet, Google's parent company, reported second-quarter revenue of $38.297 billion, down 22 percent from a year earlier, and net profit of $6,959 million, down 30 percent from a year earlier. Among them, Google has been proud of its advertising revenue of $29.867 billion, down 8.8 percent from a year earlier. Revenue from Google's search and other businesses was $21.319 billion, down 9.8 percent from a year earlier.
It was Google's worst performance since it went public.
In contrast, YouTube's advertising business generated $3.812 billion in revenue, up from $3.603 billion a year earlier. Google also said it could offset the decline in its advertising business. However, this is achieved by increasing the number and length of ads. Recently, youTube's pre-broadcast ads have increased to two, and most of them are in-5s ads that can't be skipped. It has also led to growing user dissatisfaction, with social media asking, "Is YouTube advertising too much?" "Under the post of the relevant content, there was a swearing.
Foreign media reported that despite the impact of the outbreak, But Google's decline is mainly due to Google's over-reliance on advertising, other businesses have not made significant progress.
Back in its 2009 annual report, Google listed Amazon and eBay as its competitors. Search ads are Google's cash cow business, and of all Google ads, search ads from shopping make up a significant proportion. However, on Google, there is no closed-loop shopping experience, as a traffic inlet, it serves shopping ads, mostly just for Amazon.
Amazon is now worth $1.65 trillion, while Google is worth $1.03 trillion.
In the era of traffic king, Google relied on search advertising, which was enough to make a lot of money. But that has changed as the internet traffic dividend has shrunk. Google is being eroded by e-commerce companies such as Amazon when it it buys ads online.
To break this state, Google can only make breakthroughs in e-commerce and retail. Because of the current way Internet traffic is cashed out, the three most mainstream are still advertising, e-commerce and gaming.
Photo / YouTube Screenshot of Burning Finance
In the early days of the mobile Internet, BAT relied on social, search, e-commerce three traffic portals, forming a three-legged pattern. Baidu and Tencent, which have traffic portals, have not let go of exploring the path of e-commerce realization.
Baidu announced in 2007 to enter the field of e-commerce, from the initial Taobao "yes", to the later "Lekutian", high-end integrated e-commerce platform "Baidu MALL", basically have been folded into the sand.
Tencent has also been ambitious in its e-commerce business. Tencent went online in 2006, but by 2014 it had been acquired by JD.com. After that, the patting was converted to a second-hand trading platform and eventually sold to Love Recycle. In 2011, Tencent acquired a number of companies, including Erle Buy, Yilong and others, and in 2012 controlled Yixun, in 2014 to take a stake in South China City. But then Tencent's GMV experienced a cliff fall. With Tencent's partnership with JD.com, Tencent's e-commerce business has also been integrated into JD.com.
Now, the flow inlet comes to the shaker, the quick hand here, their attempts at e-commerce have not stopped. From live e-commerce, to fast hand and JD.com cooperation, shake tone and Suning cooperation, to set up their own e-commerce department, you can clearly see, shake voice, fast hand to do e-commerce determination is very big.
So it's easy to understand that Google is showing its ambition to be an e-commerce company at this point.
Cross-border is, after all, a test of a company's genes. But Google is still far from Tencent in terms of e-commerce and payment systems. So, Baidu Tencent failed to do a good job, Google can succeed?
Google is an e-commerce company and has been defeated many battles
Prior to that, Google also had a variety of explorations of e-commerce business. But these efforts have not paid off.
Google's initial attempt was to add relevant information to the product search results page. In 2010, Google and BazaarVoice, the U.S. user review platform, announced a partnership to make the latter's product reviews available to Google users when they search. In May 2013, StellaService, an online store rating data company, also reached an agreement with Google to make its store rating information available for Google to pay for and display on its user search results page, and that the data would appear on the Integrity Merchants' review system because Google certifies trusted merchants.
Google hopes that all consumer spending, including searches, surveys of goods and merchants, and purchases, will be done on Google. This will lead to more business ads, improve the overall value of Google ads.
That alone, Google is still not good enough to rival Amazon. Amazon's platform includes search, purchase, payment, and subsequent delivery services that enable consumers to complete all one-stop purchases. Google is also starting to invest more in the e-commerce chain. Starting in 2012, Google launched a courier delivery service, upgraded its payment system, and added a range of O2O services such as fresh, home economics and carpooling.
In July 2015, Google released a project called "Shopping at Google."
(Purchases on Google)
"New feature that helps users search for ads directly through Google Mobile.
At the Shopper 2018 conference in the United States, Google launched "Shopping Actions" under its own search interface, working directly with channels and brands to provide users with online shopping channels. When a user searches, a Shopping Action shopping portal appears at the top of the page, items can be added to the shopping cart across merchants, payments can be made through Google Pay, and Google can draw commissions from it.
At the same time, Google and offline business entities have also started a partnership with Wal-Mart, Good City and other companies to direct search items to their pages.
Google Cloud has also opened up a data platform for retailers to help them upgrade their smart stores and import retailer data into their own systems. Coupled with Google's pan-entertainment content, maps and navigation on YouTube, the "Google Edition" closed-loop chain of "New Retail and E-commerce" has been formed.
In June 2018, Google announced a $550 million cash investment in JD.com, taking a 1 percent stake in JD.com, and that the two companies will work together to develop next-generation retail infrastructure solutions to provide consumers with a better shopping experience. One of these collaborations is the development of retail solutions in many regions around the world, including Southeast Asia, the United States, Europe, etc.
In the same year, it was reported that Google and Carrefour had reached an agreement to jointly sell groceries in France through online channels. Carrefour will start selling groceries through Google's products and services, such as Google Home Smart Speakers and Google Assistant Voice Assistant, from 2019, according to reports.
Last year, Google launched a new e-commerce platform called Google Shopping, and in February announced that it would be open to all sellers, allowing merchants to list products in natural search results. In addition to previous Google bidding ads, users can pay directly on the Google Shopping page to buy products from third-party sellers. In August of the same year, JD.com announced a partnership with Google Shopping, which, as Google's official investment licensing partners in China, will assist Google in investing in China in the third quarter of 2019 and assist chinese quality sellers in selling on Google's platform.
But none of these efforts has saved Google's decline in shopping search advertising. By 2019, nearly 75 percent of U.S. consumers will have chosen Amazon directly when shopping, and two-thirds will use it as a first stop for product searches, according to the 2019 Amazon Consumer Shopping Report, an e-commerce intelligence platform. At the same time, consumers are fairly loyal to Amazon's platform, with 89% of consumers and almost all Prime members(96%)More likely than other websites to shop on Amazon.
Content and e-commerce, there is a natural contradiction
Using YouTube as a social e-commerce company is a popular path for Google. In the US, the founder of e-commerce start-up Basket says YouTube is one of Google's "lowest-utilization assets".
"Google's attempts at YouTube should also be learning from the domestic experience." E-commerce industry analyst Li Chengdong said.
After all, shortly before, Google's internal incubator, Area120, launched a short video-with-goods experimental project, ShopLoop, to give sellers a video platform with content up to 90 seconds to sell.
In China, jitters and fast hands and other short video platform e-commerce attempts, previously mainly focused on live shipping and other business. But now, jitter small shop quickly "turn right", began the e-commerce closed-loop attempt. Google's product is still being tested internally, and it's unclear how it will land.
While YouTube isn't short of traffic, it's still a risky leap from the content platform to e-commerce.
As early as 2016, then-Alibaba CEO Zhang Yong proposed that the future direction of Taobao is to be a super consumer media, the same year, Taobao began to devote to content, community and local life, landing Taobao live and other products.
Taobao in the process of content, has been Ali Great Entertainment's strong support, draw a lot of personnel to support. At the same time, Youku also began to try and Taobao, Tmall through the content with goods, the introduction of watching while buying and other functions.
According to Youku content open platform content business center general manager Gu Fangfang, "while watching and buying" is Youku commercial products "have cool" combined with Ali ecological capacity to launch the function, the original intention is to open up entertainment and e-commerce consumption. In the product gradually matured, the user's mind gradually developed, "watching while buying" can bring a lot of commercial revenue for online drama.
"It's tough at first, and the user experience is not good. For example, when we watch the episode, there will be shopping links surfaced, click on the direct jump to Taobao, resulting in the episode broken. "Youku old user Wang Qi introduced, and then these problems have been resolved, the combination of drama and shopping is more natural.
Data show that Taobao buyers and Youku paid members of the overlapping users, accounting for 12% of the Taobao buyers, this part of the overlapping users of the Taobao customer unit price, is 2.1 times the non-overlapping users.
Taobao's goal, however, is to have its own pool of traffic, combined with a conversion rate of up to 65 per cent, to create a huge economy. Unfortunately, to this day, Taobao still needs a lot of external traffic.
If the e-commerce platform to do content, need to overcome a lot of difficulties, then, the content platform to build e-commerce closed loop, need to overcome more difficulties.
There's no shortage of traffic, either on Twitter or YouTube, but there's still a big gap from traffic to consumers. Because, look at the content and shopping mentality, is very different.
In addition, the content platform is not available, but also lack of quality control and service experience. YouTube wants to be an e-commerce company, in addition to building a front-end marketing model, but also to build a back-end technical support, supply chain, services, logistics systems, etc., until the formation of a complete e-commerce ecology.
Jiyin in this area of the short board is also obvious, a person close to jitters said to the burning finance, jitter shop although the overall framework is there, but the user experience does have a lot of places to improve, because in the savage growth of the initial period, the supervision of the merchant shop control is not enough, many times can only be coordinated from it, resulting in poor shopping experience.
YouTube, which is backed by Google, already has a better foundation than Jiyin in terms of payment system, advertising system, service system, technology, etc. However, to really do e-commerce, for the creators of the "ability to bring goods" is still a great test.
The traffic of the content platform, especially the centralized traffic like jitter, is not the biggest advantage in the e-commerce field, and the real challenge is how to fine-tune the operation of these traffic and improve the conversion efficiency of the traffic. Tencent Live has a conversion rate of only 10%-30% under the trust of private domain traffic, while Jiyin has a conversion rate of less than 5%, and YouTube's data should be lower.
How YouTube will do e-commerce is unclear, but once it tries to make a breakthrough, it will inject a strong needle into the domestic content platform.
The Internet was born in the United States, for a long time, U.S. technology companies are the global Internet development of the weather, the domestic three major video platforms - Ai Qiyi, Tencent Video, Youku - have envied YouTube's traffic and advertising revenue capacity, there have been "China's YouTube" dream. In 2016, after the merger of Youku Tudou, Youku founder Gu Yongxuan shouted "Beyond Netflix and YouTube in five years".
Now, the three platforms in the content is basically PGC and home-made drama-based, video types are mostly long video, and YouTube UGC-based integrated video platform attributes are different. But in e-commerce ecology, they are also hard work.
Ai qiyi in April 2015 launched the Aiqi Art Mall, hoping to allow users to watch the video program, can buy the relevant products appear in the video, in February this year, Aiqi Art Mall also announced that it will launch a global shopping business of around the film and television products;
In addition, in 2019, Ai Qiyi also launched the fan e-commerce app "Meal Planet", this year also launched the makeup content e-commerce platform "Cut the Face App."
Figure / Weibo Burning Finance Screenshot 
Youku content e-commerce try, more for Tmall to guide the flow. Back in 2014, Youku launched "Buy While Watching", and when users watch a video, they can add it to their shopping cart with one click by clicking on the "floating" item in the video. Youku has also done a lot of e-commerce cooperation through home-made hanging programs, for Tmall, this year's hot "This, is hip-hop 3" on a lot of e-commerce cooperation, but also achieved good results.
Tencent Video also has its own self-employed e-commerce brand Tencent Grass Field Mall, but the goods are mostly around the film and television;
Unfortunately, Ai Youten's attempts at e-commerce are largely unknown to the public. Love Youku as a long video platform, their main source of revenue is still advertising and membership business revenue, users have already formed a "come here to watch TV drama" usage habits. In the current crowded live belt track, they lack the accumulation of head KOL resources, and long-term loss-making state, want to enter the e-commerce, from the fast shake "tiger mouth to grab food", the pressure is too great.
But if YouTube's e-commerce exploration can inspire them at a time when shopping searches are advertising, then perhaps that's what's most significant.
Let's hope google and YouTube's e-commerce path doesn't stop at an "e-commerce directory" online.
After all, in the world of the Internet, there has been no product of the creative era for a long time.
The captions come from Visual China.
Hangzhou's most beautiful creative space
Single layer 7 meters high,
A full cycle ventilation system,
Two separate cycle stereo systems,
Open projection hall with independent reverb,
The total area of the event site is 1000 square,
Besides
Stereo user-friendly lighting, sub-space sense,
Construction industry wind cement column, Japan's dry mountains and waters atrium...
This totalArea 2000 squareThe creative space actually

It's in Hangzhou's hottest business ----City West Yintaiopposite.
Here's a look at the beautiful space (seven-figure design fee smashed out) it!
Address: Fengtan Road and Pingshui West Street intersection, opposite Yintai City West

           Fengyuan International Building A, B1 floor
Entrance: Fengyuan International Building A southwest corner of the sinking square to enter
Tel: 0571-88322888
Project delivery entrance: 411356487@qq.com
Hard fun space is pan-intelligent, pan-cultural, pan-entertainment direction team to enhance catalysis, realize the dream stage! It's a garden for freelancers to draw resources and come up with ideas! Is entrepreneurial innovation, dynamic life of the city living room!
Looking forward to your visit and cooperation!
---