21.5 billion advertising dollars, 14 car companies, who is the advertiser?
The auto show is just one of many marketing campaigns and part of a huge advertising spend. The cost of an auto show is unknown, but the cost of advertising in the auto industry over the past year tells you that 14 car companies have spent about 21.5 billion yuan on traditional and online media.
14 companies, 21.5 billion yuan
As for the 2015 Shanghai International Auto Show, you may have already heard that there will be no more eye-popping models, many of the male compatriots said so sad, in fact, for many car manufacturers, may be equally frustrated, which means that they have to think other ways to get attention. In essence, auto shows are a high-profile marketing campaign for car companies and brands.
Whether it's a star-studded, global executive platform; whether it's an imaginative concept car, or a growing number of global debuts to please Chinese consumers; whether it's a bigger booth or a gimmick... Ultimately, they want to attract target consumers and sell their cars. It's no different from a car manufacturer or brand buying a TV ad.
The auto show is just one of many marketing campaigns and part of a huge advertising spend. We don't know what it costs to do an auto show, but one of the things we can tell you about advertising spending in the auto industry over the past year is 14 car companies that have spent about 21.5 billion yuan on traditional and online media.
Curiosity Daily is backed by data from Nielsen Networks, a Nielsen-owned company that provided us with top10 companies that spent the most on traditional media such as television, print and radio throughout 2014, and Top10, which spent the most on digital media such as portals, automotive sites, video sites, and social media throughout 2014, six of which appeared on two lists at the same time, such as Shanghai Volkswagen Co BMW Group, etc. So the total advertising spending of the 20 car companies turned out to be 14.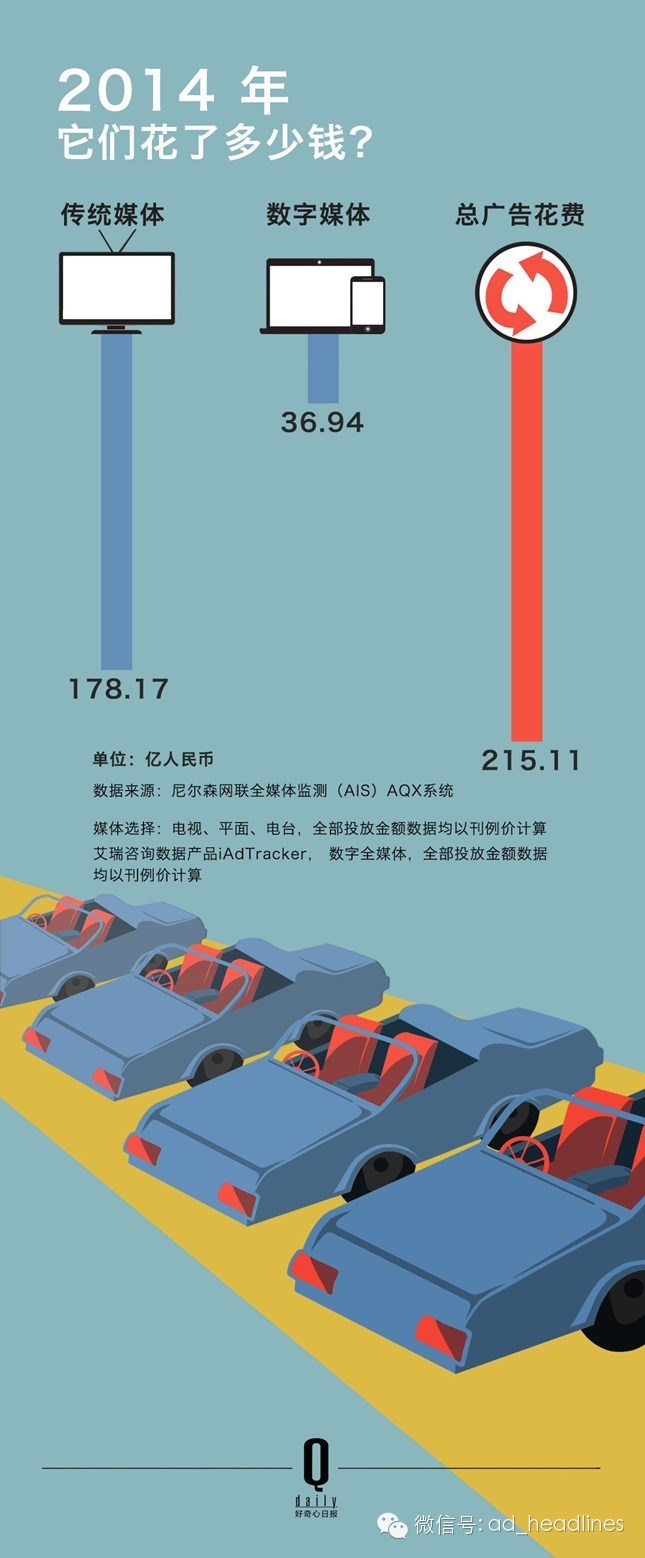 According to data provided to Curiosity Daily by Nielsen.com, they spent $42,945 million on advertising on television, print and radio for 2,166 car companies in 2014, about the same as in 2013 and 2012.
It should be noted that both Nielsen and Avery Consulting's monitoring data, the total amount of money invested is based on the price of the magazine, given that there is a certain discount on media purchases, the actual cost data may be slightly lower. In addition, all of our advertising spending data includes only tv, print, and broadcast traditional media, as well as all online media (excluding mobile), excluding outdoor advertising and building advertising, so what we end up with is still an approximate amount of data.
We've analyzed car companies, car brands, and models one by one, and you can see below who was the 2014 car advertiser.
FAW-Volkswagen Co., Ltd. was first with 3,563 million yuan, followed by Shanghai Volkswagen Co., Ltd
We extracted six companies from Nielsen's list of traditional media advertising spending top10 car companies, and Aerie Consulting's list of digital media advertising spending top10 car companies, and overlayed the amount of advertising spending (in a simple and crude way), with FAW-Volkswagen Co., Ltd. becoming the 2014 car company's advertiser with RMB3,563 million.
But the gap between Shanghai Volkswagen Co. and it is only about 50 million yuan, a small number, says it is small because it is hardly enough for the auto industry to spend on a regular new car-on-market marketing campaign. Liu Xu, Infinidi's director of China markets and public relations, has said that the usual new car market is now costing hundreds of millions of yuan, and that a car TV ad wants to hit the air - one month for high frequencies, three months for low frequencies, and another 100 million for low frequencies.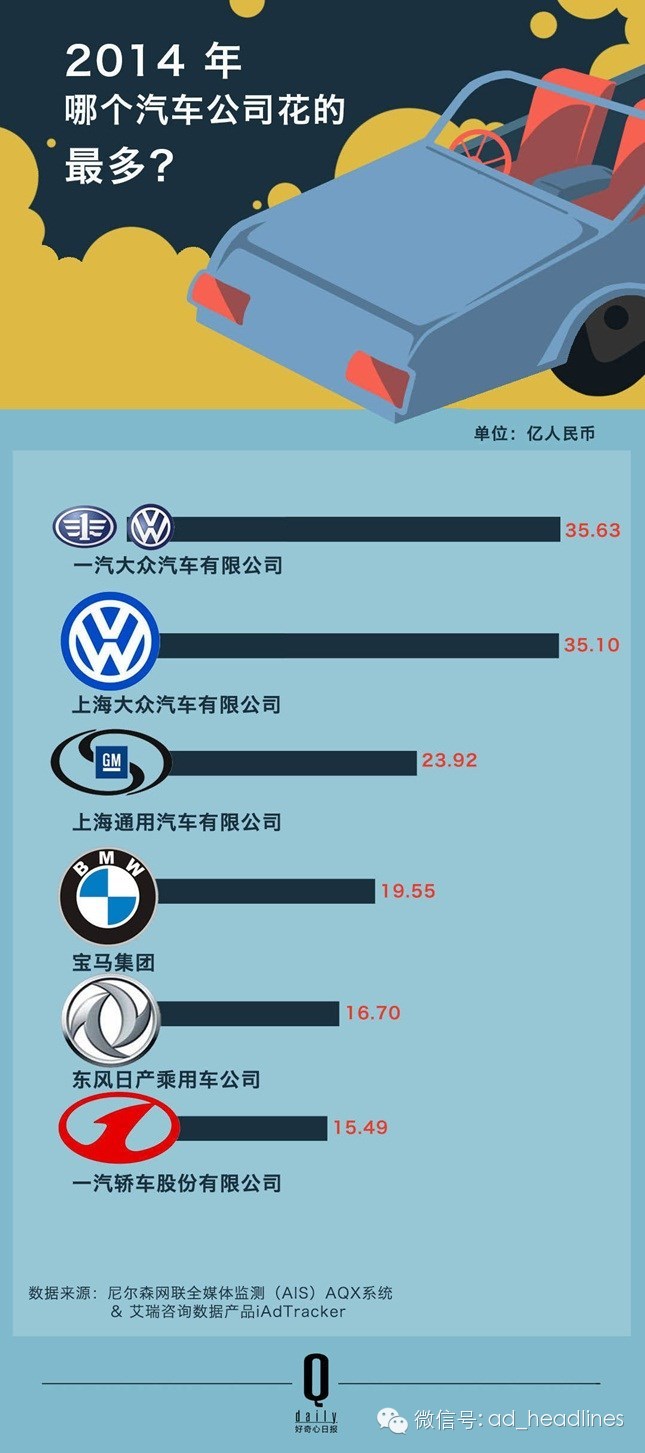 If we look at traditional media and digital media, Shanghai Volkswagen spends the most on traditional media at 3,245 million yuan, while Shanghai General Motors Co., Ltd. is the king of digital media advertising spending at 687 million yuan. BMW Is the only foreign company in the top six companies, spending about 1,955 million yuan on advertising in 2014.
The joint ventures are very large, accounting for a high proportion of the cost of Top10 media in different media
As mentioned earlier, all of the 2014 Top6 advertising spending we have arranged is for joint ventures, including FAW-Volkswagen, Shanghai Volkswagen, Shanghai GM and Dongfeng Nissan. Joint ventures account for 60 per cent of the traditional media advertising spending top10 list, while digital media advertising costs top 10, the joint venture accounted for a higher proportion, 80 per cent. It's worth noting that, in addition to the BMW Group, Daimler AG is also on the list of digital media advertising spending. You can see the detailed data amounts and rankings in the figure below.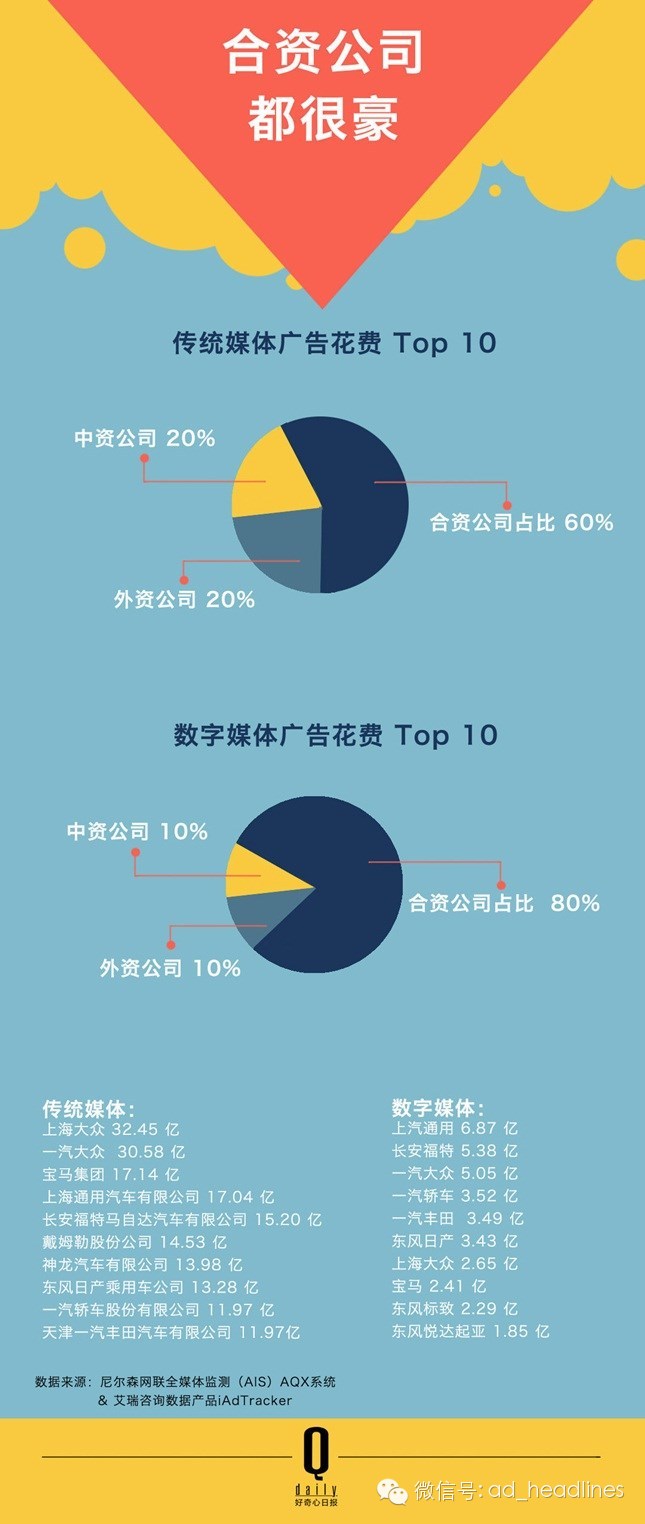 From the car brand, the Chevrolet line costs the most, "Volkswagen" loves television
In traditional media advertising spending, FAW-Volkswagen and Shanghai-Volkswagen are on par with the 345 car brands monitored by Nielsen, spending more than 1.7 billion yuan in 2014, FAW-Volkswagen came in first by a narrow margin and BMW came in third with 1.577 billion yuan. About 80% of the money went to television.
In digital media advertising spending, car brand advertising volume is the largest, Chevrolet about 390 million yuan in the first place, Audi in second place, about 278 million yuan, Dongfeng Peugeot with 229 million yuan in third place. It's worth noting that as you can see in the image below, the Ford Wing Tiger is the only SUV brand to make the Top10 list, according to Avery Consulting, the SUV brand's online advertising is much less than the sedan brand, which also confirms the SUV's current popularity from the side. We'll explain this in more detail in a later article.


Another notable brand is The View, which spent about 137 million yuan on online advertising in 2014, ranking 10th, while The View sold fewer than 7,000 vehicles in 2014. For the nascent Chinese car brand, which is full of foreign executives, it still takes time to build brand awareness and persuade consumers to buy.
In terms of models, the biggest spender in 2014 was Shanghai Volkswagen's Skoda Mingrui
At specific product levels, according to Nielsen's monitoring of 3,736 models, the most willing spenders in 2014 were Shanghai Volkswagen Skoda Mingrui, which cost about 756 million yuan on three traditional media, television, magazines and radio, followed by FAW-Volkswagen Golf and FAW Toyota Corolla.

In the 2014 ad cost Top10 list above, you'll see several models that are new, such as the Jeep Free light SUV, which went on sale in early 2014, the FAW-Volkswagen Audi A3, which also went on sale in 2014, and the Shanghai Volkswagen Skoda Nodi SUV, which went on sale in 2013. Shanghai GM's Chevrolet Cruze sedan, according to sales data provided to Curiosity Daily by LMC Autonotive, a British car market consulting and research firm, has been in the top 10 in sales for the past five years and is a best-selling model. So you see, new cars and best-selling cars are big spenders on advertising. And that's basically going to TV, and you can see in the picture below how much TV spends on the entire traditional media.
So how does the ad work?
The so-called return on investment (ROI), based on different car companies have different car brands, and each car brand has a variety of different models, the price is different, in order to reduce the complexity of the calculation, we figure 10 models for example, look at their respective advertising effects.
Our calculation is: 2014 sales/2014 advertising spend (TV plus print plus broadcast), the larger this number means that the better the advertising performance. Because each car is configured differently and the price is different, we choose the median official guide price here. For ease of expression, we call this concept the Advertising Performance (ROI) Index.
The sales figures, provided to Curiosity Daily by LMC Autototive, a global automotive industry consultancy, were excluded from the 2014 sales figures for Jeep Freelight and Big Trucks (taking into account their non-personal consumption), resulting in eight cancelled 2014 sales and ROI indices.
The top three ROI indices were Chevrolet Cruze, Dongfeng Nissan Qijun and Beijing Hyundai, with 7770.5, 5761.4 and 5268.2, respectively.


Source: Curiosity Daily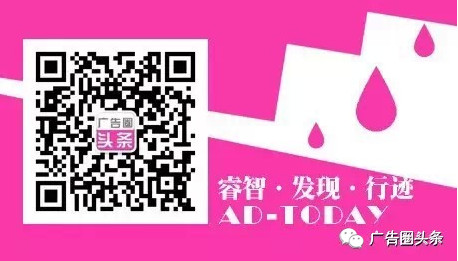 ---