Why continue to flow advertising budgets to outdoor media? 4 tips to help you get out of the ring quickly
Under the trend of the times, outdoor media has a 70% chance of winning the attention of consumers.
The proportion of consumers' consumption of mobile Internet media is becoming nearly saturated, and it is particularly difficult for brands to reach consumers effectively, which also makes it necessary for brands to tap into more effective differentiated strategies for outdoor advertising marketing.
On the contrary, the development of big data, AI and other technologies, driving outdoor advertising into the digital high-speed transformation stage, so that outdoor marketing is becoming more and more powerful, long-lost consumers "head up" attention by high impact outdoor advertising attracted to outdoor advertising, outdoor into a new round of strategic layout.
In recent months, outdoor advertising, especially elevator advertising spending continues to grow, the brand continues to include outdoor media in the marketing mix. So how do advertisers build a suitable brand without losing differentiated outdoor advertising marketing plans?
1, the outdoor audience of all-round immersive considerations
Scene marketing is a hot word, outdoor media advertising still needs to match the scene with people's behavior trajectory, to help the audience present the consumption scene and the behavior that may occur in the process of consumption. In addition, imagine the moment your audience sees your ad and what you might do.
Low-fat light life has become a new trend,Fengxiang excellent-shaped chicken breast landing in the country's trendy elevator smart screen,In the middle-class family crowd "gathering place", turn on the strong screen mode. In the elevator enclosed space, jittery full vertical video, broughtAll-round immersive, visual impact, and fresh, casual Wanxi's endorsement, so that "eat excellent shape, more type" product features more prominent, deeply grasp the consumer health fat pain point.
2, trigger the audience's psychological pre-sale
Outdoor advertising interaction, immersive experience, shocking visual impact and other characteristics can cause the audience emotional resonance from the form, but this is not enough, outdoor media in the dissemination of product or brand impression, the original purpose should be to spread consumption opportunities, triggering the audience's psychological pre-sale value.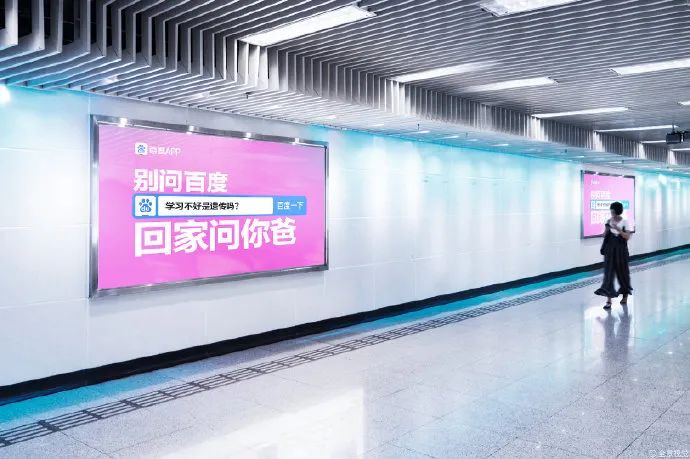 Know, Baidu, NetEase cloud music, etc. have been in the outdoor media to create a "heart-to-heart" text advertising, its content, visual are directly "impressed" consumers. After the online dissemination of outdoor advertising, online can trigger a heated discussion boom and establish a fun, moving, topic manufacturing and other brand horizontal, vertical scale dissemination form, so that consumers are willing to discuss and use the form of advertising, is effective to trigger consumer psychological pre-sale value of the form of expression.
3, simple charm
The spatial value of outdoor media gives advertising a certain ability to focus, in order to capture the attention of busy audiences, it is necessary to make the information accurate, clear, concise, just right to trigger memory. Therefore, the outdoor advertising with short and sharp point of sale is an excellent differentiated advertisement.
For example, "afraid of fire, drink Wang Laoji", "anxious to send things, with flash delivery", advertising content condensation, a word. In addition, in the brand image color, the use of color simple but not gas field advertising color is equally important. Because of the limited outdoor advertising capacity, area, brand information, too many demand points will weaken the brand interests.
4, suitable for consumer creativity
Creativity is the expression of the brand's outdoor advertising strategy. The development of AR, VR, and big data has given outdoor advertising more creative expression. However, just the right idea avoids the noise, highlights the brand's own characteristics and plays a brand premium role. Because of the limitation of thinking inertia, some outdoor media ads always use ten years of advertising ideas. On the contrary, the right consumer creativity is an integral part of outdoor advertising marketing.
For example, micro-banks, with "There are spare medicine in the drawer, there are spare keys under the flower bed, there are spare tires in the trunk" analogy, tell the audience also need to have a reserve, WeChat particle loans can meet a wide rangeLarge users "short, small, frequent, urgent" financial needs, more easily understood and accepted by the audience.
Conclusion:
The proliferation of information makes it necessary for brands to differentiate in outdoor advertising performance. Therefore, in addition to the use of various digital, AI algorithms and other technical means, outdoor advertising before the dissemination of the plan needs to target setting, scenes, minimalist content, creativity and other strategic thinking, and ultimately to respond to market demand, build consumer communication effective outdoor manifestations and possibilities.
---